Knowledge Base Plugins will ease your life and enhance the personal experience of your site visitors. Therefore, in order to ensure the high quality of your business, let's take a look at the best knowledge base plugins on WordPress.
So, if you are ready, let's start!
What are Knowledge Base Plugins?
Whatever the reason for your website is, you probably have or need a section for how-to articles or documentation of products (helpdesk). Or maybe, you just want to include some additional information about your entrepreneurship. This kind of content is very useful for your website visitor, but it is hard to keep track of it if the documentation is published in a blog post or on a random website page. It gets in the way of your normal content or simply gets lost.
A knowledge base plugin will help you to eliminate that problem. It enables you to publish tutorials and documentation in a way that doesn't mess with all other content on your website or landing and sales pages. It organizes your knowledge base pages in separate bundles for the convenience of your customer.
---
How to Choose the Best Knowledge Base Plugin?
When you are about to make up your mind about a knowledge base plugin, you have to consider several criteria:
Ease of use. The interface of the plugin has to be easy to use so that it will save your time & energy.
Feature-rich. When choosing a plugin, make sure it offers enough features that you can use and that will truly benefit you.
Price range. Also, the plugin of your choice should be within an affordable price range, as this is not the only plugin you will install on your website.
---
Best Knowledge Base Plugins on WordPress
Finally, now it is time to review the best WP Knowledge Base plugins.
The first plugin we're' gonna look at is Knowledge Base for Documentation and FAQs by Echo Plugins. It is one of the most popular WordPress knowledge base and FAQ plugins. Providing a user-friendly interface for the creation and integrative designs that allows creators to organize articles in levels, the plugin has more than 10 000 active installations and overall ratings of 5 stars on the WordPress plugin page.
Main Features
So, the main features of Echo's Knowledge Base plugin include:
Search Box. The search box comes with predictive analytical results on the pages of your website and displays the count of searches or "no results" outcome.
Hierarchy. The plugin allows you to arrange your articles into five hierarchical levels with categories and subcategories for more compact and structured documentation.
Layouts. With basic layouts that show your articles in bundles, you can use tab filters to organize the layouts by certain features, like product, service, or team.
Articles & Categories. You can choose to display your articles randomly, alphabetically, chronologically or however else you would want.
Archive Pages. Archive pages can be organized in five different pre-made templates, and you can check the demos first in order to see whether a design suits you or not.
Page Builders. The plugin integrates with Elementor Page Builder and also with Beaver, Divi, Visual Composer, and others.
Pro Version
Let's have a look at more advanced features. In order to create a unique design, you can use these:
Font & Image Icons. Use 500 pre-made icons for categories or choose your own images for that.
Frontend Editor. Frontend style editor provides you with quick customization of the knowledge base theme: update colors, fonts, styles, and labels.
Templates. Apart from five layouts, you are offered 26 pre-made designs that you can further tailor to your taste.
Typography. The font is fully customizable for different categories like article body, title, table of contents, etc.
Features to Enhance Efficiency
Order. Not only can you organize your articles by date of creation and name, but you can also use the drag-and-drop editor to order the articles in a specific order.
Table of Contents. Automatically create a table of contents via article headings and choose where to put it: at the beginning of the article, moving, or beside the article.
Sidebar. You can customize a sidebar that can be shown on the left, ride, or both sides. It, according to your desire, can display the navigation, the table of contents, and specific widgets.
Breadcrumbs. In order for your user to keep their place in the article and navigate more easily, you can display breadcrumbs on article pages.
Back Navigation. Show the "back" navigation button at the end of the article to allow easy access to the main page of your website.
Print Button. Put the print button so your user can easily print the article as a document (and not as a website!).
Comments. Add the field for article comments to see feedback and further enhance customer support. You can decide whether to show comments or not.
Information. You can display information about the article at the top (or the bottom) of the article, including when the article was created or published, who's the author, when it was updated, etc/ (Creation / Last Update / Article author)
Index Glossary. Using a shortcode, you can add a glossary to the knowledge base page to list all the articles. The articles will be displayed in three columns ordered alphabetically.
Previous / Next. Add Previous / Next buttons for quicker navigation through the articles.
And many more other functions!
Benefits
Easy to use. The plugin is easy to use to create your own unique designs for your knowledge base. It requires no coding skills and knowledge since it uses a non-complicated Visual Editor.
Feature to price value. Although the plugin has a Pro version that needs to be purchased, you can also use it without paying. Most importantly, the free version is enough to create a strong and effective knowledge base or FAQ. The Pro version just adds features for a more polished finish,
Designs. Echo's Knowledge base provides you with 26 beautiful designs in different styles and five types of layouts that you can use as a base for your knowledge base page. Besides that, you can customize each design to add something of yours.
Pricing
The pricing is divided into three categories: for one website, for three, and for ten. The most basic Knowledge base is free for any number of websites, and it is enough to create a decent knowledge base. A Basic Add-Ons license for 1 website costs $46 for one year, and the annual renewal costs $23. A professional license with more advanced features costs $89 for purchase and $45 for renewal. Access control plan costs $170 for the first year and $85 for the renewal, and includes even more features.
The price of Basic Add-Ons changes to $110 for three websites ($55 renewal) and $345 for ten ($173 renewal). Professional will cost you $214 with $108 renewal for three websites and $668 with $337 renewal for ten websites. Access control license for three websites costs $408 ($204 renewal) and $1275 for ten websites ($638 renewal).
---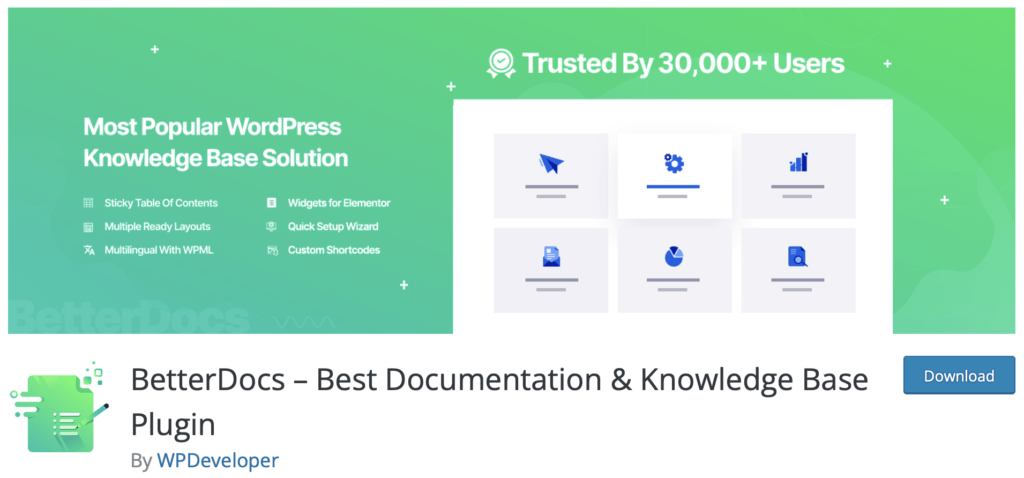 BetterDocs – Best Documentation & Knowledge Base Plugin is a plugin that helps you to create a knowledge base for your customers in order to diminish the volume of support requests that your customers require.
Main Features
Pre-made Templates. The creators of plugins provide you with ready-made templates for your knowledge base design.
Theme Customization. You are free to customize the theme of your documentation page whether you are using shortcodes or builder widgets.
Table of Contents. Put a table of contents for easier navigation in the knowledge base.
Live Search. Another thing for more effective navigation is the in-built live search.
List View. The free version of the plugin allows your users to view the contents as a list.
Access roles. You can assign roles to certain people and give them access to the documentation page accordingly (editor, reader, author, etc.)
Analytics integration. Analytics integration allows you to see whether the page actually contributes to your success.
Elementor Page Builder. The plugin is fully compatible with Elementor Page Builder.
Pro Version
Pro version provides you with a few additional features, such as:
Grid View. You can use grid templates for showing your content to the user.
Separate databases. Create separate databases for different products to describe them in more detail.
Advanced Search & Popular Docs. To further enhance the user experience, you can implement the options of advanced search, and popular docs as a FAQ type of field.
Benefits
Time-saving for you — with pre-made templates, and for your user with a table of contents and the search option.
Integrates with Analytics, Elementor, and Gutenberg.
Accessible — the plugin doesn't' cost too much.
Pricing
The individual plan costs $69/year and a Small Business subscription $149 /year. The agency plan provides you with lifetime access without the need for renewal for $299, and the WPDeveloper Agency bundle for $639.
---
Knowledge Base is a plugin that provides you with the means to create a knowledge base or a FAQ field for your WordPress website.
Main Features
Hierarchical knowledge base. The plugin allows you to create an unlimited number of knowledge bases with different sections that can be arranged by level.
Gutenberg Block. The plugin integrates with Gutenberg block so you can use it to create fields in your knowledge base.
BreadCrumbs. You can use pre-made breadcrumb templates or shortcodes.
Widgets. WZKB Articles, WZKB Sections, and WZKB Breadcrumbs are available on this plugin.
Inbuilt cache. The cache speeds up your knowledge base or FAQ pages.
Benefits
Speedy. With the inbuilt cache, the plugin will not slow down your website, and it will additionally speed up your knowledge base page.
User-friendly. With the presence of Gutenberg editor and widgets, it is easy to work with the plugin.
Free. The plugin is completely free.
---
KnowledgeBase HelpDesk ChatBot is a plugin that combines the features of both a traditional knowledge base and a chatbot to provide your customers with the most efficient problem-solving service. It allows you to create a database that can be navigated with the help of an AI chatbot.
Main Features
Chatbot. The plugin provides you with a live AI chatbot that is integrated with Google DialogFLOW AI and supports any language. You can implement it as a frontend helpdesk on your knowledge base page.
Sectional database. The knowledge database has different sections organized in levels.
Filters. Filters allow your website visitors to sort out the sections or articles alphabetically, by popularity or views.
View count. As an editor, you can show how many views an article has.
Glossary. Add an alphabetized glossary with your articles and sections.
Search. The search is based on AJAX, it is fast and provides your user with a predictive search.
Pro Version
Knowledge base articles
Sidebar for categories
FAQ format support
Export knowledge base function
Drag and drop sorting reorder mechanism
And more
Benefits
Multifunctional
Powerful
Accessible
Pricing
You can purchase a Personal license for one year for $39. The Master license costs $95 and the Ultimate for $249 provides you with lifetime access to Pro functions.
---
WDV One Page Docs – Documentation Plugin for WordPress is another plugin that provides you with a separate knowledge base or FAQ section.
Main Features
WDV plugin works with any WordPress theme and allows you to implement a well-made interface for documentation. The main features include:
Documents. Using Documents on the dashboard, you can create a new document, section, or article. As the admin, you create, edit or delete a document.
Shortcodes. Using shortcodes, you can hide the documents of your choice, change the number of columns or add documentation for a specific item. The shortcodes list is available in the first table of the plugin's dashboard.
Sidebar. Your website visitors will be able to use a sidebar to navigate through the menu.
Benefits
Simple in use. The plugin is simple to use for creating the documentation, but it is also simple to use as a customer to find answers to specific questions.
Shortcodes. The plugin provides you with a table of shortcodes for further customization of your knowledge base page.
Free. The plugin is absolutely free!
Summary
No matter which knowledge base plugin will you choose, you can be confident in your choice. In this list, you got acquainted with the best on the market, and each of them performs perfectly well while still remaining affordable. So, choose the one that works best for your website!
Also, if you liked this listing, I will suggest that you also take a look at the "Crisp VS HubSpot: What is The Best Choice?" to find out the best live chat for your website in order to enhance customer experience furtherly.