Technological advances drastically improve our lives, and now they are in almost every area of our daily lives. There are currently many NFT and Cryptocurrency platforms, even plugins available. And in "Best Cryptocurrency Plugins for WordPress: 2022 Review", we will review the most solid ones.
If you are ready, let's start.
---
Technical Terminology
Before we start the revision of the Best Cryptocurrency Plugins, let's take a look at the technical terminology to avoid any possible further confusion.
NFTs
First of all, let's understand what is NFT. Basically, NFTs are any form of digital asset. NFT – non-fungible-token – has a more technical definition: a "non-interchangeable unit of data stored in the blockchain." It can potentially be any form of digital ledger that can be traded or sold. For example, photos and digital art are the most common form of NFTs.
Blockchain
Blockchain is a chain of blocks containing information. It is distributed ledger technology. Each block contains the previous block's hash, and each hash is unique, like a fingerprint. Therefore, the technology is extremely solid and almost impossible to hack due to also being distributed across the networks with no central authority.
Cryptocurrency
Cryptocurrency is a digital currency. For example, in real life, you pay with dollars; in many Metaverse games, they offer specific native tokens with which you can purchase and trade several things and monetize your gaming time. However, the most popular cryptocurrency is Bitcoin, which is based on the Ethereum blockchain.
Smart Contracts
Smart Contracts operate like normal contracts but without the need for a third party or intermediaries. Each contract is stored inside the blockchain, and after it is created, it becomes impossible to change.
---
Top 5 Cryptocurrency Plugins for WordPress
Now, I suggest that we take a look at the top 5 Safest and Best WordPress NFT and Cryptocurrency plugins.
---
1. COINQVEST – Cryptocurrency Payment Gateway for Bitcoin
CONQUEST is a great Bitcoin and cryptocurrency payment processor plugin. It allows adding crypto payment methods to your website. The plugin accepts many cryptocurrencies, including Bitcoin, Ethereum, Litecoin, etc. Moreover, it supports 45 national currencies, such as US Dollar, Euro, Japanese Yen, Arabian Riyal, etc.
As well, as it provides a pragmatic solution to a new era of digital currency, making sure that everything is safe. The COINQVEST plugin automatically works with taxes and offers digital check-outs. Moreover, the plugin allows translation to any given language and a minimalistic and handy design.
Also, if we take a look at the numbers, we will see 5 out of 5-star ratings and regular updates.
Key Features of COINQVEST
The primary purpose of this plugin is to help you accept digital currencies as payments from your clients instantly and, most importantly, in your preferred local currency.
It accepts Bitcoins, Ethereum, Ripple, Stellar Lumens, and Litecoin payments on your website 
Settles automatically in your preferred national currency 
Controls tax compliance levels 
Automatically generates invoices 
Implements custom payment button 
Provides custom payment button with available CSS classes
E-commerce tools and plugins integration (WooCommerce, Shopify, Magento)
World-class SDKs and API
Retail payment processes through UI
Checkouts through UI and Merchant APIs
Hosted and API-level checkouts
Accounting
Transaction records
The simple and instant withdrawal process 
Good client management
Invoicing
Refunds completed without any hustles, etc.
The list of the main features is not limited to these points. Along with the mentioned functions, you are not obliged to set up an e-commerce store on your WP site while using the plugin. And you can easily embed the payment button in a certain location, such as in the widget, post, or on any page. Moreover, you are able to simply set a language during the checkout or while you use the plugin on your website.
How to Use The COINQVEST Plugin
Go to Admin's Dashboard > Plugins > Add New
On the search line, type "COINQVEST"
Click "Install", then "Activate"
Click on the "COINQVEST" in your dashboard
Log in/ Sign up
Get the necessary API keys
Enter the secret and the API key in the settings
Create a new payment button, make all the necessary customizations
Embed the payment button by copying and pasting the generated shortcode into your WP theme, or specific page
This plugin has multiple benefits few of which are:
Ease of use – Good user interface makes it quick and easy to use
Multiple Currencies
Instant Payments – the quandary with crypto payments can be a timely matter; however, with this plugin, you get instantly notified about each payment via email, and the money is safely transferred to your bank account or wallet
No risks related to currencies, chargebacks, and credits
Financial and analytical reports
Invoicing
Taxation
In their WordPress Plugin Directory, you will be able to review all the currencies it works with, potential use cases, and FAQs.
---
---
When it comes to BTCPayWall, it provides users, especially content creators, with a fantastic solution for selling digital goods via WordPress. With the BTCPayWall, content creators will be able to trade their blog articles, digital goods, images, or even PDF files and receive tips & donations directly through the website, without any intermediaries or third parties involved.
The BTCPayWall solution uses the BTCPay Server and OpenNode to handle the payments and make instant transactions.
Main Features of BTCPayWall Plugin
So, the primary features are:
Bitcoin Paywall to sell content and digital products via WordPress
Uses BTCPay for payment processing
Enhances privacy and security
No login or registration is required for the users
Revenue generation through donations for the creator
Payment processing is achieved via BTCPay or OpenNode
Each article has a free part, and at some point, it becomes paid
Purpose of the Plugin
The target purpose of this plugin is to allow content creators to sell their digital assets and make money directly through the website. This makes the whole process a lot more secure plus allows users to pay with cryptocurrencies. Therefore, in this way, no third parties get involved in the process.
How to Use BTCPayWall Plugin
To start off with this plugin, you will need to complete several steps, such as:
Go to Admin's Dashboard > Plugins > Add New
On the search line, type "BTCPayWall"
Click "Install", then "Activate"
Click on the "BTCPay" in your dashboard
Make all the necessary adjustments and customizations in the menu
And under the tab settings, you can find everything you need
Main Benefits of BTCPayWall
So, the major benefits of the BTCPayWall plugin are:
Security levels

: this plugin is quite solid because it has no intermediaries and third parties involved in the transaction processes

Support 4 different to distribute digital products, including pay-per-post, pay-per-view, downloading store to sell downloaded digital products, and tipping for receiving donations
Allows publishers to generate revenue
A new method of making money without forcing users to sign up for memberships
---
---
Tools ONOUT provides many ways to enhance your digital financing system. Their tool Wallet allows creating a crypto wallet for your clients. You can store and exchange cryptocurrencies and peer-to-peer exchange currencies automatically. The Wallet also allows you to create your own tokens and earn on them. You can use this program without installation and registration.
The main Features of TOOLS ONOUT
ONOUT offers multiple products, each of them with simple but practical functionality. Down below, we presented each product with its main features.
Multi-currency Wallet – users can create a crypto wallet, generate addresses, deposit, and send crypto using the interface on their domain. Wallet accepts currencies such as BTC, ETH, ERC20, BNB, and LEP. And most importantly, users can customize available tokens in their wallets. The only person who controls the wallet is the user. The process suggests having private keys stored in one's browser's local storage.
DEX – Unifactory, otherwise called white label exchange solution. With this feature, users can set up commissions from 0 to 20%. Besides, they will get lots of customization options in terms of color, logo, menus, fees, addresses, and available tokens.
Farming- Farming follows the policy of attracting investment, which suggests increasing the demand for tokens by paying rewards. It works with any tokens, including uni swap liquidity providers.
DAO– With a certain value of tokens, people can make proposals. DAO includes several features, such as "Create Proposal form, "Vote for proposal," "List of votes," etc. Who is it made for? Community collectives, trust funds, developer collectives, metaverses/virtual worlds.
NFT Marketplace– Collecting and selling digital art sounds like fun. What you have to do for that is install the NFT plugin in your WordPress
Purpose of the Plugin
To make running Blockchain apps on your own domain, without the need for intermediaries and additional expenses. The main purpose is to make it accessible to everyone.
How to Use the TOOLS ONOUT Plugin
To start off with the TOOLS ONOUT plugin, you need to complete a few simple steps:
Click on "Get Started" on their website
It will redirect you to the page, where you will need to click on "Connect to Wallet."
Afterward, you have to scan the QR code with the WalletConnect – compatible wallet
Main Benefits of TOOLS ONOUT Plugin
The legal source which uses only MIT and GPL sources
Uses only top audited sources
You can set it up and start using it right away without technical skills in coding
---
---
Cryptocurrency transactions are now growing faster due to their safer and more secure transaction status. Speed is a leading Bitcoin payment processor that enables cutting-edge solutions for this new Bitcoin era. It enables merchants and businesses to accept Bitcoin payments worldwide with low transaction fees, improved security, and reduce fraudulent chargeback claims.
Speed is globally accessible in over 20 countries and supports multiple languages. They provide a feature that enables customization of your payment QR page with your branding, which includes the option to incorporate your logo, brand colors, and fonts. This allows you to create a more personalized and branded experience for your customers.
Main Features of Speed Plugin
Processing online payments, enabling:
To create checkout links, with no coding knowledge, that can be sent to customers via email and social media,
To create payment links through the Speed web app or APIs,
Open-source plugins for all major e-commerce platforms, including Shopify, Woocommerce, Magento, etc.,
Accepting in-person payments, enabling:
One QR, a single QR code to accept any amount of payments from your customers at any time,
Dynamic QR for specific amounts of payments,
Point-of-sale, mobile app tool for generating links and QRs to accept payments from customers.
Managing Business, enabling:
Powerful payment APIs
Balance and transaction records,
Refunds,
Withdrawal links,
Payments,
Payouts.
4. High security and privacy, leveraging the latest tools for its customer's secure transactions at every stage. Those are Cloud Infrastructure (AWS), Application security, IAM security, IPS/IDS Firewall Management, and Antivirus/Antimalware.
Pricing Plans
The Plugin is completely free to register. They do not charge any setup or maintenance fee.
Free – 0% transaction fee up to $10,000, no transaction fee.
Business – 0.5% fee on every transaction is charged once the business has crossed $10,000 worth of transactions.
Volume discount – For businesses where the total transactions are for more than a million dollars, custom pricing is applied.
How to Use Speed
Sign in/Sign up
Go to WordPress > Admin's Dashboard > Plugins > Add New
Search for the Woocommerce Speed Bitcoin Payments plugin
Click on Install now
Activate the plugin by clicking on Activate now
Afterward,
Go to WooCommerce > Settings > Payments > Speed
Connect to your Speed account,
Enter the necessary API keys,
Test Connection > Save Changes.
For a more detailed step-by-step guide click here.
If you are a newbie in WordPress, you can take a look at this super useful article on the plugin installation.
Main Benefits of Speed
User-friendly interface
Both online and in-person payments,
Powerful payment APIs,
Increased security and privacy,
Low transaction fees
Analytics dashboard
---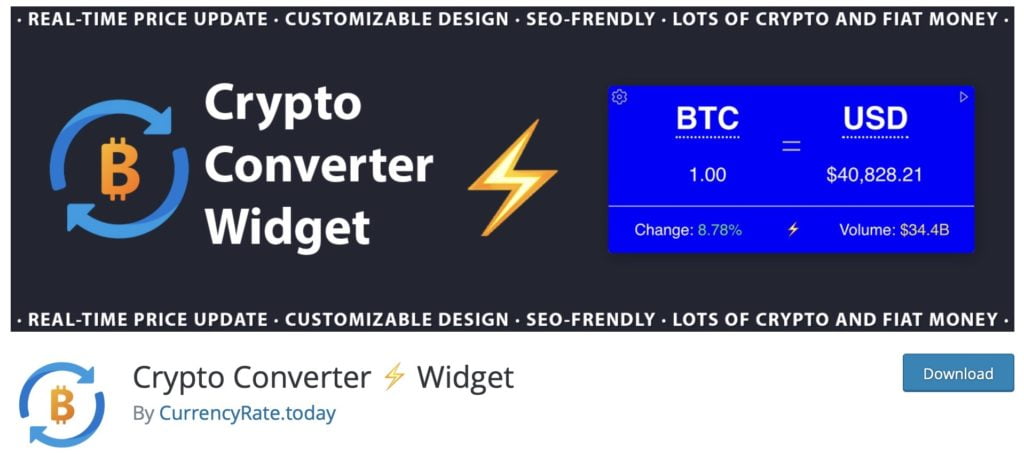 ---
Another plugin to choose from is Crypto Converter Widget. It is an entirely free tool that allows you and your clients to use and convert cryptocurrencies as an online payment method. Moreover, the plugin supports over a hundred national currencies and two thousand cryptocurrencies. An HTML widget allows you to attract more traffic to your website or simply use it to pay. You can quickly start using this program, as it is a pure Java-scripted program and requires only one tag to write to use the widget.
Main Features of the Crypto Converter Widget Plugin
Based on pre-JavaScript with no dependencies
Flexible settings
Highly customizable design
Best cryptocurrencies (2200) and fiat currencies (170)
SSL support
Real-time streaming price updates
Purpose of the Plugin
Furthermore, this easy-to-use UI widget aims to enhance users' experience with converting cryptocurrencies and providing live price updates by making those accessible and instant for everyone.
How to Use The Crypto Converter Widget Plugin
To start with this plugin, you will need to download it first.
Go to the WordPress admin's dashboard, then click on "add new"
Afterward, on the search line type "Crypto Converter Widget" and click on install
After installation, you will need to click on activate, then check out the sidebar of the dashboard
On the sidebar, you can see Appearances, click on it, then click on the widgets
Crypto Converter Widget is available under widgets; just click on it to be able to view all functionality
Here is the DEMO version
Main Benefits of Crypto Converter Widget Plugin
No cryptojacking
Extremely SEO-friendly
Mobile-friendly interface
Simple User Interface
Do you like the "Safest and Best WordPress NFT and Cryptocurrency Plugins" article so far? If yes, then do not hesitate to share your feedback in the comments section.
---
---
Simple Crypto Shortcodes plugin is getting accurate and relevant data which is also up-to-date from CoinMarketCap. This plugin allows users to get various information about cryptocurrencies, including price, volume, and market cap. Moreover, the Simple Crypto Shortcodes plugin currently provides financial and other coin metrics for more than 11,711 coins.
Main Features of the Simple Crypto Shortcodes Plugin
So, the main features of Simple Crypto Shortcodes are, of course, the shortcodes themselves, which are presented down below:
13+ shortcodes supported, including price, name, max supply, circulating supply, coin rank, coin volume (24h), coin change (1h), coin change (24h), coin change (7d), coin change (30d), coin change (60d), coin market cap, coin market cap dominance
11k+ coins
Based on CoinMarketCap
Purpose of the Plugin
The primary function also purpose of this plugin is to allow you to easily, with no additional complications, display various cryptocurrency data on your website with shortcodes.
How to Use The Simple Crypto Shortcodes Plugin
For installation go to the WordPress admin's dashboard
Click on Plugins > Add New > Search line, then type > Simple Crypto Shortcodes
It should appear on the sidebar of your dashboard from the backend of your website
Once you are inside the settings, to start using you need the CoinMarketCap API key
There are free and paid plans available, to register for an API key click here
Once you are registered, you will need to copy the key, go back to the dashboard, and paste it over there > Save API key
Main Benefits of Simple Crypto Shortcodes Plugin
So, let's take a look at the main benefits of this incredible plugin:
Simple user interface – does not require a long learning curve to start using
More than 11.000+ coins data available
Accurate and Relevant data
---
Summary
To wrap things up, I can say that in the "Safest and Best WordPress NFT and Cryptocurrency Plugins" article, we reviewed one of the best cryptocurrency plugins available for crypto wallet development out there on the net. Moreover, each plugin mentioned here is worth trying and will definitely level up your website in terms of making it more modern, according to evolving technological trends.
---
If you liked the article do not forget to check out our YouTube channel with tons of WordPress tutorials! And you can find us on Facebook & Twitter, where we post interesting updates about upcoming events.
---
Must-Read articles
Do not forget to check out our Must-Read articles! This rubric is not called a must-read for no reason; the articles chosen and displayed here will genuinely benefit you. We also have many guides.
Beginners Guide – this is the category of our blog created especially for beginners. Articles under this category assist users and help them become Pros in the WP industry. Under this category, you can find many guides and How to's; I recommend you to check out this article.
Plugin Reviews – under this tab, you will find 100% honest plugin reviews. Each review is very detailed and includes pros & cons, main features, basic analytics, user reviews, etc. From there, you just must check out this article.
Top Lists – the best category for those who want to quickly find out the best plugins among other competitors on the market without spending hours on research. Check out this one!
Plugin Marketing is an ideal category for those who have plugins but have no idea how to promote them, increase installation numbers, and make some profit. Under this category, you will be able to get the answers to the most popular questions, such as "How to sell your plugins?", "How to increase active installs?" and "How to write effective plugin descriptions?".