The Best Calendar Plugins for WordPress! Why would you even need those? Well, the organization is everything nowadays. Today's environment is quite dynamic and competitive. Therefore in order to please your clients, remember important meetings and appointments and stay on top, you definitely need calendars. Besides, those will also help you to better manage your time.
So, if you are ready, let's start!
---
What Are Calendar Plugins?
Let's start from scratch. So, what are calendar plugins? Generally, plugins are add-ons that help you to level up your website, add some extra features, and enhance the overall experience of your and your front-end users. Calendar plugins are plugins that will work great for time management, scheduling events, appointments, and different tasks related to your website.
---
What should You Look for in a Good Calendar Plugin?
Good calendar plugin must:
Be easy in usage and does not require a long learning curve
Have all the features that will enhance the user experience, full-featured
Multipurpose (bookings, schedules, appointments, etc., both for online and offline businesses)
---
Best Calendar Plugins for WordPress
Now, it is finally the time to review the Best Calendar Plugins for WordPress to level up your business performance. So, if you are ready, let's start.
---
So, the first plugin from our list is Amelia. It has more than 40.000 active installations and 158 of 5-stars in the WordPress Repository. Amelia Booking plugin allows you to set up a multifunctional yet simply automatic booking system for booking appointments and events on your WP site.
This plugin will be very helpful to those whose business needs stable appointment booking or event processes on their sites. Besides, the plugin's free version might be beneficial for the below-mentioned spheres:
Education
Personal and professional services
Salons
Fitness and gym
Healthcare
Consultants, etc.
You are also able to find demo versions of Amelia.
Key Features of the Amelia Plugin
You can utilize plenty of available features while using the plugin's free version. Some of them are mentioned below:
User-friendly UI/UX for appointments and events booking forms
Events and appointment booking forms embedded with shortcodes
Calendar view opportunity
Business KPIs tracking
Automatic Email and SMS notifications that follow the booking completion
Double-booking prevention
20+ languages available
Compatibility with Elementor, Divi, Gutenberg Block Editor, etc.
Besides introducing a free version full of many different functions, Amelia has an advanced paid version with this pricing:
Basic– $79 (for 1 domain, per year)
Pro– $119 (for 3 domains, per year, this is the most recommended plan)
Developer– $249 (for unlimited domains, per year)
By upgrading to one of these plans, you will get an opportunity to create:
Unlimited employees
Customizable Design
Multiple locations
Recurring appointments
Packages of Services (absent in the "Basic" version)
Email and SMS reminders and Custom notifications
Online payments
Event Tickets
Customers and Employees Panels
Integrations: Google and Outlook Calendar sync, Zoom and Google Meet, Google Analytics, Zapier, etc.
Besides, you have a 15-day money-back guarantee upon purchasing the plugin.
How to Use The WordPress Amelia Plugin?
You can easily install and activate Amelia from your WordPress Plugin's Directory.
After activating the plugin, it will be added as a "Menu" section on your Admin Dashboard.
Each of the sections including "Calendar", "Appointments", "Events", "Services", "Locations", "Customers", and "Finance" enables you to create the corresponding components for your events calendar.
Creating Appointments with Amelia
At this point, you will learn how to make an appointment by using Amelia.
So, after entering the "Appointments" section, you will notice a blue round button with the "+" sign to add a new appointment. Or else, if you have already created even one appointment you will see it available in this section.
For creating a new one, you should fill in the following sections:
Customer(s)
Category
Service
Date
Time
Notify the customer (or not)
Internal Note
As well as the "Extras" section that is available only in the paid version.
Here is the form you need to fill in:
And this is the ready-made appointment in the backend:
Creating an Event with Amelia
To create an Event you should fill in the "Details" and "Pricing" sections boxes. And if you are a paid version user, then you have the capacity to "Customize" the events and apply additional "Settings".
So, the "Details" include:
Event name
Dates and Time
Booking opens immediately
Booking closes when the event starts
Select Addresses
Custom Addresses
Organizer
Staff
Tags
Description with Text mode or HTML
In the "Pricing" section you should set the "Price" and determine the "Maximum allowed spots". As well as you may "Enable deposit payment" and turn the "Custom pricing" trigger on.
After filling in the empty box, you will get a result, like it is presented in this example:
---
Here is another plugin – EventON which has more than 700 active installations and a 4.5/5-star rating. With this plugin, you can create many events with different configurations, for example:
Featured events
Repeating events
Month/year-long events
Virtual events
Here are the main features of the plugin:
Unlimited event creation
Setting featured images for events
Supporting all day, single and multiple day events
Hiding events and time
Supporting health care guidelines
Allowing to add event location, organizers
Displaying events on Google Maps, etc.
The list is not limited to the features mentioned above. Moreover, you can find the plugin's Pro version presented in CodeCanyon. Here are the pricing plans for the EventON plugin:
Regular License – $25
Extended License – $250
---
---
The next plugin from our list is the WP Booking System plugin which has more than 10,000 active installations and 200 5-stars rating in the WordPress Repository. So, if you want to rent anything like hotel numbers, boats, cars, etc., or you simply have a website and want to track the rentals with the booking calendars then it is high time you activated this plugin.
The plugin enables you so many features, like:
Create booking calendars and form
Manage bookings
Customize the ready-made booking calendar
Manage the calendar's availability manually in just a few seconds
Allow your site visitors to book the available dates through the calendar
Save additional booking info
Use the generated shortcodes
Embed the booking calendar in the Gutenberg Block Editor
Multiple languages available
WP Booking Calendar Widget
You can easily use the plugin for your different purposes such as renting properties, boats, cars and motorcycles, sports equipment for different types of triathlons, events, speakers, photographers, singers, and so on.
The users who seek to find more advanced professional features in this plugin can upgrade to the paid version. Here is the pricing:
Personal – $49 per year (1 site)
Business – $79 per year (5 sites)
Developer – $159 per year (unlimited sites)
The plugin enables you to refund the purchased package within 14-days after making the payment.
All the valuable Pro features and plugin demos can be found on the WP Booking System plugin's official website.
---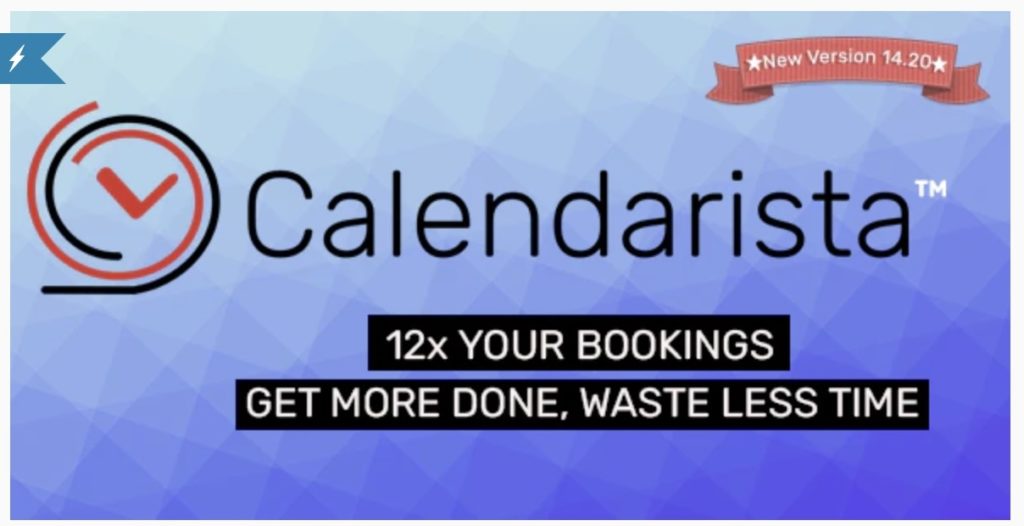 ---
So, Calendarista Premium is an incredible WordPress plugin created by Types. It is available for purchase on CodeCanyon. Moreover, with this calendar plugin, you will be able to manage bookings and reservations and generally add a full-featured schedule system to your website. Now, let's take a look at the main features.
So, the main features are:
Customers will be able to book appointments by selecting the start date and time
Also, customers will be able to book by selecting a date range and with changeover days
Clients can book round trips by selecting the pickup and drop dates
Setup is available in terms of time slots and deals
Compatible with Google Calendar, iCal, Outlook
Webhooks with Zapier
Can be exported to CSV
Custom fields assisting you in collecting additional data about the customers
WPML support
SMTP settings
Payments with WooComemrce, PayPal, Stripe
Multiple date formats and seasonal rates are supported
Google maps integration – to display the direction of the physical location to clients
Discount coupons
Public calendar
It is also worth noticing that the Calendarista Premium plugin offers a free demo, so do not forget to check it out before making a purchase.
---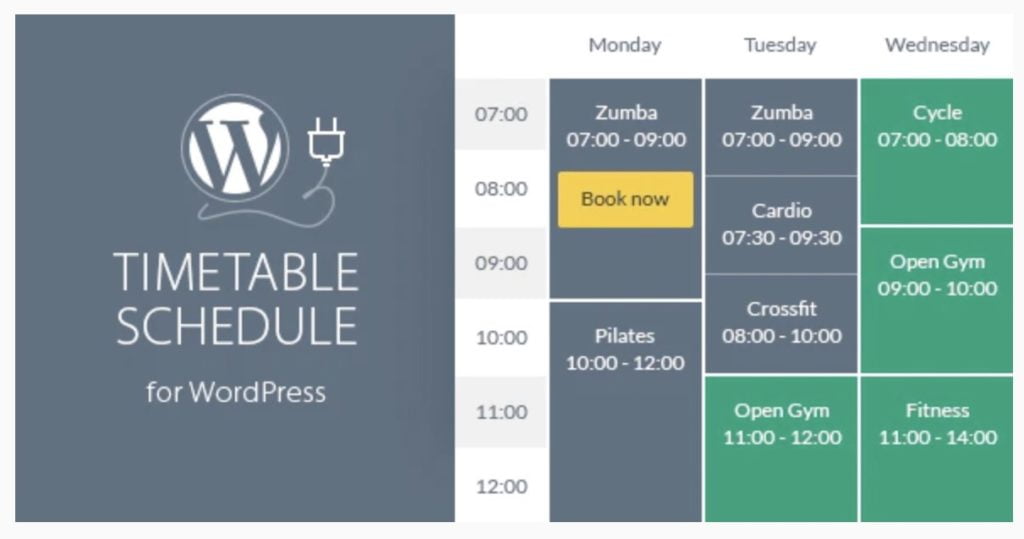 ---
In the Best Calendar Plugins for WordPress, the 5th place is getting the Timetable Responsive Schedule For the WordPress plugin. It is a booking/scheduling plugin created by QuanticaLabs. This plugin is a simple yet potent tool for organization and management.
So, the main features are:
Responsive layout – this plugin easily adapts to any screen size, which is extremely important nowadays, because customers and potential clients access your website from different devices
Booking – this feature allows you to make booking reservations for any event right on your website (of course based on the available number of free slots)
Export to PDF
Event Manager/event occurrences – create events with custom post types, with several occurrences shortcode display all the occurrences
Upcoming events – with the built-in widget you will be able to display upcoming events
Fully customizable – you can customize tables, colors, widgets, or events
Timetable shortcode generator – with this feature you can choose what on your timetable should be displayed, as well as the layout for the event block, time format, drop-down menu tabs, filtering, etc.
Page builder integration – WPBakery page builder.
---
Summary
So, to wrap things up in the "The Best Calendar Plugins for WordPress – 2022 Review" article, we can say that each and every plugin mentioned here can be confidentially used. Every plugin from this list is highly reliable and offers all the necessary functions to manage bookings, appointments, and reservations effectively.
Do not forget to read about the best booking plugins on WordPress.
If you liked the article do not forget to check out our YouTube channel with tons of WordPress tutorials! And you can find us on Facebook & Twitter, where we post interesting updates about upcoming events.