In this article, we are going to take a look at the best Amazon Affiliate Plugins for WP. Consequently, we will also take a look at the Top 5 most popular WordPress affiliate plugins for Amazon that will work great for your website.
So, if you are ready, let's start!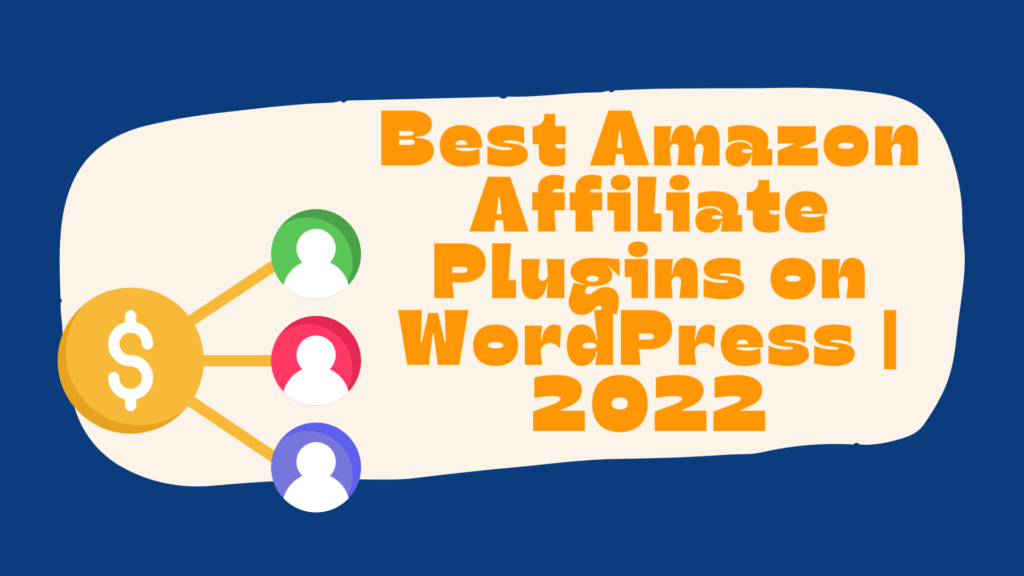 What are Affiliate Plugins?
Before we get into plugins, let's delve into affiliate marketing in general. You will soon realize that it works something like an advertisement that provides you with additional income. So, as a third-party member, you put links on your website that lead to companies or products and increase the traffic on their website. For each redirection, you get a certain amount of money. Basically, you advertise another website and get a fee per click.
Moreover, Amazon's affiliate marketing program is a good chance to implement affiliate marketing on your website: you lead your own website visitors to an Amazon page with a product, and they pay you for that.
Creating affiliate links manually is possible, but it is quite tedious. Affiliate Plugins for WordPress aim to automate the process to save you some precious time and energy.
By putting affiliate links in your posts on WordPress, you get additional income, plus increase the SEO of your website through external links.
---
Top 5 Amazon Affiliate Plugins for WordPress
Now let's break down the WordPress plugins that will help you build successful affiliate marketing just as it is for Amazon specifically.
ThirstyAffiliates is a WordPress plugin created by Caseprof for individual entrepreneurs, small businesses, bloggers, web developers, etc. It provides all those with an easy way of further monetizing their WordPress website through affiliate strategy. Let's have a look at the main features.
Main Features
So, the main features are:
Statistics & reporting. Start tracking every affiliate link on your website by click tracking and explore information on how successful you are.
Link Cloaker. The in-built link shortener creates pretty and short links instead of massive links full of random symbols.
Link redirection. You have 301, 302, and 307 link redirection options.
Link categorization. To easily classify your links, you have the option of hierarchical link categorization.
Picker tool. You are provided with an advanced link picker tool.
Affiliate options. Add shortcodes or images to your affiliate links.
Posts, pages, and comments. Easily add links to posts, pages, and comments.
All in one tool. Create and edit affiliate links within your editor screen.
URL prefixes. Customize your URL prefixes.
Category slugs. You can show or hide category slugs in the URL of the link.
Complete import and export
Full backups
Link fixer
Pro Version
Automatic Keyword linking
Advanced reports
Geolocation targeting for affiliate links
CSV import and export
Amazon API reporting
Email notifications
Automated health checker for links
Pricing
A basic license costs $49 at the moment and provides you with all the pro features for one website. Plus license costs $99 and works for five sites. And for $149, you can also purchase the Advanced license that will provide you with the features of the ThirstyAffiliate plugin on 10 WordPress websites.
Benefits
Easy to use
Link management
Safe redirection
No bugs
Links with images
---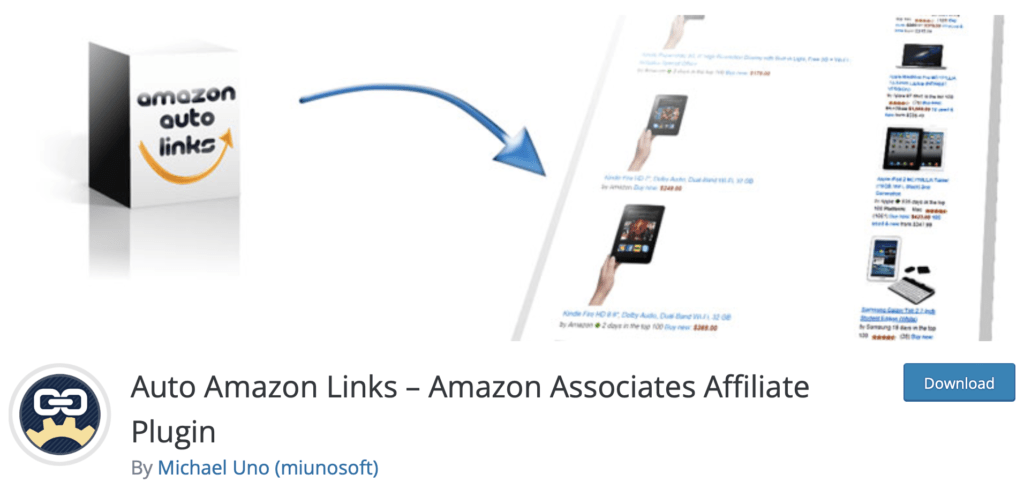 Auto Amazon Links, a plugin developed by Michael Uno, is a program that will allow you to create automated affiliate links to Amazon on your WordPress website. Tagging the links to your Amazon Associates ID, you can work with all Amazon locales and browsers without JavaScript. You can insert the affiliates differently, such as widgets, shortcodes, or auto-insert. Let's have a closer look at the features of the plugin.
Main Features
So, you can see the main features down below:
Customizable buttons. Use buttons instead of links to attract more attention from your website visitors, and tailor them to your needs and taste.
Geo-targeting. Using geolocation, you can target your website visitors through their IP addresses to improve your leads.
Automated link conversion. Automated Amazon hyperlink conversion to affiliate links.
Gutenberg. The plugin has a Gutenberg editing block.
Widgets. Use widgets for displaying product links by units or by a contextual search.
Shortcode and PHP
Filters
RSS and JSON
Customizable units
Customizable outputs
Benefits
Supports all Amazon Associates locales
Does not need JavaScript to work
Automated
---
Amazon Link Engine, created by GeoRiot Networks, Inc., is also a plugin for affiliate marketing designed specifically for Amazon. It allows you to put affiliate links on your website that lead to Amazon and work in all the locales. Although this is a Geniuslink tool, you don't need to have a Geniusling account to use Amazon Link Engine. But doing so will earn you international affiliate fees.
Main Features
Therefore, the main features are:
Choose a Geniuslink plugin to work with
Set the plugin on multiple WordPress websites
Compatible with already existing affiliate links on your website
Automatic translation of the Amazon products depending on the user's geolocation
Compatible with Amazon affiliate programs
Custom domain
Pricing
Amazon Link Engine itself does not have a paid version, but it is the Geniuslink that may require a fee. Amazon Link Engine is part of Geniuslink, and having a Geniuslink subscription for $5 / month will provide you with wider functions, such as getting fees from international clicks and volume discounts.
Benefits
Easy to use
One time configuration
Works without the Amazon Developer account
---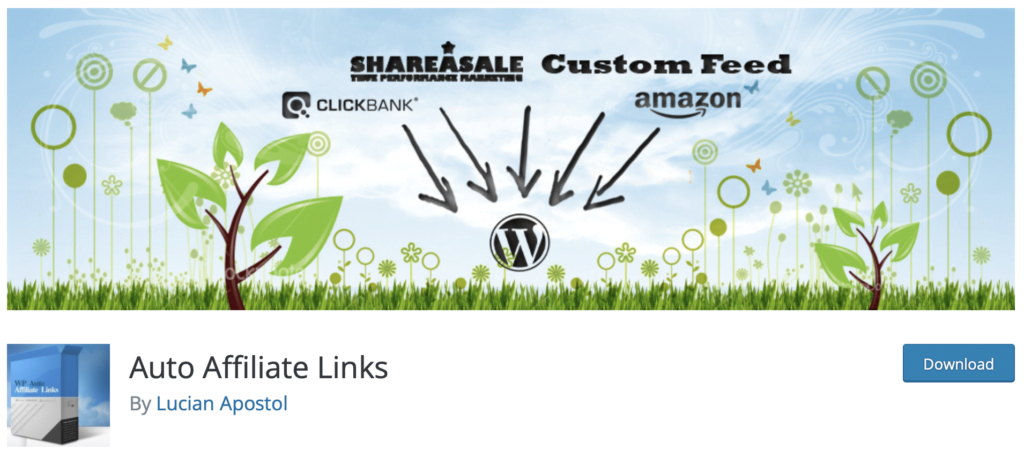 Lucian Apostol creates Auto Affiliate Links for WordPress users to automatically add affiliate links to your WordPress content. It provides you not only with fully-automated links but also with an opportunity to set and edit the affiliate links and respectful keywords manually. The plugin allows you to create affiliate links for Amazon, Clickbank, Shareasale, eBay, Walmart, Commission Junction, BestBuy, and Envato Marketplace.
Main Features
So, the main features are:
Automated link insertion. The plugin automatically creates affiliate links by replacing the keywords or references to the product in the content on your WordPress website.
Affiliate Networks. Auto Affiliate Links can extract links from popular websites such as Clickbank, Shareasale, eBay, Walmart, Commission Junction, BestBuy, and Envato Marketplace. Most importantly, the plugin is compatible with Amazon.
Click Statistics. For each link, you can see how many times it has been clicked on.
Import and Export. Through the bulk import and export function, you can export all affiliate links and keywords and re-add them later on.
Generated links. You can monitor your links. Specifically, you can see what links were created automatically by the plugin and where they are on your website.
Pricing
Moreover, Auto Affiliate Links Pro provides you with different types of subscriptions. Monthly, it costs $19 dollars. If you choose an annual subscription, it will be $99 / year, which will save you $129. If you choose to take a 5-year subscription that costs $299, it will allow you to save $196 from the yearly subscription and $841 from the monthly subscription. Auto Affiliate Links Pro allows you to apply the functions of the plugin to multiple WordPress websites at once.
Benefits
Also, this plugin comes in handy with certain benefits, which are:
Lifetime updates
Dedicated support
2-month money back guarantee
---
Affiliatable is a powerful tool for affiliate marketing. It allows you to create beautiful affiliates that will attract the attention of the users and get you your additional income. The clean-looking dashboard of the plugin will enable ease of use and quick affiliate creation within your workflow, and pre-made templates will minimize your active involvement.
Main Features
So, the primary features are:
Amazon API Integration. With the Amazon integration, you can directly import Amazon products to your site.
Schema Optimized. All Affiliatable tables are schema-optimized, which allows for better SERP performance.
Click Reports. Affiliatable provides you with real-time reports of link performances and the number of clicks per link.
Geo-targeting. Via geolocation, you can direct your website visitors to the right locale of Amazon.
Multiple CTA. The multiple CTA feature enables you to work with different merchants rather than with one.
Pre-made templates. Save time by using pre-made CRO optimized templates.
Import to WordPress in a few clicks.
App and Plugin Dashboard
Pro Version
Moreover, this plugin has a Pro Version as well.
Premium templates
Tracking ID replacement
Custom Categories
Live chat support
Copy function
Schema optimization
Pricing
Affiliatable Basic is completely free but can be used on one website. Pro-Single has all the Pro features for one website for $49 / year. Pro-Plus allows you to apply all the paid features to five websites for $149 / year, and Pro-Infinite — to unlimited websites for $249 / year.
Benefits
Also, let's take a look at the benefits:
Responsive design that can be customized to your taste and needs
Easy to use, uncluttered interface
High performance
---
Summary
This article discussed not only the best plugins for Amazon Affiliate marketing but also affiliated marketing and its benefits. Moreover, A popular affiliate strategy is to implement affiliate links to products on Amazon, thus generating fees through Amazon's affiliate program and increasing the SEO of your own website. Also, an easy way to create affiliate links automatically is through WordPress plugins. Hopefully, this was useful to you, and you can implement affiliate marketing on your website already!
Also, check out the Best WordPress Email Verification Plugins for Your Business to find out the best plugins to use.