Almost all the shop owners face abandoned carts issues. This is when the user selects multiple products and moves them to the cart. Then leave it in a second without reaching the checkout page. If this sounds strange in the real life, the majority of eCommerce business runners meet this issue very frequently. This is an irritating thing that can highly affect your product sales percentage. So, after revealing the reason for abandoning carts, you need to take steps to maximally decrease their number. And if you use WordPress, then it is a matter of a few clicks to prevent cart abandonment on your store. As you guess, in this article, we are going to discover the best plugins to recover abandoned carts on WoooCommerce.
Stay tuned, to meet them soon!
---
Why Do People Abandon WooCommerce Carts?
Well, there are different reasons why shoppers abandon carts on WooCommerce. Some of the most widely-spread factors are:
High taxes, fees, and delivery costs
Account creation requirement
Long and difficult checkout
Credibility of the website
Issues related to the return policy or the credit cards, etc.
There can be various other personal reasons. In any case, it negatively affects product sales and store revenue.
Accordingly, recovering abandoned carts is a beneficial process for your e-commerce business growth and increasing conversions.
---
Best Plugins to Recover Abandoned Carts on WooCommerce
So, at this point, you will find the 5 best plugins to recover abandoned carts on WooCommerce.
The first plugin from our list is CartBoss. Having constantly growing installations, currently, it scores over 800 activate installs on WordPress.
This is your ultimate solution to recover abandoned carts with the help of text messages. The process will take just a few minutes to be completed. Here are the steps to do this:
Connecting your WordPress or Shopify websites or API. Moreover, you can connect to as many websites as you wish.
Selecting the message to send. Here you will not only find all the existing messages translated to your preferred language but also have an opportunity to write a new one.
Automatically sending messages and start viewing the outcomes.
Also, you may send text messages containing offers after purchase. The most beneficial messages can be about discounts, coupons, or free shipping on your website.
At this point, you will meet the CartBoss plugin's main functions and features:
Sending Abandoned cart textual messages
Making offers after the purchase
Ready-made messages translated to your preferred language
Custom text messages and Sender ID
Automated message text
Link shortener tool
Limitless online shops available
Outcome statistics
Message text sending cost optimization
Easy WordPress and WooCommerce integration
API Integration
The features are not limited to the above-mentioned ones. Furthermore, the plugin is fully GDPR compliant.
Due to the auto-filled checkout fields, dynamic content that is personalized for each of the customers, and automatically generated coupons, the plugin will relatively increase your site conversion rate.
Besides, you are not required to pay for a subscription plan to start using the CartBoss services. Also, there is a signup bonus available on the plugin's official website.
CartBoss Pricing
You may install the CartBoss plugin freely on WordPress. As well as the optimized pricing plans are customized on a country basis. Currently, there are 30+ countries and languages available.
---
Next comes the WooCommerce Recover Abandoned Cart plugin developed by the FantasticPlugins. It has more than 4,817 sales on Codecanyon and has passed more than 125 updates until now.
The plugin enables site owners to send follow-up emails automatically after the user abandons the cart on WooCommerce. Through the plugin, you may set many email templates for follow-up messages. This will possibly give you an opportunity not to send the coupon code in the first message. Instead, you can proceed with this in the next messages.
The plugin easily detects carts that are abandoned by the site member or guests. The process of sending notifications in the case of website members is very quick. So, when they add products to the cart and try to leave the cart, the plugin captures Abandoned Carts. As for guests, then they will receive the message if entered an email address on the checkout page.
The plugin works with all the themes supported by WooCommerce.
In the list below, you will read about some of the helpful functions of this plugin:
Abandoned Carts monitoring and capturing
Recovering Abandoned Carts with follow-up mails
Different email templates available
Mail Templates' activation and deactivation
Translation ready and WPML compatible
Manual mailing with captured phone number, etc.
The plugin provides only its paid Pro version. So, you can purchase one of the licenses with this pricing:
Regular License – $49
Extended License – $490
---
Tyche Software's Abandoned Cart Lite for WooCommerce plugin scores more than 30,000+ active installs and a 4.1/5-star rating on WordPress.
The plugin's free version is full of all the essential functionalities and features, such as:
Guest and logged-in users' cart identification
Recovery percentage tracking
Reminder message sending after a few minutes the user abandons the WooCommerce cart
Quick setup with WC cart templates
Feature-rich text editor
Message personalization, etc.
As you see, these are the basic features to use when you need to recover your WooCommerce store's carts. But if you want to obtain more professional tools and functions, then it is time to activate the plugin's Pro version. With the Premium version, you may:
Automatically remove the abandoned carts after a certain date
Generate and assign coupon codes in the follow-up messages
Deliver reminder messages through Messenger, Email, and SMS
Track coupon codes and their status
Collect email addresses when the customer clicks on the "Add to Cart" button
Popups with exit intent feature
Here is the purchasing pricing for the plugin's paid version:
Starter – $149 per year
Business – $299 per year
Enterprise – $349 per year
---
Abandoned Carts are one of the common issues that online store owners face. Win back your customers with the easiest Abandon Cart Recovery Plugin – Cart Lift.
Easily track your customers who left carts and create specialized recovery email campaigns for them.
Major Features of Cart Lift:
Great for WooCommerce & EDD platform
Complete recovery campaign analytics & Set email intervals
Set up abandoned cart notifications, coupons & discounts
Options to run two email campaigns in free and unlimited email campaigns in the pro feature at once
Add pop-up email fields and track the sent emails along with user information.
The abandoned cart tracking is completely GDPR compliant so you don't need to worry about anything. Another great thing about Cart Lift is that it's fully compatible with any theme!
---
Moving forward, our 4th Abandoned Cart Recovery plugin is developed by VillaThemes. It scores 5,000+ active installs and positive feedback from customers.
The plugin perfectly works with WooCommerce. It successfully captures abandoned carts and sends recovery messages to customers who left the store after making carts. This refers not only to logged-in site members but also to guests. Moreover, admins receive notifications about the recovered carts. Besides, there are 3 types of reports regarding abandoned carts. So, the admins may check them very easily. As well as they are allowed to select the proper report type.
Along with its free version, the plugin also provides a Pro version with some advanced settings like email popups, Sending notifications through Messenger, and SMS with 3 providers available. Some other features can be found on the plugin's official website.
The price for the Premium version is $40 which is very affordable if we take into account its productivity and useful functions.
---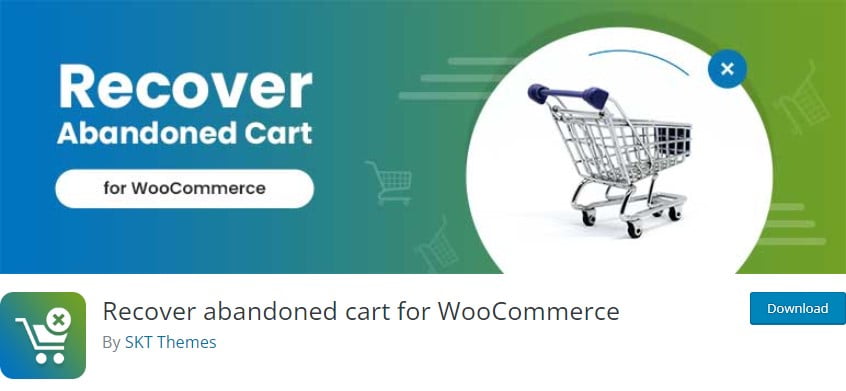 Next Recover Abandoned Cart for WooCommerce plugin that we would like to present is developed by SKT Themes. It enables the users to get in touch with those customers who left the cart after selecting and putting there some products from your WooCommerce store. It is absolutely free to use. Instead, the plugin will benefit from increased revenue by recovering the abandoned carts. Through it, you may offer discounts and deals with exit intent popups. You may meet the plugin's basic features below:
Saving customers' names, mobile numbers, email addresses, and selected products from the WooCommerce store
Sending notifications to admins when detecting an abandoned cart
When the user reached the final "Thank you" page, the personal details are deleted from the list
Daily or hourly messages in case of abandoned carts.
Guest and logged-in users capturing
---
When a customer abandons their cart on your WooCommerce store, the ELEX WooCommerce Abandoned Cart plugin will send them a series of automated emails at intervals you set to remind them to finish their purchase. It is possible to add smart discount coupons that are automatically created, create trigger rules, personalize email templates, and view logs and detailed reports. Key Features of ELEX WooCommerce Abandoned Cart Recovery with Dynamic Coupons Plugin:
Depending on the user's role, the total amount spent, the number of products, the product IDs, and other factors, you can create and combine multiple rules and conditions that, if met, would trigger email notifications.
Abandonment of a shopping cart based on elapsed time allows the user to choose the amount of time that must pass before the shopping cart is considered abandoned.
Immediately after a customer abandons their cart, you can have a series of emails sent to them at regular intervals with attractive coupons and discounts.
View the overall amount recovered, amount abandoned, conversion rate, most frequently used email templates, total emails sent, total carts recovered through email, most commonly used coupons, and any bonus recoveries made by the plugin during a set duration of days in the form of graph-based reports.
To further motivate customers to finish their abandoned purchases, the plugin allows you to add WooCommerce Coupons or dynamically generate and add smart coupons to your recovery emails.
---
Comparison Table
So, let's compare the plugins in the table. This is to see their features more clearly:
| Plugin Name | Active Installations / Sales | Pricing |
| --- | --- | --- |
| CartBoss | 800+ | Customized pricing for messages |
| WooCommerce Recover Abandoned Cart by FantasticPlugins | 4820+ | $49 – $490 |
| Abandoned Cart Lite for WooCommerce by Tyche Softwares | 30,000+ | $149 – $349 |
| Cart Lift | 1,000+ | $79.99 – $169.99 |
| Abandoned Cart Recovery for WooCommerce by VillaThemes | 5,000+ | $40 |
| Recover Abandoned Cart for WooCommerce by SKT Themes | 40+ | Free |
---
In Conclusion
So, approaching the end of the "5 Best Recover Abandoned Carts on WooCommerce" article we would like to note that completing the process with plugins is a matter of two clicks. Meanwhile, if you do not use them, you will most likely fail the tracking process of every abandoned cart on your eCommerce store. Instead, the plugins do this automatically and very easily. Moreover, they do not skip any detail. The reminder messages with engaging content will most likely return the customers back. Also, it will promote your online sales and boost your revenue.
---
Must-Read Articles
If you want to manage your products on WooCommerce then our recently published article will be helpful to you:
To find the best CRM solution for your WooCommerce store, you should read this article:
Help your WooCommerce store customers make their desired product list with the help of the best WooCommerce wishlist plugins.
Promote your WordPress plugin or SaaS product with WPGlob. Choose your preferred service from the list.

If you liked the article do not hesitate to find us on Facebook and Twitter. For interesting WP tutorials, please subscribe to our YouTube channel.
Latest posts by Anahit V.
(see all)