If you decided to start an eCommerce business then using WordPress can be your great decision. Whether you have experience in running an e-commerce business or not WordPress will make this process easier than you might think. Even though WP is mostly known for its excellent blogging tools it also outstands in the field of online shopping and business. So, it enables users of all knowledge levels to build an extremely appealing online store. And this is thanks to many full-functioned plugins. These are available both free and online. So, based on your budget you can even decide which of the plugin will match your business purposes. To somehow ease your choice we have created this ultimate guide to show you the best WordPress product management plugins for easy usage.
---
So, the first plugin from our best WordPress product management plugins list is Product Table by WooBeWoo. The plugin scores more than 3,000 active installations and 24 5-stars on WordPress.
It enables the users to list the WooCommerce products in a searchable table. This is especially effective for big product catalogs and price lists, wholesale products, and order systems. This table is generated automatically. It is highly responsive and mobile-friendly.
Also, the product tables can be placed anywhere on your website. All you should do is add the products to the product list in the table through the searchable forms. After selecting the main settings and customizations and finalizing the table creation you will receive a shortcode to insert the table on any page you wish.
So, you can find the plugin's key features in the list below:
Supports any content
Provides online product table builder
Instantly searches, sorts, and implements pagination
Adds products automatically with just a few clicks
Filters the products based on categories, attributes, tags, price, and taxonomy
Compatible with ACF and CPT UI
Furthermore, the Product Table by WooBeWoo plugin can be easily set up and configured. There are many more other functionalities included in the plugin's free and pro versions.
Here are the prices for the advanced lifetime Premium packages:
One Site – $89
Up to 5 sites – $149
Unlimited – $299
Note, that by purchasing the plugin you will receive lifetime support and updates.
---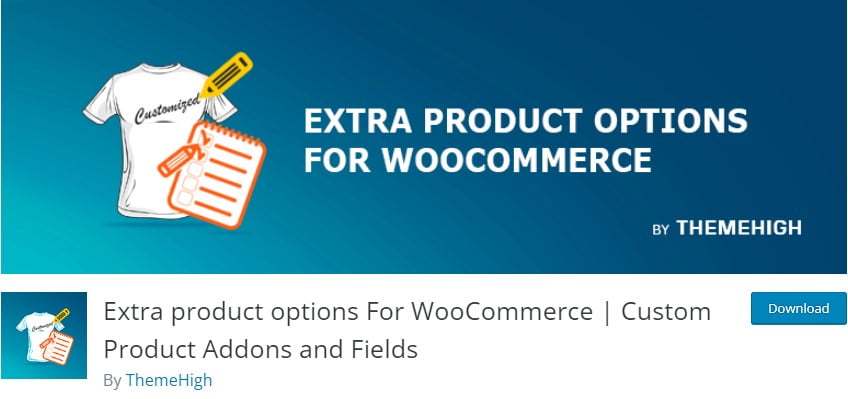 The next plugin – Extra Product Options for WooCommerce, enables users to add custom product fields and sections to its page. Currently, the plugin offers 19 field types.
It has more than 20,000+ active installations and 133 5-stars on WordPress Repository.
So, with this plugin, you will be able to effectively show the products you sell.
With the available custom field types, you will be able to display a big variety of products. All of them will perfectly work with the WooCommerce store.
In addition, custom sections are utilized to group the custom fields. This is to ease your work on the product page.
The free version also includes rules to decide when to display added fields and sections. Styles are foreseen to make the fields match with your page's overall style. Also, you are able to display custom field values and customize the "Add to Cart" button text. This plugin is compatible with such themes as Divi, Sydney, Astra, Avada, etc.
There are other features, too, also included in the Pro version. So, you may purchase the paid plans according to this pricing:
Single site – $39
5 sites – $69
25 sites – $129
By purchasing one of the pro plans you will receive 1 year of updates and premium support.
---
So, the next plugin from our best WordPress product management plugins list is WPFactory's Order Minimum/Maximum Amount for WooCommerce plugin. Currently, it has more than 10,000+ active installations and 18 5-stars on WordPress.
With this plugin, you can set your WooCommerce orders' minimum and maximum product amounts. The plugin is very easy to use. And in the list below, you will meet its key functions and features:
Setting min and max order amount for these order identifiers:
Quantity
Sum
Volume
Weight
Width
Length
Product, their categories, and tags
Order area (measured by length and width)
Besides these great features, you will be able to set changing order amounts based on the user roles, excluding taxes and fees. You can customize and display the clients' messages, block checkout pages, etc.
In addition to the above-mentioned free functions, you can access a more professional version of the plugin by upgrading to one of its paid plans. Here is the pricing:
Single Site – $39.99 (1 year of updates), $69.99 (lifetime updates)
Unlimited Sites – $99.99 (1 year of updates), $199.99 (lifetime updates)
The premium version enables you to set different order amounts based on these factors:
Different users
Products
Product categories
Tags
Shipping method
Shipping zone
Payment type
Membership
Currency
Also, you can simply display messages on any place on your website using the provided shortcode.
The plugin developers give you an opportunity for a 30-day money-back guarantee if you are not satisfied with this plugin at all 100%.
---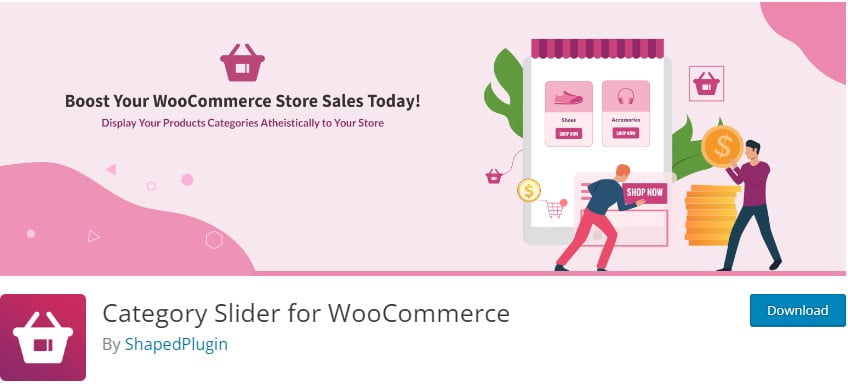 Moving forward, we would like to present the 4th plugin named Category Slider For WooCommerce. It has more than 8,000 active installs and 59 5-stars on WordPress Repository.
With its help, you can display various WooCommerce product categories in an engaging way through slides. The product categories can be shown through thumbnails, child categories, descriptions, call-to-action buttons. To ease the user's operation the plugin provides a shortcode. So, you can freely use the plugin without having coding skills.
The main benefit of the plugin is that it is absolutely free to set up and use. It has a responsive interface and is totally mobile-friendly. With it, you can add unlimited category sliders and display the ones you want at the moment. The Category Slider For WooCommerce plugin supports WordPress multisite, as well as RTL languages, and multiple languages. Its developers update the code base very frequently to exclude the availability of certain bugs. Also, the sliders are highly SEO-friendly.
If you need any help regarding the plugin, then you will receive a fast response in the plugin's free forum section.
Many other valuable functions are also included in the plugin's free version. But if you want to access more professional tools and settings then you can purchase one of the available paid packages:
Personal – $39 (1 site included)
Business – $99 (5 sites included)
Agency – $199 (for unlimited sites)
---
The last plugin from our list is Product Category Dropdowns. It has more than 800 active installs and 8 5-stars on WordPress.
So, the main function of this plugin is that it displays a dropdown list including different WooCommerce product categories. Along with the main categories, it also shows subcategories after clicking on the root category. And in the end, when you select the last subcategory, you will be redirected to all category pages.
It is important to note that the plugin shows only the categories which have items included.
In order to keep the plugin's initial version very simple, all the added features are presented as modifications.
So, for example, to display products in the last dropdown you will need to purchase a modification at a cost of $15 and so on.
---
Comparison Table
And now when you are aware of the best product management plugins' main features we may compare them visually more perceivable through the comparison table below:
| Plugin Name | Active Installations | Rating | Pricing |
| --- | --- | --- | --- |
| Product Table by WooBeWoo | 3,000+ | 24 5-stars | $89 – $299 |
| Extra Product Options For WooCommerce | 20,000+ | 133 5-stars | $39 – $129 |
| Order Minimum/Maximum Amount for WooCommerce | 10,000+ | 18 5-stars | $39.99 – $99.99 |
| Category Slider For WooCommerce | 8,000+ | 59 5-stars | $39 – $199 |
| Product Category Dropdowns | 800+ | 8 5-stars | Free + Paid Modification |
---
Summing up
So, coming to the end of the article, we would like to bring our thoughts about the best WordPress product management plugins together. Each of the above-mentioned plugins serves an idea and a certain purpose in your e-commerce store. Furthermore, they ease your operation on WordPress with no additional costs if you prefer to go with the free version. Also, the features you can implement on your website through these plugins will benefit the user experience on your site and lead to more conversions and sales on your online store.
Also, we recommend you read "2022s Best Shipping and Delivery Plugins For WordPress" articles to further leverage and improve your product management.
---
Must-Read Articles
WPGlob tries to collect the best plugins for different purposes through the WordPress Repository. This is to provide the best experience for our users and guide them in the big world of WordPress. You can view the "Top Lists" section to reveal more plugins for your WordPress site.
And surely, if you want to gain a thorough review about this or that plugin, then you are recommended to view the "Plugins Review" section.
---
Promote your WordPress plugin or SaaS product with WPGlob. Choose your preferred service from the list.

If you liked the article do not hesitate to find us on Facebook and Twitter. For interesting WP tutorials, please subscribe to our YouTube channel.
Latest posts by Anahit V.
(see all)