As your WooCommerce store continues to grow in size and product quantity, so does your product catalog. In this case, the users can fill confused while searching for a single item based on the desired category. So, it would be an efficient improvement if you add a product filter to your WooCommerce store. In this article, we intend to talk about the WooCommerce product filter plugins and reveal their best features.
---
Why Use WooCommerce Product Filter Plugins?
Mostly, WooCommerce stores include a search bar to improve the user experience. As it would be hard to enter so many pages seeking to find the needed product. Besides, without this option, the customers will only see a big list of items presented. Such a confusing look of the store can turn off many potential customers. In addition to the search option, you should want to provide your users with an advanced filtering option based on the attributes, such as item color, zie, etc. In this aspect, WooCommerce Product Filter plugins are a great choice for business owners coming up with easy customization options.
Besides the above-mentioned benefits, the WooCommerce Product Filter plugins are great ways to make customers discover more related products. So, they are most likely to buy more items than they initially intended. This will increase also your WooCommerce store sales and profit.
As you understood the main functionalities of product filters it is time to present the best WooCommerce Product Filter plugins.
---
Our first WooCommerce product filter plugin is PWF. Though the PWF WooCommerce product filter plugin is new in the market, it has been installed more than 90 times. Besides, it has five out of five ratings.
The main features of this plugin include filtering products with PWF filter by any criteria you want:
Price
Product Shipping
Product Type
Product Visibility
Product categories
Product taxonomies
Product tags
WooCommerce attributes including size, color, etc
The use of the Ajax technique is an inseparable part of this plugin. The product team has tested it, so you can start using this plugin. This plugin is fully customizable. You can design the color, shape size, font size, and hover the way you want.
Besides, PWF can filter any type of post in WordPress. It is compatible with browsers like Chrome, Edge, Safari, Opera, and Firefox. Moreover, it has compatibility with Elementor, Elementor Pro, Visual Composer, etc. PWF is Gutenberg optimized and it has high resolution.
This plugin provides you with clean and pretty URLs. PWF WooCommerce Product Filter plugin has an amazing analytic tool to meet your customers' needs. With the help of this, you can know what products your customers like the most to make your website work better. You can filter the analytic section by date range, filter name, languages used on the website, Ajax or API, etc.
PWF WooCommerce product filter plugin has free and premium versions available. You can get a regular license or an extended license. In the case of regular licenses end users will not be charged, whereas in the case of extended licenses end users can be charged.
The prices for the following are:
Regular – 39$
Extended – 999$
---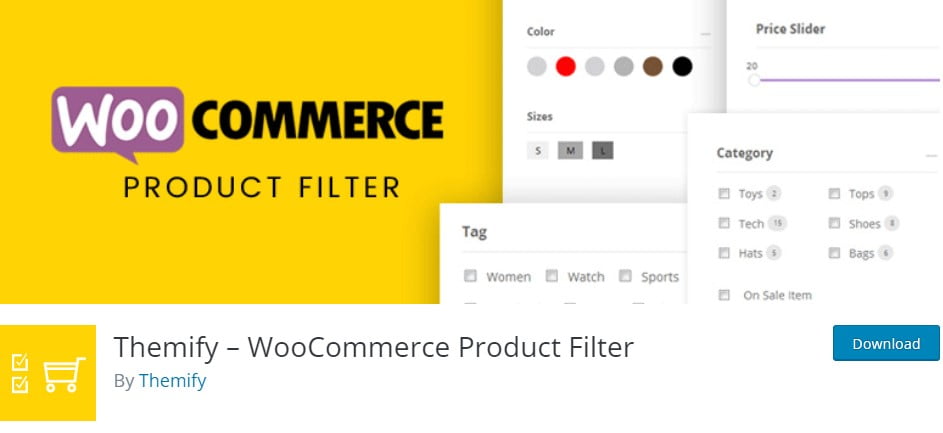 So, the second plugin from our list is Themify. It has more than 30,000+ active installations and 29 5-stars on WordPress.
The provided filtering options will ease the whole hustle of the online shopping process. This is so beneficial especially when the customer must choose from hundreds of store items.
The WordPress Themify plugin enables the clients to filter the products based on the price, attributes, categories, etc.
Through this plugin, you can choose more than 1 filter creating great combinations to ease the shoppers' searching process.
Themify comes up with a simple form Builder. This enables the users to create an unlimited amount of forms. Moreover, the plugin is highly compatible with such major page builders as Elementor, Divi, and Themify.
What is more important Themify is absolutely free to use.
---
Next comes the Product Filter by WooBeWoo plugin which has more than 30,000 activations and rates 4.9/5-stars on WordPress Plugin Directory.
This plugin enables the customers to choose from many filter criteria, such as filters based on tags, taxonomy, price, attributes, etc. Each filter category is highly customizable.
Also, the Product Filter by WooBeWoo plugin is highly compatible with one of the major page builders- Elementor.
At this point, you can get familiar with the plugin's beneficial features:
Filters according to certain criteria
Front-end display opportunities
AJAX search
Filter statistics and data analytics
Preview in a live mode
Responsiveness, etc.
Moreover, you will obtain a huge variety of product sorting options. This will enable you to sort the products according to their rating, popularity, price, in the ascending or descending mode based on the alphabetical sequence, etc.
Besides having a custom filter selection opportunity, you may easily create new item filters very quickly. They can be easily set up and customized.
The Product Filter by WooBeWoo comes up with two versions: free and paid. You are able to obtain more professional and advanced features by purchasing one of the existing pricing plans:
1 Site – $89
5 Sites – $149
Unlimited – $299
---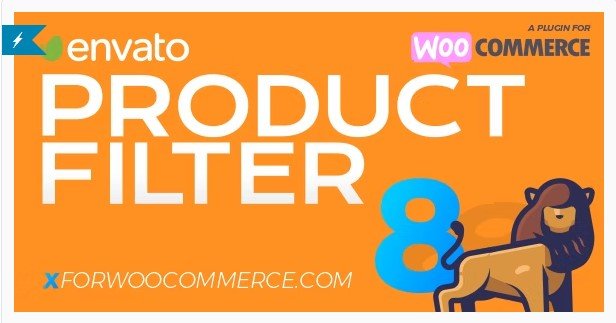 The fourth Product Filter plugin is developed by XforWooCommerce. It is highly appreciated by 12,000+ customers who have already used the plugin on their WooCommerce store.
In fact, the plugin is very easy to set up and utilize. It provides different shortcodes to ease the user experience and is a great suit for your WooCommerce shop.
You can filter the store items based on any criteria, such as price, taxonomy, product data, meta fields, etc.
The adding page section loads very fast and is very simple to use. Also, the plugin provides multiple languages support and is fully translation-ready. Moreover, the Product Filter for WooCommerce is compatible with almost all the major WordPress themes.
As there are many demo versions presented. So, you can view the plugin's operation before purchasing it on the Envato Market.
Though the plugin does not provide a free version its paid version cost is highly affordable. The price for the Regular License is $34 including 6 months of support. And if you want to extend this support to 12 months then the price will be $44.88.
---
The fifth plugin from our list is CTX Feed WooCommerce Product Manager Plugin. Having 50,000+ active installations on WordPress Repository the plugin's rating is 4.5/5-stars.
Through this plugin, you will be able to build and optimize Google Shopping, Facebook, Instagram, TikTok, Snapchat, Catalog Feed, and more than 100 different channels for WooCommerce.
Along with dozens of necessary features, in the plugin's Pro version you will find Smart Filter and Condition. Through this feature, you can easily involve or delete the products according to a specific infrastructure. You may highly use the smart filtering option in case you want to somehow specify some products such as the items with backorder, out-of-stock ones, or moving products with empty descriptions from the Product Feed, etc. The plugin may also filter the items which cause a lot of loss or have relatively lower demand.
Moreover, with the available Advanced Filtering function, you will be able to put some conditions on the store items according to their title, description, length, weight, price, taxes, etc. You can also define the filtering based on all the set conditions or just some of them.
The CTX Feed Pro is available at this pricing:
Single Site – $119
5 Sites – $199
10 Sites – $229
By purchasing one of the paid plans you will also get a premium level support service as well as a 30-day money-back guarantee.
---
The next plugin is Searchanise. It is rich with features related to product search and filters on WooCommerce. The plugin is highly trusted by major brands like Levi's, National Geographic, Boeing, Phillips, etc. Currently, the Searchanise plugin scores 700+ active installations and a 4.9/5-star rating on WordPress Repository.
Through the plugin, you may boost your WooCommerce store conversion rate by providing a great customer experience on your website.
Along with the advanced searching options, the plugin includes a powerful filtering system. Here are its professional options:
Suggested (ready-made filtering based on price, availability, vendor, etc.) and custom filters (based on product type and attributes like SKU, meta fields, variations, etc.) available
Selecting more than one filter for a single item
Defining the filter position (whether you want to see it at the top or side)
Customizing the filter's look
In the recent update, the plugin developers presented a new feature- adding filters to item categories. This helps the users to make a more advanced and simple searching process by filtering the product list on your WooCommerce store. The process is completed through the Smart Navigation feature which came to replace the template of your WooCommerce shop category page.
The Searchanise plugin for WooCommerce comes up with various other helpful Pro features. You can test all of them 14 days for free. Here is the pricing to purchase the paid plans which are billed annually:
Starter – $3.3 monthly, $39 yearly
Pro – $4.1 monthly, $49 yearly
Game-Changer – $9.9 monthly, $119 yearly
---
Facebook and Instagram are two of the best platforms for cross-selling items from your store because they have millions of active users each. ELEX WooCommerce Catalog Feed for Facebook & Instagram is a plugin that makes it simple to cross-sell WooCommerce products on Facebook and Instagram.
To begin marketing your products on Facebook Marketplace and Instagram Shopping, you must have a complete list of product details, and manually entering all of this data into a document can be time-consuming. With the help of this plugin, which instantly gets you up and running with Facebook and Instagram advertising, you may create an endless number of the product's feeds by mapping the categories and attributes of your WooCommerce products to those of Facebook in just a few simple steps.
In addition to many other features, the plugin allows:
To generate and manage an unlimited number of product feeds which includes both simple and variable products,
Target different geographical locations,
Configure an updated schedule to periodically update the feeds automatically,
Sync your product catalogs with Facebook Commerce Manager, see sync logs, and more.
By boosting the brand reach of your products, you can increase sales and generate more revenue through Facebook and Instagram. There are both free and paid versions available, with the paid version starting at $69/year for a single site.
The cost of the ELEX WooCommerce Catalog Feed for the Facebook & Instagram plugin is as follows:
Single Site – $69
Up to 5 Sites – $99
Up to 25 Sites – $199
---
Comparison Table
To sum up the comparison of the 5 best WooCommerce Product Filter plugins, we would like to show them visually in the table.
| Plugin Name | Active Installations/ Sales | Pricing |
| --- | --- | --- |
| PWF – WooCommerce Product Filter | 90+ | $39-$999 |
| Themify | 30,000+ | Free |
| Product Filter by WooBeWoo | 30,000+ | $89 – $299 |
| Product Filter plugin by XforWooCommerce | 17,000+ | $34 |
| CTX Feed -WooCommerce Product Feed Manager Plugin | 50,000+ | $119 – $229 |
| Smart Search & Product Filter for WooCommerce – Searchanise | 700+ | $39 – $119 |
---
In Conclusion
Coming to the end of our listicle we would like to bring all the mentioned points together. So, why should we use WooCommerce product filter plugins? There are several answers to this question. First of all, it will approve the best client experience on your website. Satisfied customers mean increasing the conversion rate on your website. So, the increased conversions bring more sales and interactions. As a result, you grow your WooCommerce store revenue by adding just a great and highly necessary feature to it. WooCommerce has some of the most prominent market-leading extensions for your online business. So you have to make sure to find the best ones for your business.
We have presented the 7 best WooCommerce product filter plugins. Find the suitable one from your list and start improving your store now. In order to further increase your sales and develop your shop, make use of ELEXtension, to list your product information as a product ad in your Facebook & Instagram Catalog Feed.
Also, read about the best WooCommerce wishlist plugins and Shipping and Delivery plugins on our blog.
Promote your WordPress plugin or SaaS product with WPGlob. Choose your preferred service from the list.

If you liked the article do not hesitate to find us on Facebook and Twitter. For interesting WP tutorials, please subscribe to our YouTube channel.
Latest posts by Anahit V.
(see all)