Businesses have always been seeking innovative ways to improve their customer relationships. The former is nearly impossible if the customers are not satisfied and assisted. Increased handle times and low CSAT scores led to the development of trained chatbots and live chats. The power of combining AI automation and human touch increased the sales of many businesses.
Let's now discover 6 of the best help desk software and chatbots to help your business grow and improve the CSAT scores.
1. Freshchat
Freshchat is a modern help desk software solution for businesses wanting to enrich their satisfied and loyal customers. It is a messaging app and a help desk software designed for sales, support, and customer engagement. It offers a variety of communication channels, including messaging apps such as WhatsApp, Facebook, Messenger, and Email, into one platform. With chatbots, automation, and advanced analytics features, Freshchat helps businesses increase sales and improve customer experience.
Key Features of Freshchat
Messaging channels: Freshchat will work wherever you and your customers are. It is important to support your customers across various platforms and answer their queries whenever they need. So, you can connect with your customers on WhatsApp, Telegram, Instagram, Email, Google Business Messages, SMS, Facebook Messenger. Besides the primary channels, you can also connect with them on LINE, Apple messages, and your own channel. 
Chatbots: Combining Artificial Intelligence and customer agents is the perfect mix for businesses, and that is what Freshchat does. Automating the answers to repetitive queries and leveraging customer agents for only specific cases will benefit businesses financially. Reduce the handle times and improve your CSAT through dedicated support. 
Web widget: Team members and admins can create chat views for the work division. They can assign topics to specific agents, set priority inbox to answer the most important site visitors first, and save chat history to continue the conversations. There will also be rich media support to use images, links, and emojis.
Multilingual support: do not let language barriers get in the way. If you are a business dealing with customers of different backgrounds, you can choose from the 33+ languages available on Freshchat.
FAQ: To deliver answers even faster, you can set built-in FAQs within your chatbots and let your customers answer their questions themselves. 
Pricing
Free: Freshchat has a forever-free plan for businesses just starting. You can use this plan to understand the functioning of Freshchat and make a well-informed decision for your business. Within this plan, you can have up to 10 agents, chatbots and analytics, inbox views, topics, bulk actions, and Email, WordPress, and Shopify integrations.
Growth: This plan costs $23/month per agent and is most suitable for start-ups and small companies that need to grow fast. Additionally, it includes everything in the Free plan, priority inbox, FAQs, Facebook Messenger, SMS, Instagram DM, LINE, and more.
Pro: This is the most popular plan among businesses. It costs $59/month per agent and is best for medium-sized companies seeking to improve their performance. It includes everything in the Growth plan, plus live translation, advanced translation, CSAT survey and report, advanced automation, and much more.

Enterprise: the plan costs $95/month per agent and is the best choice for enterprises for enterprise-grade support. It includes everything in the Pro plan, additionally allowed domains, user authentication, and skill-based routing.
2. Crisp
Crisp is an all-in-one messaging tool for small to mid-sized companies, working wherever you work and centralizing your messages in one place. By gathering all your customer messages from Instagram DMs, Messenger, and even phone calls into one inbox, Crisp makes your team's job easier. What's more, with Crisp, businesses can easily manage and track customer conversations, automate responses with chatbots, and gain insights into customer behavior through analytics. The platform also offers features like file sharing, message history, and team collaboration to streamline communication between businesses and their customers.
Key Features of Crisp
Chat Widget: research shows that customers receiving live assistance tend to purchase more often. With Crisp's free chat software, you can integrate the widget into your website and see the results shortly. Crisp allows its users to give a human touch to their chats and make it personalized for their customers if needed.
Chatbot builder: you do not need to know coding since Crisp lets its users build code-free chatbots that instantly answer customers needing urgent assistance.
Crisp CRM: Crisp takes CRM to another level and lets its users get the most out of their customers' data. It automates repetitive tasks and enables you to close more deals in less time by reaching out to each of your customers 24/7.
Ticketing system: Due to Crisp's ticket management system, there will be no more delayed or missed replies to your customers. You can deal with the tickets as conversations in real time and take advantage of its features, such as the knowledge base, canned messages, chatbots, etc.
Knowledge base: the first impression is crucial. You can introduce a knowledge base, combine live chat with chatbots, and reduce your first-time answers.
Campaigns: to build a long-term relationship between your business and customers, it is important to be in touch with them regularly. And that is where Crisp's personalized campaigns come in! Using Crisp's software, you can send unique messages to your customers based on the customer data you collected with Crisp.
Pricing
Free: Crisp not only offers a 14-day free trial, but it also has a forever-free plan for personal websites with low customer support needs. You can invite up to 2 people to chat with your customers, have unlimited conversations with them, integrate the chat into Shopify and WordPress websites, and use mobile applications.
Pro: This plan costs $25 per month and is suitable for early-stage start-ups who are just starting off and want to boost their customer satisfaction scores. Here, you can invite up to 4 people to chat with your customers and add up to 5,000 contacts to your list. Additionally, it includes everything in the Basic plan, integration with Email, Messenger, and Slack, chat triggers, and unlimited history.

Unlimited: The plan costs $95 per month and is best suited for companies with many customers needing assistance. With this plan, you can invite as many as 20 agents and include up to 50,000 contacts. In addition to the Pro plan, it has a knowledge base, chatbots, WhatsApp, Instagram, Zapier, and Aircall integrations, audio and video chats, analytics, and segment integration.
3. LiveChat
The third place belongs to LiveChat which is a help desk software that enables businesses to interact with their website visitors and customers in real time. It has a user-friendly chat interface that improves customers' experiences and lets companies provide instant assistance, answer inquiries, and guide their customers.
Key Features of LiveChat
Live Chat: This feature of LiveChat allows businesses to interact with their customers in real time through text-based messages. Agents can manage live chats simultaneously, delivering timely responses and assistance to customers.
Chatbots & Automation: for quicker customer support, businesses can leverage chatbots, which can handle routine queries and common questions (FAQs). Admins and agents can also set some triggers and actions when a visitor has a specific behavior and interests.
Canned Responses: LiveChat lets agents save and reuse some responses to common customer inquiries, saving them time and maintaining consistency.
Visitor Monitoring: To personalize customer interactions, understand customers' needs better, and offer relevant assistance, LiveChat gives some tools to explore user behavior and gain insights into their interests and preferences.
File Sharing: sometimes, there is a need for different file types, such as documents, images, and screenshots, to deliver the right message. Using this feature, your messages will be to the point and more helpful.
Ticketing system: simultaneously answering dozens of customers is not an easy job, so LiveChat offers a ticketing feature to manage the conversations. Ticketing your customers will ensure that no customers are left unanswered or overlooked.
Pricing
Starter: the plan costs $20/month per agent and best suits small and home offices. With thas plan, you can integrate your chat into your website, apps, Messenger, or use the chat link and have a 60-day chat history. Likewise, you can use the following features: canned messages, agent rating, multiple website support, chat routing, and more.
Team: this plan is the best choice for businesses that provide full-time support. It costs $41/month per agent and gives the users access to unlimited chat history, advanced customization of the widget, and basic reporting. Also, it includes everything in the Starter plan, and SMS integration, chat tagging, file sharing, and a LiveChat dashboard.
Business: For teams and departments concentrated on customer service, this is the plan they should go for. It costs $59/month per agent and includes everything in the Team plan. Additionally, it gives its users access to full widget customization, advanced reporting, work scheduler, and integration on Apple Messages.

Enterprise: This plan is best for companies having a global reach and, respectively, needing more advanced tools for better support. You need to make a call with LiveChat to discuss the pricing of the plan. In addition to the Business plan, Enterprise gives access to product training, HIPAA compliance, yearly invoicing, and key account manager.
4. Tiledesk
Another all-in-one help desk software that will help keep your customers engaged whenever they visit your website is Tiledesk. This well-trusted tool offers various solutions, from live chats, AI Help Desk and Chatbot to Ticketing and Multichannel support. Through the use of advanced automation, Tiledesk makes sure you deliver the best experience to your customers.
Key features of Tiledesk
Live chat: your first live chat from Tiledesk is completely free. For adjusting the live chat to your brand, you can use the wizard to style it, choose from 10+ languages, and insert your logo.
Chatbot conversation flow templates: The desired outcomes vary from business to business, and this is the solution Tiledesk comes with. It offers 10+ templates for lead generation, help desk tickets, e-commerce, placing an order, discounts, FAQ, and so many more.
Multichannel support: Tiledesk's adaptive technology ensures that you have excellent customer support wherever needed. It also tailors your chatbots design to the channel it works on: WhatsApp, Telegram, website.
Pricing
Free: Tiledesk has a forever-free plan for those who do not need to provide 24/7 support. Moreover, the plan includes two seats and 500 conversations (per month). You can access live chat, chatbots, notifications, team inboxes, and mobile apps.
Basic: This plan costs €25 per month and includes four seats and 800 conversations. Also, it has everything in the Free plan, plus CRM, canned responses, private notes, unlimited history, working hours, email ticketing, user ratings, and webhooks.
Premium: The plan costs €89 per month, including 15 seats and up to 3000 conversations. In addition to the Basic plan, Premium has widget branding, integration with WhatsApp Business and Facebook Messenger, insights, knowledge base, and data export.

Custom: If you want to configure the numbers and features yourself, then this plan is for you. You can customize the seats and the conversations and open up more features upon request. The Custom plan includes everything in Premium, plus chatbot design assistance, IP filtering, banning visitors, email templates, and many more.
5. IVY.AI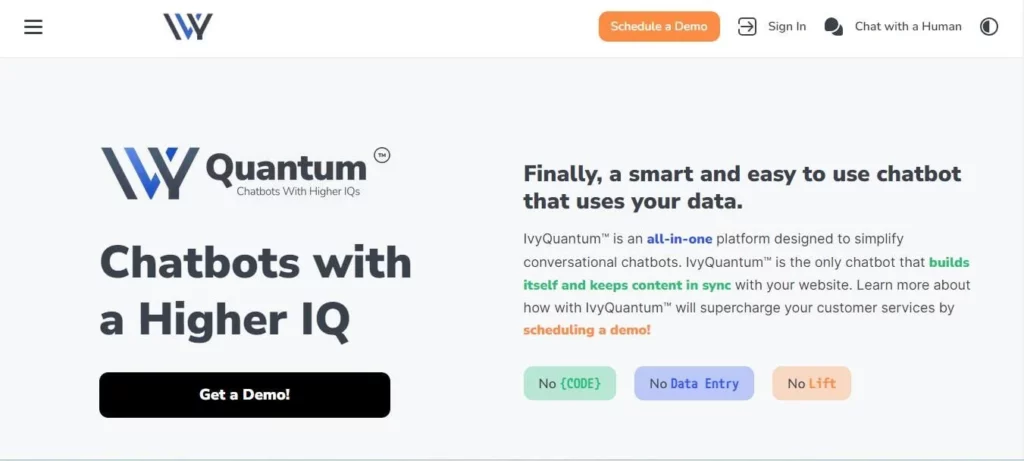 Lastly, we have IVY.ai which has one of the smartest and easy-to-use help desk software on the market. Getting started with the IVY chatbots is as easy as 1,2,3 since they require no coding, data entry, or lift. The chatbots are already prepared to work for you: they come to work with a huge base of real questions asked by real users. They use your website's data and give relevant answers to your customer. They function themselves and always sync with your website's data to ensure up-to-date responses.
Key Features of IVY.ai
QuantumMail: To avoid accumulated unanswered emails and inconsistent responses, QuantumMail is a Google Chrome Plug-in and Outlook Add-in that lets your chatbot read and answer the emails using the data.
QuantumVoice: If you want to take your support to another level but have staff shortages, that is where QuantumVoice comes in with its telephone system. It will use NLP to deliver high-quality responses to your customers' inquiries.
QuantumSMS: combine the power of QuantumSMS and live agents to improve your customers' experience.
Pricing
There is no open information on the tool's website regarding the pricing. You can book a call with them and customize your pricing.
6. Zendesk
Zendesk is a comprehensive help desk software designed to empower your support team and enhance customer interactions across multiple channels. These include email, messaging, chat, Slack, Microsoft Teams, and community forums. With its omnichannel ticketing system and reporting capabilities, Zendesk offers a centralized hub for efficient customer support.
Key features of Zendesk
Omnichannel support: Zendesk's ticketing system seamlessly connects your support team with customers across various communication channels. These include email and social media. Others are live chat, community forums, and more. All customer conversations from multiple channels are brought into one easy-to-manage unified inbox. This eliminates needing to switch between apps and systems.
Reporting and analytics: Managers and administrators can evaluate team performance using pre-built dashboards and create custom reports. With this data-driven approach, team leads can identify areas for improvement while simultaneously optimizing resource allocation. It also helps in prioritizing customer requests and streamlining ticket workflows, leading to customer satisfaction.
Ticketing system: Customer requests get unique tickets with conversation history, attachments, and details that can be assigned statuses and priorities to streamline workflow. Zendesk's ticketing solution features ticket collaboration, which makes it easy for teams to resolve support issues requiring team effort.
Agent Workspace: This feature provides a comprehensive view of the customer journey. It allows support teams to access crucial information without having to switch between apps and systems. This unified view offers agents complete context, including order history, loyalty status, and web activity, facilitating personalized service.
Issue tracking: The built-in issue tracking system enables support teams to identify and address issues as they arise. It makes use of statuses and unique reference numbers to help support teams prioritize and manage workflows. Additionally, alerts can be set up for timely responses to tickets. Agents can also use the styem to notify developers of bugs and create help center resources.
Native mobile apps: Zendesk's native iPhone and Android mobile apps allow agents, team leaders, and IT professionals to access and manage tickets on the go. The mobile ticketing system ensures flexibility and efficient customer support from any location. It supports notifications, ticket creation and updates with macros, quick access to specific tickets, and seamless navigation through the queue.
Pricing
Zendesk has a 14-day free trial. Here's its range of pricing options:
Suite Team: This plan costs $55 per agent/month. It includes the ticketing system, omnichannel support, help center, 1,000+ app integrations, and predefined responses. Users can set up custom business rules, online support, and onboarding resources.
Suite Growth: This plan costs $89 per agent/month. It has all Suite Team features plus multiple ticket forms, support for light agents, SLAs, satisfaction ratings, multilingual capabilities, customer portal, and business hours support.
Suite Professional: Costing $115 per agent/month, this plan includes everything in Suite Growth. On top of that, it offers access to Sunshine Conversations, provides HIPAA compliance, custom analytics,and skills-based routing. It also features side conversations and data location options.
Suite Enterprise: This plan comes with custom pricing. It has all Suite Professional features plus advanced data privacy and protection, sandbox environment, AI-powered content cues, content blocks, custom agent roles, and dynamic workspaces.
Wrapping Up
AI automation alone might not be as effective as we expect. However, by combining it with the human touch, knowledge, and quick orientation, your business can get us the utmost results.
In closing, we have brought the best help desk software on the market to your attention. Many of them share almost the same features but differ in pricing. Thus, look at the brief profiles of each tool to make a well-informed decision.