Ensuring higher customer satisfaction rates is crucial to achieving any business goals. Research shows satisfied and engaged customers are more likely to buy your products and services. After thorough research and testing, we have come up with one of the best help desk software on the market – Crisp. This all-in-one messaging tool will let you bring all your inboxes and platforms into one place and never leave any customer out. Moreover, you can use Crisp for sales automation and marketing purposes, as it is also valuable data mining software. This platform combines advanced artificial intelligence with human touch and delivers to-the-point answers to your customers' inquiries.
This article will dig deeper into this help desk software and explore the use cases. We will walk you through its core features and show you how competitive they are. Let's get started!
What is Crisp?
Crisp is a solution that allows you to centralize your messaging channels (chat, email, social media, etc.) into one place. Businesses can use it for building chatbots and live chats. However, it is much more than that. With Crisp, you can:
Have your help desk with a trained chatbot,
Automate your sales pipeline,
Send email campaigns and in-app messages to your customers,
Monitor your site status and alert your users in case of emergencies,
Screen share to guide your users,
Live translate.
In addition, Crisp lets its users connect to different 3rd party apps to enhance its functionality further. You can integrate Crisp with different automation, CMS, CRM, Marketing, Messaging, and teamwork platforms. For example, to back up your team while they are handling a bunch of customers, you can activate the YourGPT AI Bot or Auto-Responder plugin.
The User Dashboard of Crisp
After successfully creating your Crisp account, you will have a business dashboard for monitoring your website's visitors and conversations. It has a user-friendly interface and is easy to navigate through. It consists of:
Inbox – this is where all your messages from all your platforms gather up
Visitors – you can see who is currently browsing your website, is online/active, and interact with them even before they hit you up.
Contact – here, you can find all the contact data your customers left during the conversations
Helpdesk – in this section, you can configure your helpdesk
Analytics – with this tool, you can track your conversation activity and responsiveness
Plugins – find all the necessary 3rd party plugins here to boost your performance
The dashboard is full of user guides, and if you are struggling with creating your chatbot, they are here to walk you through the whole process.
Core Features of Help Desk Software Crisp
Now you know what you can do with Crisp. But how? Let's now see what are the key features of this help desk software through which you can realize your business goals.
First is the chatbot builder that will let you do your sales even when your customer agents are sleeping. While some businesses use only live chats, it can potentially harm the business, especially if they function internationally. With Crisp, it is a breeze to create a chatbot. You need to go to your user dashboard > Plugins and choose the bot.
Tip: Crisp also lets you train a chatbot on your data and materials. If you go to your user dashboard > Plugins, you can find the free YourGPT AI Bot plugin. After installing the plugin and signing up there, you can train the chatbot on your website links and documents. Plus, you can design the bot to match it with the look and feel of your brand.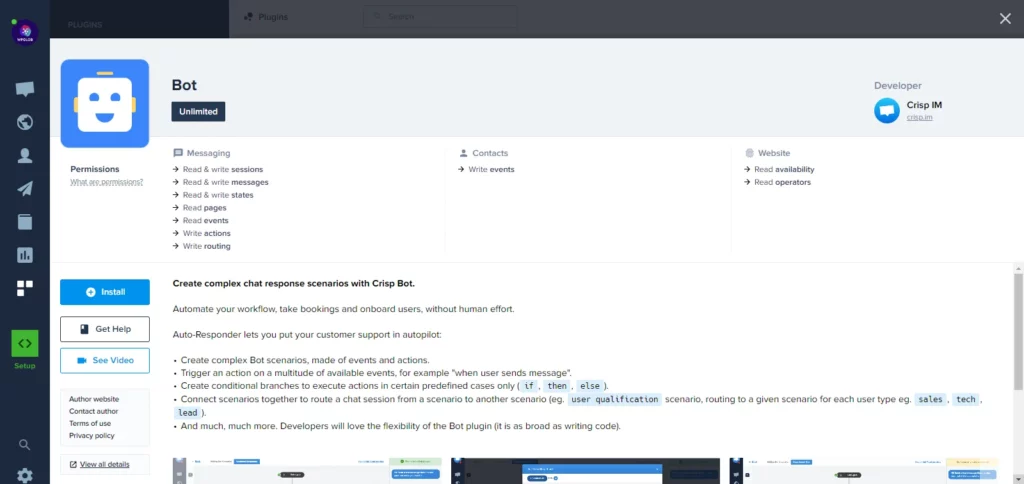 CRM Features
Next, we have Crisp CRM, which is much more than traditional customer relationship management software. Crisp CRM comes with powerful tools and features for automating repetitive tasks and closing more deals. It sends real-time notifications to your sales representatives so they do not miss out on anyone. Finally, Crisp CRM gives detailed insights into your customer behavior and preferences so that you get back to them with the right message.
Tip: Actively follow the Analytics section on the user dashboard to learn how your customer service is doing, what are the pain points you need to improve, what is your CSAT score, etc. 
Unlike the traditional help desk ticketing systems that only consist of numbers, Crisp has come up with a better solution. Crisp's system gathers all conversations in one shared inbox and lets your customer agents handle the tickets like real conversations. And what? This comes with several benefits: your agents will be able to use all the features in the shared inbox, such as canned messages, knowledge base, chatbot, etc.
Tip: Since these tickets are viewed as conversations on Crisp, you can also take advantage of the chatbot to automate the ticket assignment process.
Other Features
The next feature of this help desk software is the knowledge base. Placing a knowledge base on your website will significantly promote a self-service culture. In turn, it will reduce the average handling time and improve customer satisfaction. The best part is that you can integrate a knowledge base with your live chat and chatbot. So, if your users open the live chat/chatbot to ask a question, they have the knowledge base at their hands immediately. The knowledge base supports multiple content types, from images and GIFs to embeddable YouTube videos.
Another valuable feature of Crisp is the shared inbox. With Crisp, you can filter your conversations into shared inboxes for SMS, WhatsApp, Instagram, and Facebook and centralize them into one inbox. This way, your agents will not have to navigate from platform to platform but instead, will give earlier answers to your customers.
With Crisp, you can craft the most personalized and engaging marketing campaigns. Since customer relationships are not only about quick responses, Crisp lets you elevate it by enabling more features. First, you do not need any coding knowledge to craft messages (WYSIWYG editor). You can set up conditional logic, triggers, and actions to deliver highly targeted messages when making your campaigns. Finally, based on Crisps' advanced filtering options and behavioral and customer data, choose which contacts get your messages on which channel and when.

Finally, Crisp lets you set a page status to inform your customers when something goes wrong. For instance, if your website is experiencing an outage, your customers will get an automated response in their chatbots so they do not feel ignored.
Integrations and Use Cases
Crisp has 6+ categories of integration apps that will come in handy for various purposes:
Automation
CMS
CRM
Marketing
Messaging
Team Work and others.
Automation
Videosupport – with this plugin, you can ask your customers to share the video screens of their problems. This way, you will provide quicker and better solutions.
Quick actions – to get rid of some repetitive tasks and send immediate answers, you can customize triggers and actions/messages.
Some other plugins under the Automation section are Zapier, LunaGPT, Bugpilot, Auto-delete, etc.
CMS
Crisp integrates with many CMSs, such as WordPress, Shopify, WooCommerce, Magento, Webflow, Cloudflare, and more.
CRM
Crisp collaborates with top-niche CRM tools for safe and reliable message deliveries. These tools include MailChimp, Zoho, Salesforce, Hubspot, Pipedrive, and more.
Marketing
HockeyStack – this plugin curates customers' website data and support activity.
Poptin – lets you automatically send leads to your Crisp chat account with high-converting pop-ups and contact forms.
Some other plugins under the Marketing section are Sessions Recordings, ActiveDEMAND, and SocialPrf.
Messaging
Crisp works wherever you work, including almost all communications channels: Instagram, Twitter DM, Discord, Messenger, Twilio SMS, Viber, WhatsApp, Line, and Telegram.
Team Work
You can find all major and favorite team platforms here. You can bring your incoming Slack messages, Aircall phone calls, and user feedback from Olvy to your Crisp inbox.
Some other plugins under the Team Work section are GitHub, UserVitals, Ringover, and Trello.
Pricing
Crisp is offering very reasonable and affordable pricing compared to the set of features that it provides. It has three flexible plans, designed for businesses of every size and need. What's best about Crisp's pricing is that new accounts, no matter their chosen plan, have access to all the features. This helps many businesses to understand their needs and capacity and make well-informed decisions. Currently, Crisp has forever-free, Pro, and Unlimited plans to offer its users.
Wrapping Up
Customer Relationship Management can be a tricky task for businesses, and so is choosing the right help desk software. You need to find a reliable tool that will not create a mess or malfunction during website outages.
While some businesses rely solely on live chats or help desks, Crisp has developed ways of combining their power. Artificial Intelligence is undoubtedly developing, but the human relationship is still there, and sometimes all your customers need is human interaction. Crisp has crafted all the possible ways to leverage and reduce your average customer handle time and increase the CSAT, all with an all-in-one user dashboard.