The shift from offline to online in many aspects of our lives has gradually sped up in recent years. People now prefer taking online courses rather than 4-year university classes. These dramatic changes resulted in many instructors wanting to create and sell online courses. We could not bypass this hot topic, so here we are introducing you to the best app where you can easily create and manage your courses.
Choosing the right app for course-making is crucial. First of all, if you want to deliver high-quality courses and bring more people to your "classroom," then its technical aspect should be seamless. It is as important as the content you are going to provide within your course. So, after putting these two essential components together and doing thorough research on the market, we are happy to name you the tool that will become a handy assistant to you.
What Makes the Best App to Sell Online Courses
Firstly, the best app should meet the needs of both the course creators and learners.
We have considered several tools based on their selling points, outstanding core features, and user satisfaction to deliver the one tool that meets all of them. Here are some of the features that make the best app for course selling:
User-friendly course creation tools: The platform should have an intuitive dashboard, design, and drag-and-drop functionality. Moreover, ideally, the tool supports multimedia content, such as videos, live lessons, quizzes, assignments, etc.
Customization options: The tools should also allow their users to design the look and feel of their courses, as well as certificates (if available), to match them with their website themes. 
Scalability: When choosing an app to sell online courses with, ask yourself whether you can create different types of courses, starting from the payment types to memberships. 
Marketing and Sales features: Preferably, the course selling platform should allow its users to do email marketing and upsell their courses. Setting discounts, coupons, or price options can also count here. 
Flexibility: Good course-creating platforms, such as those supporting group coaching, will also let users decide the way they want to distribute their whole course: everything immediately or section by section.
Copyright support: The app you are creating and selling online courses with must protect you from copyright issues. It should have your consent before letting registered students download your course materials. 
Communication: Communication is important to ensure that students keep track of their courses by sending them email notifications about upcoming sections, assignments, and quizzes. So, the tool should also have this by default or at least be open to email integrations. 
Course certificates: At the end of each course, the users should have the option of creating and designing course certificates to give the attendees. 
Introducing Courses Plus: The Top-Notch Tool
After carefully looking for a tool that will meet the criteria above, we have come across the Courses Plus Shopify app by ArchitechPro that will help you sell online courses successfully. This tool stood up with its versatile set of features, bundles, and subscription-based membership options. Let's now take a look at some of the key features of Courses Plus:
Courses Plus has a user-friendly dashboard where you can navigate from one section to the other easily. The course creation process comprises several steps for naming the course, choosing the payment methods, and introducing the course sections.
Pricing options: Courses Plus is very flexible in terms of pricing of your courses. You have five options for payment: one-time purchase, private, open, free, and recurring subscription for courses.
Multimedia support: When creating sections, you can add different types of content to them. You can add lessons, schedule live sessions, and create quizzes. You can import images, videos, audio, links, media, and PDF files into your lessons. But that's not all! With Courses Plus, you can create quizzes manually on the app or import them from Typeform (a famous form and quiz builder).
Content Dripping: Courses Plus allows its users to distribute the sections of the courses gradually. You can create conditional logic and display the next section based on the following:
Quiz completion
Section Completion
Date/time.
Other Features
Course access: If you need to unenroll attendees from your courses after their successful completion automatically, you can set the time period on Courses Plus.
Download options: By default, Courses Plus does not allow your students to download any files or materials from your course sections. If you want to modify these rules, you can add download links or buttons to your course page.
Prerequisite course: For users who want to offer recurring courses or course sets, Courses Plus has the "prerequisite" feature.
Course Upselling: After successful completion of your courses, Courses Plus lets you customize the endnote and enter three other courses for offering to your students who might be interested in them.
Manual invitation: You can also manually invite course participants and attendees by adding their email addresses to your dashboard.
Customer tags: You can also assign tags to your customers and do tag-based configurations (such as the users with the "x" tag can have access to your courses).
Getting Started with Courses Plus
Firstly, to sell online courses, you will need to have a Shopify website. If not, go to Shopify and create your account. You can buy a Shopify subscription, paying only $3 for the first three months. After creating your store, do the following steps:
Go to the "App Store"
Search for "Courses Plus"
Install and activate it.
Once the Courses Plus app is active, get started with creating your first course!
Head to my courses page and click on "Create course."
You should name it and write a description for it. Note that creating the course will automatically create a Shopify product that will correspond to your course.
Next, you should set the pricing: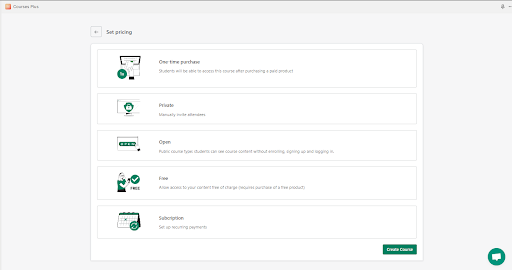 Here, you are free to choose the type of payment that fits your course the best. For example, if you plan to have a series of courses, you can go with the subscription-based option. You can go with the private one if you want to invite your attendees manually.
Tip: To successfully sell online courses and attract students, you can choose the publicly open option for a small course. This way, you will help them understand your techniques better and make a well-informed decision.
Afterward, click on "Add sections" to start introducing your lessons. As we have already mentioned, you can add three types of content: lessons, live sessions, and quizzes.
Click on the plus signs and create as many of them as you wish. You can add quizzes for each course or add only one quiz, to sum up the whole section.
If you are strict about the quizzes, you can also set a conditional logic with Courses Plus. You can choose the option of dripping the content only after the quiz completion.
You make good use of the course settings on your right sidebar. Here, you can make certain configurations regarding the access and download options of your courses and much more.
Finally, go to the "Certificates" settings and import your logo, do the text customization, and edit the email templates to your preferences.
That's it! See how easy yet fruitful Courses Plus made the whole process of course creation. Following these five steps, you can create and sell online courses from the comfort of your home!
Wrapping Up
One of the takeaways of this article is to show that the technical aspects of the courses are equally important as your course content and materials. Choosing the right platform and the app will eventually help you sell online courses with no hassle. It will also let your students and attendees feel the power of a seamless course experience. Download Courses Plus here and start a successful career of selling online courses!
Q1: Can I sell online courses on Shopify?
A1: Definitely! Shopify is one of the best platforms where you can start selling your online courses. However, Shopify does not have a native functionality that will let you create courses. So, you will need to install an app from the Shopify App Store.
Q2: What is the best app to sell online courses on Shopify?
A2: With its 4.8-star review by more than 95 users, Courses Plus by Architechpro is one of the players on the market. Due to its diverse set of advanced features and the most intuitive dashboard, it stays above the competition.
Q3: How can I sell my course for free?
A3: Courses Plus App on Shopify will let you experience and test its features with its forever-free plan. With its free plan, you can create up to 5 lessons per store, give access to an unlimited number of students, track the course progress, and do course branding.