Nowadays, quizzes are very effective and essential tools for testing the knowledge of students. Additionally, it is possible to design interactive and engaging quizzes that will help to entertain the audience and drive traffic to the website.
In this article, you will learn how to create different types of quizzes with WordPress Quiz Maker plugins. I have selected the best 5 quiz maker plugins in WordPress that work efficiently and will help to design the most attractive and engaging quizzes in WordPress.
---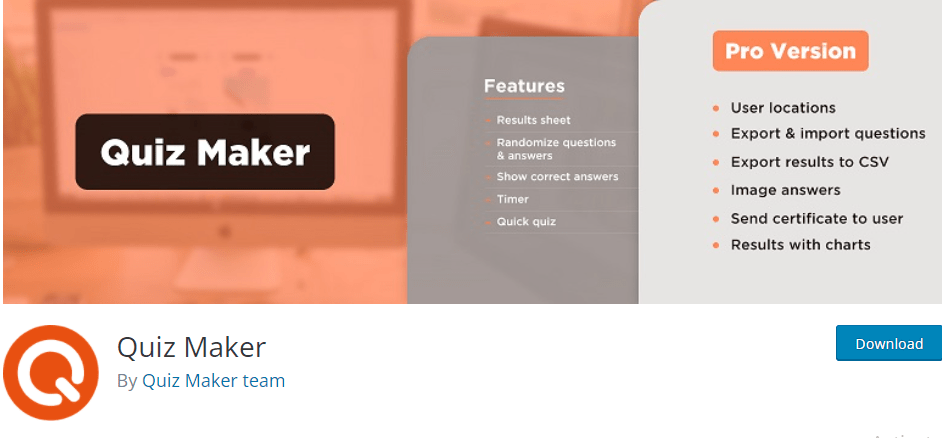 Today's first plugin is WordPress Quiz Maker plugin. It is a very user-friendly and flexible plugin that allows an unlimited number of well-designed quizzes. You can easily add as many questions as you want and create different sections of questions.
Quiz Maker plugin offers a wide range of question types including multiple-choice, dropdown, radio, text, short text, number, date, and so on. This plugin is very user-friendly and allows to categorize quizzes and questions.
Paid Quizzes
By the way, I would like to inform you that you can also earn money with paid quizzes. Quiz Maker can assist its users to earn passive income. The main thing that you are required to do is to create a particular quiz and connect it to your PayPal or Stripe account. Generally speaking, paid quizzes help to drive traffic to your website and increase visitors' time spent on your website.
Exams with Certificates
Sometimes users are more motivated to take certificate quizzes. So, I am glad to inform you that this plugin allows creating of certificate quizzes, too. It generates certificates with any design and sends them to succeeded users via email. You can design fully customizable certificates, add your logo, use message variables, and so on. The positive outcome is that you can generate more leads
Personality Quizzes
Do you want to build strong relationships with your audience? If YES, then personality quizzes can help you. You can design various personality quizzes with Quiz Maker. As a result, you will get more information about them by creating interactive personality quizzes. Moreover, you can motivate your website visitors to pass the personality test and get new exciting information about themselves. A personality quiz is a great lead-generating tool for a website.
Key Functionalities
Question Image & Video
Quiz styles
Randomize questions and answers
Question bank
Access only for logged in users option
Show correct answers, explanations & hints
Interval Messages Based on Results
Weight/Point calculation system
Fields for user data collection
Make questions required
Password protected quiz
Copy content protection
Question Export & Import
Connect your quiz to popular email platforms like MailChimp.
Detailed Reports in Charts & Leaderboards
Pricing
Quiz Maker offers a Free plan and allows to create unlimited quizzes with the primary functions.
The Business plan opens up a huge range of features. You can use upcoming updates and support services for twelve months. The price for the Business plan is 29$.
You can purchase the Developer plan and use PayPal and Stripe integration. This package allows using all the functionalities. receive the latest updates and use the support services. The cost for the Developer plan is 89$.
---
The second best quiz builder plugin is HD Quiz. The plugin's responsive design helps to create unlimited quizzes with as many questions as you want. You can create multiple-choice and open-answer questions. HD Quiz is known as a mobile-friendly plugin that supports all mobile and tablet devices. This opportunity makes users' experience smoother.
Design
I am happy to inform you that HD Quiz can help you create a quiz in WordPress with any design. It has all the necessary design tools for that. In fact, you can add a featured image to all the questions and answer choices. You can use a tooltip. animated gifs as question featured image, or for any answer, and so on. Creating a specific design for your quiz will make them appear more interactive and attractive.
Timer
Another important feature is that you can set a timer for each quiz. HD Quiz plugin has a timer not only for the whole quiz but also for each question. You can have a certain number of questions with different time limits for each.
Customizable pop-up messages
Pop-ups are always engaging! You can include different pop-up messages when a user chooses a right or wrong answer, or basically passes/fails the quiz. By the way, pop-up surveys also work productively and can boost your website traffic. If you haven't tried yet, read our article where you will learn step-by-step how to create pop-up surveys in WordPress.
Key Functionalities
You can create numerous quizzes.
The mobile-friendly design allows to supports all phone types and tablets
You can set a timer.
Links can be added to quiz results to increase the conversion rate.
It allows Social Media Sharing to increase users' engagement.
Images can be used as answers ( size limit of 400×400 pixels).
Animated GIFs support the featured image of Quizzes.
Question tooltips for hints.
Pricing
HD Quiz has a Free plan available for everyone that allows creating an unlimited number of quizzes and questions.
However, HD Quiz has many add-ons for customization and results-saving features that cost almost $15 each.
---
Opinion Stage is a quiz, survey, and poll maker plugin in WordPress. You can design your items from scratch or use the already prepared and optimized templates. The only thing you have to do is to clearly decide the purpose of the quiz. If you want to generate leads it is better to keep the quiz shorter. However, If you plan to generate engagement among the audience you will prefer to make it longer. Or maybe you want to get social shares? In that case, focus on designing an outcome that will get shared.
Quizzes for Engagement and Lead Generation
You can create Buzzfeed-style and Facebook-style quizzes that engage users. Integrate a lead form in your quiz to collect qualified leads. The quiz questions can be associated with the contact information that you collect to qualify which leads are valuable for your business.
Brand and customize
Opinion Stage plugin allows changing every aspect of the visual. You can customize the quiz and match it with your brand and website. You are welcome to use all the design features including the font, sizes, and colors of the quiz.
Track and optimize
It is possible to track every aspect of the performance. You can see the number of people who viewed, started, and finished the quiz. Don't forget to use the drop-off report to find the best questions and identify those that must be removed or improved.
Integration
WordPress Opinion Stage plugin offers dozens of integrations with almost all the top email and marketing services. Opinion Stage native integrations include Mailchimp, Hubspot, Zapier, Webhook, and an API.
Key Functionalities
Easy and fast to create quizzes either from scratch or using one of the hundreds of free templates.
Integrate images & videos into the quizzes.
Design the look by selecting the color theme, fonts and size.
Add your own logo.
Integrates with social networks such as facebook and twitter to promote sharing and viral distribution of quizzes.
Notify with email on quiz submission.
Use quiz branch logic that lets you determine the sequence of questions based on the answer to the previous question.
Popup the items automatically when users enter or exit the page.
---
WordPress Quiz and Survey Master is a user-friendly quiz and survey-making plugin. It gives a chance to include different types of quizzes or surveys on numerous pages of the website. Quiz and Survey Master allows setting a particular quiz on unlimited pages.
Different question types are present in the Quiz and Survey Master plugin such as multiple-choice, true and false, drop down, fill the blanks, number, text, and so on.
Emails after Quiz
After the user passes a quiz or survey, you can have the plugin email the results to you and the users. The text of the email is also customizable.
Flexibility
The quiz and Survey Master plugin is very flexible to use. To prove that, let's note that your quiz or survey can be graded either with an incorrect/correct system or a points-based system. Or not at all. Contact information can be asked either at the beginning or at the end. It is possible to make one or more contact fields required.
Most importantly, you can randomize the questions and answer choices. Another flexibility indicator is that you can set a certain number of questions per page.
Photos and videos
You can add either photos or videos to your questions. For example, you may want the participants to watch a particular tutorial before answering the question, but some quiz plugins limit this important feature.
Comment Boxes
You can provide users with separate comment boxes after each question. The purpose of this functionality is to give a chance for self-expression. As a result, you may get additional feedback from your customers.
Restore Tool
The idea of the restore tool is to recover previously created quizzes. Thus, you can be sure that your quizzes are safe and will never disappear.
Key Functionalities
Timer
Certificates
Leaderboard
Hint Boxes
Animation Effects
Export results
Connect your quiz to popular email platforms like MailChimp.
Restore tool
Pricing
You can create your quizzes with the Free version and have access to a few core features.
The basic package includes reporting and analysis, export and import, google analytics tracking, URL parameters, and costs 79$ per year.
Plus package contains more advanced features. Those include conditional logic, Mailchimp Integration, summary emails, extra shortcodes, user dashboard, etc. You can purchase this version for 149$ per year.
Finally, the Pro package offers more than 30 addons and a well-designed timer. Additionally, it also offers Zapier integration, email marketing Integrations, and so on. Besides, all the features included in the Plus package are also available. This version costs 199$ per year.
---
The last WordPress quiz builder plugin I've selected for you is Watu Quizzes. It is a quiz creator plugin in WordPress that helps to design unlimited quizzes and different interactive tests for your website. The results are available right after the quiz submission. With the help of the Watu WordPress Plugin, you can conduct examinations and include single-choice questions or multiple-choice questions there.
Setup Quiz Results
You can set up quiz results based on grade points, percentage, and percent of maximum possible points.
Emails
In fact, you have an option to increase the conversion rate while using notification emails.
Import
Users can import questions from CVV or text files.
Key Features and Benefits
The plugin has basic Social Sharing Capabilities.
You can create your quiz themes.
You can use shortcodes to embed a quiz in WordPress posts.
Touch-friendly responsive design.
Randomize questions.
Multi-user management for teachers.
Required questions.
Deactivate questions.
Facebook and Twitter sharing of the quiz results.
List of users who took the tests along with their results.
Pricing
The basic package is available for free. It provides you receive access only to a limited number of features.
Watu PRO version is available for free and costs $47 without monthly fees.
WatuPRO + "Intelligence " Module includes "Fill the blanks," "Sort the values," Slider, and "Match / Matrix" questions, create personality quizzes, Charge users to access test options, etc. This version costs $87 and has no monthly fees.
WatuPRO Full Bundle has the WatuPRO, the Intelligence Module, The Reporting Module, and The WatuPRO Play Plug-In. You can get it for $137 and no monthly fees are required.

Best Quiz Maker plugins in WordPress Compared
---
Plugins
Active Installations
Rates
Pricing
Quiz Maker
10,000 +
4.9 / 5
Free +
29$-89$
HD Quiz
7,000 +
5 / 5
Free +
15$ per add-on
Quiz and Survey Master
40,000 +
4.8 / 5
Free +
79$-199$
Watu Quizzes
7,000 +
4.7 / 5
Free +
47$-137$
If you like the article, do not forget to find us on Facebook and Twitter. For interesting WordPress tutorials, please subscribe to our YouTube channel.