Are you curious to learn how to create Popup Surveys in WordPress? We are here to help you find out the easiest way! We will show you step by step how to create a popup survey in WordPress. Firstly we will show you how to create a survey in WordPress. Then you will learn to make it a popup survey with the help of 5 useful popup plugins in WordPress. But first of all, let's clearly understand what is a Popup Survey and for what purposes it is used. So, let's start!
---
What is a Popup Survey in WordPress
A clear definition for Popup Survey in WordPress states that it's a questionnaire that appears on the screen of a website visitor. The term can also be used to describe an invitation to pass a survey. Businesses usually use popup surveys in order to know their visitors' opinions about their website, service, and product.

Imagine users visit your website and don't like the interface, products, or services available there. So they make a decision of never returning back to you. How can you know about it? According to Groove for each complaining customer, there are 26 other customers who just leave your website unsatisfied without saying a word.
Unfortunately, you are not a magician and cannot read the minds of your website users. Thus, the best alternative is WordPress Survey Popup.
---
When to Use the WordPress Survey Popup
There are a number of ways in which the popup survey can help businesses succeed. Basically, you can:
Discover how your visitors are interacting with your website
Get honest feedback from customers and visitors
Understand the real problems and challenges
Enlarge your email list
Segment your customers and website visitors for future marketing purposes
Interact with your visitors before they leave your website and decrease abandonment

Popups allow businesses to grow and develop because they make people be aware, want, and finally make a purchase. Another equally important fact is that lead is the most efficient way to attract website visitors and customers. Thus, popups are a more professional and interactive way.
---
How to Create a Survey in WordPress
To begin with, you need to create a Survey in WordPress. To make your experience smoother, our team researched and found the best WordPress plugin for creating interactive Surveys. WordPress Survey Maker plugin is one of the best, free survey maker plugins in WordPress that requires no coding skills. The plugin offers a big range of functionalities including more than 20 survey style options, an unlimited number of questions and sections, different types of questions, and responsive design.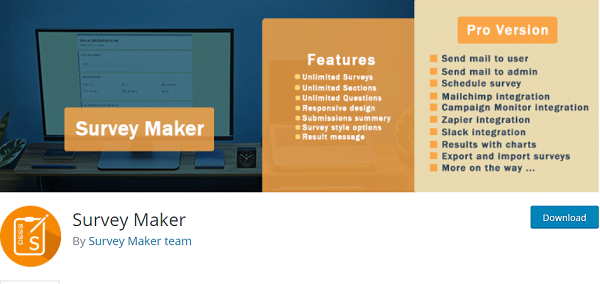 The plugin allows the creation of anonymous surveys on WordPress which provides an opportunity to collect accurate results. On the other hand, this feature will allow to gain more participants and encourage users to pass the survey. Another important feature offered by this WordPress survey builder plugin is that you can target a certain segment of people. This WordPress best survey tool has separate Limitations Users sections where you can choose to provide access only to your target group. Moreover, you can provide access only for logged-in users and assign a maximum number of attempts per user. This will help you to prevent the issue of getting multiple results from a single user.
Finally, an important point to note is that you can create popup surveys with the Survey Maker plugin. The only thing that you're required to do is go to the Popup Survey section and press Add New. Then you can design your survey by adding a title, regulating the popup height, width, position, and so on. Moreover, you can choose several pages where you want to put your popup survey. Or, you have an alternative option to hide the popup after only a single submission.
---
How to Find the Right Survey Questions
The most important component that makes a survey interactive is questions. Need some help in writing good survey questions? Here are a few good suggestions to follow.
Try to keep the survey questions short
In case of asking multiple questions put them in a logical sequence.
Try to create direct questions
Replace simple Yes/No questions with open-ended ones.
Different situations require quite different questions. That's why we have selected a couple of situations and appropriate questions that can be asked.
Getting Feedback About the Website Design:
What most attracted you to our website?
Is there anything you dislike about our website?
Are there any suggestions you would like to make?
Getting Feedback About the Customer Service:
How satisfied are you with our products/services?
Would you recommend our products/services?
Did you experience any problems regarding our products/services?

---
5 Best WordPress Popup Plugins
After creating a survey, it's time to make it popup. We have selected the 5 best popup plugins in WordPress for you! Keep reading! Something interesting is coming.
Popup Maker is the first popup plugin that we are going to discuss today. It's a very user-friendly and flexible plugin that allows the creation of any type of popup for your website. With the help of Popup Maker, you can create content upgrade popups, Contact form popups, COVID-19 announcements, lead gen popups, and so on.
You can choose to make the popup appear automatically or make it open with a click. This WordPress popup plugin allows integrating with almost all the popular form plugins to let you open a popup when a form is submitted.
---
Popup Box is a WordPress plugin that will help you have a responsive Popup. It will work similarly on computers, smartphones, and other devices used by website visitors. This plugin allows controlling whether the survey opens with a click or without. You can customize the style, and write shortcodes to add other elements from different WordPress plugins.
Popup Box helps to design unlimited popups on your website and there can be various popups on different pages of a single website. Additionally, you can add subscriptions, Facebook Likeboxes, and many other options if you wish. With the help of this plugin, you are free to write your own codes and have HTML popups. Here you can find a big range of design functions allowing you to create the popup that you have always imagined.
---
Popup Builder is another useful alternative plugin in WordPress. It can assist you to create promotional and informative popups, increase sales and conversion rates. Popup Builder has a very user-friendly interface and no special coding skills are required to use the plugin. The biggest advantage of this plugin is that they provide a big range of popup types and don't limit their users only to a few ones.
Popup Builder allows integration with WooCommerce, MailChimp, Ninja Forms, Gravity Forms, WP Google Maps, and so on.
---
OptinMonster is known as a good popup builder and marketing plugin that assists its users in getting more email subscribers, increasing sales, and making their businesses prosper. You can transform abandoning visitors into potential subscribers and clients. This plugin is flexible to use and allows the design of different beautiful popups, email subscription forms, and even hello bars. You can create different types of interactive popups in a very short period of time.
OptinMaster also offers mobile popups to make your messages look attractive on all devices. With the help of this plugin, you can create highly personalized marketing campaigns in a few minutes. You can create Lightbox popups, Floating bar popups, Slide-in popups, Inline signup forms, Content locker popups, Countdown timers, and so on.
---
Popup Anything is today's last popup maker plugin. It allows the creation of an unlimited number of popups, adds customizable popup windows, set popup positions, and so on. With the help of WordPress Popup Anything, you can include any type of content into your Popup. Also, add your popup into any post or page easily.
Moreover, functionalities include setting custom animation effects, full-screen, button click, page load popup, image popup, responsive popup, and so on. You are free to design popup width & height, use 9 different popup types, popup live preview, and so on.

By the way, you can read this article to know the Top 10 Must-Have Plugins in WordPress.
---
Summary
To conclude, one important way of achieving success in business is to keep a connection and interaction with the website visitors and potential customers. As we noticed, popup surveys are important tools to keep the visitors engaged and interested in your product or service. Popup surveys help to gain valuable feedback from customers, enlarge the email list, interact with the visitors, and so on. We have discussed the importance of popup surveys and learned how to create them in WordPress. The presented plugins have great functionalities to make your experience as easy as you might never suppose.
We hope you enjoyed reading and discovering new information. If you are a beginner we strongly encourage you to start your experience with our suggested beginner-friendly plugins.
Hopefully, the survey form and popup plugins that we have suggested will help you create popup surveys easier and quicker. Hurry up to test them and write down in the comment section which one you found most convenient for you.
If you liked this article, don't forget to follow us on Facebook , Twitter and YouTube where WordPress tutorials are waiting for you.