It is always good to have a working restaurant reservation plugin, as your clients will get a clear picture of availability which will save their time. Plus, it will help you to avoid inconvenience, which will positively affect your public image. So, in this review, we will review one of the most best restaurant plugins on WordPress – ReDi Restaurant Reservation Plugin.
So, if you are ready, let's start!
What is Restaurant Reservation Plugin?
Simply put, the restaurant reservation plugin is the one allowing you to offer online reservation opportunities for your clients. With this plugin, you can create customized reservation forms and help you further avoid any inconvenience with the clients, which will positively affect the brand image in the future.
---
What Qualities Does Good Reservation Plugin Have?
Now, there are multiple qualities and criteria you should look for when deciding what restaurant reservation plugin to choose. Let's take a look at a few of them:
Customizable forms. These forms are the simplest elements to deliver the message of your business to your website visitors.
Easy in usage. The purpose of using a plugin is to save time, so what's good if you cannot even save your time on usage?
Feature-rich. There are plugins that offer practically no additional functionality, so you will need to download extra plugins to get the desired result. Well, a good plugin comes in handy with all the features you need to achieve the desired results.
---
Now, it is time to review one of the most amazing Restaurant reservation Plugins – ReDi Restaurant Reservation. We chose the plugin and tested it according to various criteria to understand if it is truly worth it or whether you can find something better at the end of the day. So, let's take a deeper look to get all the answers we need.
First of all, the numbers. ReDi Restaurant Plugin has over 1,000+ active installations and gets regular updates. Which already indicates the high quality. It has a 4.5 out of 5-star rating in this competitive industry and lots of positive reviews. Plus, the support team answers quickly and, most importantly, efficiently resolves the issues.
---
How to Get Started?
In order to get started, you have to complete a few simple steps.
First of all, download the plugin. It is extremely easy to do.
Go to your WordPress website from the backend
Click on Plugins > Add New
On the search line, type "ReDi Restaurant Reservation."
Click on Install > Activate
This is it; you have the plugin installed and ready for use. However, now it is time to set up the plugin. Follow these steps:
Register & Generate/Create the API key
Check the new Reservation page (it automatically creates a reservation page after registration)
Make all the necessary customizations
---
Main Features
ReDi Restuarant Reservation plugin can be effectively used for all kinds of establishments such as small cafes, pubs, and big restaurants. The plugin comes in with many useful features, such as:
Multilingual support
Instant availability check and confirmation. None of the other plugins so far offers that. So, Redi Restaurant plugin is the leader in this field
Reservation view available from mobile and PC – that allows the hostess to see all the available reservations for the day
Functionality that allows you to set up a maximum of available seats by weekday
The open times feature designed to allow you to display when and during what period of time your restaurant is working.
Supports multiple open/close times of the day
Also, there is a feature called Block Time that allows you to define a specific time range from which reservations cannot be accepted anymore.
Email templates that are highly customizable and support all the languages mentioned in the plugin
Allows you to send confirmation emails to your customers
The plugin is not just a select date, fill out the form and wait for ages for confirmation. It has a logic that in real-time checks various things, like if a restaurant is open on that day and specific hour, or whether it can take that many guests at a specific time so the kitchen can serve guests with no delay. And most importantly, if there are free seats available. As a result, it gives the latest availability and instant confirmation. All of those features work perfectly fine and deliver high quality as the plugin promises from the very beginning.
---
Additional Services
Also, it is worth mentioning that this plugin offers additional features and services by request, and the price of those varies from business to business. Some examples of additional services include:
A feature that allows you to use your Facebook for business
White labeling. Upon request, you can get the functionality of white labeled reservation application
Facebook Integration available
Feedback collection form to know the impressions of your clients from their last visit.
Reminder emails – you will be able to send your clients reminder emails about the upcoming reservations
Pre-payment services. Many clients may reserve a seat and forget to show up, even after the reminder email. So, to motivate them to show up or not lose profits if they do not, you can set pre-payment services for reservations.
More features for the plugin that will work perfectly for restaurant catalog websites
This plugin emphasizes simplicity. However still offers everything you need, even some additional useful services.
---
Pricing
I believe that now we have to take a look at the pricing plans. There are various pricing plans, and they are also quite flexible and promising. ReDi Restaurant Reservation Plugin offers 2 main pricing plans: Free and Basic Versions. Also, you are able to request quotes, that is to say, addons. They allow to extend the Basic Version's functionalities.
Now, let's take a look at each of those in more detail.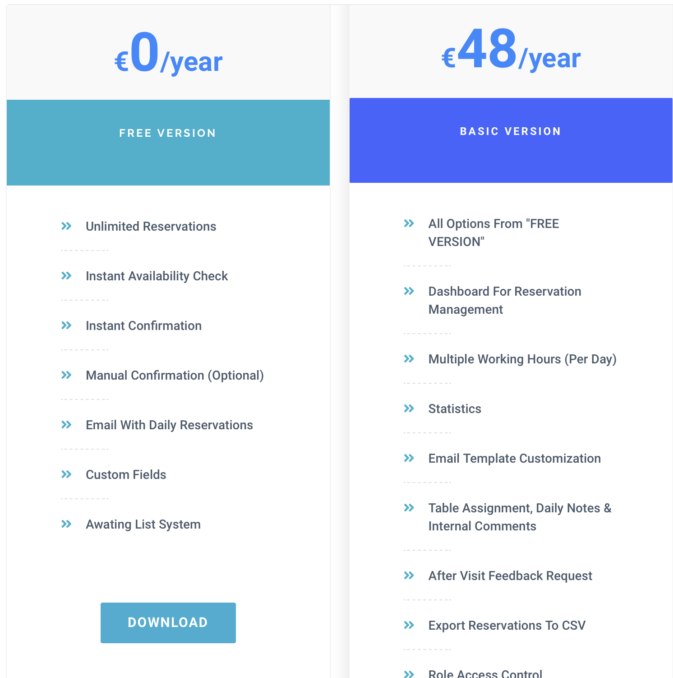 Free Version
The free version allows:
Unlimited reservations & availability check in a matter of seconds
Both instant & manual conformation
Custom fields & Awaiting List System
Also, you can easily send daily confirmation emails
Basic Version
The Basic Version costs just €48 yearly. It offers features such as:
Everything listed in the free version
Amazing and full-featured, yet simple in usage dashboard for reservation management
You can enter multiple working hours per day
Reports & overall statistics
More customization options, especially when it comes to email templates
Table Assignment option that allows you to put daily notes and any other comments inside
Feedback request that users who reserved a table get after their visit. This feature is quite useful as good feedback will motivate you; meanwhile, some construction criticism will give you a basis for further improvement plan implementation.
Reservation export option in CSV
Functionality that allows you to assign and control various roles
Personal Demo for clients
Also, you get a 30-day free trial period to check the Basic Version's features.
Addons
So, with a one-time payment, you will get the following features:
Pre-payment for the reservations so that clients feel more responsible
Discount functionality
Integrations with Facebook, MailChimp, Sendinblue, BulkSMS, and others, will work perfectly fine for email marketing and notification campaigns.
---
Benefits
Along with the centralized and fully remote booking system, restaurant owners and managers from more than 90 countries in the world are able to control everything from any place they wish. Moreover, the Redi Restaurant plugin completely solves the language problems between the customers and restaurant staff.
Now, let's see other benefits of the Redi Restaurant plugin:
Affordable – this plugin is extremely affordable. First of all, it comes in with the free version can be totally enough. Secondly, the pro version is also quite affordable for everyone. Plus, it offers customizable pricing for your custom needs.
Flexibility – it comes in handy with many useful features, plus a feature that allows you to request a quote and get all the custom features you need at a cost.
Easy to use – it is worth mentioning that the user interface is incredibly pleasing to the eye both in the backend and on the front end.
Powerful automation – Due to the plugin being automated, you do not need to worry about process management.
Responsiveness – One of the most vital aspects of any plugin is its responsiveness. The plugin will perform great on any device.
Summary
So, to summarize the "ReDi Restaurant Reservation Plugin | 2022 Review" article, we can say that this plugin definitely is worth all the positive publicity around it. Redi offers just enough functionality that you may need to give your users an incredible opportunity to reserve any available table at your restaurant in a matter of seconds. Moreover, it manages not only big restaurants with over 500 seats but also small pubs and cafes. Coming up with a highly supportive developer team the plugin is your great choice to ease up the job and enrich the experience of your customers to get more positive reviews and grow your business.
If you liked the article do not forget to check out our YouTube channel with tons of WordPress tutorials! And you can find us on Facebook & Twitter, where we post interesting updates about upcoming events.