In this era of developing technologies and changing trends, it is more challenging than ever to grab and keep your audience's attention. Fortunately enough, there are creative and fun strategies you can implement to engage your audience. One of those strategies is an online quiz. There are dozens of quiz-making tools available out there, no matter if you're looking for a professional survey tool or a lighter quiz maker. But how to decide which is the best for you? In today's article, we will be comparing two quiz-making giants Quiz Maker vs QSM to see which one will help drive the best long-term results.
But before we start our Quiz Maker vs QSM comparison, let us first start with the basics and find out what the quiz plugin is.
---
What is WordPress Quiz Plugin?
Online quizzes are engaging and entertaining ways to keep visitors on your website and provide them with an exciting and at the same time educational experience.
Why do you need a quiz? The answer is GROWTH. Growth in all senses!
Growth for your website, as more and more visitors, are coming to your site.
Personal or professional growth, as quizzes help people gain new knowledge and skills.
Marketers can use quizzes as part of a social media marketing strategy to generate brand awareness or to drive engagement. Organizations also use quizzes to strengthen lessons from onboarding or training.
---
Introductory View on Comparision
Quiz Maker and QSM are both fantastic and efficient quiz-making tools, but Quiz Maker stands out with its more straightforward set-up steps, more integrations, and affordable pricing plan. The only thing that QSM has over the Quiz Maker plugin is the add-on of flashcards, however, the extended functionalities of Quiz Maker cover up this one limitation.
Thus, if you are looking for an affordable, feature-rich and at the same time highly-optimized quiz maker WordPress solution then the Quiz Maker plugin is a worthy choice. Let's review some highlights of the Quiz Maker vs QSM comparison.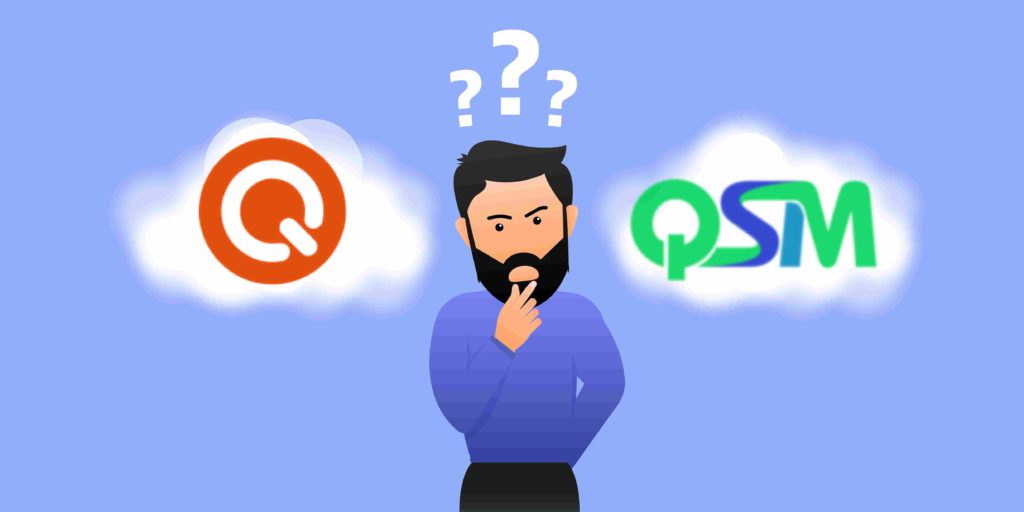 Core differences between Quiz Maker VS QSM
Quiz Maker offers full customization, there is no limitation on what you can add to quiz questions (e.g. images, videos, audio, and even another plugin using shortcode).
Moreover, Quiz Maker allows adding more to your quizzes if you are tech-geek by implementing your HTML and CSS skills.
Quiz Maker comes with far more integrations than QFS that further add the functionalities of the plugin. A case in point is PayPal integration which Quiz Maker Plugin supports, this enables the generation of Paid Quizzes.
Let's further break down our comparison and have an individual look at each of these quiz plugins.
---
If you are looking for a tool to build progressive quizzes and exams easily and quickly then Quiz Maker can be a dealbreaker. With WordPress Quiz Maker Plugin you can create an unlimited number of quizzes with unlimited questions involved in it.
There are also no limits on the types of quizzes one might create with Quiz Maker: Personality Quizzes, Online Level Tests, Advanced Exams, Product Recommendation Quizzes, IQ Tests, Assessment Tests, Paid Quizzes, and more. All the quiz types you might imagine can be created with this plugin.
All these quiz types become possible due to the numerous question types available, e.g radio, dropdown, checkbox, short text, number, and more.
The Quiz Maker is the greatest quiz plugin for WordPress because of its flexible and advanced features and functionalities.
On top of the amazing highlights and features, Quiz Maker offers video tutorials, and plugin documentation to make the process of generating quizzes easier than ever.
---
Key Features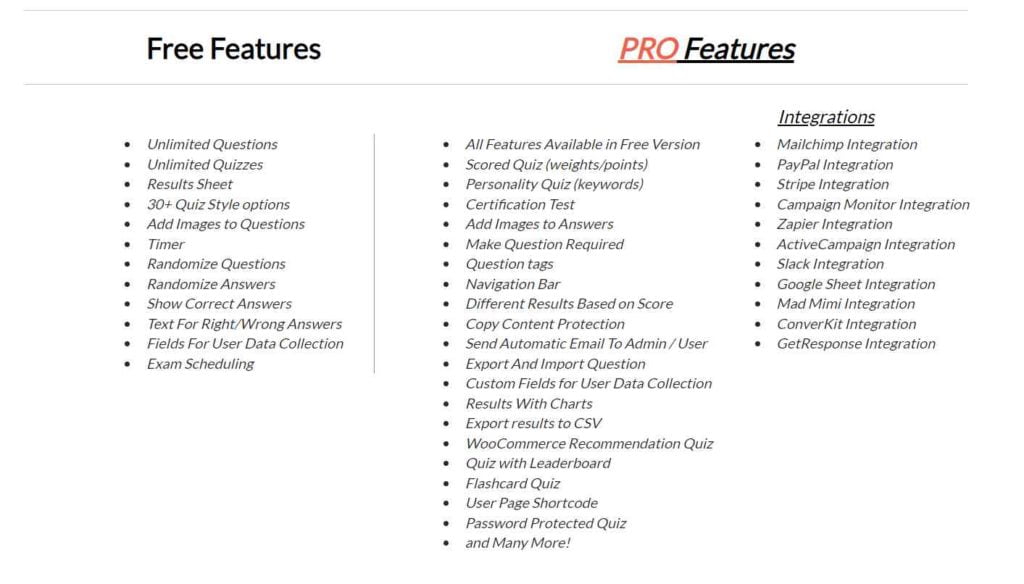 Exam Quizzes With Certificates
With WordPress Quiz Maker Plugin you can not only create engaging quizzes but also engage more users by providing them with fully personalized certificates. So all the succeeded users will automatically get certificates via email. These will further enable you to enlarge your email list for newsletters and generate more leads.
Personality Quiz
Guess everyone has at least once in his life tried a personality quiz to see which cartoon or film character he/she corresponds to. So undoubtedly, Personality Quizzes are a one-way ticket for bringing a vast majority of people into your website, as it is fun, existing, and interesting.
Quiz Maker not only lets you create Personality Quizzes but also enables your visitors to share their results on social media platforms which makes it possible for your survey to get viral and attract more people to your website.
Timer-Based Quiz
Quiz Maker enables the creation of Online Level Tests, Advanced Exams, and other exam and assessment tests. An extra technique alongside copy protection the Quiz Maker plugin also enables to make of timer-based quizzes. Thanks to the countdown timer you can set your preferred time value, so the test will be submitted automatically after the time expires.
Paid Quizzes
The feature of generating paid quizzes with PayPal integration is the Quiz Maker plugin's winning card. Create engaging or incredibly useful quizzes, then link your PayPal account to them and hoala you are getting a passive income alongside generating engaging content and getting leads. So you can simply create a Personality Quiz or Online Level Test, and all in one generate both leads and money.
Quiz Results Tracking and Leaderboards
Collecting and tracking the results of the generated quiz is as important as creating a quiz. With the Quiz Maker plugin, this process is relatively simplified. You can view the quiz results, duration, and start and end times of your visitors from your dashboard.
Moreover, you can add advanced leaderboards to your quizzes based on the respondents' results. Your respondents will strive for better outcomes as a result of the leaderboards. Additionally, competition will encourage website users to stay on your page longer.
More and more features…
Question Weight/Points: Set different points or weights for each level of a difficult question.
User-Restricted Quizzes: Choose who can have access to the quiz and how many times the quiz can be passed.
Themes and Customization: Decide between 6 quiz themes and 40+ style options (colors, backgrounds, borders).
Quiz Live Preview: See what you get on your website immediately from your dashboard.
---
Pricing
Considering all the highlights and features that the Quiz Maker plugin offers, we have to state that it is a super affordable and budgeted WordPress plugin.
First, there is Quiz Maker plugin has a free version presented in the WordPress depository. Though the free version has some limits on the features it provides. It is still useful for those website owners who are eager to add simple quizzes to their sites and generate leads.
Generate unlimited quizzes
Have results sheet
Randomize questions and answers
Set countdown timer
Create quick quiz
Quiz Maker Pro gives you the freedom to create quizzes to your heart and taste. There are no limits on generating quizzes once you upgrade to the premium version. The plugin offers two plans:
The business plan comes with almost all the features that the plugin offers, except for copy and spam protection, and PayPal and Stripe integrations.
So with a business plan, you won't be able to have a passive income from generated quizzes, though you will still be able to create any type of quiz you want, customize the way you want, and get results.
The one-time payment of the business plan costs only $49.
The developer plan is already an all-in-one solution as it offers all the features of the plugin. So these plan is literally limitless.
The cost of the developer plan is $129.
Both plans come with premium and friendly support.
Attention! As Black Friday is near the AYS Pro team offers an existing deal: a bundle of all AYS pro plugins including Quiz Maker for only $222.
---
QSM is a powerful and flexible WordPress plugin and software designed specifically to create engaging content and drive traffic. Everything from personality quizzes and exam quizzes to customer satisfaction surveys is possible with Quiz and Survey Master plugins.
QSM primarily aims to reach out and satisfy the needs of each and every customer, while making the process of creating quizzes and surveys a real pleasure and memorable experience.
While using QSM you are free to create an infinite number of quizzes and tests. Once the survey is successfully filled, you may start going over the responses that have been obtained, go over a detailed report, and assess the results.
To take the quiz-making experience to a more advanced level and increase plugin capabilities QSM offers various paid add-ons and integrations.
Key Features and Add-ons
QSM plugin is a free plugin, but most of its features are thanks to its premium add-ons. Let's view some of them.
Quizzes with Certificate
QSM also comes with a free add-on of providing quiz or test participants with a certificate. The certificates are personalized and can be further customized, including message, background, styling, and more.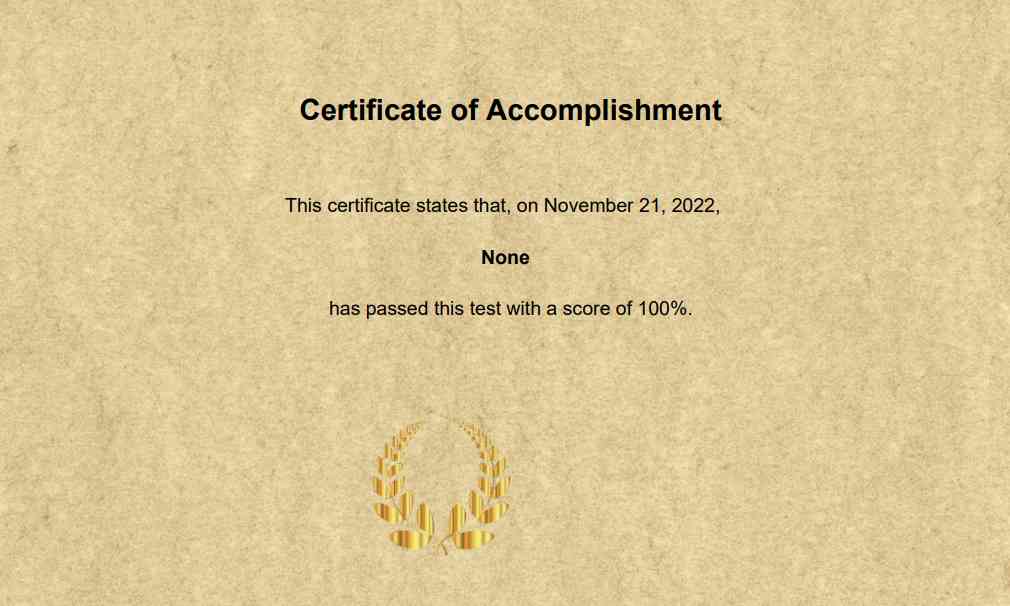 Exporting Quiz Results
While creating and introducing a quiz is an engaging strategy, it becomes further engaging when your users get their quiz or test results.
QSM Export Result premium addon allows you to quickly and easily export quiz results from QSM to a CSV file. This is perfect to share results with users or analyzing results with tools such as Excel.
Advanced Result Analysis
The QSM Reporting and Analysis addon enables you to visualize the quiz data using 4 various charts and 3 distinctive plotting methods, such as Pie Chart, Bar Chart, Box Plot Chart, Question Score, and more.
Furthermore, you can filter and customize the details you want to be included on the chart. For example, you can filter by date, name, and business to see how different parties have progressed over time
QSM Flashcards
Quiz and Survey Master's winning cards are flashcards. This quiz-making tool also allows to the creation of unlimited flashcards and takes the learning process for the users to a whole new level.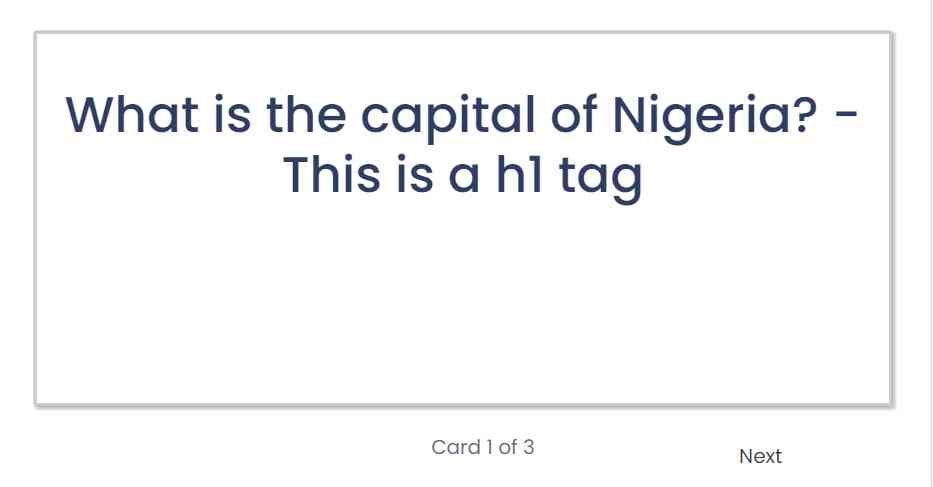 More and more features…
Enable users to share quiz results on numerous social media platforms.
Set time-based quizzes with a countdown timer.
Limit the total number of allowed entries for the quiz or survey.
Predetermine or randomize the order of questions.
Make answering all or some of the questions required.
Give the correct answer or explanation after each question.
---
Pricing
QSM is definitely a good choice as a quiz maker plugin considering all the features it has to offer. Now it's time to see the pricing of this survey and quiz tool.
QSM free plugin version can be found in the WordPress repository. The free version enables you to create unlimited quizzes, customize them accordingly and share them with the users directly from the WordPress dashboard. In terms of add-ons, the frees version comes with only two ones:
The cost of QSM premium mainly depends on add-ons. Each and every add-on has separate pricing, so you can get only the ones you need.
However, there are also bundle plans with all or almost all add-ons. There are three plans of varying prices, features, and add-ons.
The basic plan for a lifetime membership starts at $387 and it is only one site license. Very few of the add-ons.
The Plus plan and Pro plan cost $537 and $597, respectively offer 3 site and 10 site licenses. Plus these plans offer more add-ons, otherwise said, almost all add-ons.
---
Quiz Maker VS QSM: Which Offers the Best Value?
Summing up our QUiz Maker vs QSM comparison, we can state that both Quiz Maker and QSM have a lot to offer if you are looking for a way to engage your visitors with funny, interesting, informative, and highly optimized quizzes. They make the quiz and survey-making process a real pleasure. The features, highlights, and add-ons of both plugins are out-of-this-world.
Both plugins appear to be equal, offering almost the same features. Perhaps the main difference between the two lies in the pricing plans. While in some aspects QSM overruns Panorama with its add-ons, most of its useful features appear to be paid.
Quiz Maker's pricing plan starts at $49 and offers almost all of the features the plugin has, plus it offers 5 site license. While with QSM you pay $387 and get only 1 site license with very limited functionalities.
So, without any doubt, Quiz Maker is a good choice both in terms of functions and affordability. Plus, considering the upcoming Black Friday deal, Quiz Maker is a worthy purchase.
If you are here, I guess you are interested in creating quizzes and generating leads, then don't miss our super interesting and useful article on How to Use Buzzfeed Quizzes to Engage Visitors.