Today forms and quizzes are some of the most convenient ways to increase the conversion rank of your website. The users can reach you, enter important data into your website by using them. Examples can vary from contact forms made with only text fields to different interactive quizzes. At this point, you will probably like Forminator- WordPress form creator plugin. This review will present you all its cons and pros.
---
What is Forminator Plugin?
You can create some types of forms and quizzes with WordPress. Moreover, there are many WP form plugins. Forminator is considered one of the outstanding WordPress form-building plugins. It is a unique plugin from WPMU DEV that includes almost everything for form creation. There are almost 200000+ active Forminator downloads. And the plugin is available in 14 languages.
Consider that with this plugin you may create standard forms, quizzes, polls, payments, and calculations, as well.
Forminator Forms: You can create forms for all your aims by adding all the fields that are needed. WordPress contact forms creation will move you forward and make your site reach a high level of lead generation. This will help you also to communicate with your online customers.
Forminator Quizzes: You may make quizzes because they can be very interesting to visitors. Quizzes engage more visitors than you can think due to their interactive features. This will help you to gain more leads and get real feedback from your online visitors.
Forminator Calculations: This function will help you not only gather important info but also increase the conversion. It will assist you to generate leads also.
Forminator Polls: If you want to know your visitors' opinions about your website or its operation, then you can use unique polls.
Forminator Payments: You can organize donations, or simply take payments via this tool. To gather the recurring payments you can add stripe subscriptions.
---
Is Forminator a Free Plugin?
The WordPress Forminator plugin offers free installation and use. You can find this plugin in WordPress.org or simply install it in WPMU DEV. It is open for those who use WP and create their integrations or apps. This means that they can not only create and share their integrations and apps for free but also sell them and earn money.
Besides, Forminator has its Pro version. It is payable. The Forminator pricing system can vary depending on monthly and yearly packages. If you take the monthly package, then it will cost $5 per month. And if you prefer a package for the whole year, then you will save $12. As the cost for one year will be $60. As in many cases, the Forminator Pro version will give you an opportunity to use it with a 7-day free trial.
---
What Are The Main Features of Forminator?
As we mentioned above Forminator has 2 versions: Free and Pro. So, it offers you a large variety of features in its Free version. Yet, if you need a more extended version of this plugin then you will need to activate the Pro version. Here are some features referring to the offered forms that you will mostly appreciate:
The plugin offers easily managed Drag and Drop. To make any form easily you will need Forminator's simple Drag and Drop feature. You can choose as many fields as you want from a big number of fields and make the needed form. This will allow you to gather some important details such as Email, name, address, date, phone number, time, etc. in one place.
Forminator plugin offers you a good number of templates that you are most likely to use while creating the forms. You can make forms like quote requests, contact, newsletters, etc. But in case you want to build a form manually, you can choose a blank template to start creating the form.
You can find 4 already made options in this plugin to use their unique designs: Bold, Flat, Default, Material.
You can customize the form with one of these options:


It is very important that the plugin now also offers the "Forminator block for Gutenberg". This allows you to fill your posts with forms very easily without shortcodes.
Another significant option is "Forminator date picker limits". It allows you to restrict or show some dates on the week that you want to mention separately.
---
Other Features
The Forminator plugin has a large variety of integrations. This is too necessary as you must somehow react to information that you get through the made forms or quizzes. So, the plugin introduces integrations with:
Slack,
Mailchimp,
AWeber,
Google Sheets,
Trello,
Zapier,
Campaign Monitor.
The list includes some more apps, too.
Email routing, automatic response, and conditions will help you to fill in your visitor's information. Besides, you can send the forms to different teams.
Forminator enables you to use front-end submissions. This is very important because the users can offer their ideas for different posts in the front part of your website. And you can publish the submissions from your side.
The other main feature of the Forminator plugin is Google Recaptcha. It saves your forms from different spams. Moreover, it is free for Forminator.
You can simply sort and analyze the collected responses with GDPR and other privacy policies that are legal. GDPR will be available for you while using Forminator.
Forminator has a good feature. The specialists call it "Import Wizard". This enables you to transfer all the selected forms from a Contact Form 7.
With the help of this plugin, you can make login and registration forms for your (multi)sites.
Besides a single file, you can also upload multiple files via Forminator.
You can use the Forminator plugin to complete your payments. Forminator gives you an opportunity to operate your payments via Stripe and PayPal payment forms.
Through conditional logic, you can make new forms that customize getting their base from the responses of users. This will help you to manage a good user experience.
You can set specific processing conditions, plan quantity or use a free trial period by managing a stripe subscription through Forminator.
---
If you want to receive signs in your WP forms online then this plugin will definitely help you. More clearly, this E-signature form of the plugin is only for the Pro version. And enables the user to sign a document by simply clicking on the mouse or touching the device screen.
---
Polls and Quizzes in Forminator
One of the most outstanding features is that the plugin offers polls and quizzes. Polls are too important if you want to know how the users will react to your opinion. Moreover, it is a good way for getting the visitor's opinion, too. And quizzes are very important as they can act in two ways. The first is testing the user's knowledge. And the second is a personality quiz, that can bring you some good ideas.
---
Forminator Pros and Cons
At this point, we will speak about the plugin's advantages and disadvantages.
Advantages of Forminator
1st and one of the most significant advantages are Forminator Blocks for Gutenberg. Make all the needed forms and transfer them to your post simply without using shortcodes.
2nd advantage is that unlike many other plugins Forminator's free and pro versions have nearly the same functions.
3rd is that this plugin has CSS support and different color options.
4th is that the plugin offers you Built-in design for poll creation and various form containers. Besides, you will find user submission options.
5th is that the plugin enables you to analyze users' responses with GDPR.
Disadvantages of Forminator
So now it is time to present the disadvantages of Forminator.
1st disadvantage is that you can not integrate a video in polls.
2nd is that the subscription can be a little bit expensive.
3rd is that the plugin sometimes loads some not important CSS for form creation.
4th disadvantage is that some customers sometimes complain about the bugs happening in the payment system. Especially this refers to the PayPal system. But due to the consistent support team, the issue is always being followed.
---
How to Take Payments With Forminator?
Making online payment forms with Forminator is quite easy and absolutely free. Besides, it enables you to integrate such payment systems as Stripe and PayPal. Not only can you manage your online shop with the available payment integrations but also due to the discount codes, customized product features, etc.
The discounts can be offered by Hustle which presents a free email-providing plugin. Obviously, this will increase the traffic and will bring your shop to another level.
To do so you need to follow these steps:
Step 1: You need to choose advanced order form options. Here you can use discount codes, item numbers, taxes of sales, etc.
Step 2: Set up your page breaks by paginating the pages.
Step 3: You can create labels for different products by using the "Select field" options. You can find different options for your product and put them on your form. The features of products can vary according to your preferences.
Step 4: You should fill in the prices and discounts. After this, you can also calculate the taxes and see the total price.
Step 5: You need to create the checkout section. Before this, you just need to have your Stripe or PayPal accounts attached to Forminator.
Step 6: Forminator has an advanced function for creating various pop-ups about discounts. Hustle manages this absolutely free.
Additionally, you can gain more information about these options that will help you to set up your online shop quite easily.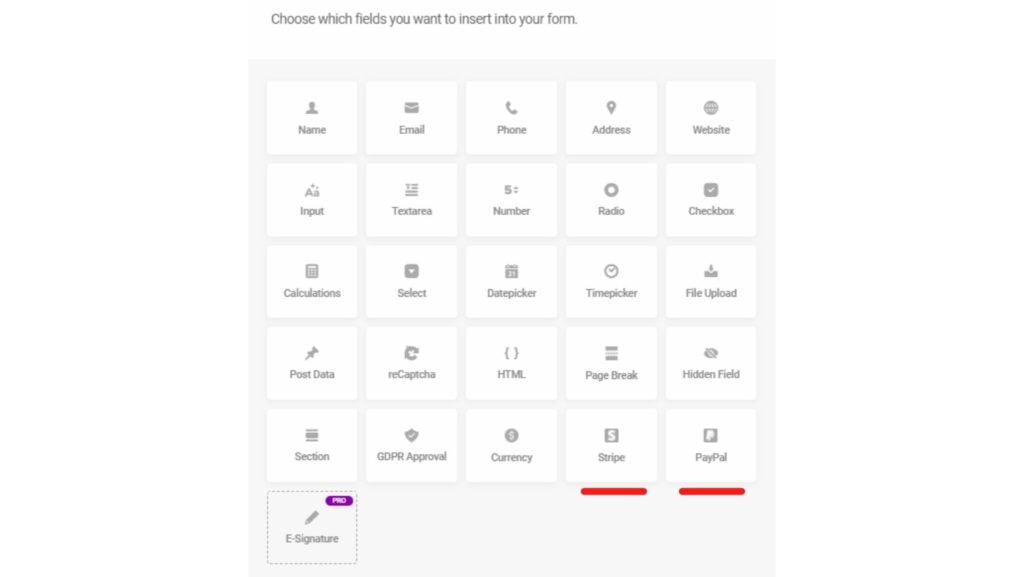 ---
Summary
To sum up, in this article, we revealed all the features of Forminator. And you know the plugin's many advantages and the way it can help you fulfill your different aims in WordPress. So now you can start from creating various forms to making discount pop-ups for your customers.
If you like the article, do not hesitate to find us on Facebook and Twitter. For interesting WP tutorials, please subscribe to our YouTube channel.
Latest posts by Anahit V.
(see all)