Are you looking for methods of spicing up your WordPress website? Definitely YES.
A user-friendly interface with a proper blog is a must for your website. So, Gutenberg is one of the most commonly used editors on WordPress. Undoubtedly, you will need Best WordPress Gutenberg Blocks Plugins.
There are numerous Gutenberg Blocks plugins, to help you get full advantage of the WordPress Gutenberg editor. Read the article and find out about the most suitable WordPress Gutenberg Blocks plugins.
---
What is a Gutenberg Blocks Plugin?
The Gutenberg is a block-based WordPress editor. In this editor, every fragment represents a draggable block. Furthermore, with Gutenberg blocks, you can create diverse content designs for your WP website. Hence, Gutenberg is suitable for building your website's posts and pages via the blocks system.
Flexibility is one of the most significant and amazing functionalities of the Gutenberg editor. Altogether, there are numerous WordPress plugins, that provide additional block features, in order to spice up your website. Henceforth, keep reading and find out about the finest WordPress Gutenberg Blocks plugins. Choose the best custom content block provider for your website.
Another key point, there are two types of Gutenberg Blocks Plugin for WordPress.
Single Purpose Block Plugin
This Gutenberg Block plugin type is one of the most popular WordPress plugins. These types of plugins are focusing only on one of the features. In a word provide WordPress website owners with an option to add only a single content block directly to their website's post or page section.
Gutenberg block library plugins
In contrast to the single-purpose Gutenberg block plugins, the block library plugins are a compilation of multiple plugins. These compilations are including different Gutenberg features into one single plugin.
---
Why Do You Need Best WordPress Gutenberg Blocks Plugins?
First and foremost, every website owner will assuredly note, that while creating a website, it is much more unchallenging to do with a block editor, rather than a classic editor.
Block editors are very user-friendly and unchallenging for beginners. While using Gutenberg block editor you will find tons of useful tools and features. In addition to that by using a Gutenberg blocks plugin, you will enhance the advanced-level functionalities and build a higher-level website.
It is important to note, that with the Gutenberg block editor you are able to add content blocks and elements that you cannot add via the classic editors. For example, with the block editor, you can indicate a Frequently Asked Questions (FAQ) faction to your post or add call-to-action buttons, and so on.
The Gutenberg editor's basic content blocks for WordPress are
Shortcode Block – This block lets you effortlessly add shortcodes to your WordPress posts and page sections. Henceforth, this type of block editor is completely compatible with plugins that provide shortcodes.
Button Block – With Button Blocks to your WordPress pages and articles you can add call-to-action buttons.
Cover Block – With this type of block editor you can add cover images and featured images to your WordPress blog articles.
Media and Text Block – This easy-to-use block editor allows you to add images and texts side-by-side.
Table Block – Via this block, you can easily generate primary tables directly into your WordPress posts and pages.
Columns Block – Within a few minutes build multi-column layouts for your WordPress blog.
Embed Blocks – You will find many embed blocks for popular websites. You can use these blocks to easily embed YouTube videos, tweets, and so more.
---
Best WordPress Gutenberg Blocks Plugins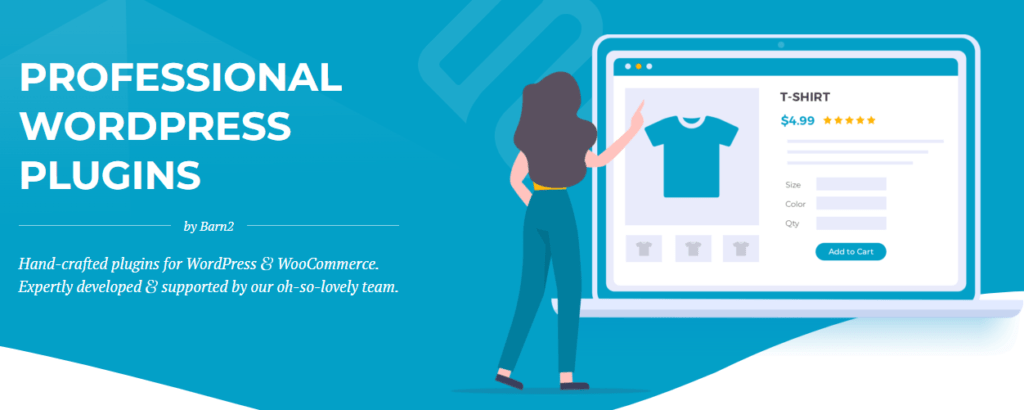 Via this WordPress Gutenberg Blocks plugin, you can build powerful product tables. This is an easy-to-use plugin. The Product Table plugin will help you to order the bestselling WooCommerce products. Additionally, order all of the needed products in a very fast and flexible order form. Undoubtedly this plugin is trusted by more than thousands of store owners.
The simple, easy to set up, and beginner-friendly interface will allow the users to have an unchallenging WordPress journey. Moreover, the plugin users can add product tables anywhere they need by using the Gutenberg block.
The WooCommerce Product Table plugin includes more than 50 functionalities. Furthermore, the plugin gets regular updates and constantly adds new advanced-level functionalities. Therefore, the Product Table for WooCommerce plugin is your perfect solution for adding unique tables and lists to your WordPress website.
Features Provided By This Plugin
Easy to Use
Customizable Columns
Add to Cart Column
Sell Product Variations
Control Which Products Appear In The Table
Customize the Table Size
List Dates in the Table
Choose How Products are Sorted
Advanced Search and Filtering
Add controls Above and Below the Table
Image and Multimedia
Control the Table Contents
Responsive and Mobile Friendly
Fast Performance
Translations
Wrap
Footer visibility
Scroll offset
Numeric terms
Integration with other plugins
---
The Osom Blocks WordPress plugin is an easy-to-setup plugin with Gutenberg blocks collection. Generally, the Osom Blocks plugin is ideal to use with the OsomPress themes. Chiefly, the Osom Blocks Gutenberg blocks plugin is perfect for improving your WordPress website. Lastly, via this plugin, you can easily customize your WordPress blog.
Firstly, what is amazing about this plugin is, that it is completely FREE. Hence, the Osom Blocks are available for everyone who wants to get full advantage of this plugin and build an advanced-level WordPress website. Thus, via the Osom Blocks for WordPress, you can generate amazing posts and page sections in just seconds.
This is your turn to go and get the advantage of the easy-to-use Gutenberg Blocks. Go and give it a try.
Features Provided By This Plugin
Display or Hide pagination
Modify the "read more" text
Display or Hide parent posts and pages
Select the title HTML markup (H2, H3, or H4)
The Custom Post Type
Choose the number of columns for the grid layout
Number of posts
Show or Hide the excerpt
Choose grid display
Picture the featured image
---
This is an Ultimate Tour Operator Plugin for WordPress, that allows its users to generate a powerful travel website. Moreover, by using the WordPress Travel Gutenberg and Elementor Blocks within minutes you will have your own travel tourism business.
Besides, this is a perfect tool with various functionalities like, "downloads". Your web visitors will be allowed to download all of the needed journey materials with just a single click. Furthermore, with this plugin, you can generate wishlists. Let your consumers pin and bookmark the trips they prefer for future purchases.
These Gutenberg blocks will allow you to build the best travel operator on your WordPress website. Altogether, this is a beginner-friendly plugin, that allows its user via the responsive blocks easily create a powerful WordPress travel website.
Features Provided By This Plugin
Travel Site Ready
Payment Processing
Booking (read also about the best booking plugins on WordPress)
Full Data Reporting
Translation Ready
Numerous Pricing and Numerous dates
Frequently Asked Questions and Timeline
Tax option
Trip Fact
WP Travel Login Dashboard
Coupon
Google Maps zoom level setting
WP Travel Tour Extras
Continues Development
Support
---
The Gutenberg Blocks for AMP with Design Library is the easiest way to design your WordPress website customer interface. This plugin includes all of the essential features and Gutenberg blocks to help you to build your dream wp website. Undoubtedly, this Design Library Plugin will perfectly fit every WordPress website platform.
Additionally, this WordPress tool provides Gutenberg blocks with great flexibility. Hence, you can easily create different styles of layouts and designs for your WP website.
Features Provided By This Plugin
High-level Gutenberg Blocks
Style Anything
Responsive Design
Starter Templates
Easy to Setup
Responsive Design
Feature List Block
Banner Block
Post List
Tab Post
Grid Post Block
Fast Support
Full Customization
Numerous Templates
---
The next WordPress Blocks plugin we have at our disposal is Blog2Social. It is a highly optimized and high-ranking social media management plugin.
Blog2Social is a must-have and all-in-one social media automation tool for any website. It not just facilitates the process of outsourcing your website to social media platforms, but also enables scheduling and automating the process directly from the WordPress dashboard.
This social media management tool supports auto-post, re-share, and scheduling of website content across 20+ well-known social media platforms, including Facebook, LinkedIn, Instagram, Medium, Pinterest, and many more.
Blog2Social saves a lot of time and makes social media sharing an incredible experience․ 
Features Provided by This Plugin
Auto-Posting: Blog2Social allows you to set social media sharing on autopilot or schedule at any time. Furthermore, Blog2Social automatically customizes the format of the post for each social media platform.
Full Customization: Though the plugin itself automatically customizes posts for each platform you may further customize them manually if you think there is a need. You can add images, descriptions, hashtags, and more for every social media.
Best Time Manager: This amazing tool not only enables you to schedule social media sharing but also comes up with the best time recommendations for every platform.
Track Social Media Sharing: Thanks to the comprehensive Social Media Calender offered by Blog2Social you get a visualized report of your scheduled social media posts. Moreover, you can easily re-schedule and make changes by simply dragging and dropping the social media posts.
Content Curation: Blog2Social allows not only the schedule and sharing of your WordPress content but any relevant text, links, images, videos or RSS feeds. The content curation strategy is a must-have step for a marketing action plan, as it raises your credibility and trust among visitors.
---
The Gutenberg Blocks by Kadence Blocks plugin allows you to create powerful and stunning WordPress websites with ease. As a result of using this plugin, you will have a fast-loading WP website. All in all, you can get professional-looking and advanced-level results without any coding skills and knowledge.
Additionally, the Gutenberg Blocks by Kadence plugin has a responsive design. Undoubtedly, your custom designs and layouts will perfectly fit and suit any type of screen size. Moreover, you can easily build the layout you have imagined for your web page. Furthermore, with this plugin, it is very easy and unchallenging to control the layouts for any type of screen size with the help of the "row or layout" Gutenberg block.
Features Provided By This Plugin
Dynamic Content
Custom Icons
Layout Controls
Color and Background Controls
More than 1500 SVG Icons
Typography Controls
Custom Fonts
Setting Visibility Controls
Spacing Controls
Animate on Scroll
Configurable Defaults
Premium Design Library
Custom Icons
Page-Specific Scripts
Responsive Controls
Intelligent Load
---
To Sum Up…
Now, when you have reached out to hear, I can be assured that you have found your perfect Gutenberg Blocks plugin.
Lastly, if you haven't yet checked out the best WordPress blog, you are seriously missing out. Check it out and learn everything about how to create a consumer-friendly website.