Review Plugins will definitely help you to present your brand as more credible, reliable, and trustworthy to customers. According to various statistics conducted research, websites and stores that have positive reviews tend to get more customers. Why? Because we all want to make sure that we spend money on quality products. Therefore, in the Best Review Plugins for WordPress | 2022 article, we are going to review the best among them.
What are Review Plugins?
Let's start from scratch. So, what are review Plugins?

Basically, those are plugins that allow you to showcase testimonials on your website so that customers can leave reviews and provide you with feedback about the product/service your business offers.

Review plugins will help you seem more reliable and contribute to better SEO, which will increase your chances of ranking higher on SERPs matching potential customers' search intents.
---
What to Look For In a Good Review Plugin?
Not all plugins are the Best. There is a clear distinction between bad, good, and the best, and here are the criteria you should consider to make sure that you have chosen the best possible plugin:
Easy user interface – plugins' purpose is to make your life easier and not harder.
Affordability – you might as well hire a developer who will create this from scratch, right? If you'd decided to go with the plugin, you most likely want to save up a bit of time & money; therefore, affordability is vital.
Customization options – best review plugins will also provide you with many customization options.
Feature-rich – also it has to offer lots of features that will help you to complete all the necessary actions related to the review display
---
Best Review Plugins for Your WordPress Website
Now let us review 2022's top list of the best review plugins for WordPress.
Ultimate Reviews is one of the best plugins you can use to display reviews on your WordPress website. This plugin has over 1000+ active installations, gets regular updates, and quite promising ratings. Ultimate Reviews comes in handy with the free and premium versions; now, I suggest we review both key features.
Main Features
So, the main features are:
Allows you to accept or decline users' reviews easily
Provides the necessary functionality to manage the reviews
Gives styling options that are quite flexible due to the availability to insert custom CSS
Users get an opportunity to upload media files with their reviews
You can enable options that will display the date and author's name of the review
Pro Version
The premium version of this plugin comes in handy with more advanced functionality, including:
Integration with WooCommerce
Custom fields to the reviews
Availability of voting reviews up or down
Multiple layout options
Summary statistics
More customization options include but are not limited to labels, fonts, and colors.
Benefits
Moreover, here you can see the list of all the benefits that come with this plugin:
The free version is enough
Offers everything needed
It is extremely easy to use – it simply offers you a shortcode that you can insert on any page of your website and showcase the customer reviews.
---
Another plugin for reviews is WooCommerce Reviews, and as the name suggests, it allows you to display reviews on your WooComemrce shop. By this, you will make the services and products more credible and reliable in the eyes of potential customers. This plugin allows you to ease up the processes of review submission for the customers so that they have a better experience with leaving any review. Now, let's take a look at the main features.
Main Features
So, the main features are:
Star rating votes are available
Review cards – show the summary for each product, including information such as overall rating or how many reviews have been written for the specific product.
Unlimited criteria fields
Advanced reviews submission form will allow reviewers to add headlines and various sets of criteria.
Pricing
This plugin is available only as a Pro version.
For a single website, you can get this plugin for $39.
If you want to have this plugin for five sites, you will have to pay $62.
You can get this plugin for unlimited websites by paying simply $99.
Benefits
Also, let's not forget about the list of benefits
Good compatibility with various add-ons
Easy to use
---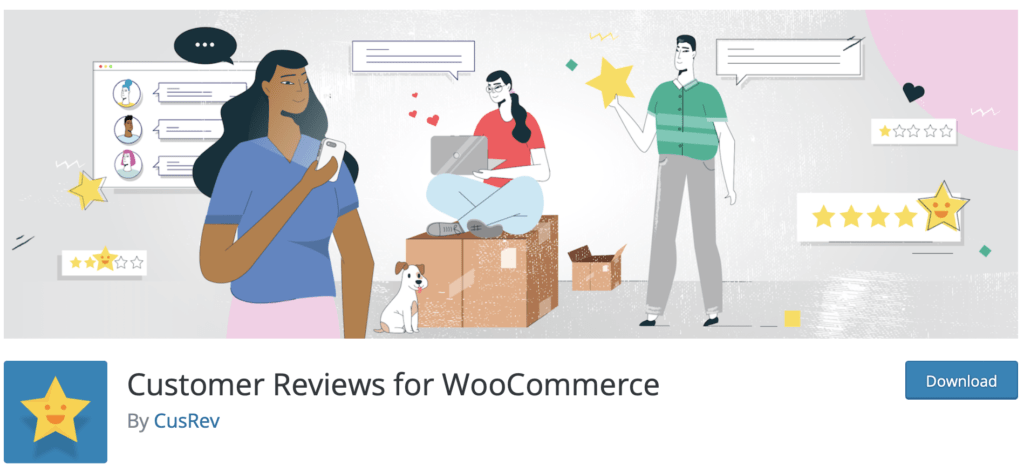 Customer Reviews for WooCommerce is a plugin that also makes the process of adding and displaying reviews for your WooCommerce shop a lot easier. This plugin has over 50.000+ active installations, 5 out of 5-star ratings, and most importantly, it gets regular updates.
Main Features
So, the main features are:
Review reminder emails that can be automated and manual
Import or export reviews
Review forms
Q&A feature available
Personalized emails
Pricing
The pricing plans are simple.
The annual plan costs $49.99, and the monthly plan costs $7.99.
Benefits
Moreover, let's look at the benefits:
It will help improve SEO and rank higher in SERPs, positively affecting visibility and brand awareness rates.
Comes in with lots of advanced functionality, including voting up reviews
Potentially improved \conversion rates
---
Site Reviews is a quite popular plugin among WP users. Moreover, it has over 40.000+ active installations, 5 out of 5-star ratings, gets updated regularly, and ensures good performance. With this plugin, you can give your users an opportunity to submit from 1-5 star review ratings, and you also will gain an opportunity to pin the best reviews.
Main Features
So, now let's take a look at the main features:
You can assign reviews to categories, pages, and users
Backup functionality is available to ensure the data safety
Bayesian ranking & Blacklist features
Elementor support & lots of editor blocks available that make customization processes easy & enjoyable
Notifications
Spam protection
Shortcodes
Benefits
Moreover, this plugin offers lots of benefits such as:
Integration with various privacy tools
Integration with Slack
Easy to use due to its incredibly user-friendly interface
Developer friendly
---
Schema – All In One Schema Rich Snippets is a WordPress schema markup plugin that will definitely help you to rank higher due to the schema types such as reviews, recipes, products, and services. It has over 70.000+ active installations, 4 out of 5-star ratings, and gets regular updates. the numbers indicate the reliability of this plugin. Now, I suggest that we take a look at the main features of the Schema – All in One Schema Rich Snippets plugin.
Main Features
So, the main features are:
Supports multiple schema types, including recipes, reviews, people, products, and many more
Offers a short summary of your page in the search engines in a format that will help you to rank higher
Benefits
Also, let's take a look at the benefits:
Easy to use
Affordable
Gives search engines the most vital information that will potentially positively affect the higher rankings of your website
Also, this plugin will contribute to better and more proper information display when sharing on Facebook.
---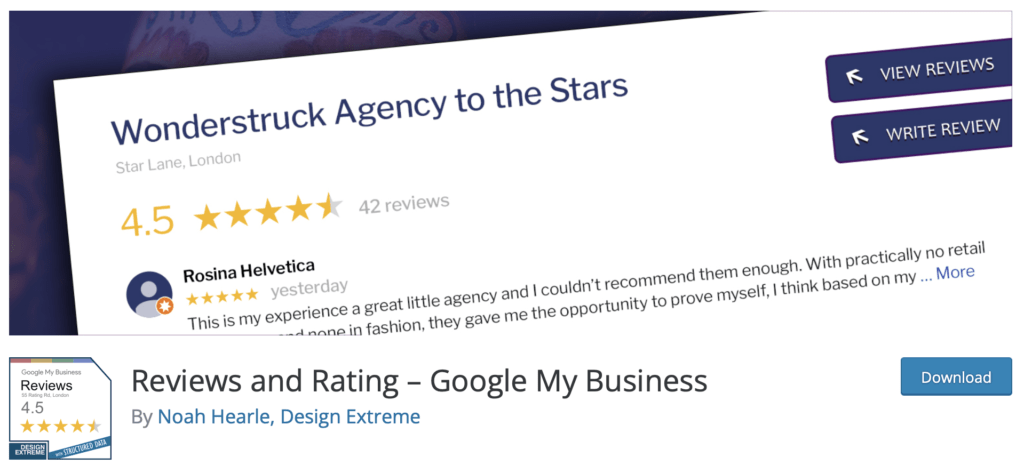 Reviews and Rating – Google My Business has over 20.000+ active installations on WordPress. Moreover, it has 5 out of 5-star ratings and gets regular updates. It comes in handy with lots of useful features, so let's take a look at them.
Main Features
So, the main features are:
More than 250 designs are available
Lots of customization options
Incredibly responsive designs that look perfect on each and every screen size
Shortcodes available
Demo Mode
Structured Data
Benefits
Also, here are the benefits:
Easy to use due to good user interface
Offers all the features needed to display and add review functionality
Will contribute to increased conversion rates
Summary
So, to summarize the best review plugins article for your WordPress website, I can say that you can confidently choose any of the plugins mentioned in this article. We made sure that they are highly reliable and will provide you with the functionality you are looking for.
Keep in mind that reviews will increase the conversion rates and give you a better opportunity to improve brand awareness, make a statement and create a positive public image that will drive in even more customers.
---
Must-read Articles
Also, do not forget to check out our must-read articles. These articles will help you to level up your skills in WordPress, user engagement, and marketing. Also, do not forget to share the articles with your friends and colleagues who may be interested in this topic.
How to Use Buzzfeed Quizzes to Engage Visitors – user engagement is quite vital if you want to improve website traffic and generate more leads, so this article will greatly help you out.
How to Speed Up a Slow WooCommerce Site | 2022 Guide – slow loading speed can negatively affect the conversion rates and result in loss of sales, so take a look at this article and speed up your WooCommerce website
Top Marketing Tips To Boost Your WordPress Website – also, take a look at this article which will provide you with the necessary insight to the top marketing tips.