---
Do you want to build hype around an upcoming product or drum up excitement for an event or limited time-offer, drive more clicks and increase sales? Then, it's time to make use of the best countdown timer plugins available in WordPress.
Countdown timers are a great way to get your visitors informed and excited for anything that has yet to come. They're great for engaging visitors with your brand and for capturing leads. Moreover, they are great website elements and popular marketing policies for increasing your sales.
Well, now several questions arise. What is a Countdown Plugin? Why do I need to use them? How can I add countdown timers to my website? So forth.
Hang on and you will find answers to all your questions in 5…4…3…2…1…
Let's give it a start!
---
What is a Countdown Timer Plugin?
A countdown timer is a WordPress plugin enabling you to display a timer or a clock on your website that counts down to a specific time or date showing the beginning or end of an event/offer.
They are popular tools among marketers and website owners for creating a sense of urgency, excitement, and FOMO (fear of missing out) among the customers to generate leads and boost conversions.
They look like this.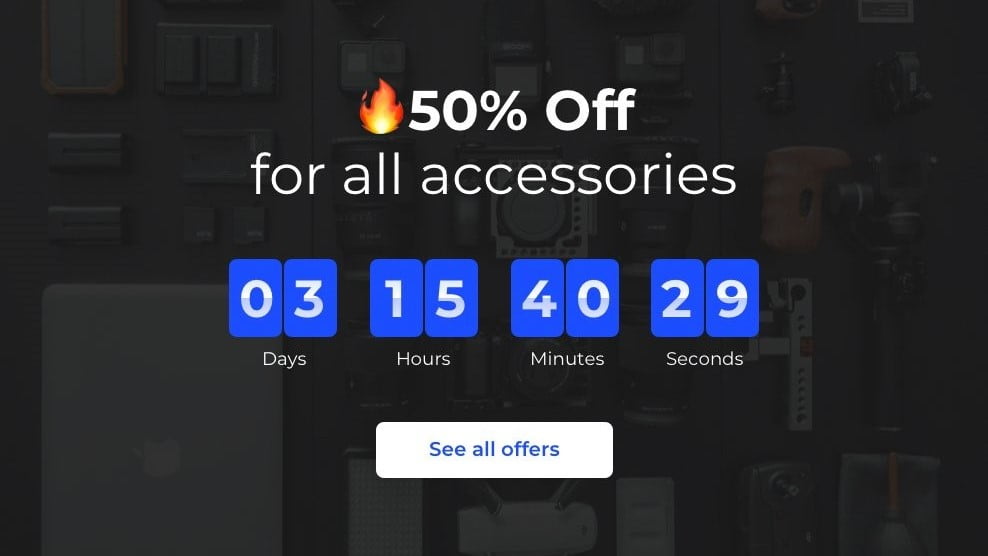 Generally speaking, countdown timers can be of two main types. Let's have a look.
Standard Countdown Timer
A standard countdown timer, also known as static or fixed, is the simplest timer that is built up to count down to a specific date or event. It can be the launch of a new product, the end or beginning of a sale, or any other event. The endpoint of the timer remains the same regardless of the visitors and their location.
Evergreen Timer
Evergreen timer, also known as dynamic, on the other hand, is unique to each visitor. The evergreen timer enables you to display your visitors' customized timers based on their browser cookies. They start counting down from the moment the visitor first accesses the website. For example, they can have 5 hours to take advantage of special offers or to use discount coupons. They are primarily used for marketing purposes to drive sales.
---
Why Use a Countdown Timer Plugin?
Before we start talking about the best countdown timer plugins for WordPress, let's make it clear why we need to use them at all. Countdown timer plugins have numerous benefits. Let's briefly cover just a few.
Boosts Traffic: Countdown plugins are a simple and easy way to keep your visitors engaged and increase the traffic to your website. For example, if your website is under construction or undergoing maintenance you can create excitement and engage visitors by adding a timer to your website's coming soon page. This provides precise information on the best time for visitors to return to your website, which will increase traffic once it is ready.
Highlights Promotions: Countdown timers enable you to show up for a special offer, promotion, or upcoming sale. With a countdown timer on your website, you can highlight the upcoming event and inform your visitors about it without being intrusive.
Motivates Customers: Finally, countdown timer plugins are psychological tricks that can push buyers to certain actions. For example, with the help of countdown timers, you can create a sense of urgency, which psychologically affects the visitors and increases purchases. When an offer is soon to come to its end, customers typically value it more.
---
Best Countdown Timer Plugins for WordPress
Now, if you are ready, let's go through the top 6 best countdown timer plugins for WordPress.
---
The first place in our list takes Countdown Timer Ultimate. This is a very simple countdown timer plugin to add to your WP website. With Countdown Timer Ultimate you can create and display multi-purpose countdown timers that allow you to evoke urgency and scarcity, thus increasing sales and highlighting upcoming events.
With 20. 000+ active installations, currently, it is one of the leading and most widely-used countdown timer plugins for WordPress.
While the plugin can't show evergreen timers that are unique to each site visitor, you can use it to display as many standard timers as you want for free.
The plugin comes with the free and pro version.
Main Features
Enables you to create as many fully responsive WordPress Countdown timers as you wish.
Offers a range of styling and customization options to change the background and rotate circle background color, width, etc.
Options to alter background colors for days, hours, minutes, and seconds to your preferences.
It also operates with the Gutenberg shortcode block.
Pro Features
Choose among 12+ stunning cool designs for the timer.
Full customization of clock style, like background color, text color, etc.
Scheduling of the Timer.
Timer operates perfectly with other active plugins.
Display your desired text in case of clock expiration.
100% multi-language.
Pricing: Free, pro version starts at $99.
---
The next plugin we want to draw your attention to is Evergreen Countdown Timer. As its name already suggests, in contrast to the first plugin mentioned above, this plugin enables you to create evergreen countdown plugins that are unique for each visitor. What's great is that this stunning plugin enables you to create standard and evergreen countdown timers for your website without any number restrictions. Simply stated, you can create unlimited countdown timers.
Currently, it has 6. 000+ active installations and has positive client reviews thanks to its numerous useful features.
Main Features
Choose the way to detect visitors, either by a cookie or by IP address.
Customization of colors (comes only with black and white).
Enables to add the timer website with a WordPress shortcode.
In case the timer expires, you can guide visitors to whatever page you choose.
This plugin also provides its Pro Version with more advanced functionalities.
Pro Version
Ability to count down also the number of available tickets, seats, or spots.
Has unlimited choice of color and style customization.
Enables custom CSS.
The feature of automatically resetting time.
Timer restarts without a page refresh.
New detection "Cookie+IP Address" together.
Pricing: Free, pro version starts at $47.
---
The third plugin we have singled out is HurryTimer. This countdown plugin ranks high due to its high customer review with 97 5-stars. Furthermore, it has 20. 000 active installations, which already proves the popularity and productivity of the plugin.
HurryTimer is a feature-rich plugin that helps you to drive clicks, boost sales, and highlight upcoming events and promotions by creating urgency and scarcity for your customers.
With HurryTimer you can add static and evergreen timers to your WP website in no time and effort. Furthermore, the evergreen timer uses either cookie or IP detection to display customized timers to each visitor.
HurryTimer offers a range of useful features, some of which are free of charge, and others are included in the pro version of the plugin. Let's view each of them separately.
Main Features
Allows creating both evergreen and one-time timers.
Cookie & IP detection techniques are available for evergreen campaigns.
Operates with WooCommerce.
Offers several expiry actions are available, such as hiding countdown timer, redirecting to URL, displaying a message, and so on.
Auto-Restart immediately, or at the next visit.
Display the same countdown timer several times.
Pro Features
Evergreen timers with user session detection.
Schedule recurring campaigns (minutely, hourly, daily, weekly, and monthly).
Multiple Expiry Action suggestions.
Automatically expire the WooCommerce coupon code after the timer reaches zero.
Advanced Design Customizer with unlimited design variations.
Ability to add your CSS code to every element.
Get immediate support with 24/7 available email and chat.
Pricing: Free, pro version starts at $39.
---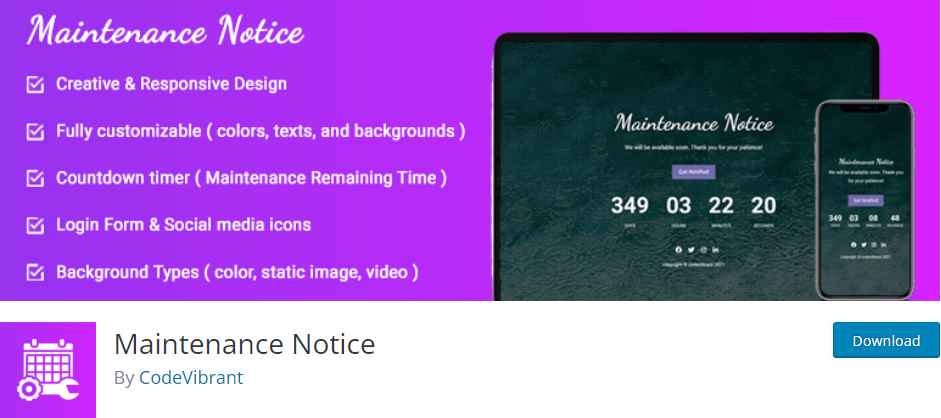 Next on the list of best countdown timer plugins is Maintenance Notice. This user-friendly WordPress plugin was created by CodeVibrant to help you to build a beautiful "coming soon" page․ Additionally, you can use it to set maintenance notice on your website when it's down.
The Maintenance Notice plugin is fully responsive and perfectly works with all devices. The plugin comes with sophisticated customization tools that meet all the needs of the website owners. You can design fully unique maintenance mode and coming soon pages with the plugin.
A special feature of Maintenace Notice is the option of displaying a countdown timer on coming soon or maintenance pages. With the plugins countdown timer you can:
Let visitors know how many days or hours are left until your website is up and running.
Display a general time if you don't know the precise time your website will be active.
Main Features
Full page customization.
Countdown timer.
Highly responsive design.
Background overlay.
Various background options (image, video, color).
Social Icon.
Login form field.
Compatibility with any WP themes.
Pricing
The Maintenance Notice is a free WordPress coming soon and maintenance page plugin. It does, however, also have a premium, or paid, edition with more sophisticated features. The one-time price for the plugin is simply $18.
Thanks to the 100% Risk-Free Guarantee, you are completely safe as you can receive a refund if you don't like the plugin.
---
Fifth on the list of best countdown timer plugins is myStickymenu. This is a feature-rich WordPress plugin that enables you to make your header sticky in case visitors scroll your website up or down. This means that the menu always remains visible for your website visitors and makes website navigation easy.
With more than 100,000+ active installations and 800+ five-star reviews, the myStickymenu plugin is the right plugin for your website.
You can use this plugin also to create a Welcome bar for announcements or promotions or to create countdown timers for highlighting particular upcoming events.
Let's go through the free and pro features offered by this startling plugin.
Main Features
Choose when to make it visible on the scroll.
Style optimization options, the background color, opacity, font color, etc.
Multi-language notification bar announcements are available in different languages – support both by LTR and RTL formats.
Option to disable sticky menu features in case you desire to make use of top bars or welcome bars only.
Create several notification bars for different pages based on different languages, different product categories, and so forth.
Option to add a Countdown timer in your notification bar for creating a sense of urgency among your customers. This stunning notifications bar feature can increase conversion rate and sales.
Available to show your notification bar both on mobile or desktop.
The ability to set a welcome bar with an expiry date.
Pricing: Free, pro version starts at $25.
---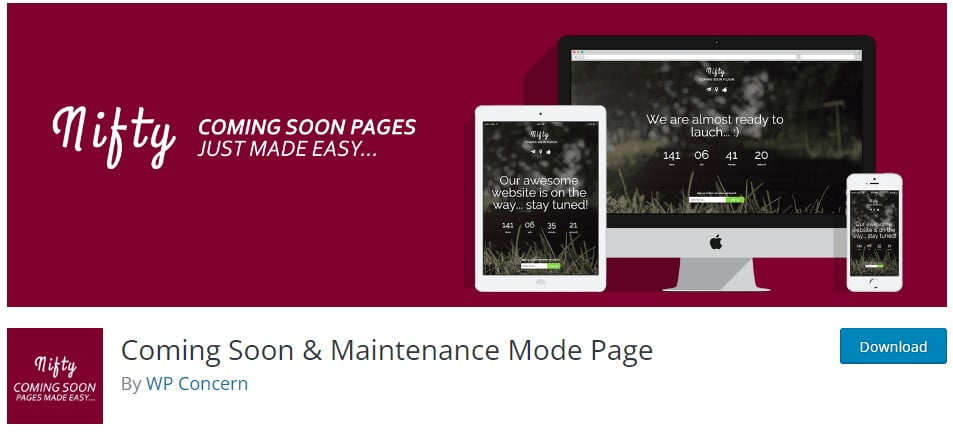 The last plugin we want to draw your attention to is the Coming Soon & Maintenance Mode Page created by WP Concern. It enables the creation of stunning and full-of-animation Coming soon pages.
Coming Soon & Maintenance Mode Page has a responsive design and is adapted to any device. It comes with all like premium features for FREE, such as activating or deactivating sections of the page, changing animated text, using the built-in countdown timer, and so on.
On account of its wide range of features, this plugin has more than 20. 000 active installations and is among the top for maintenance or coming soon plugins.
Main Features
Enables building modern and reactive coming soon page design.
Built-in countdown timer with style optimization options.
Animated coming soon text messages.
More than 16 Background slider animations are available to choose from.
Option of a Live Preview of your coming soon page on spot.
Supported by 300+ Google fonts.
Includes translation options.
---
FOMO. It's human nature to want something, even more, when there's a possibility it will not be available anymore. It's the Fear Of Missing Out and a potent marketing tactic.
Have you ever heard of Black Friday? Without question, it is the single biggest sales day every year in America. And it's all because of FOMO.
That's precisely what a Countdown Timer does. It creates a FOMO event. You can rest easy knowing that having too many abandoned online shopping carts will be a thing of the past!
Numerous pre-built templates are available and designed by POWRs expert design team to create your custom countdown timer.
The POWR Countdown Timer is part of a suite of easy-to-use plugins they make to help small businesses increase sales and support existing customers.
Countdown Timer Core Features
Position the timer anywhere on your site or on multiple pages
Add hyperlinks to direct the user to a different web page or checkout
Choose from various animation styles to draw attention
You can also embed a countdown timer directly into an email
Create a professional-looking countdown timer in minutes with this multi-use plugin. All the customization options and functional features make it an excellent choice for any small business or online shop owner.
____________________________________________________________________
---
Summing Up
It's amazing how a simple tick-tock of the clock can make a significant difference and pave the way for your success. With minimum effort and creativity, you can notably enhance your website functionality and raise interest and excitement among your customers. At the end of the day, whichever WordPress countdown plugin you choose from our list, be careful not to overuse it, otherwise, it will stop serving its purpose.
If you are willing to learn more about WordPress plugins and make the most out of your WordPress experience then I recommend you to visit WPGlob's blog and have a look at our thorough plugin reviews and top lists.