Are you looking for an ultimate eCommerce plugin to create a dynamic B2B eCommerce store? Then look no further, as WholesaleX is here to turn your dreams into reality. This powerful plugin launched on November 10, 2022, and is taking the eCommerce world by storm. Its impressive range of features packs a punch, making it the top-grade plugin for building wholesale stores.
In today's post, let's dive into the details of this all-in-one eCommerce plugin called WholesaleX. We will learn about its features, pricing, and more! So get prepared for an interesting eCommerce journey.
Let's Introduce WholesaleX!
The WholesaleX eCommerce WordPress plugin is the pinnacle of all B2B and B2C hybrid solutions. It is an eCommerce plugin that depends on WooCommerce and turns your WordPress website into a fully operational, one-stop-shop wholesale marketplace. You can create a dynamic environment where buyers and sellers may come together via the use of WholesaleX, which makes doing business simpler and provides customers with an improved shopping experience.
WooCommerce makes it easy to start offering discounts on your items right now. WordPress makes it simple to convert an online store into a wholesale marketplace with only a few clicks and no technical experience required. WholesaleX streamlines the process of launching a wholesale-only or a hybrid marketplace, allowing you to do it with minimal effort.
Features of WholesaleX
WholesaleX is the perfect destination for everyone who wants to start their own wholesale marketplace. They've just launched their website with powerful features. With the plugin, you can expect to get more features over time.
WholesaleX is a sophisticated eCommerce solution that streamlines online product sales for retailers, increasing revenue and improving the consumer experience. Moreover, while acquiring analytical data is important to do any kind of business, you need a proper understanding of the market and then just WholesaleX.
Their features have been improved to compete with the top competitors in the industry. You can expect wholesale pricing, multiple pricing tires, pre-set rule-based dynamic discount, shipping methods, form builders, request a quote, bulk orders, subaccounts, and many more. These are only the major features, check the full features list here and ensure you get the best for your wholesale marketplace.
Dynamic Discount
Discover the power of WholesaleX, the platform that makes it easier than ever to get your wholesale pricing in order. With our comprehensive suite of pricing models and discount options, you can set up the perfect pricing structure to fit your business and customer needs. With their interesting feature dynamic rules, you can set store-wide discounts or user/roles based and even for specific products.
The following are examples of discount types you can set with dynamic rules:
Product Discount
Payment Discount
Cart Discount
Quantity-Based Discount (Tiered Pricing)
Shipping Rule
Tax Rule
Payment Order Quantity
Maximum Order Quantity
Minimum Order Quantity
Buy X Get Y (XY)
Buy One Get X (BOGO)
Extra Charge
Additionally, wholesaleX lets you set a usage limit and time-specific discounts. So, you can set the perfect discount strategies for your WooCommerce store.
Request a Quote
The WholesaleX Request, A Quote feature takes things up a notch, allowing customers to request custom purchase quotes and allowing store owners to offer the best prices for their products. This is an incredible way to increase sales, improve customer satisfaction and make the entire shopping process simpler and more efficient.
Bulk Order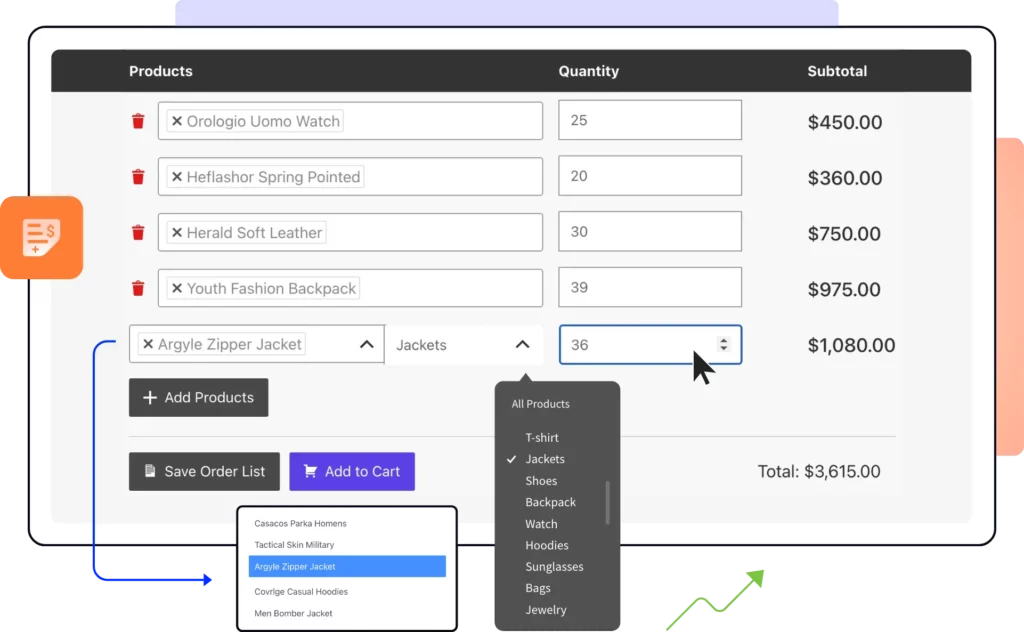 The Bulk Order Form addon is the ultimate time saver for any B2B store. It enables registered users to select products in bulk and place orders in an instant. This addon also allows users to save their order list as a Purchase List so that they can come back and quickly make an order at a later time. This easy-to-use feature is a fantastic way to improve performance in any business.
Subaccount Management
This addon gives you the power to quickly and easily create and manage subaccounts with the precise permissions you want to grant them. Plus, you can send notifications to the subaccount holder for new account openings and keep the admin informed whenever any subaccount holders place orders. All this means you'll have the utmost control and visibility into the activity of your subaccount!
User Role Management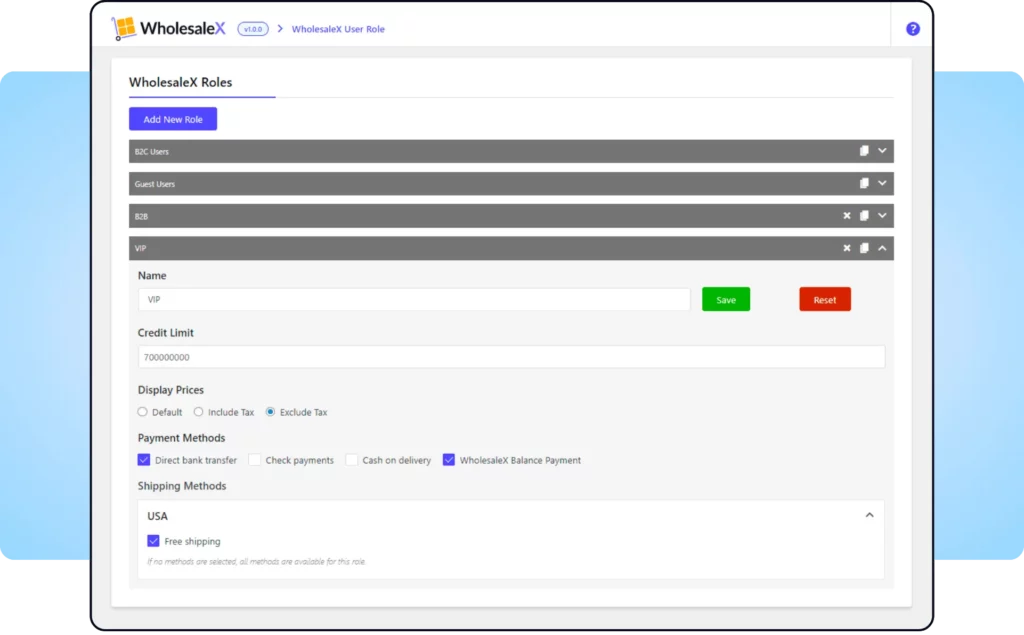 Managing user roles has never been easier – you can create unlimited user roles and assign the right pricing depending on the role. Depending on their assigned user role, users can also control their own wallet credit limit, shipping methods, and payment methods. You can provide each user the tailored service they deserve with the help of the smart user role system.
Registration Form Builder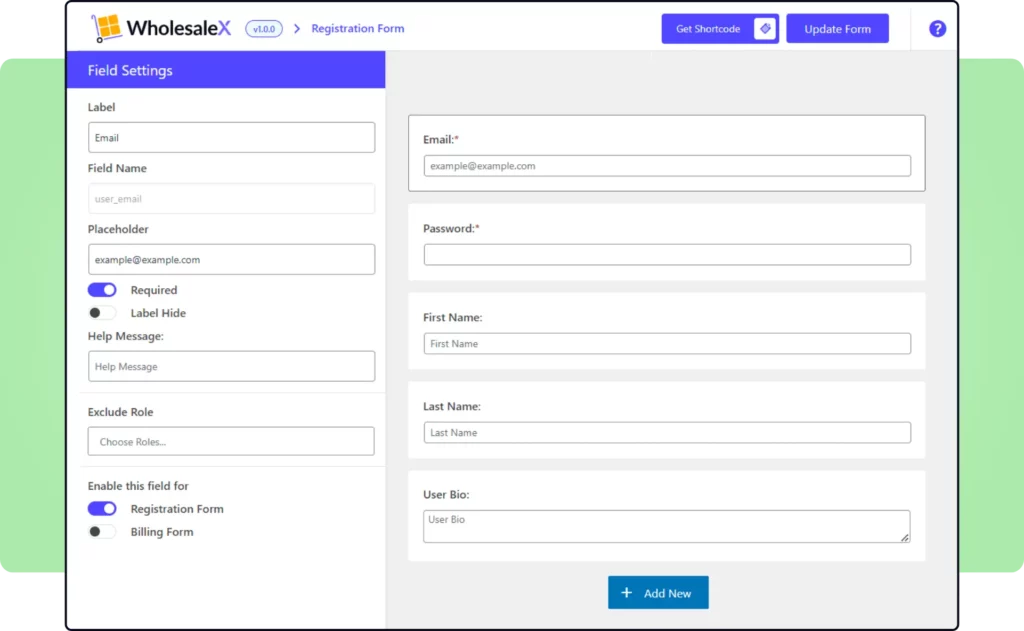 What's more, with WholesaleX, you can make sure that the management of your sales and the delivery of your products and services are of the highest quality by creating registration forms tailored to both B2B and B2C customers. Customizing the forms is easy, ensuring the essential fields are mandatory, and you can approve them automatically and manually. Plus, the forms can be used anywhere with just a simple shortcode. Don't waste your customers' and users' information: create the perfect registration forms with WholesaleX and take your business to the next level!
Private Store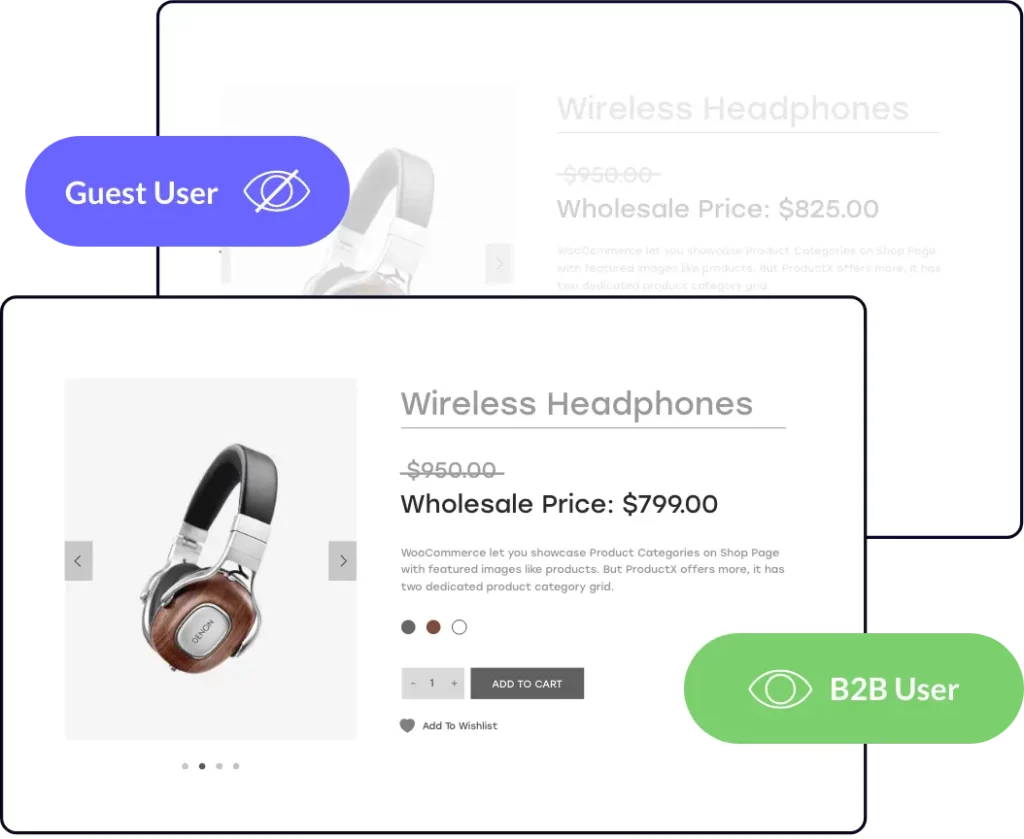 Creating a private store with WholesaleX is a fantastic way to increase registered users. Not only can you make your store private so only logged-in users can access it, but you can also customize the visibility of products to match the needs of your business. WholesaleX allows you to create a private store and requires customers to register and log in to view products and complete their purchases. This helps to ensure that you have the power to determine who can access your store and who can purchase your products.
Wallet Management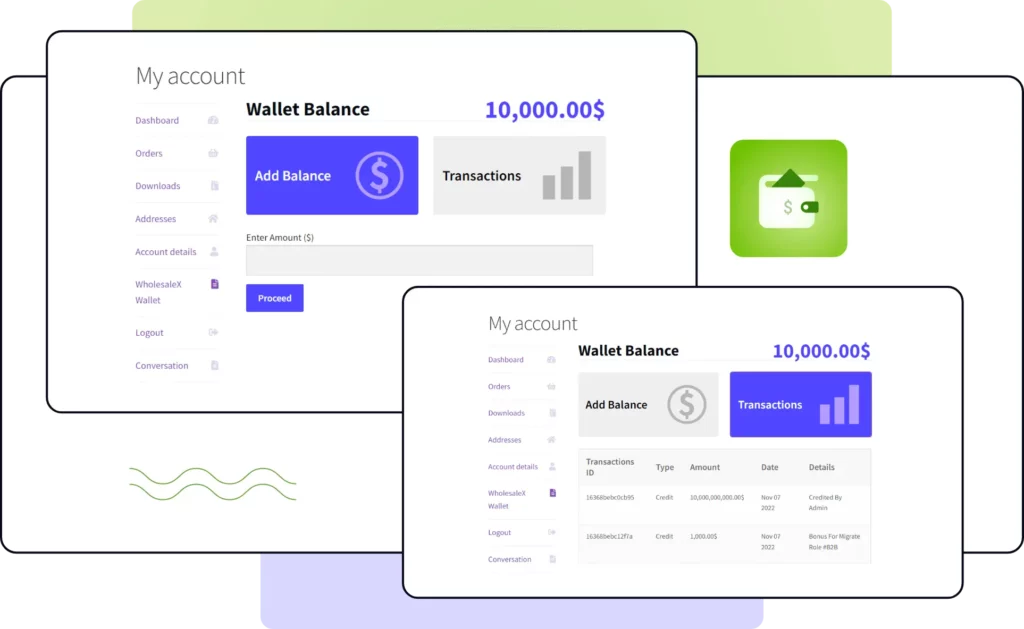 Managing your wallet shouldn't cause you a headache – that's why they made it easier than ever to view and track your payment details right from your WooCommerce account page. You can manually add funds and show or hide taxes as needed. With these features at your fingertips, you can rest assured that your wallet management is simpler and more secure than ever.
Conversation
Use WholesaleX to set yourself out from the competition and provide your consumers a one-of-a-kind purchasing experience. However, one of its most useful features is the Conversation option, which allows customers to communicate directly with the store owner or manager. This feature can help build stronger relationships between customers and eCommerce stores by providing a platform for feedback, suggestions, or even complaints.
Why Choose WholesaleX?
Intuitive Design: When you explore the easy-to-understand design of WholesaleX, you will notice that the design of this plugin is very intuitive. All the features are neatly organized, and no extra graphics are added to keep it simple and clean.
Top-Notch Support: Support is an important aspect, especially regarding plugins. WholesaleX offers various support options, such as live chat, tickets, and social channels. Plus, they have numerous videos and written documentation to help you with any issue.

Reputed Developers: WholesaleX is developed by WPXPO, a trusted name in the WordPress industry. They have successfully launched PostX and ProductX, and currently, they are used by over 35,000+ people worldwide. So, WholesaleX is a trustworthy eCommerce plugin that you can surely rely on.
Pricing
WholesaleX pro provides an unbeatable price that you can pay annually or as a one-time payment. Not to mention, you get a 14-day guaranteed money-back option.
The free version: $0/Free
Yearly:
Starter: $149
Business: $279
Agency: $389
Lifetime:
Starter: $349
Business: $449
Agency: $999
The best part is that with the agency pack, you can access unlimited sites and never worry about paying again! It's an offer too good to pass!
Why WholesaleX is Better than Other B2B Solutions
The modern world of wholesale e-commerce is buzzing with excitement, and WholesaleX is the newest addition to the market. We understand the importance of ensuring your business stands out from the competition and have crafted this eCommerce plugin with these needs in mind. This plugin is feature-rich and should be considered by every aspiring wholesale business owner.
WholesaleX is the ideal tool for creating a successful and profitable wholesale marketplace, from its intuitive user interface to its comprehensive list of integrations. As well as this, the team of experts is always on hand to provide you with the best poss2ible support and advice throughout the setup and running of your marketplace.
WholesaleX Stands Out with:
Complete Solution: Experience the ultimate convenience of having a "one-stop shop" solution with B2B and B2C marketplace functionality all under one roof. No extra plugins, no extra costs – it's all here, accessible, and ready for you to use.
Global Rule Management System: WholesaleX provides a convenient and efficient way to manage settings across our marketplace. With our global settings option, you can easily set rules once and apply them to the entire platform. This is an invaluable tool that helps save time and energy while ensuring that all settings remain consistent.
Easy User Role Management: You can craft an array of user roles with limitless possibilities. Each role can be tailored to a unique pricing and discount structure, allowing you to control the discounts and prices for each user role. This way, you can customize the user experience for every customer, setting unique prices and discounts that best suit their needs.
B2B, B2C, B2B + B2C Hybrid Store: You can either maintain a hybrid marketplace or establish a dedicated B2B marketplace. Furthermore, you can effortlessly toggle between B2B, B2C, and B2B+B2C hybrid modes with one click, thus making store management a breeze. This makes it easier than ever to keep track of your store. Also, you ensure that all of your B2B and B2C customers have an effortless and enjoyable shopping experience.
Customer Contacts and Negotiation: You can start the conversation, put your own price on the table, and accept requests – providing you with the autonomy to create your marketplace. WholesaleX takes it one step further with a streamlined request-a-quote feature. It incorporates a conversation system, making the entire process much more efficient and straightforward.
So don't delay – get ahead of your competitors and start building your wholesale business with WholesaleX today!
Concluding Words
Thanks for taking the time to read our comprehensive WholesaleX review!
We hope you've found all the information you were looking for and that we've provided you with some useful insight into the features and benefits of the plugin. People are on a roll between Shopify and WooCommerce, and which one to use? Well, it depends on multiple factors like perspective, business properties, resolutions and more.
We wholeheartedly support WholesaleX and believe it can provide you with great value. We would appreciate it if you could share your thoughts about WholesaleX.
It would be greatly appreciated if you could use and spread the word about WholesaleX on your favorite social media.