Contact forms are simple and secure ways to collect valuable information about your users, and get feedback, complaint, and reviews. When using WordPress it is extremely easy to implement contact forms on your website through different plugins. One of the most well-known and must-have contact form plugins is WPForms. And in this article, we will try to compare the main features of both the free and pro versions. Keep up reading the WPForms Free VS Pro article to know what are the main differences between these two.
---
WPForms Free WordPress Plugin
The free version of this powerful drag-and-drop form maker plugin is presented on WordPress. It scores 5+ million active installations and a 4.9 out of 5-star rating.
You can use the WPForms free features to build almost all kinds of forms including contact, feedback, subscription, etc.
Both versions are highly beginner-friendly and responsive displaying properly on any device. The forms created with the WPForms plugin do not slow down your website performance as they are web and server-performance-optimized. So, the forms will not affect your SEO or marketing in the aspect of website speed.
---
WPForms Pro Plugin
Even though there are tons of important features included in the free version, you can highly benefit from the pro version of this plugin. Here are the WPFrom Pro prices:
Basic – $99 for 1 site. The plan provides all the needed tools to build an online form.
Plus – $299 for 3 sites. The Plus plan is foreseen for businesses.
Pro – $399 for 5 sites.
Elite – $599 for unlimited sites and smart business owners.
Note that in case you are not satisfied with the added features, WPForms Pro Licenses come with a 14-day refund guarantee.
Believe me, you are not going to use it!!
---
WPForms Free VS Pro
Creating and publishing an unlimited number of all-in-one forms with WPForms is a matter of 5 minutes.
Both versions will enable you to create your desired form providing a drag-and-drop feature that will ease your experience. So, the WPForms Editor works in the same way both in the free and paid versions. Thus, you can just take the field you want and put it into your form with just a click from left to right.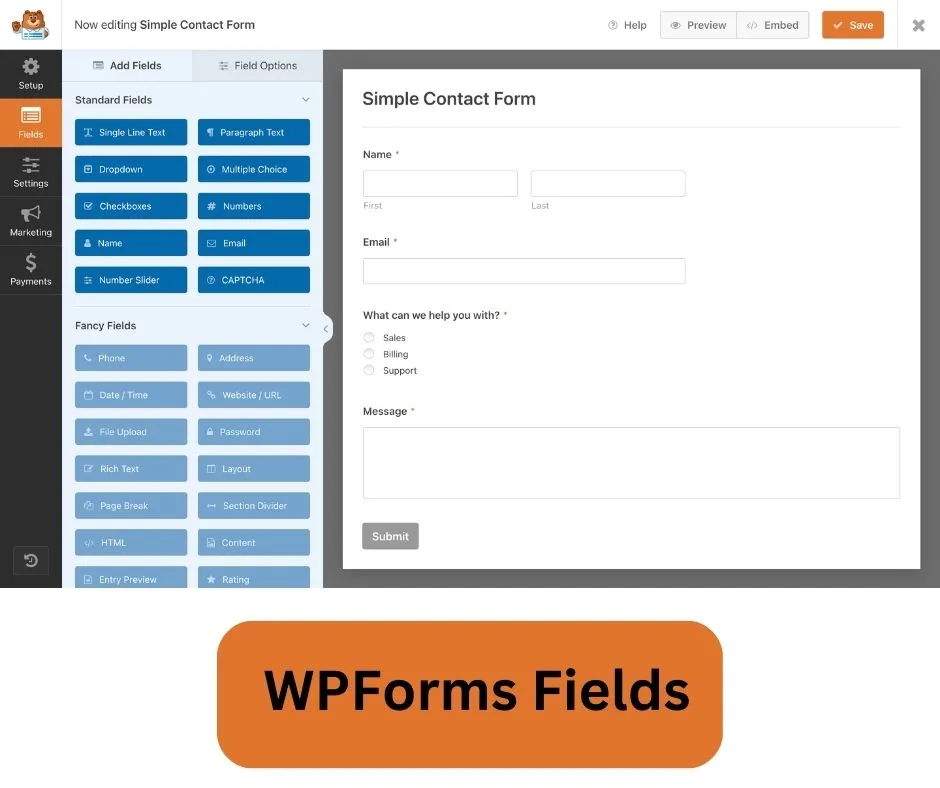 In order to view your form creation process more clearly you can expand the form builder to make it fill the whole monitor.
---
WPForms Free VS Pro – Form Fields
Although there are some differences between the form fields added by the paid version of this plugin you can still enjoy the available ones in both versions.
WPForms Free VS Pro – Form Fields Similarities
These include:
Name
Email
Text
Number
Number Slider
Dropdown
Multiple Choice
Checkbox
reCAPTCHA/ hCAPTCHA
GDPR Compliance
As you see, WPForms offers these free features so you can make an excellent form on your website without paying even a single penny. Besides, in both versions, you are free to customize your forms with dropdowns, checkboxes, and radio buttons, protect the forms from spam email entries, etc.
WPForms Free VS Pro – Form Fields Differences
Besides the form's basic components, the plugin's Pro version adds other important elements, such as:
Phone number – showing the country code according to your visitor's location
Address on map (integration to Google Maps and Mapbox) – this feature enables you to have an automatic interactive map field within your contact form
Date & Time
Link to your website
File upload
Password
Layout, page break, and divider
Rich text
HTML
Hidden fields
CAPTCHA customization
Signature
Rating fields such as star ratings, Net Promoter Score, Likert scale
Payment
Also, the paid version will enable you to preview your created form before going to live.
So, you will highly benefit from adding these fields to build longer forms which in its turn will help you to get more information from your website visitors. Get people to scale your services or products when collecting valuable feedback from users. And if you are going to make contracts then the signature feature is right for your safe usage. Besides, taking payment directly through the contact form is not a problem when you use the WPForms Pro version. It enables you to get paid via Stripe, PayPal, or Square.
When adding these fields to the forms one might be worried about the complicated form-filling process. Taking this fact into account, the WPForms creators present a Conditional Logic feature that is available only in the Pro version.
---
Conditional Logic – Pro Version Priority
If you build an all-in-one form with lots of fields included you should first think about your website users' convenience. So, not all the visitors might be interested to fill in all the details you have involved in your forms. So, here is where the Conditional Logic Pro feature comes in handy. It enables automatically hiding and showing some specific fields based on the user's previous answers.
Besides, you can show up the payment field if the visitor's answer meets the needed conditions. So, the user will not be required to see the field he is not going to apply to.
---
Ways WPForms Publishes the Forms
After creating the forms you can publish them in different ways. If you are a free plan user then you can publish the forms by embedding them to WP pages or posts through wizard or shortcodes. It is important to take into account that the plugin is highly compatible with both the Classic Editor and Gutenberg Block Editor.
When using the Pro version, you will be able to publish conversational forms that show the answers one after another. As well as you can publish the created forms directly on their separate landing page.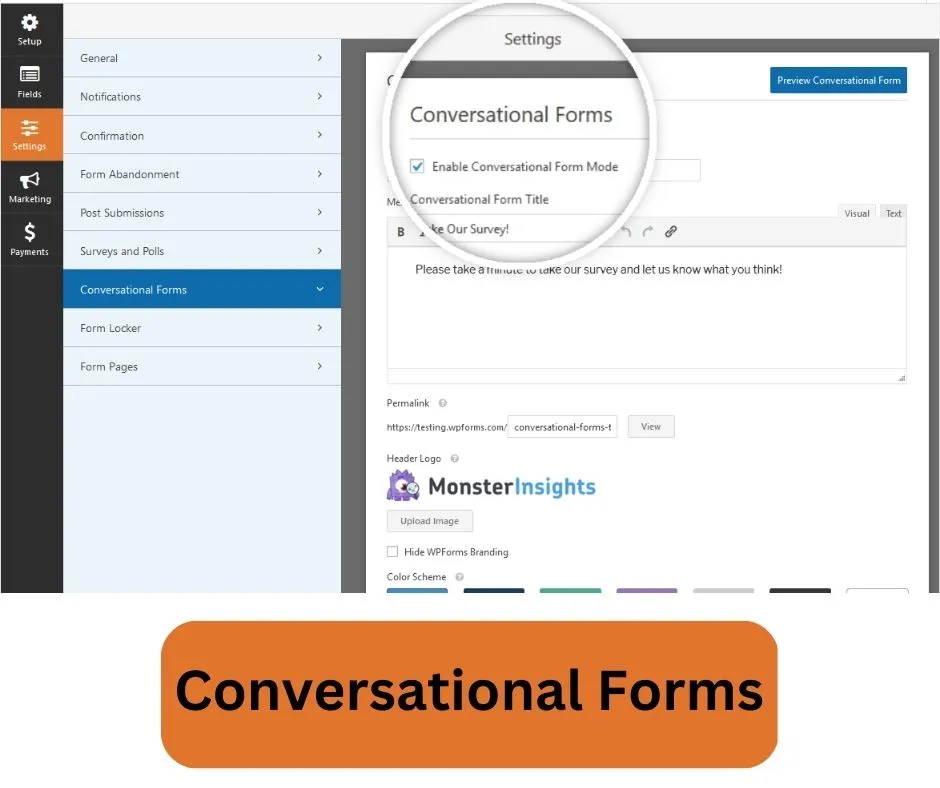 This feature is one of the most outstanding advantages of the WPForms WordPress plugin.
---
WPForms Free VS Pro – Notifications
Both Free and Pro versions send notification emails to the address the user added to the corresponding field of your form. Moreover, the visitors can receive a confirmation message on form submission, and 1 notification to CC recipients.
Yet, by activating the Pro version you will able to open wider opportunities, such as multiple notifications and cloning, conditional notifications, as well as form abandonment notifications to make users fill in all the details when they intend to abandon the form.
---
WPForms Free VS Pro – Entry Storage
When using the Free version all of the form entries will be stored in the cloud storage. Yet, you will have to access them when activating the Pro version. After that, you can even get all the entries saved on your WordPress Admin Dashboard. The Pro version will also give you an opportunity to filter the filled entries for your easy search.
By storing and reviewing these entries you can collect important statistics about your visitors' location, payment history, as well as user journey while passing through the form fields.
---
WPForms Free VS Pro – Form Templates
Both versions provide the website owners with lots of ready-made templates that you can unlock by just hovering the mouse over them.
Some of the presented form templates work closely with different add-ons. So, when intending to use them you will see an addon installation message popped up on your screen.
---
Integrations
WPForms Free and Pro version work well with almost all page builders including Elementor widget, Divi, SeedProd, etc. With these integrations, you are even allowed to add forms without using shortcodes.
In an aspect of Email Marketing that is also very important for businesses, the plugin has lots of integrations available. If you use WPForms for free, you need to consider only the Constant Contact integration. However, the Pro version offers more integrations, too:
Mailchimp
AWeber
Sendinblue
MailerLite
Campaign Monitor
GetResponse
Drip
To make greater SEO results the plugin offers AIO SEO integration, as well.
Other integrations include Uncanny Automator (supported both in the Free and Pro versions) enabling you to send your WPForms entries directly to another plugin. In addition, the Pro version offers Zapier integration.
---
WPForms Free VS Pro – Plugin Support
When rating the plugin the users highly consider the support level provided by its creators. In the case of WPForms, free and pro version support speed differs. If you are a free plan user you need to wait for the WordPress.org answers within 1 to 3 days,
However, if you choose the Pro version, you will get more personalized and fast support within just 24 hours through a ticket created in your WPForms account.
---
To Wrap Things Up…
So, if you tend to implement any type of form in your website then you should go nowhere than activating the WPForms WordPress form creator plugin.
Both versions of this plugin are extremely useful when creating a form on your WordPress website. However, the difference refers to your form-creating intentions and priorities. Surely, the WPForms Pro version provides more advanced features than the lite one. When activating one of the available licenses you will get more fields, extra pre-made templates, more add-ons, and integrations, publishing and displaying features, payment features, etc.
Activating this all-in-one form maker tool will ease your experience and help you save your funds avoiding purchasing other add-ons to make a comprehensive form.
Latest posts by Anahit V.
(see all)