If you decided to launch a directory on your WordPress site then it is easier for you to complete it via plugins. At this point, we will reveal the top directory plugins for WordPress.
---
What Are Common Features of The Top Directory Plugins for WordPress
Although the plugins differ from each other in the available features and functionalities there are some common options you should search for in the top directory plugins for WordPress. Here they are:
Add listing options
Merchant backend tools
Payment methods
Review and rating systems
Media files support
Search based on the location
Frontend submission system
Shortcodes and widgets availability
Customizable fields for forms, etc.
And now, let's review the plugins one by one.
---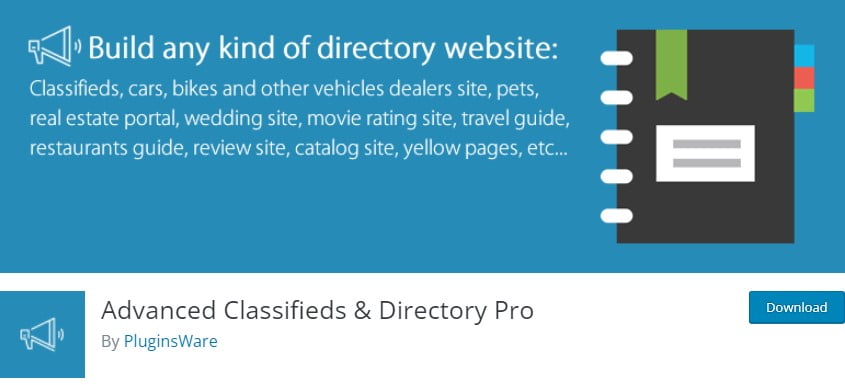 Here is the first professional well-functioned Advanced Classifieds and Directory Pro plugin. It has over 4,000 activations and 80 5-stars on WordPress.
With this plugin, you can easily set an unlimited quantity of custom fields such as radio, checkbox, Selection list, textarea, input, etc. As well as you may complete the location setup configuration, having access to integrated Google Maps. Moreover, you as a user can manage listing by renewing, editing, or deleting it.
In its pro version, you may make PayPal and Stripe payments, as well as get transfers via direct bank transfer methods. The plugin is fully GDPR compliant and includes Honeypot and Google reCAPTCHA spam-protection method with its 2nd version.
You are able to find more features in the plugin's Pro version with the following pricing:
Single Site – $119.88 annually
3 Sites – $359-64 annually
5 Sites – $599.40 annually
---
The 2nd directory plugin from our list is the WordPress Contact List plugin developed by Tammersoft. Currently, it has more than six hundred active installs and 7 5-stars in the WordPress Repository.
The plugin enables you to make an address book or company directory very easily without hustles. The whole contact data, for example, name, mobile number, email address, and Social media links can be listed and combined through this plugin. The free version of the Contact list plugin is full of many free features, such as:
Sending emails from the frontend form
2 views opportunity (contact data full list, table type view)
A single custom field
4 different layouts
Contact filtering based on country, states, categories, etc.
Email spam prevention
Printable contact list, and many other features
Yet, if you work with the plugin's free version and realize that its features are not enough to fulfill your business requirements, then you can confidently upgrade to the available Pro version with the following pricing:
Personal – $4.99 per month ($59.88 yearly)
Professional – $6.49 per month ($77.88 yearly)
Business – $7.99 per month ($95.88 yearly)
Besides, you will obtain a 100% refund opportunity within 30 days after making the purchase. As well as you can view the demo version to learn more about this plugin.
Some of the Pro features are listed below:
Various shortcodes
Pagination support
reCAPTCHA activated on contact forms
Excel import and support
Front-end contact editor
Field customization, and many other functions
You can view all the Pro version features by visiting the Contact list plugin's official website.
---
Next comes the WordPress Directorist plugin that has been developed by wpWax. The plugin has 10,000+ active installs and 235 5-stars on WordPress.
Most importantly, the Directorist plugin is foreseen for the people who aim to create online directories for their listings. Due to it Directory creating process becomes very fast, easy, and smooth.
In short, here are the main functionalities provided by this plugin:
Multi directory
Listing Import or Export to CSV format
Customs form Builder
Layout Builder
User and especially beginner-friendly
Monetization option
Customizable
Available booking system (check out the best booking plugins on WordPress)
Compatible with the Gutenberg Block Editor
Live chat integration
Besides the free version's features, you can gain more special and helpful options by upgrading to its paid version. Here is the pricing:
3 months – $79
6 months – $129
1 year – $199
Lifetime – $1099
As well as you may discover the plugin's demo version before trying it yourself.
---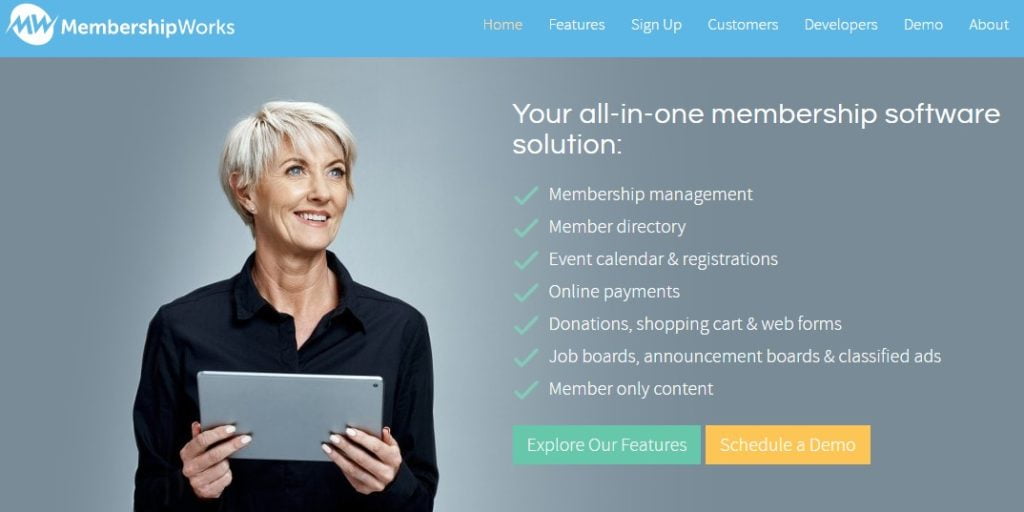 Here is the fourth plugin – MembershipWorks having 2,000+ active installations and 30 five-stars in the WP Repository.
So it is a unique membership, events, and directory plugin for various chambers of commerce, associations, networks, membership groups, etc.
It is easy to set up and includes many 3rd party integrations with:
Stripe, Paypal, Braintree, Authorize.net
Xero, QuickBooks Online, QuickBooks Desktop
Mailchimp
Website Toolbox
Meanwhile, through this plugin, you are able to search by keyword, fields, folders, labels, and locations. You will have multiple locations for your business or organization. The business cards and membership profiles are fully customizable. Also, the plugin enables you to switch on Email address protecting system by the CAN-SPAM action, etc.
The pricing of the cheapest plan where the directory is available is $29 per month. Pricing is based on the number of accounts you store on the platform.
---
The next plugin is Name Directory which scores 3,000+ active installations and 65 5-stars on WordPress.
It enables the users to add name (term) directors to WP installation. The total look of this directory will be like a glossary. Besides, you will have a search option.
Due to this plugin, you can create and customize multiple directories on WordPress. Moreover, it is very easy to embed directories on every part of your website. This should be done simply with a shortcode.
In order to use the Name Directory plugin with ease, you can watch the available Demo version.
The plugin is absolutely free of charge. Yet, in addition to the available free features, you can order individual customizations like adding some columns, image uploads, as well as styles. For this, you need to contact with the plugin developer – Jeroen Peters.
---
In this paragraph, we will review the Business Directory plugin. It has 10,000+ activations and 401 5-stars on WordPress.
Above all, this is a really helpful solution for professionals seeking to find a simple directory maker for the website. Yet, this does not mean that you are obliged to know programming languages to do so.
Moreover, it is very easy for setting up and use. You can complete monetization very quickly without hustles. Besides, it is scalable and supports multiple languages. Recurring payments can renew listings automatically in the majority of gateways. Besides, you are able to fully control the fields. You can paste images because the plugin supports media files.
Besides the technical features, the plugin is very SEO-friendly and responsive to different devices. There are many other functions, too.
Also, the developers offer the plugin's two versions – free and paid. Here is the paid version's pricing:
Elite – $499 annually
Pro – $299 annually
Basic – $99 annually
---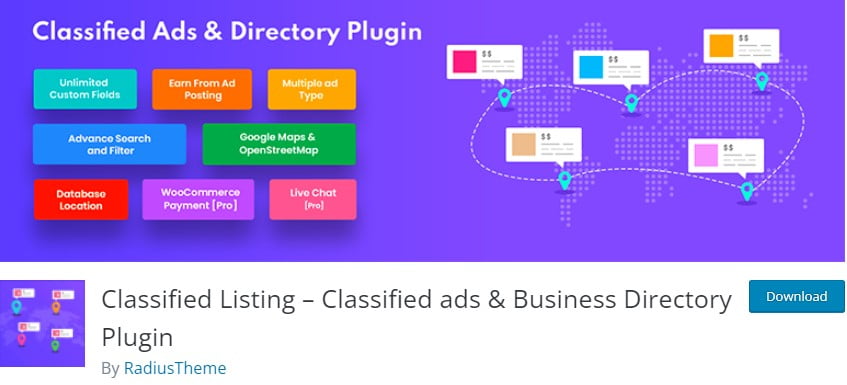 The Classified Listing plugin is a good tool for building a business directory, as well as making classified ads. It was developed by RadiusTheme and has 5000+ active installs. Moreover, the plugin scores 33 5-stars in the WP Repository.
It is a user and mobile-friendly plugin having many useful features such as:
Unlimited Custom Fields (including text box, text area, radio, checkbox, URL, etc.)
Searching and Filtering Options
Frontend user dashboard functions
Ad control by admin
Setting up to 3 locations
Monetizing
Gutenberg Block Editor compatibility
Elementor add-on
User and Email notifications
Google Map integration, etc.
Furthermore, there are many more other features you may discover by visiting the plugin's official website.
Besides providing the free version, you can upgrade to the paid version seeking to find new helpful features:
Personal – $39 annually
Professional – $149 annually
Agency – $499 annually
---
The next Simple Link Directory plugin was developed by QuantumCloud and has more than 3,000 activations and 101 5-stars according to the client's reviews on WordPress Repository.
So, the plugin is very helpful to bloggers, content managers, SEO specialists, marketers, and actually for the entire Marketing Agencies.
So, with this plugin, you may make unlimited directories and lists to show on your preferred page. It is fully compatible with the Gutenberg Block Editor, Besides, the plugin offers you 4 ready-made and totally customizable templates, an import option to CSV format, fast-replying support, outbound click-tracking, a quick code generator, and many more other functions.
In addition to these features, you may obtain more advanced ones by upgrading to the plugin's Pro version:
Personal – $28
Master – $84
Ultimate – $149
---
The last plugin from our list is Listdom which has more than 1,000 active installations and 50 5-stars.
In brief, it is a great directory and listing plugin that is absolutely free to build a listing, directory, and classified sites. Additionally, it provides almost 80 customizable, responsive and free templates. As well as it is compatible with the majority of 3rd party plugins.
Furthermore, besides the well-functioned free version, you can upgrade to the ListDom Pro version for $79 (the taxes are included).
---
Comparison Table
Additionally, for the final analysis, let us compare the mentioned plugins in the comparison table:
Plugin Name
Active Installations
Rating
Paid Plans Pricing
Advanced Classified & Directory Pro
4,000
80 5-stars
$119.88 – $599.40
Contact List
600
7 5-stars
(per month)
$4.99 – $7.99
(per year)
$59.88 – $95.88
Directorist
10,000
235 5-stars
$79 – $1099
MermebershipWorks
2,000
30 5-stars
$99
Name Directory
3,000
65 5-stars
Free
Business Directory plugin
10,000
401 5-stars
$99 – $499
Classified Listing
5,000
33 5-stars
$39 – $499
Simple Link Directory
3,000
101 5-stars
$28 – $149
Listdom
1,000
50 5-stars
$79
---
Summary
In brief, these are the selected top directory plugins for WordPress. So, by identifying your needs and the required features for your business aims you may choose one of the described plugins and set up your website directory very fast without any hustles.
---
Do you have a plugin and want to promote it with WPGlob Content Marketing Agency?
Request a Review or Check The Available Services.
If you like the article, do not hesitate to find us on Facebook and Twitter. For interesting WP tutorials, please subscribe to our YouTube channel.
Latest posts by Anahit V.
(see all)