What do the hoteliers need the most? Find a hotel booking plugin that will help them present their hotel to its best and not result in any overlapping. Since there are so many options on the market, it might be difficult for hoteliers to choose the right one. As a result, we have done thorough research and come up with two of the best WordPress booking plugins. We will compare Tourfic and WP Hotel Booking.
To help you make a well-informed decision, we will compare these two plugins based on:
– their ease of use,
– dynamic features,
– customization options,
– integrations and compatibility, and
– pricing.
So stay tuned to discover the best solution to your challenges!
Quick Comparison – Tourfic vs. WP Hotel Booking
| | | |
| --- | --- | --- |
| Criteria | Tourfic | WP Hotel Booking |
| Ease of use | Easy to use, clearly structured dashboard | Easy to use, all-in-one dashboard |
| Dynamic Features and Customization options | Flexible bookings, customers, and reviews management | Flexible bookings, customers, and reviews management |
| Integrations and Compatibility | Seamless integration with WordPres and WooCommerce, plus affiliate programs with Booking.com | 100% WordPress and WooCommerce compatible |
| Pricing | Forever-free plan, plus 4 pricing plans with annual and lifetime options | There is no price information available, but the full set of the plugin includes hotel themes that cost $64 |
Also, the Tourfic has an advantage as it allows its users to dig into every aspect of booking and create dynamic conditions – something very important in the wake of the trend of working from hotels.
Booking Features – Tourfic vs. WP Hotel Booking
When it comes to any booking plugin, it is important that it stands out with the following features:
1. price changing,
2. payment options,
3. photo and video galleries, etc.
Tourfic
This hotel booking plugin comes with many advanced and unique features. First things first, you can add an unlimited number of hotels and hotel rooms with Tourfic. You can easily add your photo gallery, FAQs and Terms & Conditions per room. The room availability check is based on Ajax and it ensures to prevent any kind of overlapping. The price flexibility allows you to accept prepayment and deposits, change the price list by persons (adult, child), and set room prices depending on the date. Tourfic also allows users to either enable or disable review sections, and to edit them any time by creating new review fields.
Offering various payment options will make one's customers' experience smoother. Tourfic supports any kind of payment that is powered by WooCommerce, such as PayPal, Stripe, and most common credit and debit cards.
Hotel Booking & Management System – unlimited hotel numbers, unlimited rooms, hotel photo and video gallery, per-room gallery, advanced/partial payment, pop up hotel location, airport pickup services
Advanced Search Function – separated or combined search box for hotels, Ajax-based search and filter system
Customer Review System – review system, enable/disable review section, creating new review forms
Payment Method Support – any payment method supported by WooCommerce
Multi-Vendor Functions – vendors ability to add hotels with all the fields, enable/disable specific vendors, email verification for vendor
Customized Email Templates
Shortcodes & Elementor Widgets – search form, search result, recent hotel slider, hotel locations, wishlist, login and registration forms
Booking & Analytics data on Dashboard – Tourfic custom booking module about order ID, details, date, status, customer and payment method information
Integrations – integrations with Booking.com, Travel Payouts, Pabbly and Zapier
QR Verification – you can apply Tourfic's online vouchers and boost your customers' experience
Complete import/export functionality (NEW)
New Hotel/Tour Website templates – new templates for single page, archive page, and front-end dashboard
WP Hotel Booking
WP Hotel Booking plugin has options for rooms, bookings, and customer management. On top of these, it also allows you to create coupon codes and extra rooms and packages. In terms of payment options, WP Hotel Booking plugin is not that flexible. It accepts offline payments and those made with PayPal, Stripe, and Authorize.net only.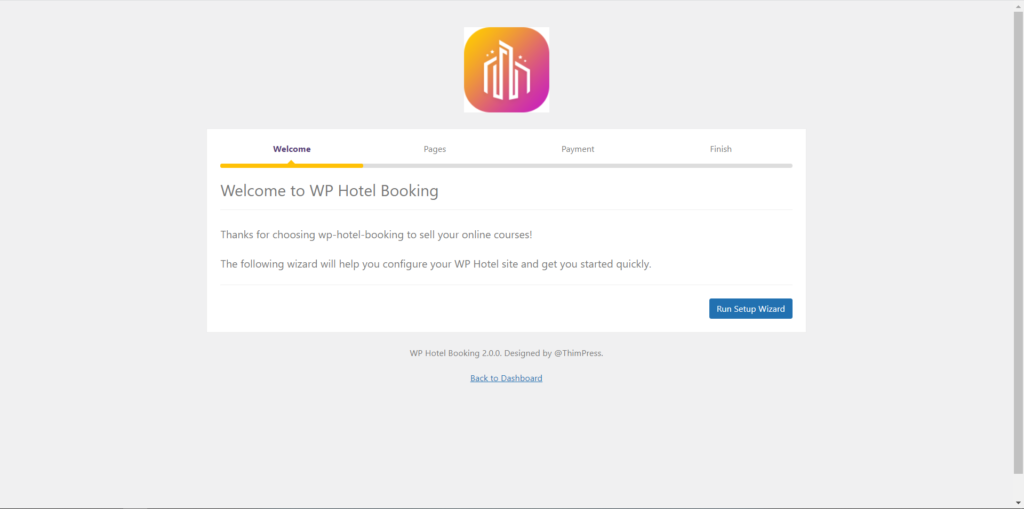 Bookings management
Room management
Customer management
Coupon management
Block Special Date Management
Reports
Multi Currencies
4 Payment Gateways
The winner here is Tourfic as it allows its users to dig into every aspect of booking and create dynamic conditions. WP Booking Hotel has the feature of creating coupon codes; however, it is less flexible in terms of payment.
Ease of Use – Tourfic VS WP Hotel Booking
The other important criterion to pay attention to is the user-friendliness of the hotel booking plugin. While being an appealing booking system, it should also ensure smooth functioning for both parties – hoteliers and customers.
Tourfic
The dashboard of the Tourfic hotel booking plugin stands out with its ease of use. Particularly, it has separate sections for hotels and tours, and each of them has their own dashboard. The "hotels" section has the ability to:
– Preview all the hotels
– See the locations
– Display the features
– See the enquiries
– See booking details
So, this makes sure that everything is in one place and any question, concern, and issue can get their solution easily.
WP Hotel Booking
The plugin has got one dashboard for managing the bookings. It has also got several bulk actions, such as "edit" and "move to trash." It allows users to set a date range and filter by booking, check-in and check-out dates. This helps the admins easily navigate through the database and plan their actions according to the information.
And Tourfic is our winner! While WP Hotel Booking allows users to easily navigate through the customer base, Tourfic has made the booking system more structured for the admins and hoteliers.
Integrations and Compatibility – Tourfic VS WP Hotel Booking
Before choosing any plugin, one should always pay attention to whether it will seamlessly integrate with the CMS (WordPress). Additionally, it is desirable that the plugin has alo other integration options with other plugin/websites/platforms, etc.
Tourfic
Aside from smooth integration with WordPress and WooCommerce, it has an affiliate program with major booking systems, such as Booking.com and TravelPayouts. Tourfic also has integration options with Pabbly and Zapier for workflow and data automation.
WP Hotel Booking
WP Hotel Booking easily integrates with WordPress and is 100% compatible with WooCommerce. On the other hand, it has no additional integration options.
Both plugins have no issue of integrating with WordPress and WooCommerce. Tourfic additionally offers affiliate programs with major online booking service providers. So, the winner of this section is Tourfic.
Pricing – Tourfic VS WP Hotel Booking
Besides offering advanced features and tools, it is also important that the plugin have reasonable and flexible pricing plans. The more options they offer the easier it is for customers to choose the license that matches their needs.
Tourfic
The plugin has a forever free plan for individuals and businesses who are just getting started with their business. Alongside the free plan, Tourfic offers 4 additional plans:
Basic (free) – This license gives access to most of the "Hotel Booking & Management System" features. It allows to add unlimited hotels and up to 5 rooms for each hotel. The plan also includes access to the hotel photo gallery, FAQs, Terms & Conditions per room. The plan enables to set customer reviews, social sharing options, enquiry form, a hotel wishlist, etc.
Starter – $59 per year, $149 lifetime, single-site license
Premium – $149 per year, $239 lifetime, 5 site license
Business – $249 per year, $479 lifetime, unlimited website license
Enterprise – contact them
Starter, Premium, Business, and Enterprise offer the same features and the only difference between them is the site-license access number. The plans include the following features:
Hotel Booking & Management System
Multi-Vendor Functions
Advanced Search Function
Customer Review System
Payment Method Support
Shortcodes & Elementor Widgets
Booking & Analytics data on Dashboard
API-based Integrations
QR Verification
WP Hotel Booking
The plugin's website does not have pricing information about WP Hotel Booking. The only price that they have mentioned on WordPress.org is about their new WP Hotel Theme that costs $64.
Tourfic offers very flexible payment options for its users. The availability of a forever-free plan and 4 other pricing plans makes Tourifc an outstanding plugin. On the other hand, we do not have enough information about our next plugin, so we will not pick a winner this time!
Final Verdict
After our thorough comparison of Tourfic and WP Hotel Booking plugin, it is clear that Tourfic is the winner in this comparison. Tourfic has developed an impressive set of features for both hotel booking and travel tours. It has a user-friendly interface, unqiue customization and booking options, and a responsive system that prevents overlapping. Moreover, it has affiliate programs with major booking platforms, such as Booking.com. In terms of payments, it is quite flexible as it supports every payment method that WooCommerce does.
While WP Booking Plugin is another great plugin on the market which has its unique features there is still room for improvement.
In conclusion, with its extensive hotel booking management feature set, easy-to-use interface, and integration options with other major booking systems, Tourfic proves to be a top choice for market leaders! So, do not hesitate and go get yours today!