It's no secret that brands are putting marketing strategies into place to collect valuable zero-party data from their customers and are positioning themselves to stay relevant with the next generation of savvy consumers. With Google and Apple's privacy and data protection laws going into effect, brands need to prepare for a cookie-less world. Plus, using third-party cookies to learn about your customers is not accurate or precise because the data is inferred rather than stated. Today, we are going to compare two platforms (Jebbit Vs. Octane AI) that will allow you to collect zero-party data through personalized experiences that are engaging, entertaining, and capture customer data.
No cookies are needed. With these platforms, you will be able to provide your customer with personalized experiences leading to customized product recommendations, increased lead capture, increased conversions, and increased average order value.
What is Jebbit?
Jebbit is a software platform for building entertaining quizzes and engaging customers to help brands capture valuable zero-party data. The main advantage is that the data collected is accurate as it is collected from the first party (customer).
Anyone can sign up to use Jebbit, but they also have a Shopify app available for Shopify merchants. By integrating it with your online shop, you can create product match quizzes and other types of customer experiences to collect your website visitors' key attributes. Then, you will be able to use it to personalize their experience with your brand without any coding skills.
By using Jebbit, you will be able to personalize the entire customer journey, from lead capture to the purchase flow, from follow-up communications to remarketing campaigns on your paid media channels. Jebbit experiences will recommend the products that suit your customers best since their data is much more accurate than what cookies can infer.
---
What is Octane?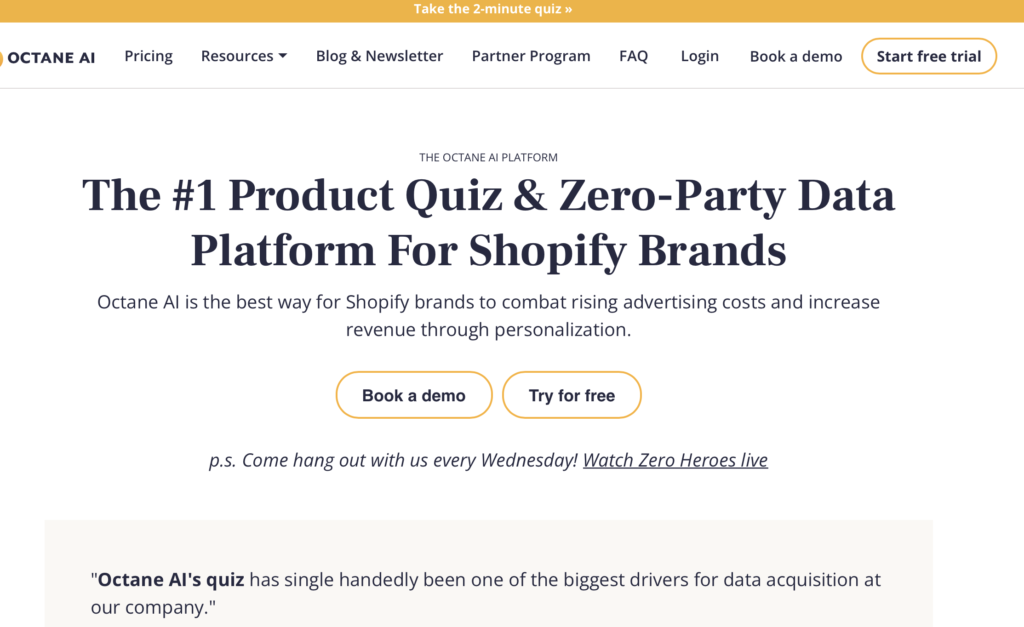 Octane AI is another platform that allows you to collect website visitor data with zero-party-based methods. It is designed for Shopify brands that want to add a bit of spice to the customer experience on their websites.
By collecting data, personalizing your website outcomes, and remarketing, you can increase the number of your sales and the possibility of new leads. Octane AI works primarily with Facebook Messenger and SMS chatbots, focusing on eCommerce brands based on Shopify. The platform will help you personify your customers' experience, for example, by enhancing your email campaigns.
---
Main Features
Let's have a look at the main features of both platforms for more precise comparison of Jebbit Vs Octane AI.
---
Jebbit
Customization
One of the most popular ways to collect detailed and relevant information about your website visitors is with product match quizzes or personality quizzes. By providing a genuine value exchange, consumers are especially eager to share information since they are getting a personalized recommendation in return. Using Jebbit, not only can you create product match and personality quizzes, but a variety of other digital experiences as well such as: look books, interactive editorials, polls, trivia, surveys, and on-site pop-ups (known as companions) that are specific to your brand. The experiences are highly customizable, so you can tailor them to your specific needs.
Template Gallery
To maximize your efficiency and save time, you can pick a template from 50 premade templates that Jebbit offers instead of creating your own from scratch. The templates cover quizzes, pop-ups, product recommendations, etc. And the template design is customizable and responsive to any format or device type.
No-code Builder
Besides having pre-made templates to ease your creating experience, you don't need to know HTML or anything like that to use the builder. Jebbit offers a no-code builder. Therefore, you can create your own quizzes and customize the templates without any excessive effort.
Real-time Analytics
When you add something to your website, you need to know whether it works for your benefit or against it. The same goes with quizzes and pop-ups; to see whether they add something to your website, Jebbit provides you with a dashboard. That way, you can see the performance of Jebbit-based user experiences in real-time and understand how to optimize for maximum performance.
Third-party Integrations
You can integrate Jebbit-based experiences with any of the other partners in your tech stack. The most popular integrations include Shopify, Klaviyo, Facebook, Google Tag Manager, Mailchimp & Hubspot. If you want to use a certain external tool, but Jebbit doesn't include it in the integration list, you can contact them and request a custom integration.
Safety
The platform is secured with SSO and responds to GDPR, AICPA SOC, and CCPA.
---
Octane
The core features of Octane AI that you may find applicable to your Shopify brand or your website in general are:
Shop Quizzes
Not only can you create a quiz that will bring your customers a personalized recommendation, but you can also directly integrate the outcomes with the cart.
Conversational Pop-ups and Opt-in Tools
Opt-in tools of Octane AI allow you to collect email addresses, phone numbers, and Messenger IDs. Opt-ins are collected via different pop-ups, triggering your customer's attention and persuading them to fill in a box.
Third-party Integrations
Octane AI provides you with multiple third-party integrations, including Klaviyo and Zapier. Recharge, Alloy, and Facebook Messenger. All these third-party integrations are available for both paid subscriptions.
Data Synchronization
You can (and you should!) synchronize your customer data with your email and SMS marketing platforms, creating email and SMS campaigns that are more on-point. Synchronizing the data with Klaviyo and other third-party integrations, you can further refine the experience of your website visitors.
Customization
Octane AI allows you to customize your quizzes and pop-ups, but it's just all the basic stuff (colors, fonts, etc.)
Personalization
Both programs are based on personalization: your user completes a quiz or fills in a pop-up, and according to the answers, they get personalized outcomes. But, Jebbit and Octane use different methods. Let's have a look:
---
Jebbit
How exactly does Jebbit help you to customize your customers' experience?
Personalization with Outcomes
The whole point of Jebbit is to provide your website visitors with a personalized experience. Outcomes are a great way to personalize an experience by directing users to the most relevant recommendation or content for them based on how they respond to questions. Jebbit's outcomes are based on the value of your customer responses. You can match each possible response with a point that varies from -10 to +10. The outcome will be shown to the user based on the number of points at the end.
Branching
Rather than making everyone go through the same experience, Jebbit allows you to personalize each user's journey. You can branch experiences based on user responses, sending users to a different screen and further personalizing their experience.
Channels
Since Jebbit experiences don't require any code to build, they can be shared anywhere a URL can be shared. They can be directly embedded on your website, shared in email communications, on your social media channels, via QR codes, and in paid media placements allowing you to meet your potential customers where they are the most engaged.
Data
With Jebbit's integrations with platforms such as Shopify and Klaviyo, you can pass all the data you collect from your customers directly back into these platforms to create a more holistic view of your customer. With Shopify, the data will be stored in the customer's contact card so you can reference details about their preferences and intents at any time, and with Klaviyo, you can use the data to personalize the email and SMS communications.
---
Octane
Personalization
In order to bring your customers personalized results, Octane employs a rule-based system. You basically have to outline the rules, and according to the answers your customers give, they will get answers based on the rules.
Branches
Octane creates different scenarios according to the rules you set, but the rules are not so easy to track if you have too many. This makes the AI less specific.
Channels
The quizzes are available only on your website, but other products work on Facebook Messenger or SMS. Quiz or product recommendations are also unavailable.
Data
With Klaviyo integration, you can synchronize your collected data, but you don't get specific properties of your customer data.
In terms of AI being feature-rich in the Jebbit Vs Octane AI comparison, Jebbit gets an additional point.
---
Pricing
In a close competition, the price of the product can be a critical factor. Now it is time to review the Jebbit Vs Octane AI pricing. So, how much do the platforms cost?
Jebbit
On Shopify, Jebbit comes in three subscription formats.
The free plan allows you to have 500 total engagements with unlimited experiences. It is available for three admin users and provides you with quiz outcomes, Klaviyo integration, conditional logic, and others.
A starter subscription includes all that the free one has, but integrations are limited to 200 a month, not to 500 for a lifetime. You can get Starter for the price of $49/mo.
Finally, the Essentials that includes all previous functions provides you with additional third-party integrations and white labeling and is available for the use of 5 admins. Essentials cost $249 monthly.
---
Octane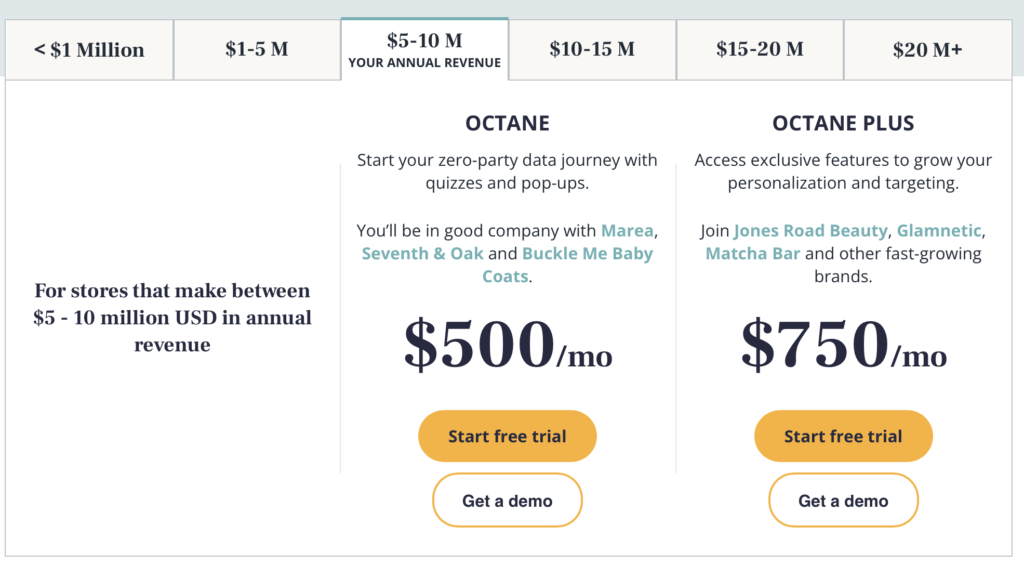 The price of your subscription will depend on your annual revenue. If it is less than $ Million, Octane will cost you $50 monthly and Octane Plus — $200. With an income from $1 Million to $5 Million, Octane and Octane Plus will cost $200/mo and $500/mo, respectively.
If you get $5-10 M., Octane is $500/mo, and Octane is $750/mo. The price varies a lot, and when your annual revenue reaches $20 Million USD, you get a customized pricing plan. But let's see the actual difference between the two subscription plans. Both include:
Quizzes, opt-ins, and pop-ups
Customizable quiz builder
Email and SMS opt-ins
Third-party integrations
The features that only Octane Pro includes are:
Personalized and automated Klaviyo emails and quiz recommendations
More sophisticated AI
Custom CSS
A/B testing for pop-ups
Finer customer support
Every subscription plan has a free trial and a demo version you can try. In terms of simpler pricing in the Jebbit Vs Octane AI comparison, one more point gets Jebbit.
Which One is Better?
Let's summarize the Jebbit Vs Octane AI article. Being more customizable and richer in features, Jebbit provides you with a better user experience. As you have seen from the AI comparison, Jebbit's system is more sophisticated and precise. It allows you to create more specific recommendations, which is the whole point of a zero-party data collecting program at the end of the day.
Besides, Jebbit is more customizable for you. If you need a third-party integration that the platform doesn't offer, you can request it. All these little details make Jebbit superior to Octane AI, which is the platform we recommend.
Must-Read Articles
Also, if you are interested in blogging and plan to grow your website in this shortage of time, I will recommend you to take a look at the Crawlomatic VS Scraper: Which is Better For Auto Blogging? article. This article will compare two auto blogging giants and help you to make your final choice.