Personality tests are one of the most engaging components on WordPress sites. Almost all of the users regardless of their behavior and engagement type. This is because each of them wants to know him/herself better. So, it is a great option to drive traffic to your website and generate qualified leads. Besides, personality quizzes and tests help marketers understand their audience better. So, this will help them publish more valuable and interesting content for them. And if you want to know how to create personality test on WordPress, then this article will be very helpful to you.
---
Personality Test- What Does This Mean?
In short, it is a quiz type that helps the user identify his/her character. So, why do the outcomes of these tests are so impressive and especially for the marketers? The answer is that due to these quizzes you may reveal your audience's preferences, somehow improve the quality of your services, and include more engaging content for your website users. Besides, they can involve some educational and entertaining components.
If we take into account the business aspect we may confidently assert that these quizzes may be very effective. Due to them you may collect qualified leads for your future conversions. Yet, in this case, you need to add a field for the users to fill in the blanks with their personal information, like Email addresses, phone numbers, names, etc. This will help you in your further marketing campaigns and specifically to keep them in touch and interested in your website news and updates.
---
When Is It Better to Use Personality Tests?
Knowing its beneficial features you may easily determine when it is better to utilize a personality test. Firstly, it is a great way to expand your Email Marketing list. And secondly, know your audience well. So, below you will meet the main purposes why you should use personality quizzes:
Email marketers to collect contact info- this is good for organizing an ongoing communication
Teachers and lecturers- to actively engage the learners in the educational process
WordPress site owners- to help website rank higher
Employers- during the hiring process
Psychologists- to analyze the psychological therapies' outcomes
Surely, there might be tons of other purposes to adding this type of test to your website.
So, how to this? In the next paragraph, we will discuss the personality test creation process.
---
How to Create Personality Quiz on WordPress With a Plugin?
So, the easiest method to create a personality test on WordPress is by using a plugin. There are plenty of Quiz Creator Plugins. However, in this article, we will complete the process through the Quiz Maker plugin developed by Ays-Pro.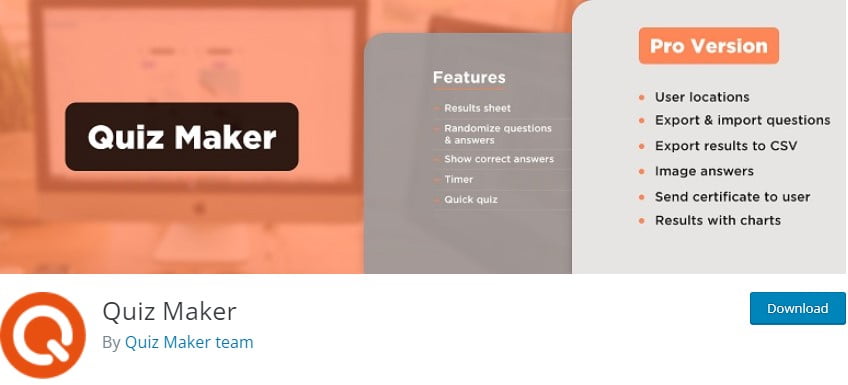 So, this plugin has 10,000+ active installations and scores 255 5-stars in the WordPress Repository. Due to it, you may create any type of quiz.
Here are some of the features available in the Free version:
7 question types

Radio – a question with multiple-choice with a single correct answer
Checkbox – a question with multiple-choice with multiple correct answers
Dropdown – a question with multiple-choice with a single correct answer presented in a dropdown list
Text – you should type the answer yourself
Short text – short typing responses
Number – you should type a number in the response section
Date – you need to pick a date

Questions customization – this function enables you to fully customize the questions through the built-in text editor. As well as you are able to insert images, video, and audio questions, and utilize HTML and CSS if needed
Questions and answers randomization
Timer options
Displaying statistics on the dashboard
Graphs and export features
Survey making options
Restrict or enable a certain user role to pass the quiz
Social sharing
Shortcodes, etc.
---
Indeed, the plugin's free version includes many important features to use. Yet, to access wider and more significant features you need to activate its Pro version with this pricing:
Business – $49
Developer – $129
The plugin can be easily installed and activated. And after that, you are free to create as many quizzes with various types as you wish.
Here are some of the features which are available in the Quiz Maker's Premium version:
All free features
Questions import and export (to CSV format)
User location
Sending an email to users or admin
Charts displaying the results
Quiz certification
Quiz widget
Content protection from plagiarism
PayPal and Stripe integration
Mailchimp, ActiveCampaign, Zapier, Slack, ConvertKit, GetResponse integration
Quiz schedule
Personality quiz
Flashcard shortcode
Password protected mode, etc.
You are able to find Quiz Demos with these links:
Besides, the team enables you to watch Pro version demos, as well, before upgrading to it.
Moreover, you can easily contact this plugin's fast and helpful support service in case of any issues.
---
Quiz Making Process
With this plugin, you may enjoy your best user experience while making a personality quiz. So, the steps are described below.
Step 1
Enter the Quiz Maker plugin's "Questions" section and click on "Add New". This is to insert some questions and their answers to your upcoming quiz. While filling in all the needed answers you are able to reorder them as well as add some images to them quickly without hustles. Besides, you need to select keywords for the answers.
You must choose one of the answers as the correct one for the system. As well as you are able to specify the question weight that is not related to the question. But will be multiplied by the chosen answer weight.
Step 2
After completing the first step and which is creating your quiz question you can move forward to the most important process. That is creating a personality quiz. To do this, you need to enter the Quizzes section and click on the "Add new" button. Here you have to fill in all the needed boxes such as the "Title", "Description", "Category", and "Add questions".
Next, it is important to move to the "Settings" section. Here you must deactivate the "Show correct answers" box. Afterward, you have to go to the "Results Settings" and "Hide score".
Step 3
So, the process is coming to an end. But before finishing you should set interval messages. For this, you have to find the "Show Interval Message Option" and tick it. As well as you may reveal "Interval Message by keywords" functions. This is to help you display an appropriate message based on the keywords (A, B, C, D, E, F….) you have already chosen for each of the answers.
After that, you should insert a keyword-based message for the answers.
But the results will be displayed based on the majority of your answers. Besides, you can reorder the Intervals and add proper images to them. You are almost done.
In the end, after saving the ready-made quiz, you should copy the shortcode and paste it to your WP post or page and publish it.
Step 4
As we mentioned above, to collect qualified leads through gathering email addresses, phone numbers, names, etc. you should add the "Information form" section. To complete this, you have to go to the "User Data" tab. After that, you need to enable it before or after your personality quiz.
Due to the easy drag and drop feature, you can pull the "Available fields" to "Active fields" to require the field answer.
And finally, the Personality Quiz is ready! Here you may see its details:
---
View the Quiz Maker plugin's whole tutorial:
---
Summary
So, in this article, we have discussed the topic of how to make personality test using a plugin. And that plugin is Quiz Maker offering both free and Pro plans. Making quizzes with this plugin is fun and interesting. As the plugin offers you higher functionalities and an easy interface.
To summarize, you will need personality quizzes to increase your website traffic, engage more people, and expand your email marketing list. And all this understanding your audience, their preferences, what they like and what they do not like on your website. Thanks to the personality quiz's this features, you are able to improve your website content according to your main audience's demands.
Anyways, there are some things you can not reveal through it. For example, it is quite complicated to determine every single aspect of your audience's character as sometimes you can miss adding important questions to your quiz. Besides, it is possible to receive an exaggerated imagination from that personality quiz. As you do not have a guarantee at all of 100% for getting the right answers from those who pass the quiz. You can encounter these cases especially when you are an employer who is hiring an employee. Sometimes the candidates do not give honest answers to the question to attract the employer's attention.
But taking into account all the factors, these tests are so far the easiest and most engaging way to reveal the user's personality and make corresponding changes based on its results.
If you like the article, do not hesitate to find us on Facebook and Twitter. For interesting WP tutorials, please subscribe to our YouTube channel.
Latest posts by Anahit V.
(see all)