Collecting information about your target segment is a quite challenging task. It can lead to your business and marketing strategies development. However, with online polls and surveys, it became easier and meanwhile entertaining. Note that sometimes people feel more confident and ready to provide information or feedback anonymously. So creating anonymous polls is a must-have skill for WordPress website. In this article, we will discuss in detail how to create polls with anonymous poll maker plugins on WordPress site.
---
What is an Online Poll?
A poll is known as a method of knowing people's choices and understanding what works better for them. Anonymous online polls can assist you to measure the results of a specific event. In the past, people usually conducted in-person polls. A question was announced to a specific segment of people and they were requested to raise a hand to express their viewpoint. Later, polls used to be conducted via phone calls, and participants were asked to dial a number as an answer. In the nowadays digital world, we can easily create polls online for free and the only thing the users are requested to do is just click to choose one of the answer choices.
An online poll is a survey in which all the participants share responses via the Internet, basically by completing a small questionnaire on a post or page. Polls can be defined as the recording method of the votes or viewpoints of a certain number of people. You can create WP anonymous online polls in a way that allows anyone to take part, or you can make them available only to a specific segment.

Modern polls on WordPress allow gathering information and feedback to better understand the customers' needs and wants, and provide better service to satisfy them. Moreover, it helps you gain a competitive advantage and keep your place in the market.

The interval at which WordPress blogs conduct polls depends on what kind of information is required to gain from the users.
---
Why Use Polls?
Create free online polls on the WordPress site when you need just quick feedback or answer to develop an overall idea about your users' preferences and choices and don't really need a detailed analysis of their viewpoints. Basically, you can filter results, and create different reports for polls, but all of them will be based on the answers to just one quick question only. When you don't need deep and detailed data to make conclusions, use online polls.

Cases, when it is necessary to use a poll, are as follows:
Online polls help to gain objective market research outcomes by providing data on customers' preferences which as a result can help create a strategy to satisfy customer needs and wants. Common knowledge indicates that if the company knows exactly what a customer wants and needs, then there are significantly more opportunities for success.

Polls can also be useful in predicting product demand and helping businesses better prepare themselves for future challenges. This way you can improve certain things in your business that your customers don't like and offer more of what they do like.

Creating polls for WordPress lets people express their opinions and inform about their concerns, in an anonymous and safe way. In this way, you can easily get valuable and honest feedback from your customers who are the ones that can directly affect your business growth.
Many businesses use polls to provide special interactive offers such as discount coupons, special packages, bonuses, and so on.

As you can see, there are a lot of important reasons to collect responses from WordPress site users via polls. They are flexible to use and are more dependable thanks to anonymity. Polls are inexpensive to use but help you gain a huge amount of valuable information.
---
How to Create an Anonymous Poll in WordPress
So now we have arrived at a point where you may ask how to create similar polls? In order to save your time, we have already chosen a WordPress plugin that will assist you in creating different polls. WordPress Poll Maker Plugin is one of the best poll maker plugins in WordPress. It is a great tool for creating anonymous polls in WordPress. Poll Maker plugin is an all-inclusive, exclusive plugin that will help to create the best polls for WordPress and provides a wide range of opportunities for creating a perfect poll. The plugin is user-friendly and tooltips are available for each of the presented options.
For additional functionalities, you can choose the premium version of the Poll Maker plugin.
Key Functionalities Include
Choose poll types (Choosing, Rating, Voting, Dropdown, Versus, Range)
Allow custom options
Provide multi-vote option
Anonymity
Schedule your poll
Enable social share buttons
Have a password-protected poll
Create custom form fields
Send results to users via email
Integrate your poll via MailChimp, Campaign Monitor, Zapier, etc.
See the results in the charts
Create responsive poll
Add image to poll
You can pass the demo version of a poll created with this plugin.
---
Required Steps to Create Anonymous Polls
Install and activate the plugin –> Press add new and create your poll –> Enable the anonymity function from the settings –> Don't forget to save your changes.
As you see the steps are pretty basic and I assume you will succeed in a very short period of time.
---
Anonymous Poll Examples in WordPress
Most of you might have noticed a little question saying, "Did you find this article helpful?" or "Did you find everything you were looking for ?" at the right or left corner of WordPress website. These are basic examples of a poll.

Electronic Poll
Nowadays, online polls are created before political elections in almost all countries and give insights into the probability of a particular political party winning the seat. It gives them a general idea of how popular their political party and candidates are in that specific region. Election polls can help understand what are the choices of different societal segments, and what concerns and expectations they have from the upcoming government.

Customer Satisfaction WP Poll
In fact, the main goal of all the companies is to keep their customers happy and satisfied. Learning about customers' experiences and satisfaction levels can limit future negative feedback as it helps you to improve your service and provide high-quality products. You can create a customer satisfaction poll and ask specific questions that will help you evaluate your overall experience and make further improvements.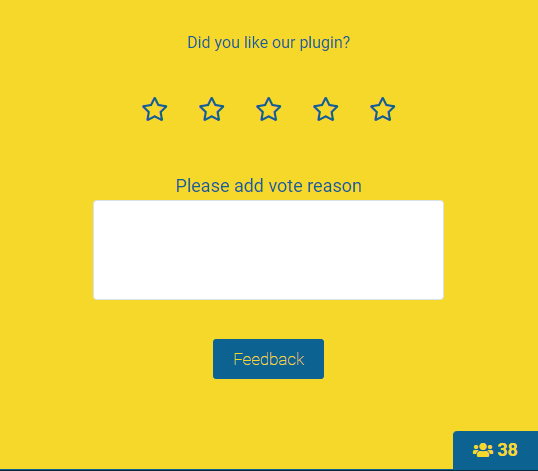 Student Evaluation Poll
Most universities and colleges design special survey questionnaires or polls to understand students' satisfaction levels. Those can be regarding a specific class, instructor, student council, and so on. Besides, educational institutions use polls to understand the majority's opinion about a certain policy.

Case Example
A company has committed 2% of its profits to charity. However, the company directors want their employees to decide where to spend that money. To make a fair decision for this situation, they have created a poll for the employees and asked for their preferences. Below you can find the poll.
---
Alternative WordPress Poll Plugin
WP-Polls
WP-Polls is a user-friendly plugin for WordPress that allows customizing the polls via templates and custom styles and designing anonymous poll. It also allows to select multiple votes and answers and display poll stats. WP-Polls is a good choice if you are a beginner and want to add simple Polls on your blog, then this is your plugin to create and add polls.
YOP Poll
YOP Poll is the right plugin if you want to create a simple poll. It can be used to create single or multiple answer polls on your blog or website. Additionally, the Yop Poll plugin allows to display or hide specific information, categorize it, manage the results and view the total votes.
OpinionStage
OpinionStage is another WordPress all-in-one plugin that helps to create a number of things such as polls, quizzes, surveys, forms, and so on. You can permit users to fill the poll anonymously or ask for their IDs, filter results and integrate social networks. Opinion Stage is a multilingual plugin. It allows you to add your logo, schedule polls, and other forms to close automatically, and check detailed statistics.
Crowdsignal Polls & Ratings
Crowdsignal Polls & Ratings was previously called PollDaddy. It's a multilingual WordPress form, poll maker plugin that helps you create, manage and rate polls within WordPress. In addition, you can use 20 different style options and view poll results. Also, you may schedule polls. Additionally, you can demonstrate or hide the polls to visitors and even use them on other websites.
Ninja Forms
Ninja Forms is a form creation tool and polls plugin for WordPress free download. It helps you build regular or complex forms in minutes thanks to its drag and drop interface. This plugin does not have limitations on creating any number of WordPress forms, surveys, fields, emails, actions, or submissions.
---
Summary
Congratulations! We have reached the ending point. Most importantly, you know exactly for which purposes businesses use anonymous polls in WordPress. Adding polls to your WordPress blog is an interactive and engaging task. Now you are equipped with the necessary knowledge and skills to create polls using WordPress plugins.
Above all, I hope you will select the most convenient poll-making plugin from those I have introduced in this article.

Finally, hope you enjoyed reading this article. In case of any further questions and suggestions, feel free to write them in the comments section.
For more useful information follow us on Facebook, Twitter, and YouTube where you can also find different WordPress tutorials.