In the modern world, commerce platforms are becoming trendy. Many businesses build online stores and sell their products in multiple places, such as mobile, social media, web, online marketplaces, etc. Shopify is one of those platforms. In this article we are going to review the best Shopify translation apps.
As you understand you can start and manage your business with Shopify. However, in order to appeal to many customers all around the world, it is crucial to have your website in as many languages as your business needs. At that very moment, translation apps help to improve your business performance.
---
What is a translation app?
A translation app is software that allows transferring content from one language to another. The translation is a complex task so the developers must do their best to create a reliable and flexible translation app.
---
What are the key features of a translation app?
Translation apps have a great impact on today's market. With their help businesses can translate their website instantly into their preferred language. As a result, businesses boost their efficiency and attract more customers.
So, the main benefits of translation apps are:
Speed – time is one of the most valuable things nowadays. All companies are in a hurry to make more money and translation apps make the translation process faster. You can make your website multilingual just in a few minutes instead of waiting for the translator to do it.
High quality – though there are people that do not trust machine translation, technological advancements have proved that automatic translation can almost be equal to human translation. Besides, there are apps that provide people with both automatic and human translation.
Integration – integrations are an inseparable part of online sales. Websites always present the platforms they integrate with. So, how can you benefit from translation app integrations? If you link the translation app with a content management system you will have the opportunity to push your content between two systems.
Transparency – as translation apps store all the necessary files and documents in one platform, they help managers to be aware of the progress of the translation process any time they want.
So, in this article, we will dive deep into the best Shopify translations apps' main features, benefits, and drawbacks.
---
Best Translation Apps in Shopify
Now, let's see which apps are considered the best in Shopify and why?
WeGlot is one of the most popular Shopify translation apps. It is an outstanding product and it is worth mentioning that it has many benefits to make use of. WeGlot has almost five out of five ratings in Shopify and has a lot of good reviews.
Main Features
With WeGlot you can translate your website in just five minutes. One of the main features of WeGlot in comparison with other apps is that it translates all your store content which includes email notifications, reviews, pop-ups, checkout, and so on.
Other main features of WeGlot are:
Ease of use – it does not matter whether you are a developer or not. You can easily use WeGlot as it does not require coding skills. The use of WeGlot as a Shopify app is very intuitive, so you will not have any problems. You can quickly install it and immediately start working with it. Besides, WeGlot easily detects and translates new content on your website. Everything is done to make your work easier and more effective.
Opportunity to edit translation – this is really an important feature of the translation app.
Maybe there are terms or specific words that you want to sound different from the given. Or, maybe there are translators in your company that check the machine translation and improve it.
There is absolutely no problem. You can easily edit the translation of WeGlot.
Customization – you can customize the language buttons and change their position so that they look the way you want.
WeGlot allows you to translate your website into more than 100 languages. WeGlot provides you with unique URLs for Google. WeGlot integrates with Judge.me, Yot.po. Pagefly, Klaviyo, Sufio, and Instant Search +. If you want to optimize your time and make your website multilingual just in a few minutes, then WeGlot is one of the best fits for you.
Pricing
WeGlot has free and paid plans. With the free plan, you can translate 2000 words. The price of the paid plans is:
Starter – 9.90 € (10.000 words, 1 translated language)
Business – 19 € (50.000 words, 3 translated languages)
Pro – 49 € (200.000 words, 5 translated languages)
Advanced – 199 € (1.000.000 words, 10 translated languages)
Extended – 499 € (5.000.000 words, 20 translated languages)
---

Langify is another Shopify translation app that also has many benefits. It has 4.7 ratings on Shopify.
Main Features
The main features of Langify include:
Compatibility with new native Shopify translation API
SEO optimized domain
Opportunity to import and export your content in CSV and PO file formats
Simplified translation
With Langify you can translate blog posts, the home page, product notifications, navigation, etc. Compared to WeGlot you can have your website in up to 20 languages. Langify integrates with Cross-Sell, Gift Reggie, Seachanise, Recomatic Related Products, Instant Search+, etc. For every language, Langify offers you a new domain.
However, Langify does not translate your website automatically like WeGlot. So, not everything can be translated with Langify. The product name stays the same.
Pricing
Langify offers a 7- day free trial. Besides, it has a paid plan. The price for the following is:
paid plan – 17.50$ monthly
Additionally, you can purchase auto-translation words:
4.99 $ – 10.000 words
8.99 $ – 20.000 words
19.90 $ – 50.000 words
---
Multi Lingo is our third Shopify translation app. It has 4.6 ratings. This app is also easy to use and very intuitive. Let's dive deep into its main features.
Main Features
The main features of Multi Lingo are:
Creating a multi-language version of the Shopify theme you need
Translating blog posts, checkouts, email notifications, pages, products, menus, etc
Localization of SEO-related information based on the content of the page
Opportunity to have all stored translations
No coding is required
It is important to note that with Multi Lingo you can automatically translate all items of your shop. However, you may need to manually translate each item individually. In spite of this, you can use this app to have quick translations and improve your business performance.
Pricing
Multi Lingo has a five-day free trial and a paid plan. The price for the following is:
Standard – 7.99 $ monthly
---
Final Thoughts
So, in this article, we learned about the best Shopify translation apps. Translation apps are of high importance in today's market. As businesses thrive and try to make more profit, they need to reach more customers from all around the world. In order to solve this problem as quickly as possible they often prefer to use translation apps, especially when it concerns online sales.
Shopify e-commerce platform offers a lot of translation apps that you can use for business. However, you should pay attention to its features before choosing the app. Those features include quality, language availability, price, SEO opportunities, customization, speed, and so on.
There should be a balance between the features of the app and the price.
Sometimes, there are apps that seem to have trustworthy and amazing features, but when you just start using them, you realize that the description does not correspond to reality. However, there are apps that are trusted and guaranteed by many people.
To Sum Up
So, as we already mentioned, WeGlot, Langify, and Multi-Lingo are translation apps worth to be mentioned here. Let us summarize their main features:
they all are SEO-friendly
they offer translation of blog posts, email notifications, checkout, etc
they are customizable
they offer free and paid plans
However, in the case of WeGlot, you can edit translations, and translate your website into more than 100 languages. Langify offers to import and export the content in CSV and PO file formats, which is also a big plus. In the case of Multi Lingo, no coding is required which makes the work easier. As you see, each of these apps has many advantages. It is up to you to choose the app according to your business needs.
As we mentioned above, it is of high importance to pay attention to the price also. For example, WeGlot has a lot of paid plans at a reasonable price as it has many advantages. Integrations are also an important part of translation apps. As we saw, WeGLot has many integrations. Besides, Langify integrates with Recomatic Related Products, Instant Search+, and so on. Translation apps should be easy to use in order not to waste time on them, as the purpose of using translation apps is to save effort and, of course, time.
So, we can conclude that these three apps can be good for your business. You just need to attentively choose them to boost your work quality and have better results. WeGlot, Langify, and Multi Lingo are ready to help you.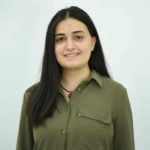 Latest posts by Yeva Harutyunyan
(see all)