Reviews for businesses and. In fact, 89 percent of customers consider item reviews before deciding on a purchase. A great product review app can highly affect your business and increase the customers' trust in your products. This article will discuss the Best Shopify Review Apps in depth so you can make a rational decision in choosing one of them.
As we think that product review apps are too important we have picked up all their cons and pros, basic functions, etc.
So, let's move forward!
---
What Is the Importance of Customer Reviews?
On one hand, it is not hard at all to understand the value of reviews. On the other hand, nothing shows how reviews affect a business like actual statistics. According to those statistics, you can follow your customers' activities before and after purchasing process. We did some research and found some facts and statistics that show that internet reviews give people more influence.
Impacts of Reviews
Firstly, reviews can effectively impact consumer decisions. As well as increase a company's trustworthiness. They can even motivate other buyers' engagement. In the end, you will grow your business sales and get more revenue. Keeping that in mind you can use social wall to display your reviews on the webpage and in-store to attract more eyes and help your customers make the correct and informed purchase decision.
Secondly, according to Speigel Research Centre, products with good reviews are much more likely to be sold than those without (2017). This likelihood rises to 380 percent for higher-priced goods.
Thirdly, businesses and customers can use reviews to interact with each other. Showing an emotional bond with customers has been found to generate 23% more revenue than non-engaged customers. Gallup Research confirms the importance of the customer-business link, stating that fully engaged consumers generate 37 percent greater annual revenue than their primary bank in industries like retail banking.

Customers who are involved with their "favorite" electronics retailer spend 29% more per shopping trip than those who are not. In the hospitality business, Gallup reports that hotel customers who are involved with their hotels spend 46 percent more per year than those who have no contact with the hotel. B2B businesses see a 63 percent reduction in client attrition, a 55 percent increase in wallet share, and a 50 percent increase in productivity.
And these are just some of the facts that show how much every company and store needs reviews. Let's move forward and see some of the best apps you can find on Shopify.
---
The first app in our Best Shopify Review Apps list is Stamped. The app is designed specifically for Shopify businesses that want to influence their customers' decisions.

By gathering photo and video reviews, this app may help you create more conversion-optimized content. Visual product reviews, questions, and answers will help to build trust. Stamped Smart Assists driven by predictive machine learning encourage customers to create and submit relevant, high-quality reviews.
Stamped Product Reviews and UGC has a number of helpful options, such as:
True mobile optimization, compatible with any theme.
Smart reminders, each with a specific message.
Multilingual support, including English, French, German, and so on.
Another useful feature of the software is custom forms. It will enable you to ask basically anything you want to know in order to have a better knowledge of your clients and make it simple to include product-specific inquiries. Indeed, Stamped can have a huge impact on your sales.
---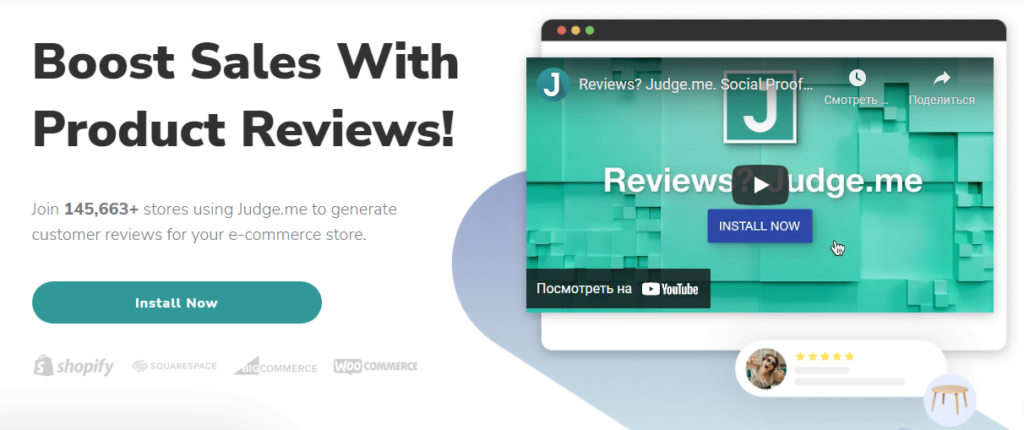 Are looking for an app that will enable you to gather and show star ratings and reviews? You should definitely take a look at Judge.me. The app can be used for your Online store, goods, and services.
Reviews and other content generated by the content, such as images and videos, create social proof and boost your lead generation, inbound marketing, and customer interaction. The main features of the app, that you may consider are the following:
Text, photo, and video reviews, custom forms, and Q&A.
Requests for reviews, orders, and imports that are unlimited.
Carousel with 6 themes to show best ratings.
With different integrations like Klavyio, you can respond to reviews, and reward reviewers with discounts and coupons.
Installation is simple, and support is available in 24/7 mode.
Existing reviews can be imported. To obtain more UGC videos, you can submit an unlimited number of review requests.
---
Product Reviews Ali Review App is a Shopify app that will help you collect all reviews about your products and display them on your website to boost your sales. It offers all the necessary features to customize the appearance of the reviews and display them properly to make your website trustworthy.
Main features
Collection of various types of reviews: With this app, you can collect reviews such as customer feedback, site feedback, product reviews, UGC, Question & Answers, and even photo reviews.
Automation. Autoreply to reviews, AI auto-approved reviews, automated review request statistics, migration & search reviews, and also review keywords AI.
SEO features, including rich snippets, inline SEO, Google shopping & sellar ratings, and review SEO page; all the review pages are indexable by Google.
Import Facebook, Google, and competitor reviews
Automatic in-email or on-landing review request
Reviews carousel gives you 14 customizable carousel designs
Analysis and evaluation of review sentiments using AI
It is absolutely free to install and start with (up to 50 orders). However, it also offers many pricing options to enhance the overall user experience.
Benefits
Feature-rich. Offers all the necessary features to display reviews; SEO optimizes everything and makes your shop more trustworthy.
Time and effort saving. It is simple in usage and extremely easy to customize.
Automation. This allows you to autoreply to reviews, auto-approve them, and save your time on routine tasks.
Also, with this app, you will be able to display the reviews on any page of your website.
---
Growave is not just a Shopify review app with pictures, that can boost your sales. It is an all-in-one Shopify marketing app that includes photo reviews, wishlists, loyalty programs, gift cards, referrals, and user-generated content.
Collect photo reviews with completely branded email reminders. Respond to reviews, express gratitude to reviewers, and settle issues in a public or private manner. Customize and display photo reviews anywhere in your Shopify store to improve the online shopping experience. You can use the app:
To change the look of the sidebar, buttons, and widgets for product reviews.
Add a carousel to any page to make your favorite reviews more visible.
Create a separate page for product and site reviews.
Besides review functions, you can easily use only Growave instead of a number of different apps. There will be no need for any coding knowledge: the app is very flexible and simple to use. Moreover, it doesn't slow down the page and supports multiple languages like Spanish, German, Chinese, Japanese, Italian, and French.
This reviews app Shopify is a great solution for those who don't like using lots of tools and want to have everything at hand.
---
The next app for today is LAI AliExpress Product Reviews. With detailed tutorials and live help, you can quickly and easily import reviews from DSers (Oberlo), AliExpress, Amazon, or a CSV file.
Take your store's pages to the next level with this great tool. Increase conversion rates by including multiple review widgets along with the customer experience on your site (all of them are has beautiful styles and customization). Moreover, increase customer involvement and establish strong social proof. Your customers can be rewarded with personalized discounts in exchange for product reviews. With LAI Aliexpress Product Reviews you are able to:
Customize every part of the reviews widget with advanced display settings, including sorting photo reviews first, pinning the most powerful reviews to the top, editing the date and country flag, and changing the widget's width without code.
Automatically connect reviews between products that are similar.
Have a number of unique layouts to choose from, as well as more personalized designs.
Gather actual customer feedback and reviews. Furthermore, use anti-theft protection and a smart filter with the help of LAI Aliexpress Product Reviews. Share reviews on your Facebook page as posts, and get access to the app in several languages.
---
The last app in our Best Shopify Product Reviews Apps list is a responsive and beginner-friendly one. The Shopify Product Reviews & Ratings App is a feature-rich review app that allows businesses to quickly import customer feedback.
You will have the ability to post reviews to your store and collect vital data. Show your delighted customers' reviews to build loyalty and increase conversion rates.
As a result, this one-of-a-kind software can help you:
Increase conversions by gathering and displaying product reviews with photographs and videos.
Display product ratings and site reviews by pre-configuring the structured data in the Google shopping feed.
Send out automated review request emails to customers, encouraging them to leave product reviews and offering discounts for photo reviews instead.
Product Reviews app has a lot of features, including clever setups, appealing layouts, and flexibility that will definitely amaze you.
---
Summary
Reviews are useful, effective, and irreplaceable if you own an online shop or a product. But for the maximum benefit check out only the Best Shopify Review Apps and choose the one that is suitable for you. They are obviously different in use and intended for various purposes.
Understand what kind of tool you exactly need, don't waste your time, and move towards new goals!