You are right if you are trying to find the best WordPress Cryptocurrency Payment Gateway Plugins. This article will review the top plugins in the current market to make your life easier and save your time & nerves on research.
So, if you are ready, let's start!
What are Payment Gateways?
Payment Gateways are plugins and add-ons that simplify the payment processes. In this case, cryptocurrency payment gateways for WooComemrce will allow your users to purchase items using various cryptocurrencies. With most of the plugins, you also will be able to display the current cryptocurrency rates for your users.
---
How to Identify a Good Payment Gateway?
Of course, those plugins are quite useful in today's market; however, which one is really worth your attention and time? To find out, when we were doing research for this article, we made surer to test the plugins and identify the best ones based on certain criteria. The truly good Cryptocurrency Payment gateway Plugins for WooCommerce must have:
Good User-Interface: the user-friendly interface will enhance both the customer experience from the front end and your experience from the back end. It will allow you to effortlessly make all the necessary changes and adjustments without spending too much time on the learning curve.
Feature-rich: Good Cryptocurrency Payment gateway plugin must have enough features to perform well. However, the quality and usefulness here matter more than the number of features.
Lightweight: The plugin must be lightweight to not affect the overall website speed because even a second can truly decrease conversion rates.
In the end, we will also learn about blockchain as a service, so let's get into it.
---
Best Cryptocurrency Payment Gateway Plugins
It is time to review the best cryptocurrency payment gateway plugins for WooCommerce finally.
---
So, the first plugin from our best list is CryptAPI Payment Gateway for WooCommerce. It has constantly increasing active installations (currently above 200) and a 5/5-star rating on WordPress.
The plugin outstands with its advanced features. Due to it, you can allow the merchants to accept payments with cryptocurrency automatically without hustles. Moreover, they do not need to pass the registration process. It is enough to copy and paste the crypto addresses. The plugin will generate this. When Blockchain confirms the payment, the order will be marked as green. Transactions completed with Bitcoin take no more than 11 minutes, while with Ethereum it may take just a few seconds. Then the funds will be forwarded to the merchant crypto addresses automatically. These are set on the Admin panel.
But you should take into consideration the Blockchain and CryptAPI fees, too. CryptAPI fee is just 1% per transaction. There are no other hidden fees connected with setup, monthly fees, etc.
The fixed fee is based on your last 30-days payment volume and can even be lessened according to it. You may meet the list below.
Through the plugin, you can accept payments on your WooCommerce store with many cryptocurrencies, such as:
Bitcoin
Bitcoin Cash
Ethereum
Litecoin
Binance Coin
Monero,
Dogecoin, etc.
One of the most important features of the plugin is that it enables to automatically convert the set value to the chosen crypto. The exchange rates are checked every 5 minutes thanks to CoinGecko. There are multiple currencies available for the exchange including USD, Euro, UAE Dirham, Peso, Brazilian Real, Canadian Dollar, etc.
Partial payments: whenever, for any reason, the customer sends less money than needed, the system will automatically calculate the missing amount and regenerate a new payment request with the balance
Instant transaction detection: as soon as a transaction is issued, even if unconfirmed by the blockchain, it is detected by the plugin within a few seconds. This makes things much clear from the customer's perspective. For instance, once the payment is sent, the customer can have the peace of mind understanding that nothing else is needed from his side…just waiting for the blockchain confirmation
QR code generation: the system will generate QR code with:

crypto address only
crypto address + value

Subscriptions: this feature will help you to handle membership and/or installments
Discounts based on volumes: the more volumes you generate, the more discounts on the fees you will receive (from 1%, down to 0,25%)
If you need a statistics panel you could set up an account with CryptAPI Pro, create an API key and simply copy/paste it into your Plugin settings. Otherwise, no registration is required
Instant transaction settlements: merchants will receive the payments straight into their wallets (set on plugin's settings), as soon as confirmed by the blockchain (with Ethereum, Tron, and BSC networks, it usually happens within 30 seconds)
Easy installation process: thanks to their tutorial, you can install the plugin within very few minutes with no coding skills
Main Benefits
CryptAPI Plugin is a powerful and, at the same time, easy tool to install and use.
Besides all the features we found and described in this article, after using the plugin a bit, we have to admit that not many alternatives offer the same UI/UX.
This means that CryptAPI plugin is definitely one of the best options you can choose whenever you need to accept payments in crypto.
---
BTCPay is a plugin for WooCommerce that allows you to receive direct transactions in cryptocurrency, including Bitcoin. With BTCPay, there are no additional fees for transactions or any third parties involved.
Main features
So, the Core features of BTCPay include:
Peer-to-peer transactions. Crypto payments are transferred directly between the two parties — from the customer to the merchant.
Fees. There are no fees taken from the transaction.
Security. Addresses are generated for every transaction, therefore they are not reused. This adds to privacy and security.
Altcoin. Apart from Bitcoin, the plugin allows you to process all other cryptocurrency payments.
Stores. You can attach the plugin to an unlimited number of stores.
Pro Version
The team subscription plan for this plugin is designed for more than one user per website. Apart from the main features, Team has more advanced support. The Enterprise version has even more features, like:
Premium support, including phone support
Invoice billing
Self-hosted deployment
Advanced security measures
Benefits
BTCPay is a plugin that acts as a direct crypto payment gateway, and it is completely secure. Generated addresses for payment reception are never repeated, which eliminates any further danger.
Pricing
The plugin comes in three payment plans: Free, Team ($44 per user/year), and Enterprise ($231 per user/year).
---
This plugin created by Noxon Themes acts as a cryptocurrency wallet for you and your customers. You can create addresses for multiple cryptocurrencies, including Bitcoin, Ethereum, and other altcoins.
Main features
So, the main features are:
Fees. You can earn on transactions by putting fees on them.
Visa and MasterCard. You can choose to allow your users to use a credit card powered by Visa or MasterCard to buy cryptocurrency
ERC-20 wallet. You can create an ERC-20 wallet for your customers to exchange ETH for ERC-20 or via using a credit card.
Assets. With the use of the exchange widget, you can buy and sell token assets.
Customize. The design of your wallet can be easily customized. Change the color, and logo, and switch between the light and dark modes.
Benefits
The plugin is really easy to use to exchange different cryptocurrency tokens and make transactions.
Pricing
You can purchase the tool for $999, getting 6-month support from the providers. The support can get extended to a full year for an additional $372.75.
---
Crypto Converter Widget is a widget that shows how different cryptocurrencies and fiat money relate to each other. There are more than 2000 cryptocurrencies and more than 170 traditional currencies available for conversion. The widget has a nice minimalistic design and is really easy to use.
Main features
So, the main features include:
The number of currencies. There are 2200+ cryptocurrencies and 170+ fiat currencies available for this converter.
SEO. The plugin is optimized for search engines and doesn't interfere with your website work.
Design. The design is customizable in many different ways, and it will still stay responsive, looking good on your mobile devices.
Benefits
The converter widget is easy to install on your WordPress website. You can customize it directly from your WordPress dashboard. The main benefit is that the plugin performs its role perfectly: quickly converts different currencies.
Pricing
The plugin is completely free.
---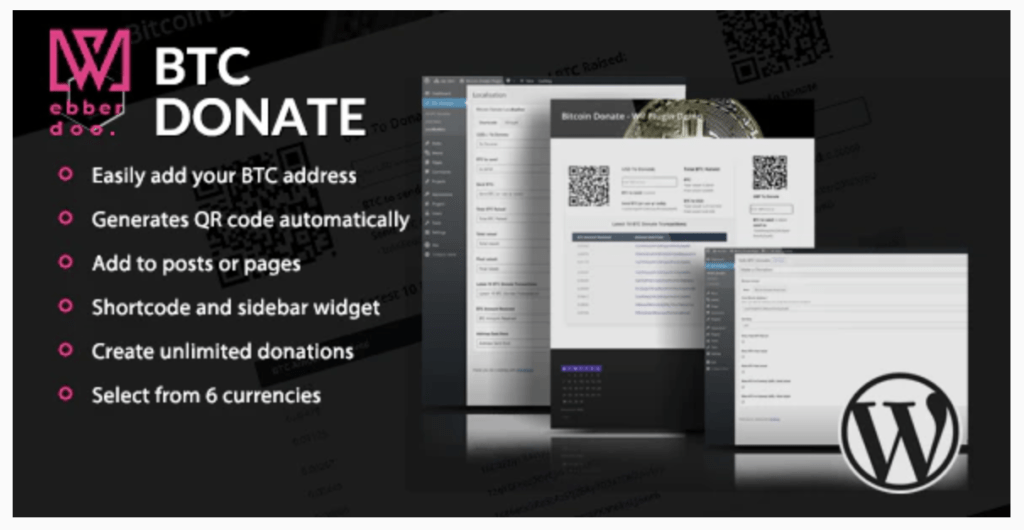 Bitcoin Donate is a plugin for bitcoin donations and fundraising for individual businesses. It provides your website users with an easier and catchier crypto donation system.
Main features
So, the main features are:
Responsive design. The donation requests look good on any type of device.
Currencies. The donations can be done in 30 different cryptocurrencies.
Shortcodes. You can use shortcodes to create donation requests.
Widgets. Create widgets for donation.
Localization. The plugin allows you to change the language of the request text.
QRs. Bitcoin Donate automatically creates QR codes.
Benefits
The plugin has a nice responsive design and it does what it promises well. It is easy to install and easy to use as well. With a diverse number of currencies and easily put requests, you can raise a lot of crypto donations.
Pricing
You can purchase the plugin for $29 and get 12-month provider support for an additional $9.
---
Simple Crypto Shortcodes plugin by Stefanristic provides you with easy shortcodes that open information about different tokens — more than 11K altcoins.
Main features
So, the Simple Crypto Shortcodes plugin's main features are:
Easy to install directly from your WordPress dashboard.
API key registration is available
You can process up to 333 daily requests.
Shortcodes. There are more than ten available shortcodes that you can use for any cryptocurrency
Benefits
Also, first and foremost, the plugin is completely free. Then, of course, it is easy to use, and shortcodes are available for the majority of cryptocurrencies.
---
Summary
So, to wrap everything up in the Best Cryptocurrency Payment Gateway for WooCommerce | 2022 article, I can say that every plugin on this list is worthy. Each one of them is functional and performs well. So, no matter which one of those you will choose in the end, you can be confident in your choice.
Find out more about cryptocurrency and blockchain as a service following our blog.
---
Must-Read Articles
Also, do not forget to check out our must-read articles in various categories that will assist you throughout your WordPress journey.
Reveal the best WooCommerce Wishlist Plugins to approve the best customer experience for your website visitors.