Any website that sells products needs to show the state of the product, whether it is out of stock or has a big discount. In order to manage your online store better and get all the sales you can, you need a tool to create labels and badges that show the condition of your products, and the more customizable, the better. For WooCommerce websites, there are two plugins that we would like to discuss Advanced Woo Labels Vs YITH WooCommerce Badge Management. Which one is better? Let's get into it!
What are These Platforms About?
Both of these platforms are dedicated to implementing labels and badges on products on your online store. They allow you to attract more customers and inform them, so they don't waste time on products that are out of stock. Labels are applied to every product by your need, and each one can be different.
Basically, those badges are custom-made for each product, so you can provide your customers with correct and detailed information. Moreover, using certain text colors in combination can help you to trigger fear of missing out on your customers, which will result in more impulse buys — and, therefore, in more revenue for you.
---
Main Features
The goal of a label plugin is to provide you with a customizable badge system for your eCommerce website products. Let's see how these two plugins fulfill the criteria and their additional features.
The main features of Advanced Woo Labels include:
The number of labels. You can create an unlimited number of labels for each product and an unlimited number of labels on your website in total.
Label options. You can show your labels either on the product image on your website or within the title of the product. Optimally, you can choose to do both.
Default text. Also if you want to choose to use the premade default text to show product information, including the price tag, discount amount and percentage, the new price with the sale, etc., you can simply do it with the default text feature.
Customizable. Additionally, you can use custom text for your labels by just writing anything inside the label box.
Text label shapes. Advanced Woo Labels provides you with five different types of text label shapes. Using these five options, you can apply a unique style to each of them to make them more visually recognizable for your user.
Label groups. One product can have as many labels as you wish. You choose to set the maximum number of labels and how they are positioned in accordance with each other.
Label conditions. According to the filter, user, page, and specific product, you can show different labels on the product in order to have the highest chance of getting the customer. Using 'AND' and 'OR' functions, you can regroup your labels and show certain labels depending on the condition.
Styling options. Advanced Woo Labels provide you with advanced styling options like the customization of label and font color, font type, size, margin, and opacity. You can customize the style of each label individually to enhance the visual component further.
Integrations. The plugin is fully integrated with different page builders, including Gutenberg Editor, Elementor, WPBakery, and others.
Therefore, only taking a look at the free version of the plugin and the advanced functionality offered, it already looks quite promising.
Advanced Woo Labels Pro
Advanced Woo Labels has a Pro version too. Let's have a closer look at the features that make it worth buying:
Image labels. You can use premade or upload your own images (including .svg images) in order to create labels.
Emoji support. Add emojis to the label text, combining them with the variables or other label features to deliver the information to your user in a more advanced way.
Advanced product conditions. Add even more product conditions, such as those that depend on the type, age, taxonomy, and other attributes of the product.
Advanced user conditions. Narrow down the audience country, device, language, and shopping stats of users that see certain labels in order to provide them with more specific recommendations.
Page & date conditions. Set the labels on display on specific pages or on specific dates, times of day, or week.
And more functions. To conclude the paragraphs about features, we can see the advanced options available; now let's take a look at the Yith.
---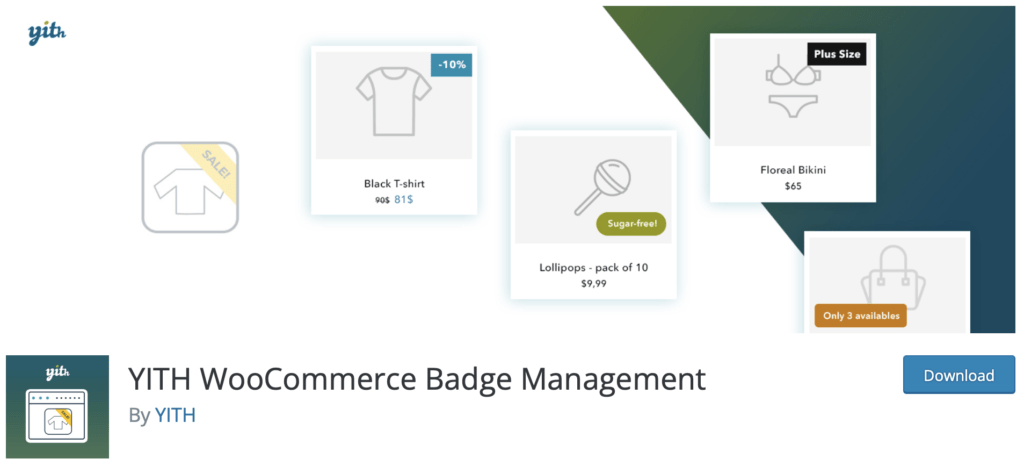 YITH WooCommerce Badge Management provides you with these features:
The number of badges. You are free to create as many badges as you want. An unlimited number of badges can be assigned to one product, and an unlimited number of badges can be used on your website in total.
Textual badges. Use plain textual badges; they can have a background but also can be used without a background as a design option.
Image badges. You can create image labels choosing from 9 images available for the free license of the plugin.
Badge customization. Customize your labels by changing their size, border radius, and position. The position can be changed in accordance to the top, bottom, and center, and with left, right, and center alignments.
WooCommerce default badges. Get rid of the default sale tag that every WooCommerce-based website has.
Badge assignment. Assign badges to products individually.
Badge scheduling. You can assign the badges and schedule their release on certain dates, hours of the day, or repetitive periods of time in order to reach the right people at the right time. You can also decide how long the badge is going to be active.
Badge filtering. In order to further enhance the individual aspect of your badge assignment, you can select specific people to show the badges to, assigning the badges either to all users or certain categories of people.
As we could notice, Yith WooCommerce Badge Management also offers a variety of features; however, if we judge more rationally, it just revolves around the same thing, without actually giving us the variety we need. Meanwhile, they both have similar features such as WPML translations, but they still do vary in other vital functions. Woo Labels plugin offers all the necessary features and even more; therefore, in terms of free versions and functionality Woo Labels wins.
YITH WooCommerce Badge Management Pro
This plugin also comes in with the Pro version offering CSS badges and a Badge library. However, compared to the Woo Labels, the Yith Pro version clearly lacks the quantity of necessary and worthy upgrade features. Plus, the Pro features offered by Woo Labels are more advanced and complex; therefore, in the aspect of Pro Features, Woo Labels once again wins.
---
Pricing
The next aspect of comparison in the Advanced Woo Labels Vs Yith WooCommerce Badge article is pricing.
Advanced Woo Labels

Besides the free version, the Advanced WooLabels present two types of paid licenses.
Personal. A personal license costs $49. Working on only one website, it includes all the Pro features, priority support, and one year of updates.
Standard. You can get a Standard license for $69 and have access to all the Pro features and one year of updates and support on five websites.
Agency. With the Agency plan, you can get all the features of Advanced Woo Labels Pro along with a year of updates and support on an unlimited number of websites for $89 annually.
In case you made a purchase and stayed unsatisfied, you can get your money back. Advanced Woo Labels managers provide you with a 30-day money return guarantee for all types of plans.
So, in terms of variety & flexibility of pricing plans and licenses, Woo Labels gets a point. Plus, it also offers a money-back guarantee.
---
YITH WooCommerce Badge Management
YITH WooCommerce Badge Management provides you only with two options. You can use the free version or buy the Pro license for 59.99 euros. The Pro license gives you all the pro features and one year of updates and support. If you are not satisfied with the way this plugin works, you can get a 100% money refund within a period of 30 days. The Pro License is only 1, so it is clearly lacking a variety of choices, and in terms of features at the end of the day it is more costly.
Once again in the Pricing aspect, the winner is Woo Labels, due to offering flexible pricing options, affordability, and a money-back guarantee.
---
Benefits
It is time in the Advanced Woo Labels Vs Yith article to review the most amazing benefits of these plugins.
Advanced Woo Labels
Diverse pricing plans
The fully usable free version of the plugin
Label conditions that allow for achieving the target audience.
---
YITH WooCommerce Badge Management
You can use CSS-based badges.
Access the badge library with 60 premade badges.
Both plugins offer features that we all could benefit from, but in the aspect of features, Woo Labels wins.
Which One is Better?
Comparing the features, the opportunities, and the pricing, we came to a conclusion that Advanced Woo Labels is better than Yith WooCommerce Badge Management. Let's quickly recap why:
Different types of licenses. Advanced Woo Labels provide the same Pro features for every license type, but the price changes with the number of websites it can be applied to. You don't have to pay additionally for certain features, only for the number of websites. The free version is also available. YITH WooCommerce Badge Management has only one type of Pro license so some people would overpay.
Advanced Woo Labels has more features for the free version of the plugin than YITH WooCommerce Badge Management. Advanced Woo Labels can be used as a free version quite successfully, YITH WooCommerce Badge Management free version is semi-functional.
Advanced Woo Labels has a more advanced preset and filter function than YITH, which allows you to reach your target audience more efficiently.
Did you like the Advanced Woo Labels Vs Yith article? Then, if you need a review plugin and cannot decide which one is better then take a look at this article "Wiremo VS Judge.me – Which Review Plugin is Better?"