The Knowledge Base plugin is a must for providing your customers and users with a professional web journey. Make your website visitors' spent time more enjoyable and informative with this till.
Now, let's read further and find out about the best knowledge base plugin for WordPress.
---
What is a Self-Serve Knowledge Base Service Tool?
The Knowledge Base is a self-serve client service tool. Obviously, this tool is amazing for providing your customers with a piece of external knowledge about your product or services. The main purpose of the "Knowledge Base" is to improve customer experience. Furthermore, this functionality can be a perfect fit for your employees too. Provide internal knowledge via the body of knowledge widgets.
A properly written body of knowledge is vital for any self-service support team strategy. Generally, most people prefer to find the answer to their questions directly from the company's web platform. Hence, the knowledge domain is digital documentation, that includes responses to frequently asked questions. Moreover, within the body of knowledge, the customers will find how-to guides and troubleshooting instructions. Via the knowledge domain, the users will find all the answers to their questions without asking for help or directions.
There are diverse types of websites' Knowledge Bases.
Frequently asked questions
Glossaries and definition lists
Step-by-step process guides
Video demonstrations
Introductory articles
Thus, knowledge management is a must strategy. To have a professional web interface every website owner needs a knowledge base. Knowledge management represents the process of organizing the collected data into a useful form. Shortly, the knowledge domain is a cost-effective support service strategy. Provide needed information without spending time and resources.

In order to, collect and organize all the needed data you will need a perfect management tool. Let's find out about one of the best WordPress Knowledge Base plugins.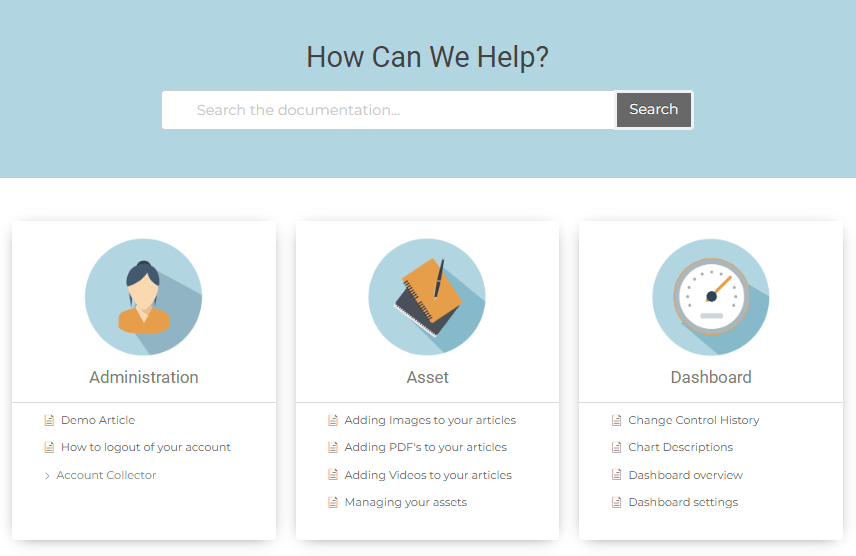 ---
What are The Main Advantages of The Knowledge Base?
As I have formerly mentioned, the knowledge domain is a cost-effective way of providing a support service. Lessen the effort and resources for you and the customer. Furthermore, reduce the time, the consumer has to spend to find the needed answer or the information. Generate a better customer experience.
Let's learn about some of the main advantages, that the Knowledge Base plugins provide.
Many people prefer self-service. It is a well-known fact, that many people prefer to find the answers in their own way. Before reaching out for help the customers prefer to glance at the information provided on the company's website. And, the Knowledge Base is the place where they can find all the answers.
A knowledge base eases the support service. When the repetitive questions are reduced from the support inbox, the team can be fully focused on more fulfilling moves. Moreover, the knowledge domain also delivers the support team with extra resources to share with the clients.
Knowledge bases provide different knowledge styles. The knowledge domain can be presented in various formats. For example, information such as text video, audio, annotated images, and other media formats. It gives a better experience while obtaining a piece of useful information.
The knowledge base operates 24/7. Even if the customers live on the other side of the globe, unlike the customer support team, a knowledge base can provide help. Also, the knowledge base never asks for time off to go on vacation )
Finally, a knowledge base can help you to gain new consumers. As far as the knowledge domain content shows up on the search results, therefore it helps to boost the SEO.
Generate useful insights. With an advanced level knowledge base tool, you can find out what people are looking for. With the Reporting Capabilities, also find out about all the gaps you have on your Knowledge Base.
---
Knowledge Base Plugin by Echo Plugins for WordPress
Start to create a self-service strategy for your customers and employees with the Knowledge Base by Echo Plugin for WordPress. This Knowledge domain WordPress plugin will help you to generate powerful FAQs for your customers. Produce an internal knowledge base for your corporation's employees. Moreover, you can create an external knowledge base for the buyers. It is easy to produce product manuals, documentation, services, and many more with this WP tool.
Keep your customers satisfied by providing them with all the information they need. Increase visitor engagement. Bring more user traffic. Furthermore, ensure your customers, that they will have access to all the external knowledge concerning your product or services.
One more thing worth mentioning is, that this WordPress plugin keeps your website managed in a safer way. Most web page owners prefer to manage the web platforms on their own. So, the Knowledge Base WordPress plugin is a perfect solution for self-hosting.
Let's get further with the Knowledge Base WordPress plugin.
Currently, the Knowledge Base for Documentation and FAQs by Echo Plugins has more than 10.000 active installations on WordPress. Moreover, the plugin gets regular updates. And most importantly, let's note the 5 out of 5-star ratings.
Well, it is time to dive in further…
---
Main Features
It is important to note, that the plugin is very easy while use and has a very user-friendly dashboard.
You can get fully advantaged from the essential features and functionalities on the free version too.
No coding is required. You can choose your preferred design from 26 already ready-to-use templates.
The advanced-level customization will help you to fit all your needs. Set colors, select styles, and choose typography. Furthermore, you can enable or disable some of the features you prefer.
Five Levels of Documentation Hierarchy. Provide a more organized interface. Use the five levels of categories and subcategories.
Enable a Print Button. Your product users can print an article without a site header and footer.
Get the best SEO results.
The Responsive design will help your FAQs, documentation, and product manuals, to fit any screen size and theme you prefer.
Frontend Style Editor. The frontend Editor is very easy and simple to use. Change colors, labels, fonts, and styles without spending time.
Page Builders. This plugin is amazing. It works with Beaver Builder, Elementor and Templates, Visual Composer, Divi, etc.
Search Box via the Basic Analytics. This tool displays a quick search bar. Moreover, it includes listed results on the main page and article pages. See the total number of searched and found articles and article searches with no results.
Ordering. You can compose both the articles and categories chronologically, alphabetically, or in any type of order that you need.
Let's not forget, that all the users of the Knowledge Base plugin get friendly and timely support.
Multi-language Support. Translate or change the needed texts. save time by using any of the 12 already translated languages.
This plugin is absolutely a time saver. Activate it and set up your FAQs, documentation, and product manuals in 5 minutes.
---
What Feature Comes The Best?
There are many high-level functionalities that you will find within this plugin. But, it is worth mentioning that this plugin provides a setup tool with just two steps. The "Setup Wizard" functionality allows the plugin users, to have a ready-to-use knowledge base in just a few minutes. All you need to do is just to activate the plugin, click on the Setup Wizard box, and ta-da your Knowledge Base is ready to shine on your WordPress website.
If you already have your own WordPress website then you will not need to spend extra time building a Knowledge Domain section. This easy-to-install and the easy-to-use plugin will become your ideal solution.
Do not be scared even if you are unknown to the digital platform. The KNowledge Base plugin with its Setup Wizard is very beginner-friendly. You will not have any concerns while getting to grips with the intuitive dashboard and uncomplicated content management systems.
Hence, save your time with the Echo Plugins.
---
Who Can Use It?
In my point of view, every website owner needs a properly built Knowledge Base section. If you want your SaaS to be run successfully, then the knowledge domain is for You.
In most cases, the knowledge domain is a perfect fit for the support team. This functionality will definitely increase the customer experience. Imagine a tool that provides help 24/7. Furthermore, as far as everything is on the digital platform everyone will have access to it. The Knowledge Base by Echo plugins provides a multilingual translation functionality.
---
To Wrap Up…
Knowledge Base WordPress plugin is the best customer tool for creating automatic self-services for your consumers, employees, and users. Now, when you found the best Knowledge Base tool, it is time to go, get it, and set it up!
Wait!!
Haven't you forgotten to check out the best WordPress Blog? Hurry Up! Go and find out everything about WordPress tools and plugins.
If you are a WordPress plugin owner, then I have a great idea for you. Start to flawlessly promote your plugin. To keep up with WPGLob's latest news join us on Twitter and Facebook platforms. And, if you are looking for WordPress plugin tutorials, I suggest you subscribe to WPGlob's YouTube Channel.
Wish you Luck on your WordPress web journey!