When running an eCommerce business you need to consider adding one of the most important aspects for a better user experience on your website. And that is an available shipping option. In fact, this is one of the most challenging factors for online store owners. But the shipping process can be completed without any hustles if you use WooCommerce. There are many plugins to make this process as smooth as you might ever imagine. So, in this article, we are going to review the top list of WooCommerce shipping plugins.
Stay tuned and read the article to discover more about each plugin's features and functionalities.
---
The first plugin from our list is Conditional Shipping for WooCommerce. It has over 10.000+ active installations on WordPress, moreover 4.5 out of 5-star ratings. The numbers definitely indicate the high quality and reliability of the plugin.
One of the most noticeable features of it is that it allows you to restrict shipping based on certain conditions. However, this is not all; let's take a look at the list of main features that make it quite outstanding on the market.
Main Features
Before taking a look at the main features, let's also note that this plugin comes in handy with both Free and Pro Versions. The Free Version's features include:
Works with existing shipping methods and zones
Allows setting restrictions based on various conditions (products, weight, length, height, width, volume, subtotal)
It is supported by USPS & DHL.
Offers Debug mode to make troubleshooting easier than ever
Now the Pro Features:
Allows to set conditional shipping costs as well as set shipping class conditions
Category, coupon, product measurements conditions settings available
User role condition
Pricing
Pricing options are kept simple & affordable:
1 site: $49
3 sites: $79
5 sites: $119
Benefits
Does not affect the website's loading speed
Works incredibly well & fast
GIves wide variety of conditioning options
Has good ratings & reviews
Affordable pricing
---
I am thrilled to share with you the incredible features and benefits of the Simple Shipping Labels plugin. This plugin is a game-changer when it comes to generating shipping labels and enhancing your store's package branding, all while increasing your shipping productivity.
Let me walk you through the key aspects of this remarkable tool.
Free Version of Shipping Label Plugin
The Free version of the Shipping Label Plugin is user and developer-friendly. Here is what you get.
Customize label size and choose from various layouts to meet your needs.

Why you need the feature; The ability to customize label size and choose from different layouts allows you to tailor the shipping labels to your specific requirements. Whether you need compact labels for small packages or more detailed layouts for larger shipments, this feature ensures that your labels perfectly fit your products, enhancing the overall presentation

Generate multiple labels for selected orders, saving time and ensuring accuracy.

Why you need the feature; This feature significantly improves efficiency for stores with high-volume shipping. Instead of generating labels individually, you can select multiple orders and generate labels in one go. This saves valuable time and reduces the risk of errors, ensuring that each order receives the correct shipping label promptly.


Edit and format label fields before printing, achieving a professional look.

Why you need the feature: With the ability to edit and format label fields, you have full control over the appearance of your shipping labels. You can add essential information, such as order numbers, customer names, or any other details that may be required. These options will allow you to ensure a clean and professional look, making a positive impression on your customers when they receive their packages.


Display information conditionally based on local or international destinations.

Why you need the feature: By displaying information conditionally based on the destination, you can provide a tailored experience to your customers. For local shipments, you may choose to display specific instructions or promotions relevant to their location. Correspondingly, for international shipments, you can include customs information or any other necessary details. This customization adds a personal touch and enhances the customer experience, leading to higher satisfaction levels.

It's also worth mentioning that the plugin's code is well-documented, making it easy for beginners to adjust or enhance. And if you are using the free version you can reach out to the plugin support forum on WordPress.org for additional assistance.
Tip from the creator: "Try out the Free version, with separately printed store-branded stickers, containing your store return address and any promotional info. This way you can add color and experiment with your package branding, with the convenience of printing professional-looking labels."
Why go Premium?
Upgrading to the premium version of the Shipping Label Plugin unlocks a range of benefits that significantly enhance your shipping process and contribute to the overall success of your business. Here are the key advantages of the premium features that I personally love about the Shipping Labels plugin:
Advanced Branding Options: This allows you to incorporate your store's branding elements, including your logo, return address, or even social media engagement. By leveraging these options, you create a cohesive and professional look for your shipping labels, reinforcing your brand identity.
Improved Transparency and Customer Experience: This enhanced transparency provides your customers with a clear understanding of what is included in their package. Customers appreciate the convenience of having all the relevant information readily available, resulting in higher satisfaction and an increased likelihood of repeat purchases.
Design Customization with Custom CSS: The premium version of the Shipping Label Plugin offers support for custom CSS, providing you with unparalleled design customization options. You can fine-tune the appearance of your labels, ensuring they align perfectly with your store's visual identity.
Extensibility and Scalability: The plugin serves as a solid foundation that allows you to integrate internal logistics information, such as inventory barcodes and tracking identifiers. By incorporating these elements, you streamline your fulfillment process and improve inventory management.
I highly recommend the Shipping Label Plugin as a game-changer for your store's shipping operations. This plugin not only simplifies the process of generating shipping labels but also elevates your brand's image and enhances the overall customer experience. And to experience the full potential of the Shipping Label Plugin, I encourage you to upgrade to the premium version.
---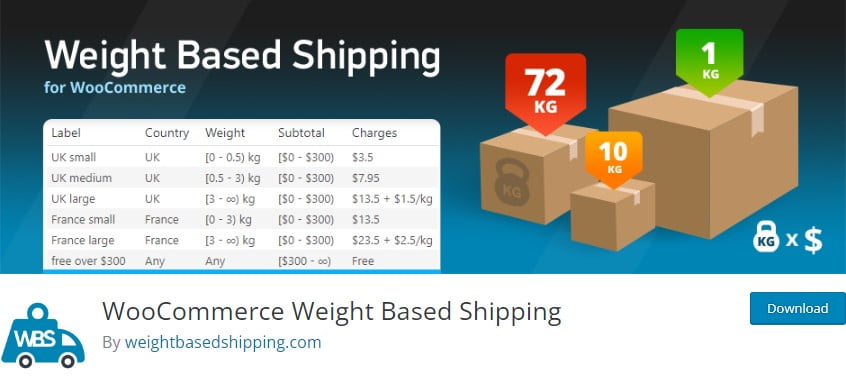 So, the first plugin from our list is WooCommerce Weight Based Shipping. It has 60,000+ active installs and 61 5-stars on WordPress.
This is a very flexible but simple method for implementing shipping options in your WooCommerce store. The plugin helps to calculate shipping costs according to the ordered items' weight.
The plugin outstands with its various features, such as:
Various shipping rules creation for order weight, destination, or subtotal range
Setting Flat rate or progressive costs according to the order weight
Free shipping opportunity starting from a certain price
Determining price calculation mode based on the shipping classes
The WooCommerce Weight Based Shipping plugin also provides the pro version for $19. Also, you have the right to demand a refund within 14 days after making the purchase.
---
The third plugin from our list is Amount Left for Free Shipping for WooCommerce developed by WPFactory. It has more than 3,000 active installs and a 5/5-star rating on WordPress.
Through this plugin, you are allowed to see the free shipping left amount on your WooCommerce store. By the way, this amount can be shown on different parts of your website, such as on the cart page. Or else, you may display it anywhere on your site using different widgets, provided shortcodes, or PHP knowledge.
You may find not only a free but also a Pro version. The free versions' features include:
Hiding various shipping methods in the case of free shipping availability
Setting the minimum order amount for free shipping according to the user role, location, and currency
Showing a custom message when the customer gets a free shipping opportunity
Discount including system while calculating the total cart amount, etc.
As you see, basically all the essential features are presented in the free version. Honestly, this is a great advantage for the plugin to give such a great opportunity to use the plugin's basic features in its free installation.
Pro Version
But, besides the basic function, the plugin provides more professional and advanced settings to use on your WooCommerce store. You will find some of them in the list below:
Left amount text positioning and its update through AJAX
Hiding the left amount for some categories or users
WooCommerce Currency Switcher compatibility
Excluding virtual products placed in the cart while getting a free shipping overall amount, etc.
These and many other features are available at a good price on the plugin's official website:
Single site – $39.99 (1 year of updates), $69.99 (lifetime access)
Unlimited sites – $99.99 (1 year of updates), $199.99 (lifetime access)
Besides, you will obtain a 30-day money-back guarantee if you are not fully satisfied with the plugin's features.
---
The next plugin from our top list is Lastmal Shipping for WooCommerce. You need to complete just a single integration to ship your eCommerce products in the territory of West Africa.
The plugin's setup process is quite simple. At this point, you will get some knowledge about its main functions:
Live rates to calculate shipping costs automatically
Delivery service functions customization
Decreasing the number of cart abandonment
Digital payment opportunity
Lower human- participation in shipping processes, etc.
One of the plugin's great advantages is that it is totally free.
---
The last but not least product from our top list is WooCommerce Free Shipping Per Product plugin developed by WPRuby. It scores more than 2,000+ active installations and 15 5-stars on WordPress.
This is a custom shipping method for WooCommerce enabling to setup free shipping for each of the products to different directions and zones.
Also, you may hide other shipping methods during the checkout if there is free shipping available.
In order to create items with free shipping available, you should first set a shipping class with a corresponding name and assign it the items you want.
The plugin's free version can be downloaded from the WordPress plugin directory. But to access more advanced features such as product shipping per certain rules such as country, quantity, state, its variations, etc., as well as priority sorting, line and item cost you should activate one of the Pro licenses. Here you may check the available plans:
Single site – $19
5 sites – $39
25 sites – $69
Additionally, you will get a 14-day money-back guarantee to demand a refund if needed.
---
The Courier Guy plugin is one of the WooCommerce shipping plugins that scores 2,000+ active installs and 8 5-stars on WordPress based on satisfied customer reviews.
The plugin enables to complete shipping processes through the Courier Guy company which is very famous mostly in the territory of South Africa.
You may decide the parcel size according to your package structure. The cart total is calculated based on the parcel sizes that are divided into "Flyer", "Medium" and "Large" types.
By using these dimensions the Courier Guy will calculate the overall result.
---
So, the last but not least tool from our best list is the WooCommerce Shipping Services plugin developed by PluginHive. The plugin ranks 4.9 out of 5-stars based on the satisfied clients' reviews.
This is a great solution for WooCommerce shop owners. Here are the benefits you get while using this plugin:
Automated shipping process with Live Rates
One-click label printing
Tracking orders with such carriers as Blue Dart, FedEx, DHL, UPS, Aramex, etc.
Moreover, the WooCommerce Shipping Services plugin seamlessly integrates with WooCommerce multi-vendor solution. This is beneficial for vendors to conduct the shipping processes.
Below, you may find the existing pricing plans for the plugin:
Starter – $9 per month
Popular – $29 per month
Premium – $49 per month
Enterprise – $99 per month
Besides, you will get a 14-day free trial period to view the most essential features of the WooCommerce Shipping Services plugin.
---
For WooCommerce store owners, the ELEX WooCommerce Shipping Calculator, Purchase Shipping Label & Tracking for Customers plugin is a potent tool that improves the shipping process. It improves customer experience, reduces manual effort, and increases the efficiency of managing shipping and tracking operations.

This versatile plugin integrates perfectly with your WooCommerce website to deliver precise shipping rate estimations and a simple method to buy shipping labels.

Here are some of the main features of this plugin:
Customers may determine shipping costs based on their location and order data with the plugin's user-friendly shipping calculator.
With the help of this plugin, business owners may quickly purchase shipping labels directly from their WooCommerce admin panel.
Several shipping providers, including USPS, FedEx, UPS, UPS DAP, and Canada Post, are supported by the plugin.
Using the tracking number supplied by the shipping service, customers can track their packages in real-time.
Once the shipping label is prepared, the plugin automatically emails customers with tracking information.
Various shipping options can be set up by store owners based on location, weight, and volume.
Store owners may create shipping labels in bulk, saving time and effort.

Overall, the ELEX WooCommerce Shipping Calculator, Purchase Shipping Label & Tracking for Customers plugin is your go-to solution for all your shipping needs.

Price: The plugin is priced at $79 for a single site and goes up to $199 for twenty-five sites.
Summary
As we have already approached the end of the top list of WooCommerce shipping plugins we would like to summarize our thoughts about them. These shipping articles will make the customer experience on your website much better than expected. They will help you to complete safe and fast shipping. Meanwhile, working with these plugins is not difficult for business owners and does not require any programming skills. Moreover, the users will also be excited about the fast and easy shipping options available on your website. So, in this case, you will reach more sales and conversions on your website.
---
Must-Read Articles
WPGlob is dedicated to creating high-quality content for those who have just started to use WordPress or have already used it for years. That is why, we created different categories on our website, such as:
Beginner Guide – containing articles for WordPress beginners. Here they will obtain a basic knowledge of WP explained in a quite understandable way.
Plugins Review – including valuable and famous plugin detailed reviews for your easy choice.
Top lists – telling about the best plugins for a certain topic or purpose.
Comparisons – comparing two products foreseen for a certain aim and deciding which one is more worth getting.
Plugin Promotion – helping WordPress plugins and theme owners, as well as SaaS founders, find a great way to promote their products through marketing campaigns.
Another category is Shopify containing information about different apps and their features, thorough reviews, and thoughts about each of them.
Promote your WordPress plugin or SaaS product with WPGlob. Choose your preferred service from the list.

If you liked the article do not hesitate to find us on Facebook and Twitter. For interesting WP tutorials, please subscribe to our YouTube channel.
Latest posts by Anahit V.
(see all)