In this digital era, every day there is a new technological innovation. Technological creations are invented to ease our daily lives. One of those innovations is live chats. So, in this article, let's find out what is "Live Chat Plugin", is and compare the WordPress best Live Chat tools.
Read the article and find out which WordPress Live Chat plugin is better.
---
What is a Live Chat?
A Live chat is an online messaging form on the business website's interface. This type of messaging system is a perfect solution for customers. Via live chats, the customers directly connect with the business representatives, usually with Customer support, Technical support, or HR specialists.
Usually, live chat widgets appear in pop-up forms, but there are chatbox types when the customer needs some action to take. Accordingly, the live chatbox has become the must-have customer messaging must-have tool. Many online organizations use chat support as a part of their SaaS structure (Software as a Service).
Providing a customer with an opportunity to interact directly with your service, will give a more enjoyable customer experience. Make your consumers trust your brand via direct interaction with them. Furthermore, the live chat box is a perfect method to hear the real voice of the clients. Correspondingly, find out what are the expectations, demands, and needs of your purchasers. Moreover, keep the website visitors more engaged and keep them longer on your digital platform. Lastly, always have a satisfied audience by learning about their issues and needs.
---
How Does Live Chat Work?
The live chat boxes are a super-easy contact solution. Customers do not need any additional tools, extensions, or apps. Usually, the chat form appears as a small widget on your website. After clicking on the appeared icon you will have an opportunity to type your question or suggestion.
Live Chatbots are perfect to use for several reasons.
Firstly, you can save time. After receiving the question, the chatbot will automatically send the pre-prepared answer.
Be hundred percent protected. The live chatbots are moderators. You will not receive inappropriate or abusive messages.
Earn more reviews. You can ask for feedback during the chat process.
Track your users. You can see what the web guests are searching for on your website. Furthermore, find out how long the web guests stayed on the web page.
Find out what the customer sees when he or she types the question.
Hence, Live Chats are not only a perfect way to boost customer satisfaction, but also an ideal way to collect valuable customer data.
---
How to Choose the Right Live Chat Tool for Your Website?
When choosing a Live Chat tool or the type of Live Chat you have to consider a few points. There are three fundamental questions you should ask.
What is my need? Before adding a new tool to your website, it is important to answer this question. At first, you need to know exactly what is your main goal of having this functionality. For example, you can use Live Chat Boxes for customer engagement needs. Furthermore, you can use the Live Conversation tool for both sales and support. Via your website offer your customers and web visitors an advanced level of customer experience.
What do I already have? To avoid spending any extra resources on things that you may already have, it is important to find the answer to this question. For example, you can make a list of products that you already have access to. This will prevent you from spending extra resources, time, or money. For example, if your website has Help Desk Software, it may already become your live chat platform.
What is my budget? Last, but not least important question. Before obtaining a new product the cost is a big consideration. It is important to count the amount of wealth you are ready to waste and the amount of value the product will bring.
---
Crisp VS. SmartsUpp: Which One is Better?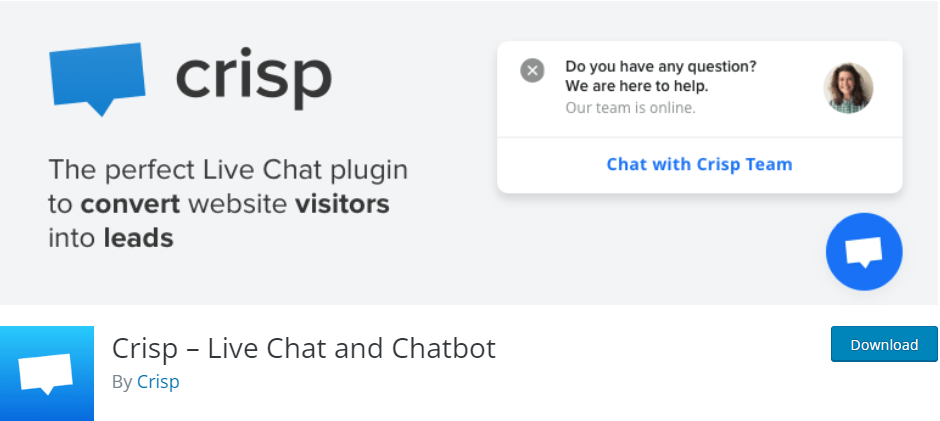 Crisp Live Chat is a WordPress Chatbot plugin. This plugin allows its users to easily provide their website with a Live Conversation platform. Similarly, via the WordPress Crisp plugin, it will take a few minutes to have an advanced-level and highly engaging chatbot.
Install and activate this plugin on your WordPress webpage and attain a permit to Crisp Inbox for Marketing, furthermore have access to Sales, and Support teams, as well as Crisp Helpdesk, free online educational resources. All the listed above will assist you in better usage of Crisp and support your buyers.
What makes Crisp Live Chat plugin extraordinary? This WordPress must-have tool is free for the ones who want to obtain it.
Main Functionalities
Besides the Live Chatbot functionalities, the Crisp Plugin offers other useful tools, which will ease your digital life and make the WordPress experience more enjoyable.
Support Live Chat Tool. Via this plugin, you can deliver customer-fast assistance. Give explanations for all the problems of the clients.
Sales Live Chat Tool. Help your clients to have the answers concerned with your company duties or properties.
Marketing Live Chat Tool. Grow your Email Marketing list via this plugin. Create a qualified customer personal data list by collecting the email addresses and phone numbers. Hence, enrich your database.
Automated Chatbot. Generate chat scenarios via pre-prepared conversations. What is amazing about the Crisp automated chatbot, is that you will not need any coding skills.
Real-Time Notifications. Automatically be informed when the Live Conversation starts.
User-Friendly Interface. The Crisp chatbots can be perfectly fitted to any screen size. Use it via the IOS, Android, and Windows Operating systems, or Mac OS operating systems.
Rich Conversations. With the WordPress Crisp plugin, live conversations will no longer be robotic. Generate personalized conversations for each customer. Similarly, via the Integrated knowledge base, File sharing, Chatbot scenarios, GIFs + Video Preview, connect the Crisp Live Chat to social networks rich the live conversations. Furthermore, you can add a CrispyBird to your live chat. This is an online game, which will keep the website visitors engaged while you are offline. Also, there are integrations available with other channels such as Facebook, emails, WhatsApp, and Instagram DMs.
Full Customization. Be creative with Crisp. Set your preferred color, and choose the language and position of a chatbox. Make the Live Chat perfectly fit with your business and website concept.
LiveTranslate. Translate your messages in real-time via this functionality. For example, you can answer in your native language but the message will be automatically translated to the customer's native language. Hence, increase the customer support experience on your WordPress website.
Video Chat. With Crisp's Live Chat Software communicate with your customers via the real-time video chat functionality.
---
The WordPress SmartsUpp Live Chat plugin will help you to make your visitors loyal customers. Collect real-time valuable data of your customers. Provide your website visitors with answers to their questions. Additionally, hear the real voice of your potential purchasers. Finally, find out the expectations and needs of your consumers and build your marketing strategy based on the collected information.
Main Functionalities
Automatic Messages. Via Smartsupp, you can easily create personalized automatic messages according to the situation.
Detailed Statistics. Track satisfaction ratings via the Smartsupp plugin. In addition, you can measure the impact of chatting on conversions in Google Analytics.
Visitor Overview. Learn about your customers. See what they are glancing for on your web blog and offer the perfect solution for them.
Multi-Channel. With the help of this functionality, you can save time. Respond to chat messages, emails, and FaceBook messages from one place.
Mobile App. Become closer to your customers. Use the mobile app and always be in touch with them.
---
What Should you Choose?
Now it is time to make a conclusion out of our comparison. From all the listed above functionalities I assuredly suggest you try the WordPress Crisp LiveChat Chatbot plugin. Similarly, let's see what are the reasons to choose the Crisp plugin.
First and foremost, the Crisp plugin has more functionalities than the SmartsApp plugin. No matter the advanced-level functionalities this plugin is FREE. This means that everyone is free to use the LiveChat plugin and get the full advantage out of it.
Secondly, Crisp will simplify your customer support. Help your team to fully benefit from the Live Chatbot with its numerous functionalities. With all the formerly-mentioned functionalities, you will be able to achieve your best results.
Similarly, increase the revenue of your sales. All the statistics show, that clients who are provided with assistance are more likely to make a purchase. When the provided assistance is on a high level.
Finally, the Crisp plugin is user-friendly. It is easy to use and unchallenging for beginners. The purchasers do not need extra programming or coding skills. Just a few minutes and VOILA your live chat is ready to be used.
So, Crisp Chat remains the best.
If you like the comparison hurry up to read the Crisp VS 3CX comparison.
Undoubtedly, your WordPress plugin is definitely worth knowing. Hurry up and promote your WordPress plugin.

Be in touch with us via Facebook and Twitter. Furhtermore, you can find everything about the WordPress must-have tools on our YouTube channel.