Looking for a WordPress newsletter plugin, but not sure how to get started and which to choose?
Email marketing is an excellent way to significantly increase conversion rates and user engagement. By regularly sending out newsletters you can always keep your website audience updated and informed.
This will assist in brand promotion, eventually converting site visitors into potential consumers and boosting your revenue. However, creating and sending out newsletters is a rather time and effort-consuming task.
Fortunately, there are dozens of newsletter plugins for WordPress existing out there. But which one to choose?
After a thorough research today we introduce you to the Noptin – WordPress newsletter plugin. The simplest, yet the most powerful WordPress email marketing plugin.
So let's give it a start!
---
Why a Newsletter Plugin?
Before all else, first, let's learn why newsletters are important for the website.
In general, email marketing refers to sending regular emails to prospects and customers. Typically, these emails generate dynamic QR code promote sales, offer a discount, a fresh blog article, or any useful content you have to provide.
Beyond that, an email newsletter can help you build trust and a deeper connection with your audience.
There are numerous ways to benefit from this deeper connection. Below see some scenarios:
Prior to realizing new products and services to the public, test them with subscribers through newsletters.
Drive traffic right away to newly published articles or blog posts. There is no need to wait for new posts to gain popularity with search engines.
Seek feedback from your subscribers in order to produce the kind of material that your audience enjoys.
Other reasons why email marketing is beneficial for the businesses include:
Pamper visitors by offering discounts or free trials in newsletters. This simple trick will draw users and turn them into subscribers or potential customers.
Strengthen the loyal bond with the subscribers and customers by offering promotions or providing them with informative content.
Email marketing definitely pays off, data shows that it has a high rate of ROI (return on investment). Email marketing yields a $42 average return on investment for every $1 spent. A simple compelling call-to-action will encourage your followers to buy your goods or download your material.
The best part is that with the appropriate WordPress newsletter plugin on your side, such as Noptin, you might be astonished at how quickly you can launch your own newsletter.
---
Noptin: Quick Overview
There is no doubt that Noptin leads the list of the best WordPress newsletter plugins.
Noptin is a highly optimized and feature-rich WordPress and WooCommerce newsletter plugin. This plugin gives you everything that you need to start sending newsletters right from your WP Admin. Plus Noptin integrates seamlessly with WooCommerce enabling you to automate your WooCommerce-powered store.
With Noptin everything is possible, including building opt-in forms for newsletters, managing your subscribers, and sending automated emails to them.
How does Noptin work?
There isn't a visual, drag-and-drop builder available in Noptin. You'll be using the TinyMCE text editor in its place, which is the one WordPress previously used before transitioning to the new block-based editor. For adding text and graphics, this editor performs admirably.
Noptin ultimately integrates with numerous WordPress well-known plugins that further facilitate email marketing for you. This especially refers to creating newsletter checkboxes and subscription forms.
Plus thanks to numerous addons and integrations with SMTP WordPress plugins and services, such as HubSpot, MailChimp, and GetResponse you don't have to worry about email deliverability.
---
Noptin: Key Features and Highlights
The Noptin WordPress newsletter plugin makes it simple to design eye-catching subscription forms, divide the audience into segments, and send targeted emails to the appropriate recipients at the appropriate time.
Now let's go through its features one by one and see what you can do with Noptin.
Newsletter Subscription Forms
The first and foremost important thing for successful newsletters is to have subscribers. Noptin allows you to collect and enlarge your list of subscribers by including subscription forms for your newsletter anywhere on your website: header, sidebar, footer, popups, posts, and many more.
The built-in form builder gives you complete control over how and where each form is displayed. Noptin also includes a default subscription form. You may embed the form in your content using a shortcode, widget, or Gutenberg block.
Moreover, you can combine the Noptin newsletter sign-up block with other WordPress Gutenberg blocks. This way you will create original and attractive newsletter forms.
Subscription Checkboxes
One of the winning cards of Noptin, that makes it stand out as the best WordPress newsletter plugin is the feature of adding subscription checkboxes to well-known WordPress form creators.
Clearly, with Noptin there are no limits. Do you want the newsletter subscription checkbox on Contact Form 7? You are welcome! Or maybe you want to completely transform your contact form into a subscription form? You're welcome to do so as well!
This is possible not only with Contact Form 7, but with such prominent WordPress form builders as Ninja Forms, WPForms, Elementor Forms, and a lot more.
Personalized Bulk Emails
What is the aim of the newsletter plugin if not sending personalized bulk emails with only one click?
Setting up an email campaign with Noptin is easier than ever. Most importantly, all the process is performed directly from inside your WordPress dashboard. With Noptin you can send one-time emails to all your WordPress users, Woocommerce customers, or Noptin newsletter subscribers.
Segmented Subscribers
Let's agree that sending emails in bulk to all subscribers is not always a good idea. Sometimes you need to decide for which of your subscribers that content will be relevant.
Using tags, you may categorize your subscribers according to their activities, interests, and other criteria and send newsletters accordingly. You can use this to make email campaigns that are more customized and targeted.
Digest Emails and Post Notifications
Do you want to run ahead of search engines? Do you want to bring in new traffic to your website once there is something new? Noptin is definitely the WordPress newsletter plugin you need.
You are able to set the plugin on auto-pilot to send new post notifications and inform your email subscribers, WordPress users, or WooCommerce customers whenever you publish new material on your website.
Furthermore, you can make your bond with the audience stronger by sending email digests and news on a daily, weekly, or even monthly basis.
Welcome Emails
A welcome email is what most users expect once they subscribe to the newsletter. Sending welcome emails to new users, subscribers, and clients might assist you in introducing your company and developing a connection with them right away.
Even better, you can design several welcome emails that serve as an email course.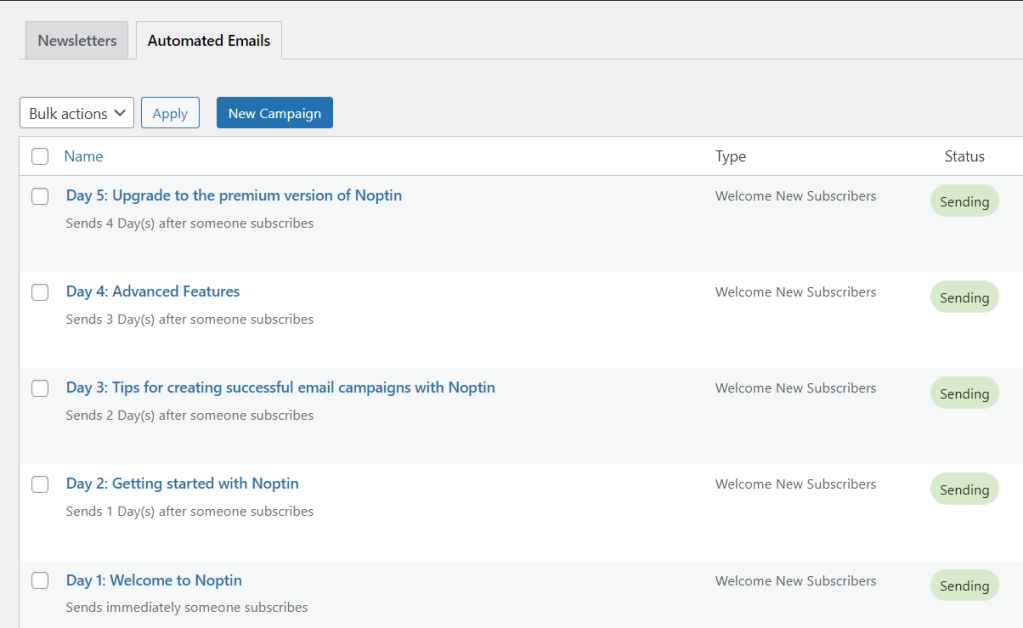 ---
WooCommerce Newsletters with Noptin
The most important highlight of Noptin which requires a separate platform for discussion is its compatibility with one of the most prominent WordPress plugins – WooCommerce.
So what can you do with Noptin and WooCommerce having them in one place?
WooCommerce Subscription Checkbox
First of all, with Noptin plugin you can add a newsletter subscription checkbox to your WooCommerce checkout forms.
As a result, every time a WooCommerce customer makes a purchase or registers on your website, they see a subscription opt-in and have the option of subscribing to your newsletter.
As long as you have them on your subscribers' list you may let them know anytime a sale is going on your website so they can return and make another purchase. or automatically notify them when new posts are made.
So you kill two birds with one stone, first, you enlarge your subscribers' list, and second, you boost your sales.
WooCommerce Coupon Codes
One more excellent tactic to get more email subscribers and increase your WooCommerce sales is sending new and old email subscribers a unique coupon code.
With Noptin you can set it to automatically send WooCommerce coupon emails to the subscribers.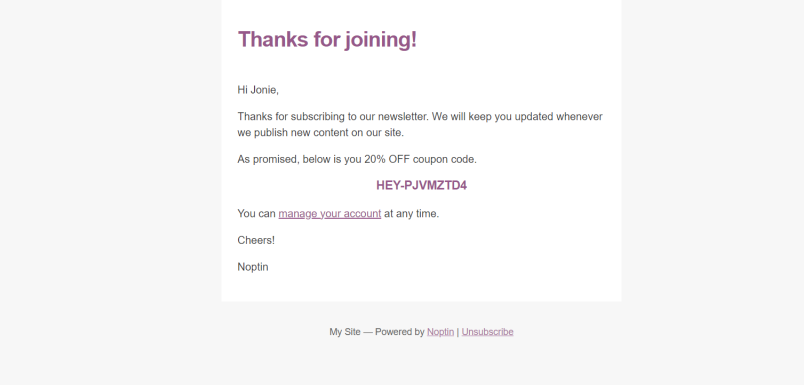 This way you reward your subscribers and customers and motivate them to take action.
Thank You Email (for VIP customers)
Noptin enables you to set automation on sending thank you emails to your loyal or VIP customers once they reach a certain lifetime value. This will further encourage and motivate them to send more money to your store.
Product Review Emails
Having reviews of your product can help you learn more about the preferences of your customers, plus having them distributed in your store will raise your authority. Using Noptin you can send automated emails that ask your customers to review the products that they've recently purchased. Moreover, you can then display the reviews on your site.
---
Why Choose Noptin WordPress Newsletter Plugin?
In addition to the above-mentioned advanced-level and comprehensive functionalities, numerous other benefits of Noptin will be excellent assets for leveraging your WordPress email marketing.
Noptin is super simple to use, especially for non-technical users. With just a few clicks, you can automate email marketing tasks using the built-in automation features, and plus it has a user-friendly interface, which makes it simple to generate and manage newsletters without a single line of code.
This WordPress newsletter plugin is lightweight and highly optimized, so it won't slow down or negatively impact the functionality of your website.
Noptin is a flexible and customizable plugin, it meets the needs of all most all website owners, as it allows to customize each and every aspect of email marketing.
Troubles are not about Noptin, and even if you have faced troubles or difficulties while using the plugin there is extensive documentation, a YouTube channel, and a friendly and lovely customer support team at Noptin.
---
Pricing
Alongside being a top-rated and highly-recommended plugin Noptin is also extremely affordable for all the features it provides as a WordPress email marketing solution.
The Noptin free comes with a wide range of features and highlights to handle email campaigns for your website and business. With the free version of the plugin, you can create unlimited subscription forms and checkboxes, add them anywhere on your website, collect unlimited newsletter subscribers, automatically notify your subscribers about new content, and many more.
But to get access to numerous add-ons, such as welcome emails, WooCommerce coupon codes, WordPress, and WooCommerce subscribers targeting, you need to upgrade to Noptin premium.
Noptin comes with three different pricing plans to choose from based on your needs and budget, the plans are available both on yearly and lifetime bases.
The most popular and affordable one is Automate plan the yearly payment of which is $79 and the lifetime payment is $239. This plan is a multisite plan and comes with a pack of all add-ons, including welcome emails, coupon codes, customer targeting, and more.
At the end of the day, it's your choice to decide which of the offered pricing plans suits you.
---
To Wrap Things Up…
In this post, we have covered the significance of conducting proper email marketing for your WordPress and WooCommerce sites.
The key takeaway here is that newsletter and emails can help to build a firm bond with your visitors and customers, which you need for the further growth and development of your website and business.
Today, we've reviewed one of the top-rated, well-supported, and super-affordable WordPress newsletter plugins – Noptin. This feature-rich plugin is a one-stop WordPress email marketing solution. This newsletter plugin makes it easy to create outstanding subscription forms and checkboxes, segment your audience, and send targeted and automated emails.
How often do you send newsletters to your audience?
also, learn about one of the most prominent SMTP WordPress plugins – Mailchimp, which is among Noptin's integrations.