Have you ever wanted to improve the WordPress editorial process? Maybe you would like to do some editing in WordPress as you do in Google Docs? If yes, then this article will be interesting for you. Well, there are many WordPress users that would like to comment on a text right in WordPress instead of doing it in Google docs and then transferring it to their website. So, if this interests you, then continue reading because we are going to review Multicollab, which is a powerful plugin to improve the publishing process of your WordPress website posts. In other words, Multicollab will help you do WordPress collaborative editing.
Multicollab is a Google Docs-Style Editorial Collaboration plugin for WordPress that was developed and managed by Multidots, an Inc. 5000 company and one of the top WordPress development companies in the world. Multicollab makes the content publishing experience more collaborative, meaningful, and results-oriented. Though it can be considered new in the market, it already has more than 200 installations on WordPress.
With the help of Multicollab, you can give your editorial feedback directly in WordPress.This includes commenting, tagging, replying to comments, and so on. This plugin is very easy to use.
Multicollab is a Google Docs-Style Editorial Collaboration plugin for WordPress. Multicollab makes the content publishing experience more collaborative, meaningful, and results-oriented.
Now let's see what kind of features Multicollab has and what it offers you.
---
Key Features of Multicollab
Multicollab has a lot of features that you can make use of. So, what are the requirements for using Multicollab? You need a WordPress website, and you should be using the new Block Editor to use Multicollab. It only works with Gutenberg (Block Editor), and not for any other Block Editor. Multicollab can be useful, especially for a team of content writers who can collaborate with each other making some remarks on texts or images. You can get acquainted with all the opportunities of the plugin if you visit the Multicollab home page.
So, the key features of Multicollab are the following:
Inline commenting – With the help of this option, you have the opportunity to add inline comments to any image or text of the blog post you want. That will be seen by other members of the team. You can add comments during the editing process or on a post-draft. Besides, you can add comments on any part of the content inside Gutenberg.

Reply and Resolve – this feature allows you to reply to others' comments and give feedback. As you understand, multiple users can reply to the comment thread by participating in the conversation.
Team Collaboration – the publishing process becomes better when you collaborate with a team. You have the opportunity to invite editorial users to work together and comment on a post if you just mention them. They will get notifications on their email and jump into the conversation.
Commenting on media – this function is created for media. You can add comments to the audio, video, image, or even gallery thus allowing you and your team members to work on the same page. You can do this if you have the Pro version of the plugin.
Sending email notifications is also a great benefit for you. Don't forget to enable email notifications so that your teammates regularly get notified when they are invited to do some editing on a post. All you need to do is just to add your edits, and comments and the plugin will help you do the rest of the work. It is very simple to do, so don't worry about anything.

Suggestion mode – with the help of this feature, your team members together with you have the opportunity to navigate through workflows. You can do it together and work on the same paragraph. So, as you understand, you can also reject, accept or reply to any suggestion that has been made to a post. However, don't forget that this mode works on the Paragraph blocks and Heading Gutenberg blocks. Your team members will follow the text that has been changed and see all the suggestions.
To use this feature you should first enable suggesting.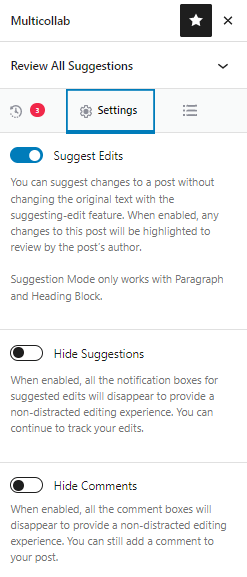 Then you can already make suggestions. Anything you write will become a suggestion.
Another important feature of Multicollab is Slack integration. So, with the help of this, you can get notifications about Multicollab via Slack. You will get updated about the replies and comments that have been made on a post. This will make the collaboration process easier. You will know whether your teammates are aware of new updates on the page or not.
Attaching a document to comment – this is another great feature that Multicollab offers you. With this amazing feature, you can add additional information to your post. This is not just about text documents. You can attach some images, screenshots, audio, and so on.
To do it, you should click "Attach file" and choose the document you want.
Reports and Activity – with the help of this function you can see the whole process of editing that has been done. You will follow the progress of all the pages and posts using filters. You can filter the posts by user, time stamps, and content categories.
Managing permissions – this feature allows you to decide which members of your team have permission to add a comment, to resolve or disable them. Besides, you can define who can accept or reject those comments.

Another important feature of Multicollab is providing you with multilingual support which includes English, Chinese, German, Hindi, Spanish, French, and Bengali.

Premium Support – the Multicollab team is always ready to help you in case you have some problems while working with the plugin. Email support is also available anytime you want. If you get the Pro version of the plugin then you are going to get support within 24 hours and works very effectively.
---
Multicollab VS Google Docs
As we already mentioned above Multicollab works in the style of Google Docs. However, it is much better for users than Google Docs. Why? Because you save time and do not need to invest time in reformatting the content once you copy it. It's 42% faster than Google Docs. Whereas, in Multicollab you edit the content inside WordPress and you do not need to reformat it.
In Google Docs you don't have the opportunity to create your custom permissions, or to decide on roles whereas in Multicollab you can define permissions for editors and others. Besides, when you are editing in Google Docs, the process of content collaboration takes a lot of time and you want to quickly transfer the text from Google Docs to WordPress. In the case of Multicollab, you work faster because you edit, publish or draft without leaving WordPress.
It is your choice to decide which one is better. However, Multicollab offers you a lot more.
You can read more about the comparison of Google Docs and Multicollab.
---
How to Get Started with Multicollab
So, let's understand how to get started with this amazing plugin.
Install Multicollab Plugin
With the first step, you should install the plugin. The installation process is super easy. Let's first understand the installation of the pro version:
Purchase the Pro version of the plugin
Visit your website and go to your WordPress dashboard
Go to the "Plugins" section and click "Add new"
"Upload" the ZIP file of the plugin
Click on "Install now"
Finally, you are allowed to "Activate" the plugin and start using it
Now, let's see what you should do to have the free version of the plugin:
First, go to your WordPress Dashboard
Go to the "Plugins" section
Click "Add new"
Type Multicollab on the search line
"Install" and "Activate" the plugin
Start using the plugin right away and enjoy working with your team.
---
Multicollab Benefits
The Multicollab plugin has a lot of benefits. All in all, the Multicollab plugin helps you in team collaboration. As we already mentioned above it is a WordPress collaborative plugin. So, you can invite your colleagues to work on the article by just mentioning them. You can also take different actions such as the following:
inline commenting, suggesting, and replying to comments
The opportunity to manage permissions
Sending email notifications to keep your teammates informed of the updates and changes made to the article
Attaching a document to comment
Multicollab is easy to use and very intuitive. It will be good for agencies as well as publishers. So, if you are a publisher that needs a good editing and collaborative plugin then you can view the opportunities it has for you here. And if you have an agency that wants to work more effectively and boost its sales via content marketing then you are welcome to see features available for you.
---
Multicollab has a 14-day free trial and paid plans.

If you choose the free plan you will have the opportunity to։
Comment on the text,
Assign comments to other users,
Reply to and resolve comments,
Copy and share links.
---
Multicollab Pro
The Multicollab plugin has three paid plans. They are the Plus Plan, Pro Plan, and VIP Plan.
With the Plus plan, you are going to get a comment everywhere option, custom permission, email notifications, and Plus support.
With the Pro plan, you will have all the features of the Plus plan as well as the option of suggesting edits, Pro support, and an advanced dashboard.
In the case of choosing the VIP plan, you will get everything included in the Pro plan, as well as Slack integration, VIP support, Multilingual Support, and the option of attaching documents to the comment function.
---
To Sum up
So, in this article, we reviewed Multicollab which is a super good tool to manage your publishing and editing process on WordPress. It works like Google Docs but has much better functions. As you saw, you can do inline commenting, and attach documents that include text, audio, or image to the post.
Besides, you can send email notifications to inform the members of the team about changes you have made. You can also manage permissions, that is to choose the people that will have the opportunity to add a comment, resolve a comment, or disable them. In addition, they can also accept or reject them. Besides, you can read 16-Productivity Tips to Boost Your Content Creation Speed in WordPress and work better.
As you saw, you can collaborate with your team members working on the same post, making some remarks. Also, don't forget that Multicollab has Slack integration which means that your working process will only make use of it. In this article, we also reviewed the pricing plans of Multicollab.
All in all, Multicollab is truly a great tool if you want to make the publishing process easier. It is easy to use, saves you time, and probably works better than Google Docs. You can join a Multicollab Webinar to learn how to publish content collaboratively in WordPress. Hurry up, and start using Multicollab.
---
Must-Read Articles
Did you find this article useful? Don't forget more articles on plugin reviews, WordPress themes, and other topics. They will help you always be informed of the WordPress community.
Top 3 Best WordPress Newsletter Plugins For Upcoming 2023 – In this article, you will get acquainted with the newsletter plugins and decide which newsletter plugins will be good for you to use in the upcoming year.
Why Publish Review Article On Different blogs? – In this article, you will know exactly the importance of publishing review articles on different blogs.
Differences Between Organic and Paid Marketing – organic and paid marketing are widely popular today. In this article you will learn the core differences between them.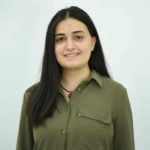 Latest posts by Yeva Harutyunyan
(see all)