Nowadays, the usage of PDF files is enormous. In general PDF Embedder plugin is a real first-hand assistance resource for teachers, copywriters, and content writers, especially if a WordPress blog is for more than one author. Those PDF viewer plugins help you to easily upload PDF documents and embed them to your site/blog, instead of spending hours resizing each student's or copywriter's written document to an acceptable format for the blog.

In this article, we will discuss the vitality and usefulness of the PDF Embedder WordPress plugin, review its pros and cons, compare the free version with the PRO, and decide whether it is really helpful or not and for who it is.
---
What Are WordPress PDF Viewer Plugins?
WordPress, in general, does not offer PDF to text converter or option to upload PDFs to the blog (they appear as links). Though WordPress does offer multiple plugins which allow you to post PDF documents. That is very helpful, especially if you do not want to go through the formatting nightmare of transferring PDF documents to text.
Even if you are not lazy to go through that nightmare, still PDF documents are remarkable in their appearance. They create an impression like you read an actual journal, newspaper, or any other printed material. That's why many bloggers prefer to upload PDFs to their WordPress blogs.
---
What Does the PDF Embedder Plugin Do?
PDF Embedder operating as an ordinary PDF viewer still makes it multiple times easier to upload PDF files, and it makes the process as simple as adding images. It automatically resizes and shapes the PDF document to the necessary format. By the way, it is considered the best pdf embedding WordPress plugin. Also, you can add customized sizes. It:
Is embedding files using JavaScript
Has next/previous, zoom buttons
Gives complete control over the appearance
It is simple in functionality but still considered one of the best free plugins in WordPress; though it is not a new plugin, it is still pretty popular and valuable.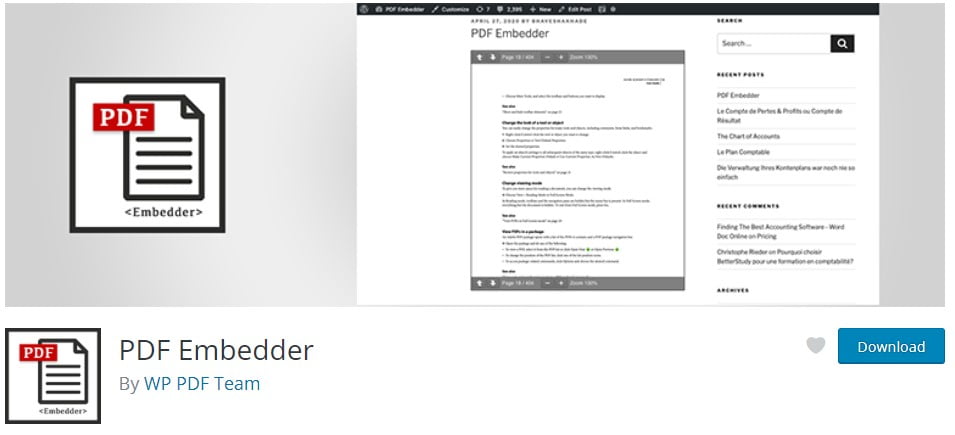 ---
How to Install The PDF Embedder Plugin?
It is pretty easy to find and install the PDF Embedder plugin because it is on the top of the list as one of the best PDF plugins ever.
Step by Step
Go to WordPress dashboard
Click "Add New Plugin"
It will direct you to the "WordPress plugin directory"
Click "Install"
After you add the new plugin and installed it, it will now appear on your dashboard. You can activate and deactivate it at any time.
---
How to Use The PDF Embedder Plugin?
If you want to use it, follow the elementary steps; considering that UI is very friendly and intuitively recognizable, it should be pretty straightforward.
Click on the PDF Embedder plugin you just installed
Then click on "Add Media."
It will recognize your file and create a shortcode; when you click on add the media without any further steps; you will just get your PDF embedded on the website.
---
Why Is The Plugin So Popular?
PDF Embedder plugin has been around for a few years, and it has earned its reputation. Now it is considered the best PDF embed WordPress plugin among all the other plugins available. It is one of the simplest tools to use. Maybe it doesn't offer a lot in terms of functionality, but it performs a task for which it was created ideally. It includes all the features you will need to embed the PDF, even in the free version.
---
Basic (Free) Version VS Pro (Paid) Version
The free version of this PDF does not have advanced settings, and not that you need them either. The free version offers you control over:
height
width
Toolbar location
Meanwhile, the paid version offers you:
PDF download button on the toolbar
Open links in a new browser
Allows you to scroll up/down between the pages
Counts the number of views and downloads
Fullscreen Button
Mobile-friendliness
As you can see Paid version does not offer any magical tools, you may need, except that the last one mentioned can be quite useful in analytics.
---
Pricing
PDF Embedder Premium is a paid service. Above, we discussed what additional features does it offer. It offers three pricing plans, and all of them are affordable.
Single site license 20$
2-5 site license 30$
Unlimited sites license 50$
Besides, they do offer a 14-day trial run; if you do not like it, you can always get your money back during the trial period.
Besides premium, it also has a PDF embedder Secure package aimed to protect your PDF data. It is a secure viewer for the website.
Single site license 30$
2-5 site license 40$
Unlimited site license 60$

---
Other PDF Viewer Plugins on WordPress
Some other PDF viewers in WordPress that perform the same functions as the PDF Embedder plugin are:
EmbedPress: This plugin allows you to add PDF files on WordPress. To add your PDF documents, you should do it through the media library. After adding them, you can place them wherever you want on your website.
E2Pdf: Mobile-friendly, good UI design, and simple functionality. This plugin allows you to add and edit your PDF documents. You can display both static and dynamic PDFs.
WPForms: It is a user-friendly contact form plugin. It gives you control over access; in order to collect users' PDFs, you do not need to provide them with separate access. They will submit PDFs through the file upload form.
WooCommerce: PDF Invoices & Packing Slips: with this plugin, you can download, send and generate PDF invoices.
PDF poster: This is one more PDF viewer plugin to embed PDF files on your website. You can use shortcodes and easily add any necessary PDF document to your WordPress post.
WP booklet: This one reminds me of a real magazine because it uses flip animation and page pop-ups. In terms of real-life, it's fancier than PDF Embedder. Also, what's great about this plugin it supports images s well.
Flowpaper: This plugin has a great design and an advanced-looking WordPress PDF viewer. But it has one big drawback if you do not host its cloud; your post is limited to 15MB. Also, you have to have some knowledge of coding if you want to customize this plugin because customization is only possible by coding.
However, the PDF Embedder plugin still stays on the top and is considered the best PDF viewer plugin. It offers everything you need and is very simple to use. And the best out of all is the PDF Embedder plugin-free version, there are all the first-hand tools, so you don't have to pay for the premium if you do not need a license for other websites.
---
Pros and Cons
Pros:
In comparison with other PDF plugins, it gives you more flexibility in sizing
It does not require a long learning curve
The easiest method to perform the task
Premium offers more than enough necessary features
Offers custom width and height options.
Cons:
As in each plugin, the premium offers better tools and speed rather than the free version.
---
Why Do You Need a PDF Viewer Like PDF Embedder or Other?
If you want to post something online like an e-book, it is better to post like a PDF file; that way, it creates both impressions of printed material and secures your copywriting rights.
If you do not need your content to be highly discoverable, you don't need search engine optimization. There is no point in converting PDF to actual text; just post it as a PDF document with PDF viewers.
If your document is already formatted and designed in PDF with PDF viewers, you do not have to waste your time reformatting.

---
Why Would You Need It?
Among other available free pdf viewer plugins, PDF Embedder remains the top choice. This particular plugin offers simplicity, good UI, and full-featured functionality. One of the main advantages is that this plugin does not require your time for the learning process, as many other plugins which have a "long learning curve" do. By using this plugin you will get rid of annoying format-changing processes for each of the blogs.
WordPress does not support PDF embedding or downloading posts as PDFs. Each time without this plugin, you try to import PDF documents in WordPress, it is going to be shown as a link. Meanwhile, this embedder plugin and some other viewer plugins allow you to download your PDF to the post and others, your viewers) to see it as a PDF document, not a link.
This is an excellent tool for teachers, copywriters, and those who use PDF documents a lot. Without any further issues, it will allow you to embed those files on your website by simply clicking on the button "Add media."
We discussed nearly everything that relates to this specific PDF Embedder Plugin. To sum up our post, I can add that if you love simplicity and tools that are easy to learn, if you work with PDF documents, this is the plugin you need. It is the best WordPress plugin for blogs.
If you liked the article do not forget to check out our YouTube channel with tons of WordPress tutorials! And you can find us on Facebook & Twitter, where we post interesting updates about upcoming events.