In maintaining a successful business, you need to follow several instructions and steps. However, the key to success is high-quality customer support, especially in this competitive world. If we consider the digitalizing tendency among businesses, services, etc., your website now has to be highly responsive in all aspects.
What do I mean by that? Well, if possible, it should be interactive, it must have good UI to create high quality and memorable user experiences, and of course, it should have a place for questions, comments, and feedback. Meanwhile, fielding queries is still quite dull and very time-consuming. So what to do?
Just Download the Ultimate FAQ plugin for WordPress. That's it. Now let me explain everything in detail.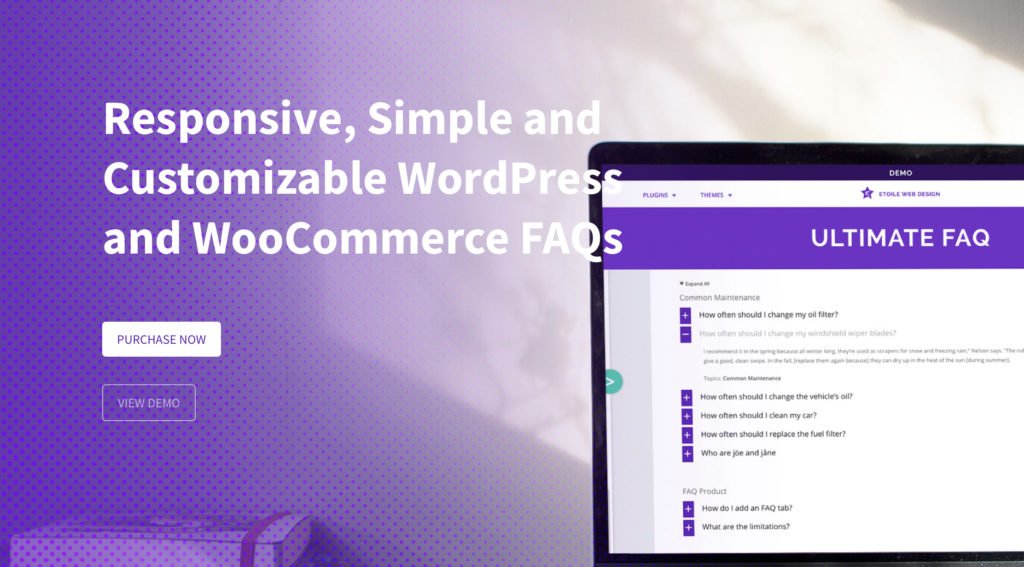 ---
What are FAQ Plugins?
When offering your product on a website, some customers may come up with questions; very often, these questions are similar to each other. Instead of answering all of them separately, which can be a troublesome task for a customer service worker, you may present a Frequently Asked Questions page (FAQ page or FAQ section). This will not only save yours but also the user's time to find the answers immediately and not to ask the already existing question to the support service.
---
These pages may seem too complicated to build for a beginner because there are many factors to consider (design, contents, templates, etc.). Coming up with the questions themselves may be challenging.
However, WordPress made it easy. It offers many plugins that allow making FAQs.
Examples of good FAQ pages
---
Why Do You Need FAQ Plugins?
When your business/website grows, you need to expand its functionality as well. With more customers come more responsibility. There are numerous reasons why would you need them, and some of those reasons are listed below:
Better time management: FAQ plugins will save your time because customers or viewers of your website will be able to find answers to most of their questions just by reviewing FAQs. 
Better SEO: Search Engines give preference to websites that have questions and answers pages. Therefore you have a better chance to rank higher.
Plugins are the easiest way of creating FAQ pages: The creation of custom pages is very costly and requires a lot of effort. However, plugins make it easy for you. Basically, you are able to create that page in an hour by typing the questions and categorizing them. 
And nowadays it is important to value your customers and their time, here you can see 5 reasons why to value your customers.
Now let's dig into one of the best FAQ plugins in WordPress – Ultimate FAQ plugin review.
---
Why the Ultimate FAQ Plugin?
Ultimate FAQ – WordPress FAQ and Accordion Plugin is considered one of the best FAQ plugins in WordPress. It has more than 40,000+ active installations and a 4.6/5-star rating. There are several reasons to choose it, for example, the functionality it offers, high-quality user interface, etc. Even though it has many competitors in the WordPress plugins directory, it still stays on the top.
And in this article, we will review the Ultimate FAQ plugin 2021 in detail to comprehend why it is so popular, what are its main features and realize is it worth it? Or is it overrated? Also, we will cover the differences between free and premium versions as well as objectively review the pros and cons.
---
Functionality and Main Features of the Ultimate FAQ Plugin
So why Ultimate FAQ plugin is the best free FAQ plugin in WordPress? Let's move on to its main features and try to understand that. They include:
Gutenberg mode and shortcodes: Gutenberg block is an editor for WordPress, which focuses on visual aspects, making the creation of pages easier. It is very useful for beginners because the simplicity and image component make the production of a FAQ page clearer. Yet, if there is a need for some additional changes that Gutenberg doesn't provide, a user can put shortcodes. 
Available translation to four languages: Every time you create a page anywhere on your site you should keep in mind the traffic. The more people you attract, the better it is for you. The possibility to translate the FAQ page to other languages will help you provide better support to international audiences.
Creation of endless questions, tags, and categories: There is absolutely no limit to the number of FAQs and categories in the Ultimate FAQ plugin.
Import and export of FAQs: Quite often, the websites are made by more than one person, and even more often, they are accessed from different devices even if there is only one web developer. This function allows you to export your FAQs to your co-workers (if there are any) or receive the information they imported. Group projects are easy to synchronize with the Ultimate FAQ plugin.
Custom styles for FAQ templates. The Ultimate FAQ plugin has plenty of ready templates and layouts, but they are also customizable (via Gutenberg or shortcodes).
Of course, there are some differences in functionality depending on what version of the plugin you are using, free or premium.
---
Free and Premium Versions Compared
Like many other plugins in WordPress, the Ultimate FAQ has both free and paid versions.
The free version has a lot of useful functions, like:
Gutenberg and shortcodes, translations, unlimited FAQs, custom templates, and data export, display FAQs in any widget-proper area in your WordPress theme. There are also such things as:
FAQ statistics that allow you to analyze your page. 
Responsive accordion display layouts
Comments. The more feedback you gain, the better you understand what works well and what doesn't. 
Still, there are many nuances that the free version lacks. The Premium plugin provides additional possibilities, plus it has a seven-day free trial – in case you are unsure about paying the total amount.
Some of the functions of the premium version include, but are not limited to:
A wider range of template designs and styles: Though the free version provides a broad assortment of layouts, the premium plugin ensures that the user can choose the exact thing they want.
Title search in FAQ pages. Some FAQ pages are way too long, so it is good to provide a searching system for ease of use.
Animation allows to spice up the page.
Admin notifications. This ensures that the supervisor of the project sees all the changes made by their workers.
Forums: This allows users to propose their FAQs and answers.
Export to social media
Conversion into the PDF-files
---
Pros and Cons
Does this particular plugin worth spending time and using to create a FAQ page? The best way to find that out is to break down things into pros and cons. Let's start with the good things about the Ultimate FAQ plugin. Those are:
Wide range of designs: As mentioned above, there are variable templates for creating a page, which makes the site look good for the customer and saves time for the creator.
Groupwork: An essential feature for creators is working on the page in groups simultaneously, and the notification system allows the administrator to check if everything goes according to the plan.
Translation: This is essential because it increases the traffic and makes the website more successful, but it also saves time and money, as the creators don't need to hire translators or translate FAQs themselves.
Comments: Feedback left by customers is critical for improving the web page, especially when it comes to FAQ pages.
Still, there are some things that a user may find dissatisfying, such as:
Free and Paid versions: The free version doesn't include some valuable features, like admin notifications, forums, and search systems.
The Price: The Premium version is quite expensive (47$).
Too multifunctional: The Ultimate plugin provides many functions to overwhelm a beginner with the possibilities. Too many options to choose from, so the decision becomes tough.
However, there are still more advantages of using it rather than disadvantages.
---
Other FAQ Plugins Available on WordPress
If you were asking yourself what the best FAQ plugins for WordPress site are, other than Ultimate FAQ, here they are:

It makes the process of creating FAQs unbelievably easy. Besides offers you: tools to customize colors and CSS, custom post type, and ready translation.
Review and download the plugin with one click of the button down below!
This one lets you create FAQs in a few minutes and offers features such as a return-to-top link and toggle display while using shortcodes.
Review and download the plugin with one click of the button down below!
Helpie offers you advanced functionality: drag and drop, categorizing, light and dark themes.
Review and download the plugin with one click of the button down below!
---
What to Choose?
Above, we reviewed nearly everything related to the Ultimate FAQ plugin, including pros and cons, main features, and even its competitors. Based on all that, I am sure you can figure out do you need it or not.
The final choice is yours to make; just make sure it is the right one. If you have any feedback or questions related to the article, please do not hesitate to write them down in the comments section!
Also, you can check out the Top 10 Must-Have plugins in the WordPress article.
Check out our tutorials on YouTube! We are also on Facebook! Join us on Twitter!