You may be bumped into online forms while scrolling through websites. Online forms are a must for any type of business website. With an exact and engaging form, your website will advance lead generation and conversions. The Forminator WordPress plugin will help you in this case.
What about the WordPress powerful form builder tool, that has numerous advanced-level functionalities to provide your website visitors with an enjoyable experience. Hmm, I think I have a perfect solution for your website. The Forminator is a powerful WordPress web form plugin.
Additionally, if you're looking to enhance your e-commerce capabilities, consider collaborating with a reputable Shopify development company to ensure your online store provides a seamless and engaging shopping experience.
So, in today's article let's dive into both free and pro functionalities. Let's compare and find out the main differences and advantages of each version.
---
What is the Forminator WordPress Plugin?
Forminator is an easy-to-use and user-friendly and perfect fit for any type of WordPress website. This tool is amazing for collecting valuable data. Additionally, keep your web guests engaged. Furthermore, you can attract more and more visitors to your website. Hence, Forminator will help you to make your website interactive and entertaining.
Moreover, the Forminator is not only a form generator plugin. Forminator will help you to create quizzes, surveys, polls, calculations, and more. Surely, this plugin will definitely become your number one instrument for digital marketing.
Via the Forminator plugin, you can build various form types.
Contact Forms,
Email Form,
Payment Form,
Order Form,
Buzzfeed-Style,
Interactive Polls,
"No, wrong answer" quizzes,
Service Estimators,
Real-Time Results,
Feedback Widgets,
Registration Forms (with payment options)
In a nutshell, Forminator is not like the typical form builder plugins. This plugin is for everyone.
---
Comparison
It is the right time to start our comparison between the free and pro versions of the Forminator WordPress plugin. Let's see what are the main differences between the versions.
Let's Get Started!
What Features Does the Forminator WordPress Plugin Free Version Provide?
In order to gather useful data, you need a proper tool. The Forminator plugin's free version is a perfect solution for those who want to get full advantage out of all digital aspects.
Now, let's find out all the benefits you will have while using the Free Version of the Forminator plugin.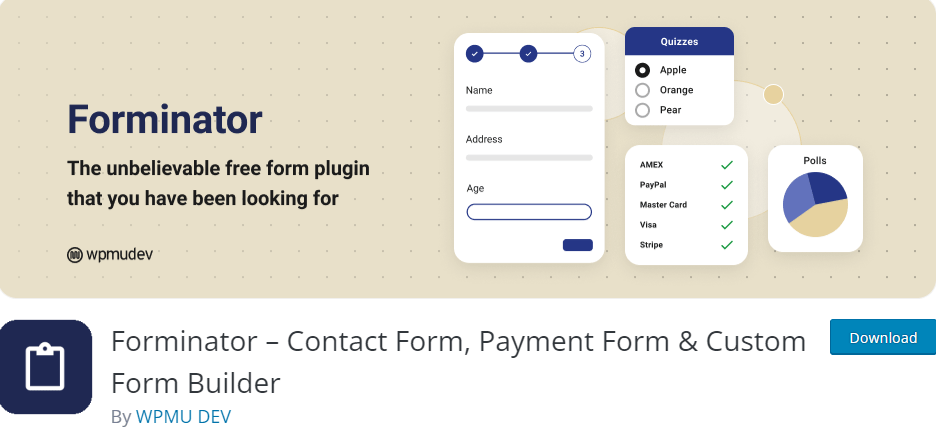 Main Features
Drag and Drop Form Blocks
The plugin has plenty of drag-and-drop form blocks. The Drag and Drop attribute makes the plugin unchallenging while using it. Additionally, this option makes it easy to put the form fields together. You can easily add a phone number, name, text, email, date, time, number, pagination, radio boxes, file upload, GDPR-friendly opt-ins, HTML, payments, calculations, and hidden fields.
Payments with Stripe and PayPal
Build forms with payments. Use your preferred payment method (Stripe or PayPal). It is easy to use. All you are required to do is just enter the publish keys. Afterward, the Forminator module for mixed and variable payment methods will be automatically activated.
Calculations
The "Calculations" will provide your website with a more professional look. This tool is amazing for generating leads. Furthermore, with calculations, it is easier to collect customer information. Moreover, make your order-taking process more organized. Hence, calculations are lead magnets.
Poll Your Visitors
Hear the real voice of your purchasers. Surely, polls make the website more engaging. Additionally, the live statistics will be automatically generated. The Live stats can be displayed in graphs and pie charts.
Generate Quizzes
Bring more traffic to your web page. Undoubtedly, quizzes are one of the best methods of entertaining and attracting users. Moreover, the Forminator quizzes allow you to collect participants' data. On top of this, the Forminator quizzes can become a perfect email marketing tool.
Email Routing
As I have formerly mentioned the Forminator is ideal for email marketing. Add email pre-fill queries to your forms, and start your email routing journey.
---
What Free Version Feature Comes Out the Best?
The best functionality within the Free version of Forminator is the "drag and drop" tool. This feature is amazing for every user. It is easy and unchallenging while generating comprehensive and complicated forms for your website. Furthermore, the Drag and Drop Blocks tool is ideal for beginners. There is no need for supplementary knowledge in the CS field. Thus, your WordPress journey with the Forminator plugin will be time-saving and unchallenging.
Therefore, even the Free version of Forminator is perfect for capturing the leads.
---
What Features Does the Forminator WordPress Plugin Pro Version Provide?
Now, when you have already fully got informed about all of the functionality and features, that the Forminator Free Version provides, it is time to find out everything about the Pro Version.
Produce more than just forms with this plugin. remember, nothing is off-limits with the Forminator Pro.
After activating the Pro Version, let's see what advanced functionalities you will possess.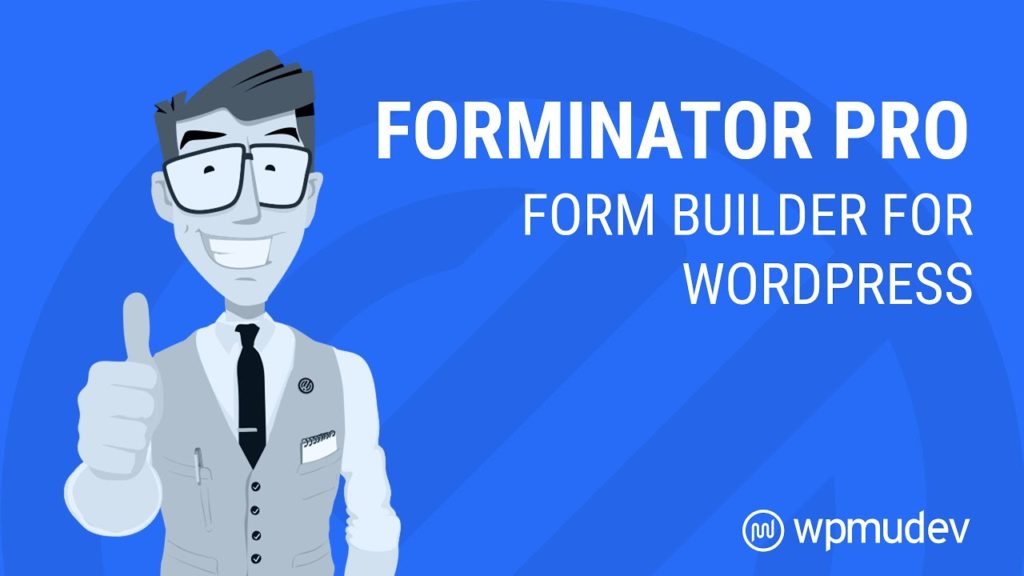 Advanced Features
Stripe Subscription
One more thing worth noting is, that the Forminator is a verified Stripe partner. Similarly, get the most out of the integration. In addition, thanks to additional integration sources the plugin users will be able to increase the customer support activity. Furthermore, it will be easy to create payment subscription plans.
E-Signature Form Field
This tool is amazing for online documentation papers. For instance, if you have online documentation or papers, that need to be signed by your customers. Just add the E-Signature field to your form and that's it.
Third-Party Integrations
The Forminator plugin has various integrations, that will help you to ease your digital experience. So, get advantages from Zapier, MailChimp, HubSpot, and other integrations as well.
Developer API
Via the Forminator you can build your own integrations or generate custom apps. Furthermore, you can add them to the WordPress platform or make your passive source income by selling them.
Google Recaptcha
Avoid spam submissions with the Recaptcha feature. Thus, you will forget about the hard-to-read phrases and crazy bots. Make your website fully Spam Protected.
Flexible Site Forms
You can choose your form design out of 25+ form fields. In addition, it is easy to use for beginners. There are pre-made templates that will spice up your WordPress website. The Forminator WordPress plugin is fully-customizable. Besides, the ready-to-use templates you are free to customize your forms in the way you need. Fully customize the Form Appearance and Style.
Conditional Logic
Apply the Conditional Logic and save your customer's time. What is amazing about the Conditional Logic functionality is, that it prevents the participants from being asked irritating questions. It is a well-known fact, that sometimes repetitive questions make the responder leave the website. Hence, the Conditional Logic is an ideal tool for your business website.
---
Which Forminator WordPress Plugin Pro Version Feature Comes out the Best?
As you can notice from all the above-mentioned functionality, Forminator Pro is a very comprehensive and user-friendly plugin. This plugin assuredly will become your lead SEO tool. The WordPress Forminator Pro plugin provides all the functionalities and features to provide customers with a positive user experience.
The Best functionality within the Pro version of Forminator is Flexibility. The users of the WordPress Forminator plugin will have the opportunity not only to build forms but also to create engaging quizzes and polls. Build dynamic polls by adding poll options and questions. And let's not forget about quizzes. With the help of flexible and easy-to-create settings, you can easily generate interactive quizzes.
---
For Whom the Pro Version is The Best Solution?
The WordPress Forminator Form Builder plugin is perfect for everyone. But, I want to mention some cases when this plugin will be a perfect fit and provide amazing results.
Marketers. Many many digital marketers Marketers use online forms for various reasons. Via the Forminator you can easily build questionnaires like contact forms, surveys, shipping forms, quizzes, polls and etc. For example, with web forms, it is easier to complete an order, or keep track of a customer's personal information.
Data Analytics. It is a well-known fact that online forms are the number one data collector tool. But how to make people fill out the forms? It is easy. All you need is engaging and entertaining forms build via the Forminator. Hence, this is the best solution for collecting lead data and personal information about your customers.
Researchers. Web forms are excellent for researchers. A comprehensive online form will definitely increase productivity. All the collected information will be always organized and you will always have access to your collected data. Furthermore, it is important to mention that research made by online forms will save a lot of time.
---
Conclusion – Why It is Worth Purchasing the Pro Version?
In order to make amazing outcomes and achieve better results, you assuredly need the Forminator Pro Version. Having access to all the best and most advanced-level functionalities will make your digital work more productive.
As you can see by purchasing one plugin you are also purchasing multiple methods to entertain your WordPress web page. On top of this, all the supplied tools will help you to spice up all the generated forms, quizzes, or polls.
The Forminator Pro will help your customers and future consumers enjoy their spent time on your website. Moreover, make the web guest visit your web page multiple times.
---
To Wrap Up…
Now, when you have read this article, you have found all the answers to your questions concerning online forms and the difference between the Forminator plugin's Free and Pro Versions. I hope, all the above-mentioned information will help you to make the right choice for your WordPress website.
Thanks for Reading!
Wait Wait Wait!
So, if you are interested in WordPress and want to find other must-have WP tools, then I have a perfect solution for you. Check out the WPGlob Blog and find out all the WordPress secrets.