Testimonials are amazing tools for convincing a potential client that your services or products are reliable. Therefore, in this article, we will review the Best Testimonial Plugins for WordPress that will allow you to add those to your website easily.
So, if you are ready, let's start.
What are Testimonial Plugins?
Testimonial Plugins are plugins that allow you to collect, add and display testimonials from your clients on your website. Those are incredibly useful if you want to create and contribute to the trust factor. Also, according to statistics, testimonials increase sales as well.
---
What should You Look for in a Good Testimonial Plugin?
Now, what should you look for in a good plugin? There are several criteria to identify the goodness of any plugin, so let's take a look:
Customization options. As far as this is about testimonial display on your website, those should look like part of the overall theme and communicate the message correctly. So, a good testimonial plugin must have customization options available.
It does not affect the website's speed. Also, a good plugin must not negatively affect the website's loading speed. Why? Because even a second delay in loading speed decreases sales levels.
User interface. Moreover, a good plugin must have an acceptable and user-friendly interface that does not require a long learning curve. So, basically, you should be able to use it easily.
Easy to download. It is worth mentioning that some plugins have extreme difficulties in installation processes, which is definitely not an indicator of a good plugin. So, make sure that the plugin of your choice is easy to download as well.
So, these are the criteria you should base your choice on, and basically, how we chose the plugins for this article. Of course, besides these primary criteria, we also looked through the vital details and ensured that you would be satisfied with any plugin you choose from this listing.
---
Best Testimonial Plugins
Now, let's take a look at the best testimonial plugins available for your WordPress website. Indeed, this will help you to enhance the overall user experience and increase the trust factor towards your brand. So, let's start!
---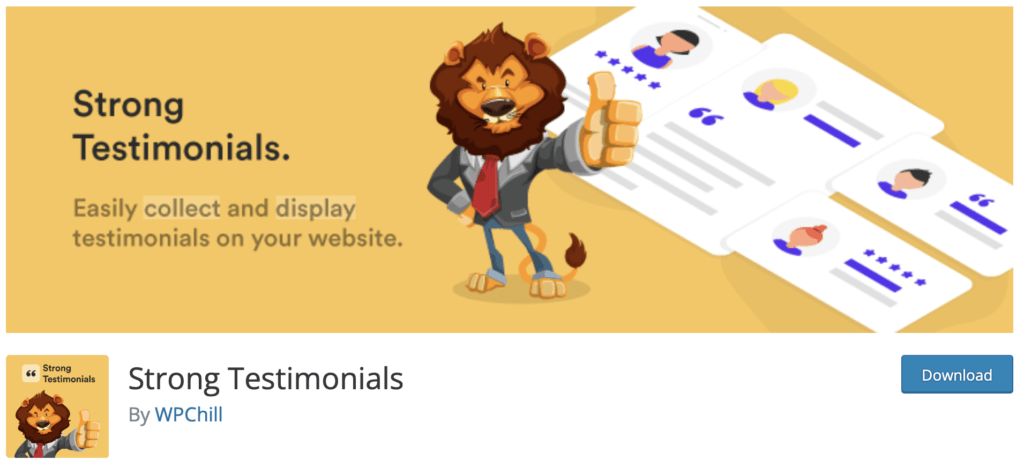 Strong Testimonials is a plugin created by WPChill that will allow you to collect and display testimonials quickly and easily.
Main Features
So, the main features are:
Style. It supports the theme of your website; the plugin provides you with basic designs: you can change the background and font colors. Other things may be customized through CSS.
Testimonial submission form. The testimonial form has customizable fields that you can remove or add others fields.
View. Display your testimonials in a View regime that contains all options in an editor-like interface. You can create as many views as you want without needing to use shortcodes.
Privacy and GDPR. The plugin doesn't store visitor or user data, doesn't send it to any servers, or interferes with the comments.
Also, it offers a pro version with additional functionality, such as:
Import testimonials. Add reviews to your website from Facebook, Yelp, Zomato, and WooCommerce.
Automate. You don't have to manually import your testimonial data or manage and display them on your own. With the third-party integration that Strong Testimonials provides, you can do that automatically.
Add custom testimonial collection fields to the form.
Create multiple testimonial fields for one website.
Benefits
Easy to use. The plugin is good for pros and beginners alike; it doesn't require programming skills or even the use of shortcodes.
Privacy. Strong Testimonials has a GDPR agreement and doesn't collect user data by default.
Flexible. The plugin is highly customizable and can adapt to any taste.
---
Testimonial Slider is one of the most flexible testimonial plugins that will allow you to show your site/product reviews via a slider, fully responsive design.
Main Features
So, the primary features are:
Layouts. Choose from two grid and two slider layouts.
Shortcode generator. Quickly generate shortcodes to add to your testimonials easily.
Ordering. Order testimonials that you display according to date, title, or ID using the drag and drop function.
Style control. Choose and customize the style of your testimonials.
Member filter option. Display the testimonials according to the company, department, or person.
RTL support. You can translate the testimonials to RTL languages, too.
Moreover, this plugin has a pro version as well, that comes in with features, such as:
Get 30 more layouts.
Image size control. Customize the image size and put a limit to not slow down your website.
Advanced third-party integrations for better customization
Benefits
Translation support. The plugin supports translation no matter what language your website is in.
Affordable. Testimonial Slider's most expensive subscription plan comes at approximately $6 a month, which makes it super affordable. Plus, you can get lifetime licenses instead of subscriptions or get bundle packages.
Options. The plugin provides you with many options, whether they concern the design, workflow, or pricing plan of the plugin.
---
Stars Testimonials by Premio is a fully responsive and flexible plugin for adding WordPress testimonials to your website.
Main Features
So, the main features are:
An unlimited number of reviews. You can create as many testimonials as you want.
Informative testimonials. Add images to the review, but the ratings and the name of the company of the author.
Elementor support. Use Elementor builder on your testimonial page to add Stars Testimonials via a dropdown widget.
Layout. Use a grid layout for displaying your testimonials. You can choose the number of columns and testimonials to put.
Customize the color of the background, text, stars, and titles of the review box.
Shortcodes. Use Stars Testimonials shortcode builder to create testimonials for building widgets.
Integrations. The plugin is integrated with other WP builders such as Divi, Visual Composer, WPBakery, Gutenberg, and others.
Also, this plugin comes in with the Pro Version.
Additional layouts. Besides the grid, you get more types of layouts, including a slider view.
Additional design options. You get to have more color and design options to choose shoes from, plus 17 more widget styles.
Benefits
Integrates with all possible WordPress builders
Has a lot of design options for displaying your testimonials
Shortcode generator for creating more customizable shortcodes.
---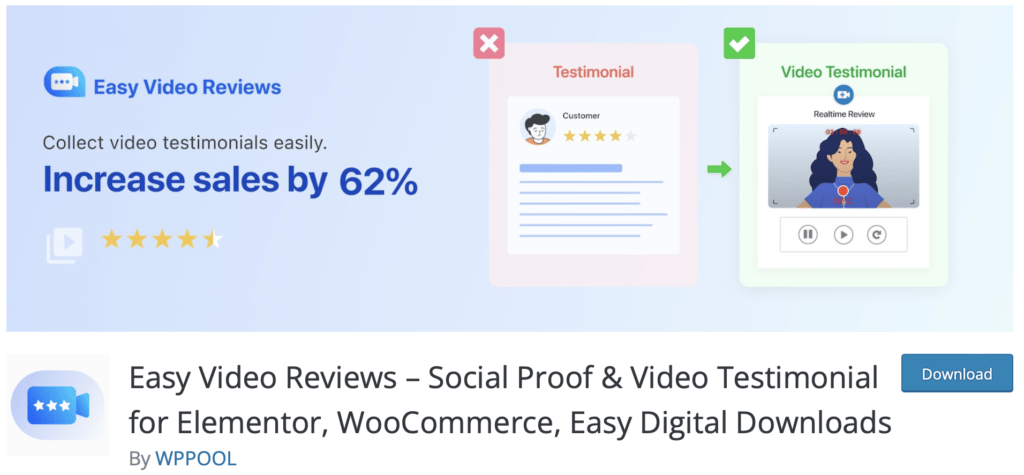 Easy Video Reviews is a plugin that provides testimonials on your website, but with a slight twist: the reviews are in a video format.
Main Features
So, the main features are:
Flexible recording. Use any device to create your video review, including your webcam, laptop, and smartphone. You can add microphones and choose the right cameras before the start.
Preview. Before putting in the review, the customer can preview it and check whether it is ready for submission.
Dashboard. Use your dashboard to manage the reviews from one centralized place on your WordPress website.
Shortcodes. Display video reviews anywhere on your website using a shortcode.
Testimonial collecting. Using the Easy Video Review plugin, you can request testimonials from any place on your website.
Data acquisition. Import and export testimonials within a few clicks.
Pro Version
Also, this plugin comes in with the pro version. Furthermore here we have listed the main features of it:
Drag & drop your videos
Add custom fields such as names, email addresses, and company to your video testimonial form.
Add customizable pop-ups with personalized messages for your customers.
Social media. Share the video reviews on your social media pages.
Fully integrated with WooCommerce-powered websites.
Benefits
Easy to use interface. Set up your testimonials in a few minutes.
Responsive design that looks good on any kind of device
Translates to any language
---
Testimonial WordPress Plugin is a classic review plugin that you can use to collect and display testimonials on your website.
Main Features
So, the main features are:
Pre-made templates. You get to choose from 5 pre-made designs and two layout types.
Use the static shortcode to embed the reviews anywhere on your website easily.
The Shortcode generator will allow you to create custom snippets for additional features per your needs.
Custom design. With additional options, you can customize the layout of your testimonials. You can use shortcodes for that purpose, too.
Slider control. Choose custom slider options by using generated shortcodes.
Pro Version
Moreover, this plugin has a pro version. The main features of the pro version also are presented down below:
Additional 12 themes and custom designs for your testimonials
Social media links addition
Filter testimonials by ID
Additional options and parameters for snippets
Use video testimonials from YouTube or Vimeo
Multi Sectional testimonial form
Benefits
The user-friendly interface allows you to easily manage your reviews
The responsive design of the reviews will look good on any device.
Free updates and email support for you as a user and a manager
Summary
So, let's wrap things up in the Best Testimonial Plugins for WordPress article. Throughout this article, we presented you with one of the most reliable plugins on the market, so no matter which one you choose, you can be confident in your choice at the end of the day.
Also, if you liked this article, do not forget to check out the Best WordPress Hosting Providers to Succeed | 2022 article. Throughout this article, you will get to know the Top Best Hosting providers for your WordPress website that will help you to manage it successfully.