It is a fact, that the most valuable source of information is the consumers. Who knows better their needs and expectations than a customer themself? And, who knows the best solution for collecting valuable customer data? ME.
The most powerful and effective data collector tool is WordPress Survey Plugin. This is an undeniable fact.
So, this article will help you to learn the main purposes of conducting a survey, and how you will advantage of a simple online questionnaire.
Let's get further.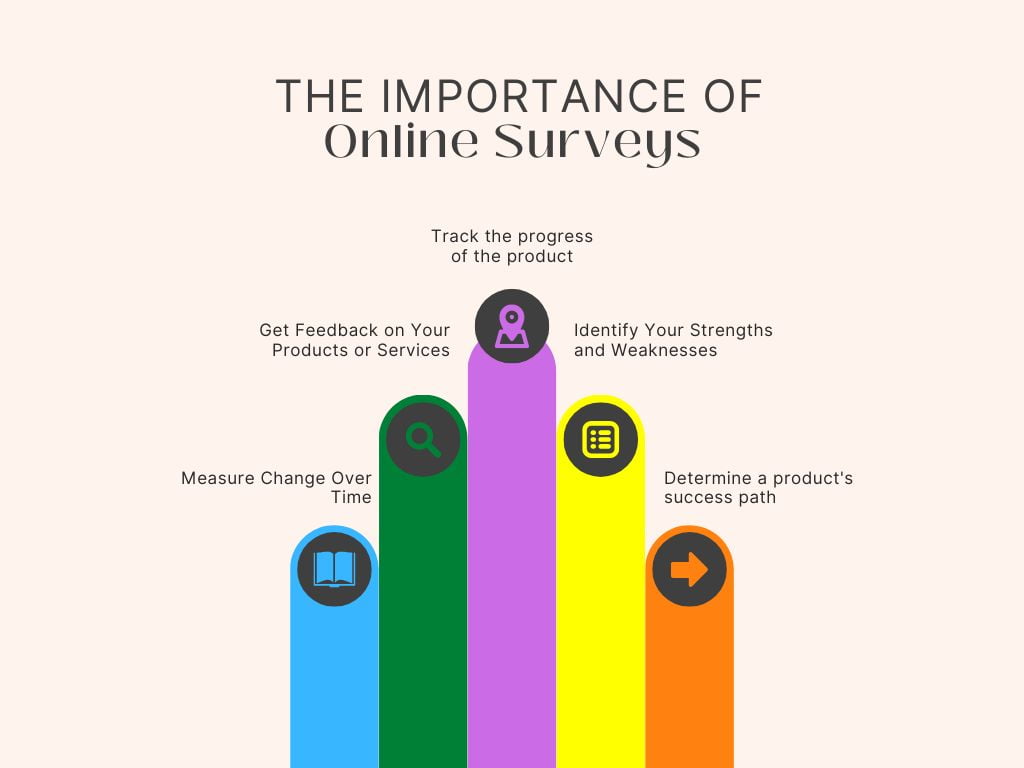 What Is an Online Survey?
Firstly, let's understand what is an online survey and its main purpose.
Online Surveys are for collecting information from your audience. The main purpose of surveying is to learn about your audience/customers. This data is called "valuable" because it can be used to build a stronger marketing strategy, bring some improvements to your business product or services, or make informative research. For example, academics use surveys in order to collect information for their current research. The public opinion pollsters use questionnaires to collect data about voting patterns, political opinions, and public attitudes. Market researchers prefer surveys for collecting information about customer behavior, product preferences, and industry trends to make more profitable trade decisions.
Before creating an online survey it is important to have the answer to "What actually you want to achieve?". Then, based on your set goal you should indicate questions to your survey, that are tailored to help you meet that goal. There are two major benefits of the overhead mentioned. Firstly you will collect only the data, that is important for you. Secondly, your survey is straightforward and conscience. Hence, the responders will be more engaged and full of willingness to provide answers.
---
What WordPress Survey Plugin to Use?
On the WordPress platform, there are numerous plugins, that conduct surveys for websites. To choose a proper survey plugin, you should consider the functionalities, that the plugin provides. The WordPress Survey Maker plugin includes tons of high-level functionalities. What I like about this plugin, is that no matter the fact, that it has various advanced features it is easy to use, unchallenging for beginners, and responsive for the users.
It is important to always be customer-oriented and be informed of what your consumers expect from you. So, it is necessary to frequently survey your audience. Build limitless surveys with unlimited questions and sections via the WordPress Survey Maker plugin. Being one step ahead will allow you to bring your business to more elevated levels.
The Survey Maker plugin has a responsive design, which means that it fits perfectly to any screen size, and your customers and responders will be able to take a survey on the gadget they prefer (PC, Mobile Devices, Tablets). Hence, this is a great tool to get many many submissions. Furthermore, get full advantage of various style options and ready-to-use design templates. The mobile-friendly and responsive interface will keep a responder more engaged.
Unquestionably, the surveys that are easy to take and not complicated will get more submissions. With this plugin, you can group your questions into as many sections as you wish. Generate Single-Page or Multi-Page Surveys in a few minutes. This will make the questionnaires easy to fill for the responder. Moreover, this WordPress must-have plugin is a perfect fit for the HR department, Brand Managers, Project Managers, Lead team, Marketing team, and further business agents.
Functionalities You Will Find While Using The Survey Maker Plugin
Responsive Design
Schedule Survey
Third-Party Integrations
User History Shortcode
Email Configuration
Export and Import Surveys
Send Mail to User
Send Mail to Admin
Submissions Analytics
Submissions Summary (Charts)
Extra Question Types
---
When to Conduct Survey?
Besides the reliable data that the surveys provide, there are other benefits that you will find while conducting surveys for your website.
Identify Your Strengths and Weaknesses – The surveys will help your brand to find out its strength and weaknesses. Conduct surveys when everything in your company is going well, this will help you to know what exactly your customers love about your brand. Also, find out what is the misconception about your business, and find out about all the issues that your consumers can face. Create submission analytics via the Survey Maker plugin. Make your research more accurate. Make the right conclusion from your conducted surveys. Moreover, this feature allows you to outline the leading questions and view analytics as well.
Generate an Understanding of Your Audience – This step is called learning and development. Learning more about your audience, is easier and faster with the surveys. Survey your subscribers, employees, or customers. The WordPress survey plugin has various survey maker question types. You can include demographic questions. For example, ask about Age via the Number question type (only for numeric valued questions). Include psychographic questions. Use the Paragraph or Short Text types of questions to find out your consumers' likes and dislikes. Thus, improve your marketing strategies.
Measure Change Over Time – Conduct surveys on a regular basis to continue succeeding. This will help you to calculate how compelling your renewals are. With the Survey Maker plugin add Linear Scale (allows to select answers from the 0-5 range), Star Rating (rank from a 5-point scale in a form of stars), or Star List (rank more than one thing in the form of stars) types of questions and measure your success.
Get Feedback on Your Products or Services – For every business owner, it is important to collect feedback to estimate client attitudes. For instance, you can ask closed-ended questions. Add Radio/MCQ, (select one answer from a list of answers), Checkbox (choose multiple answers from a list of answers), and Survey Maker question types to personalize a response on what the responder chooses as an answer.
---
Reason Why You Should Use Surveys
If you still do not find an answer to why you need online surveys and how they benefit your marketing strategy, then read further.
Now, let's together find out the major reasons why you should use more surveys.
1. Measure and Improve Customer Satisfaction Level via WordPress Survey Plugin
This is the most essential aspect of the online survey. Surveys are effective customer data collectors because it is easier and faster for the responder to provide digital answers with simple question types, which do not take time.
How do you know how clients have felt after using your products?
Generate Customer Satisfaction Survey with Survey Maker. Show your clients, that you value their opinion. Consumers will always appreciate brands that care about their needs and problems. The customer satisfaction surveys allow the buyer to rate his or her experience with your brand product. Listen to your consumers and leverage their reviews. As a result, your enterprise will grow in power and worth sooner than you expect.
The real-time feedback will help you to keep track of your clients. You can use the Summary Charts to have a more precise look at your customers' experiences. The Survey Maker feature will help you to create visual charts of your collected data. Furthermore, make your data analysis and understanding process more easily and more quickly. Lastly, find and improve the way you market your clients.
2. Understand What Customers Expect From You
Give customers what they need and expect. In this case, you have to know what they think. In this case, Customer surveys that include the right questions will provide the most valuable results.
The Survey Maker plugin will overfill your inbox with useful data. Obtaining helpful feedback has never been this much more effortless. The WP Survey plugin contains a Submissions Page. Here you can find all the elements and statistics regarding your survey results. It is worth noting, that you can permit the "Send Email to Admin" feature. Henceforth, you will receive an email after a responder submits your form. Moreover, it includes Send Summary opportunity, this will help you to acquire a precise overview of the questionnaire that included the data gathered before. Additionally, the plugin includes a Send Automatic Email informing to admin feature. With this tool, you will receive an automated email including the submits in a table form including the titles of your surveys, and the number of submissions. Furthermore, you will see the growth or decline of the submissions in ratio.
Surveys make it more effortless to find the answers concerning customers' needs, and the functionality-reach Survey Maker will make the response analysis process easier and more organized.
3. Segment Your Customers Into Target Audiences with WordPress Survey Plugin
Collect more accurate data. The Survey Maker plugin will help you to generate Surveys with Conditional Results via WordPress Survey plugin. This is one of the most satisfactory solutions for funnel marketing. Provide each of your responders with personalized results based on their answers. Advance your surveys and target your audience. Furthermore, you can add an "Email" question type, and afterward enable the Send Mail to User feature. Emails are one of the most satisfactory ways to associate with your trade audience. You can build stronger and more valuable relationships with your consumers via the Survey Maker plugin.
---
Types of Surveys
The WordPress Survey Plugin allows its users to create Customer Satisfaction Surveys, Paid Surveys, Password-Protected Surveys, Employee Engagement Forms, Event Planning Questionnaires, Single-Page, and Multi-Page Surveys, Diet Quizzes, Opinions Polls, conduct Market Research and Concept Testing, and so on.
Surveys via Logic Jump with Survey Maker
Just enable the Logic Jump button and your advanced survey is ready to do its job. This functionality allows you to question proper inquiries and miss the unrelated ones after responding to the current question. As a result, your responders will be prevented from irrelevant questions that may make them leave your website. Hence the surveys with Skip Logic improve the customer experience on your website.
Anonymous Survey
With the WordPress Survey plugin, you will be able to collect honest and accurate data. All you need is just the Survey Maker plugin's Anonimty Survey tool. Make your customers feel secure. Keep your audience's self-identity private, and as a result, obtain more direct feedback. This is an efficacious way, to boost your participants to submit your survey.
Popup Surveys
Create a popup survey in just a few minutes. No additional plugins and no tech skills are needed. Within the Survey Maker plugin, you can find a separate page called Popup Survey. The only thing left is to click on the "Add new" button. That's it your dynamic survey is ready to use.
Conversational Survey/Chat Surveys
The Chat Surveys are customers' favorite. The Conversational Surveys feel like live chats instead of one-sided surveys. All you need is a Survey Maker plugin with a Chat Mode. Just add your formerly prepared inquiries the chat mode will do its job.
---
To Sum Up…
Once you have learned about the importance of online surveys and found the best survey plugin to use, it is time to go and give it a try. It is time to build powerful marketing strategies to improve your brand quality and bring it higher and higher.
Thanks for your time!
Be assured, that with Survey Maker you will have a great WordPress Journey.
Wait!
I know, that you are interested in WordPress tips and tricks and looking for other useful tools. So, hurry up go and explore the best WordPress blog.