Are you searching for a simple and easy-to-use customization WordPress plugin for Admin and Frontend? Go on to read our review of the My WP Customize plugin.
The WordPress admin interface can occasionally look overloaded due to widgets, menu items, and other options offered by WordPress itself or additional plugins and themes.
This review will demonstrate how to use the My WP Customize plugin to quickly customize the WordPress admin dashboard by hiding unnecessary items and rearranging admin screens.
Let's give it a start!
---
What is My WP Customize?
My WP Customize is a WordPress admin panel and frontend editor. This powerful plugin comes loaded with numerous valuable features and highlights to easily edit and customize each and every part of your admin and front, without any essential coding knowledge.
Alongside, My WP Customize is a well-optimized and supported plugin that offers to add sophisticated features using CSS or JS for individuals who are tech-savvy
The plugin is worth your attention as it is used on more than 6,000 websites and has a 4.8-star satisfaction rating. The plugin also comes in a premium version as well that includes more add-ons and premium support.
---
WordPress Admin Customization
If you've been running a WordPress website for a while, you might have noticed that your WordPress admin area has many widgets, notices, and menu items.
When you close or ignore some things, such as plugin notices and alarms, they vanish. On other WordPress admin screens, numerous other components remain in place.
Most WordPress newbies are unaware of how simple it is to rearrange, conceal, and change the components of their WordPress admin panel.
Let's now examine how to effortlessly personalize your WordPress admin area and enhance your WordPress experience.
Whole Admin Screen
My WP Customize allows customizing the general admin screen. Using the tool you can customize:
Hide WordPress core, Theme, Plugin, and Translation notifications.

Hide or show the Screen Options and Help tabs in the upper right.
Display or remove WordPress link and version information by default. Furthermore, you can custom and add any footer text you want using advanced settings with shortcodes.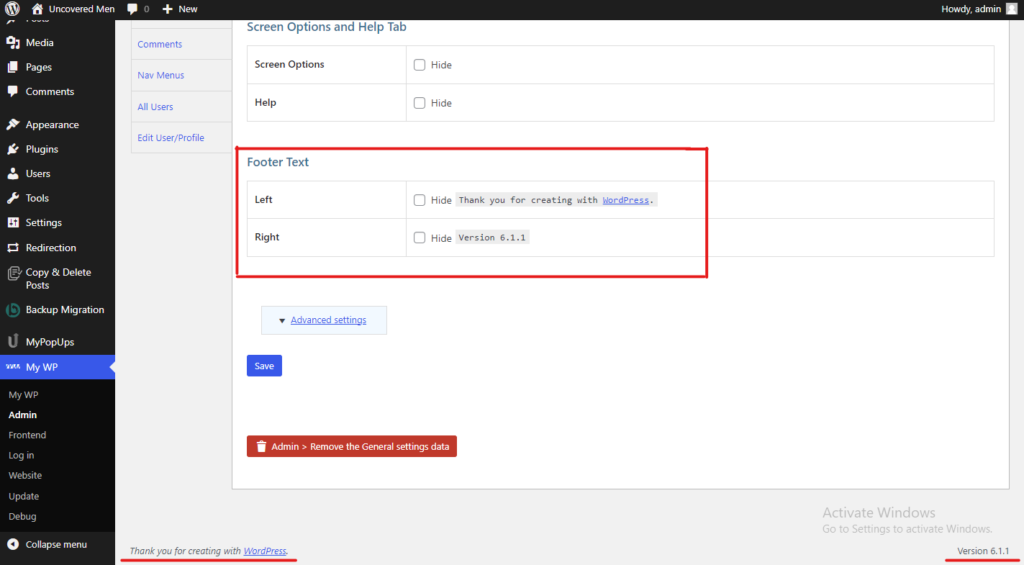 Remove the "WordPress" title tag on the admin screen
If there are some more aspects you want to customize in the admin screen you can turn for help to CSS and JS files.
Admin Dashboard
My WP Customize allows you to fully customize the WordPress admin dashboard according to your needs and preferences.
You can remove or hide certain meta boxes that appear on your admin dashboard. Moreover, you can also change the meta box title.
Admin Sidebar
Each and every item of the admin sidebar can be changed and customized, you can change the title, and the icon, add a custom link, and even an external link.
Admin Toolbar
Customizing the toolbar of your WordPress admin dashboard is work of a few minutes and clicks if you use My WP Customize.
You can customize admin toolbar from both sides, and there are no limits on the customization options: you can change the toolbar, name, and icon, add items to each toolbar, and add custom links.
Admin Posts
When speaking about admin customization with the My WP Customize plugin posts page customization isn't an exception. You can customize columns for the Posts list screen. You can also customize and adjust the width of columns to your needs.
Furthermore, besides customizing the posts page you can also customize Post Edit or Post Add New screens. The plugin enables you to fully customize the Gutenberg Block Editor meta boxes. It makes it possible to hide or remove or change the meta box title.
Media Library
Columns on the Media Library list screen can be customized: change and reorder columns, drag and drop the column elements, and change the number of fields for the media library list.
Nav Menu
The My WP Customize also enables you to customize the navigation menu screen, hide or display meta boxes, and the advanced menu properties of menu items.
---
WordPress Frontend Customization
The success of WordPress is largely due to its user-friendly administration interface. However, utilizing the WordPress dashboard to create articles and pages can be overwhelming for certain users (especially non-technical people).
Fortunately, with so many WordPress frontend plugins readily available, users with less technical expertise may now produce content and alter layouts without ever having to contact the WordPress back end.
You have total control over how your website looks thanks to plugins for front-end customization. They allow you to add layout elements like rows and columns as well as other content elements, like sliders, in addition to allowing you to add and change content.
Let's take a look at the My WP Customize frontend editing plugin.
Frontend General
My WP Customize allows customizing the admin frontend in general, including the toolbar and header meta.
Frontend Toolbar
The plugin enables setting toolbar items and custom HTML, custom link, group, and change exit menu items, including menu item and title.
As well as, it allows custom links, external link,s and HTML for setting toolbar items.
Frontend Author Archive
Using the My WP Customize you can disable the whole Auther Archive screen for the users, in this case, the author archive page will display error 404.
Frontend Taxonomy Archive
The same above-mentioned procedure can be utilized in the case of the taxonomy archive as well, and again the page will display error 404.
Frontend Date Archive
And finally, the frontend date archive can be also customized and disabled as above mentioned two.
---
More and more possibilities…
Speed up site creation with developers' tools: debug on a post, using a theme, server info, etc.
Customize the Login form.
Change the logo link URL and image in the login form.
Alter the title tag and alt text for the login page and logo.
Add the custom CSS on the Login page.
Custom login page footer text.
Change the Redirect URL after logging in.
Change the Redirect URL after logging out.
---
Wrapping Up
Despite being easy to use, many non-technical users still find the WordPress administration interface to be challenging. It is made easier and less stressful for consumers to navigate an unfamiliar environment by using plugins that let users design and update the admin dashboards and front end.
Thus, with the use of WordPress Admin dashboard plugins, site management activities can be made simpler, more visually appealing, and more effective.
Therefore, we strongly advise utilizing My WP Customize, one of the top-rated, simple-to-use, and complete WordPress admin and frontend customization plugins. Many unique filters and actions, as well as developer tools to further enhance the site construction process, are available with this plugin.
---
Must-Read Articles
Hey, did you like our review? Also don't forget to read other WPGlob articles to learn more about the WordPress world, plugins. themes and others. WPGlob is your one-way ticket to the amazing world of WordPress.
Why Publish Review Article On Different blogs? – why are review articles important for your business, this a really good question, the detailed answer of which you will find in our article, undoubtedly, review articles are a must-to-have for your marketing strategy.
Hotel Booking Plugin by MotoPress Review Article – read this article to learn about the best and most feature-rich WordPress accommodation booking solution.
Top 3 Best WordPress Newsletter Plugins For Upcoming 2023 – if you're still unsure whether to create a newsletter for your website, after reading this article all your hesitations will fade away.