Gravity Forms is one of the most versatile WordPress plugins out there. Yes, it creates forms – and quite well. That's pretty powerful in itself. However, throw in the many available add-on plugins, and you have endless possibilities. Add-on plugins bring extra functionality to Gravity Forms. You can use them to leverage form making and filling process both for you and your visitors. Today, we'll introduce you to a Multi-Page Auto Advance for Gravity Forms add-on plugin that helps turn Gravity Forms (and your website) into a user-friendly powerhouse.
---
What is Multi Page Auto Advance?
There is no single doubt that Gravity Forms is the most powerful form-building platform available out there for WordPress websites.
Gravity Forms lets you create and add contact forms, quizzes, and surveys to your website with ease. It's popular for features like conditional formatting, which shows or hides certain questions based on the user's answers to previous questions, and routing, which directs form submissions to email addresses specified in the contents of the form submission.
Though being this feature-packed tool, Gravity Forms fails to meet some simple organizational needs that will greatly facilitate, improve and leverage user experience.
That is where Multi Page Auto Advance for Gravity Forms comes into play and makes the form-filling process quicker and easier for visitors.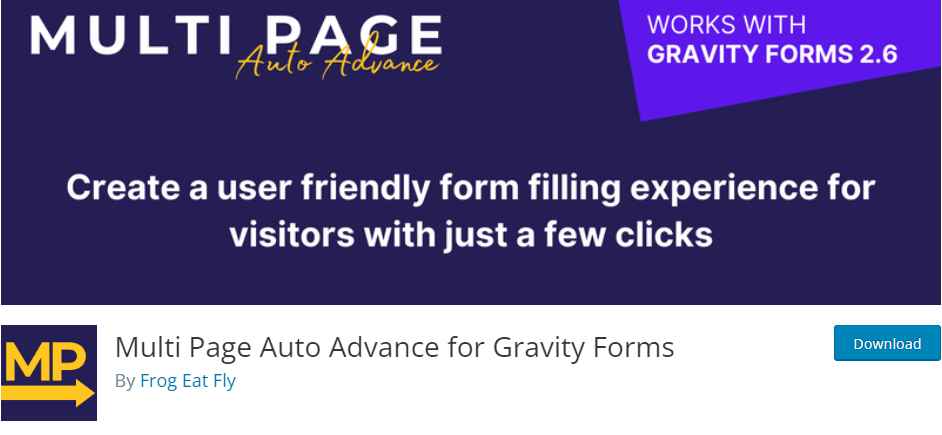 Multi-Page Auto Advance for Gravity Forms is an incredible add-on plugin that makes the form-filling experience a real pleasure. The plugin is super user-friendly and highly optimized, it gets regular updates and works seamlessly and, most importantly, smoothly.
The way Multi-Page Auto Advance enhances Gravity forms is that it transforms the multiple-page forms into a more conversational experience for the people filling out forms on your website, thus enhancing their experience and engagement.
If you look at it in action, what the plugin actually does is that it allows a form user to automatically advance to the next page of the form as soon as they click a compatible answer in the form.
Really, that's just the beginning of what can be accomplished.
Main Features
The Multi-Page Auto Advance features together with the power of Gravity Forms make form-creating and filling an experience like no other. Here are the main features of the add-on plugin presented down below:
Easily and smoothly auto-advance to the next page of a multi-page form without a need from the user's side to click on any button.
Allows to hide or show next/previous and submit buttons, making the user experience smooth & automated.
Decide which fields trigger auto advance to the next page of your form.
Permits the auto-submit of forms on the last page without the need to click on the submit button.
Seamlessly works with a wide range of fields: radio buttons, drop-down fields, quizzes, polls, surveys, and products (pro).
Enables conditional filed advance by deciding what choices in a field trigger auto-advance or display another field on the same page if selected (pro).
As the above mentioned illustrates Multi Page Auto Advance offers almost everything for you to facilitate form filling for the users. The best part is, most of the features for Multi Page Auto Advance for Gravity Forms are included in the basic, or free plugin in the WordPress Repository.
If you need support for product fields and conditional logic, MPAA Pro gives you these extra features. This further improves user experience and makes form filling more personalized for each user.
Another great feature coming to the Pro version soon is transition. This will give you the ability to decide how the form should transition to the next question. Swipe, fade, it's your choice!
---
Gravity Forms + Multi-Page Auto Advance
So with the Multi-Page Auto Advance add-on plugin, you can significantly enhance the front-end user experience for a famous form creation plugin Gravity Forms.
You get all the features that come in handy with Gravity Forms, on top of which, you can install and set up the Multi-page Auto Advance plugin and further improve form filling experience.
Above you can see illustrated all the highlights that Multi Page Auto Advance basically offers that are missing in Gravity Forms, and how it fills in the gaps with the powerful form-building plugin.
---
Get Started with Multi-Page Auto Advance
Multi-page Auto Advance is quite easy to set up and use.
First things first, you need to create a form or choose one of the existing ones from Gravity Forms.
In order to start setting auto advance simply choose the field (it can be any type of field, i.e. radio button, checkbox, etc.). From the settings of the chosen field go to the 'Advanced' settings and set the auto advance on the question.
To set multi-page auto advance for various types of fields, automate form completion and show or hide next/previous/submit buttons directly from your WordPress dashboard you simply need to go to the Advanced settings and make the necessary changes, there is nothing more required from your side.
So obviously, the interface of the Multi-page plugin is extremely easy & user-friendly. You can easily set conditional logic and automate the processes of the forms for the users with only a few clicks.
You can check out the demo version for this plugin's basic and pro versions and experience the automation in real life by yourself. The Demo versions simply prove how smooth & nice the experience is awaiting your users after the purchase of this plugin.
After using Multi Page Auto Advance for Gravity Forms the end-user experience will simply become far more automated than ever. This will contribute to higher conversion rates and result in more positive user reviews. 
---
Multi-Page Auto Advance: Pros & Cons
Coming about to end our review of one of the best Gravity Forms add-on plugins, let's lastly review, what are the pros and cons of Multi-Page Auto Advance for Gravity Forms.
Pros
Enhances the user experience with forms created by Gravity Forms.
Offers a 15-day money-back guarantee for the pro version.
Incredibly fast support that won't make you wait for an answer & will help to resolve any faced issues easily.
Clean code that does not affect the loading speed of your website.
Affordable pricing – the plugin simply costs $24.99.
Cons
Does not work with the text input fields of the form.
---
Wrapping Up
So, let's wrap everything up and understand what Multi Page Auto Advance for Gravity Forms offers.
Multi-Page Auto-Advance basically makes it really easy to create forms with Gravity Forms, be it a quiz, poll, application, or anything else, and allows the users to advance to the next question and complete forms without having to click on any button.
Plus with the pro version, you can further add conditional logic to the fields and automatically trigger the questions you want. This will help to make forms more personalized for the users.
In the end "Why do You Need Multi-Page Auto Advance for Gravity Forms?".
Gravity Forms is the number one choice if you are looking for a simple yet powerful form builder with off-the-hook functionality. However, if you also deeply care about the end-user experience and its further enhancement to improve conversion rates, then consider purchasing the Multi-Page Auto Advance plugin alongside Gravity Forms. These will ensure a smooth experience for you from the back end and a flawless and automated flow for the users who fill out those forms in the front end.